Bethpage State Park (Black Course) – Farmingdale, NY (Architect: Albert Warren Tillinghast 1936)
Background
When the United States was in the midst of the Great Depression, Franklin Roosevelt set the wheels in motion for his New Deal that would bring the country out of the worst economic times it had ever seen. Part of FDR's new deal included plans to put people back to work building infrastructure and other public goods, including parks. Bethpage State Park in Farmingdale, New York on Long Island is a result of one of the New Deal's programs. In 1936 A.W. Tillinghast was hired to build the Black Course at Bethpage.
The Black Course has become infamous for being tough, just like the Long Islanders that play it, but before 1995 Tilly's fantastic design had been left for dead. Enter David Fay, the USGA's former Executive Director had played the Black in his youth. He happened by the course on a trip back to his home in New Jersey while still the USGA chief and saw the potential it had. The course simply needed a face lift. Fay got the state, the USGA, and NBC all to buy in and agree to have Bethpage host the 2002 Open only if a severe restoration could be done in time for the championship. Thanks to Fay's vision and everyone that bought into it the Black Course became the first publicly owned facility to host a U.S. Open. Since then it has hosted a 2nd U.S. Open (2009), a Fed Ex Cup event with more coming, and a PGA Championship and Ryder Cup in the not too distant future.
When Fay walked the course on a whim that fateful day he saw a beautiful old girl that needed an influx of cash and some TLC. Rees Jones, the Open Doctor, was hired to do the restoration work. The bunkers you see on the course today are mostly his works of art in Tillinghast's fingerprints, but the routing and green complexes are all thanks to Tilly. Mr. Jones came back between the U.S. Opens and added another 400 yards and I noticed new tee boxes on several holes that didn't exist when I first played the course. The Black has some of the thickest everyday rough you'll ever play thanks to their staff over-seeding it every spring.
I've made two trips around the Black. The first was in 2002, 4 months after Tiger Woods won his 2nd U.S. Open there. The rough was cut to 3.5 inches, but was so thick you could not advance a club longer than a 7 iron from it. The sand in the bunkers was so fluffy that any shot that landed in them that had height on it would result in a fried egg. I played from 7100 yards, had two birdies, and shot 79.
I returned in 2006 in the middle of a NYC heat wave. The course is "walking only" and I carried my bag in 102 degree heat. There isn't much shade on the rugged Black. Moisture wicking material hadn't yet hit the golf world. My cotton shirt and shorts were ruined for life after that day but I still had a blast. We played from 7400 yards that day and I shot 77. I can practically remember every shot. The Black does that to you. Everything about it is memorable.
Of course the urban legend surrounding the Black course is that you have to sleep in your car to get a tee time. Not exactly. It is a State Park and the New York State employees run the show here. Tee times can be made by New York residents in the tee time system. Back in the day, other state residents could donate a kidney, get in the tee time system, and grab a time by calling to see if anyone cancelled the day before. Ok, not a kidney, but they did want a copy of your license and social security card to add you. I actually am in the system and made a time there my 2nd time around. The first time I showed up around 9 on a nice October day and was on the 1st tee by 10:45. Weekends are a different story. If you don't have a time you're sleeping in the car. When you pull in they give you a wrist band to make sure you don't get out of line. The last car in line keeps their lights on. You get certain times before the sun comes up and a few cancellations. This is the democracy our forefathers dreamed of 250 years ago.
Layout/Scenery
If it isn't dark out when you pull into the Bethpage parking lot you notice that it is immediately aesthetically pleasing. The old trees that line the drive, the stately clubhouse, the view off the first tee….nothing about it screams "MUNI!" until you see the driving range or try to check in (more on both later). The brick walk behind the clubhouse leads you around the putting green and the famed warning sign comes into view as if you're about to chug a bottle of poison.
That's all New York ego. Don't let it scare you. From the 1st tee your drive will launch out into space to a fairway that is about 50 feet below the tee. It is a majestic opening shot and your ball will travel about 30 yards further than you'd expect (unless into the wind) because of the change in elevation. What a great way to start a round. The grueling walk begins once you find level ground in the first fairway. Holes 1, 15, 16, 17, and 18 are the only 5 holes in the same section of the park as the clubhouse. To get to number two you cross Round Swamp Rd. and the hike truly begins up and down Long Island foothills you didn't know existed. The warning sign is more applicable to the walk you face if you ask me.
That is the par 3 eighth hole above. It looks benign and the water isn't in play but that tree will reach out and slap a push into the H2O if you get sloppy. Humble brag alert –   I birdied it both times! The turn is made to the back nine at the farthest point from the 1st tee. They don't sell rounds of 9 just as the golf gods intended it to be. At this point in the hike the course actually flattens out for 3 or 4 holes, but 10, 11, and 12 can be some of the toughest on the course. If you really bust a drive you may have a short iron to 11, but the 10th is a long par 4 you'll be lucky to reach in two no matter how good you hit it. If you're in the rough you have no shot at the green.
Your last hole before you again cross Round Swamp Road is the short par three 14th hole. The USGA will play the hole anywhere from 100 yards to 165. I think you'll see it more around 150 for the Barclays, PGA, and Ryder Cup events coming up. A reader tells me they've revamped the green a touch. Perhaps there was too much slope and it was brushed up to allow for more hole locations.
That's Tiger at the 15th above. This hole statistically is the toughest but it has been neutered a bit by modern equipment. At 475 yards most players will hit 3 wood then 8 iron to the severely uphill and undulating green. A long iron into this in 2002 made the approach much more troublesome. The hike up to that green is exhausting at that point in your day, and once you get there you have to focus on navigating one of the Black's few greens that has real teeth.
The 17th might be the signature hole of Bethpage. The 200 yard par 3 has a natural stadium around it. The fescue grown post 2002 between the tee and the green frames the hole well with the hills, trees, and bunkers creating a postcard back drop. The Black's weakest link is its finishing hole. Eighteen is a mere 410 yards down hill. Three iron followed by a short iron is no way for a major championship to be decided. There's no room to extend the hole either. In 2009 the USGA had the hole play 295 yards in the final round and almost no one went for it. While the hole isn't perfect the idea of making it driveable is as gay as cum on a mustache.
If I have a favorite hole (it is hard to pick just one) I'd go with the 5th shown above. Number 5 at Bethpage Black is often discussed as the quintessential Tillinghast hole. It is about a 480 yard par 4 with a new tee added around 2006. There are bunkers down the right and woods on the left. The tee shot requires a slight fade or a 295 yard carry over the bunkers. The approach requires a slight draw to a green that sits 25 feet above the fairway. Fade tee ball with a draw approach, that's why they say its a classic Tilly hole.
My first grade in this review is a 5 out of 5 for the layout. There were once some ugly backdrops around holes 3, 15, and even 2 but those have been cleaned up. I'm nitpicking the 18th hole only because it is the final hole. If it were played in any other order it would be a fine hole. I won't deduct a point for that. Tillyinghast's routing is classic and thrilling. When you walk the land you know you're some place special.
Score: 5.0
Conditioning
My sample size of what the conditioning is like at Bethpage is a small one, but both times around the Black the place was in fantastic condition. This was true even in October just a few weeks after the greens were aerated. As I noted already the rough is thick and lush as if the grass is being fed steroids. It isn't kept long for everyday play but the ball settles down easily in it. You don't get too many good lies. See below.
The greens at the Black aren't too undulating, minus a few, and from what I saw they were consistent and mowed at decent speeds for both my loops. I'd bet for everyday muni golf you won't find any better. They probably run about a 10.5 on the Stimp meter. If they made them much faster the every man playing the course for 99% of its rounds wouldn't break 100. I also noted above that in 2002 the bunkers were too soft. That was fixed 4 years later. The track I saw in 2006 could have hosted a Tour event with 48 hours of prep. No point deductions here.
Score: 5.0
Value
Because Bethpage is a state park the New York residents get a nice break here just like San Diego County residents get a price break at Torrey Pines. You can see the fee structure below.
Yeah, $65 to play a 2 time U.S. Open host site that is getting a PGA and a Ryder Cup…??? There's no better deal in the world for a big boy golf course. Even the out of state rate isn't too bad and well worth it. I think I paid $89 and $110 for my fees around the Black. Nothing in New York is cheap, and you rarely find true value in anything within 50 miles of Manhattan, but golf at Bethpage is the exception to the rule.
Score: 5.0
Service/Pace
So far everything at Bethpage Black sounds too good to be true, doesn't it? Here's a category that will take the Black down a peg. When you check in you're basically cattle. You stand in a line like you're at a bank. You have to have all your shit ready and your whole group there to get a wrist band that gets you a date with the starter. That's all after you slept in your car if you went that route. The staff is made up entirely of state employees. They don't have to be nice because there are 20 people behind you that would love to be shit on just to play the famed course.
Things don't get much better from the staff once you get to the 1st tee. The starter has seen all types and he's not there to entertain you like so many with his job might try to do at a resort course. He's a tough Long Island guy who wants you to be ready and get the fuck out of his sight. He'll grunt at you as he cuts off your wristband (it is entirely possible that the wrist band system is gone since I haven't played the course in ten years). Staff at the halfway house is average at best and don't expect a hot college girl to roll up on a beverage cart. Those don't exist at the Black.
You like that big black cloud I just threw at you concerning the service? Well, it only gets worse in this category. There is no pace at the Black course. It isn't a crawl, but you've got a packed course everyday that has as many tourists on it as it has locals. The tourists might not even belong on a course this tough but they'll play it to say they did. They'll take 5+ hours to do it to. And remember, they're walking! The hike is tough and it certainly hurts the pace at the Black. I scored BPB low in this category but not a 1 or a zero. The staff is probably a bit overwhelmed by the sheer volume of rounds and customers. There's not much more they can do when offering up a course like that with such a low price.
Score: 2.5
Amenities
The part of Long Island that Bethpage is on isn't exactly a place you'll want to hang around in after you play the Black course. The park itself has some amenities like a restaurant, tennis, hiking, etc, but there's no way you're up for any of that shit if you just hiked the Black. You're thisclose to New York City. Go explore it. Go to a Mets game, go to a horse track, go to Manhattan and do any of 100 million things there is to do there. Pro tip – when you're done with any of that find a good seat at Scores and don't use the ATM once you get there.
As for the golf amenities, this is another category that Bethpage will lose a point or more. The range is a joke. It has no grass hitting area. It was significantly improved from 2002 to 2006 when I came back but it still isn't up to snuff with what you'd expect at a major championship course. Note that they make a range on one of the other courses when the PGA Tour comes to town. The putting green is fine but there's no short game area or anything resembling one that I ever saw when I was on the premises. There's no golf carts on the Black so you'd think they might have a caddie program. They do, but it wasn't official or affiliated with the course ten years ago. It was local dudes offering to carry your bag for somewhere between $50 to $100 for the round. They sit around the outside of the clubhouse and appear more likely to rob you than they do to give you the right club or read a putt. They might all know their shit and be great caddies, but don't say I didn't warn you.
Score: 3.5
Difficulty
Outside of the pond in front of the 8th hole there's not a water hazard on the course. There are a few forced carries, TO THE FAIRWAYS, that may be too much for weaker players so you'll want to make sure you're playing the correct tees. Note that the white tees are still nearly 6700 yards. That's long for an average player. Most people don't check the yardage and tee it up on  the white tees without thinking. That's too much golf course for a guy hitting 200 yard tee shots. As I said earlier, many of the greens are flat-ish, with a few exceptions. I think the main challenges thrown at you by the course are the rough and the approach shots. It is a tee to green course. No short game wiz that hits it shorter than average is going to win a tournament on the Black.
I do think that the course is fair and playable for players that have an 18 index or lower as long as they don't lack distance. You have to be pretty far off course to have tree problems at Bethpage. You aren't likely to lose a ball. The longish heather is way away from the fairway and there's plenty of primary rough to play from should you miss a fairway. The most difficult task ahead of you playing BPB is hitting to the greens. Many are raised or sit on top of a decent size hill. You'll be clubbing up for much of your round because a 150 shot here will likely play 160 on most holes with just a few exceptions. There aren't any true blind shots but there are several holes that you can't see the putting surface from the fairway. The Black fucks with you that way.
I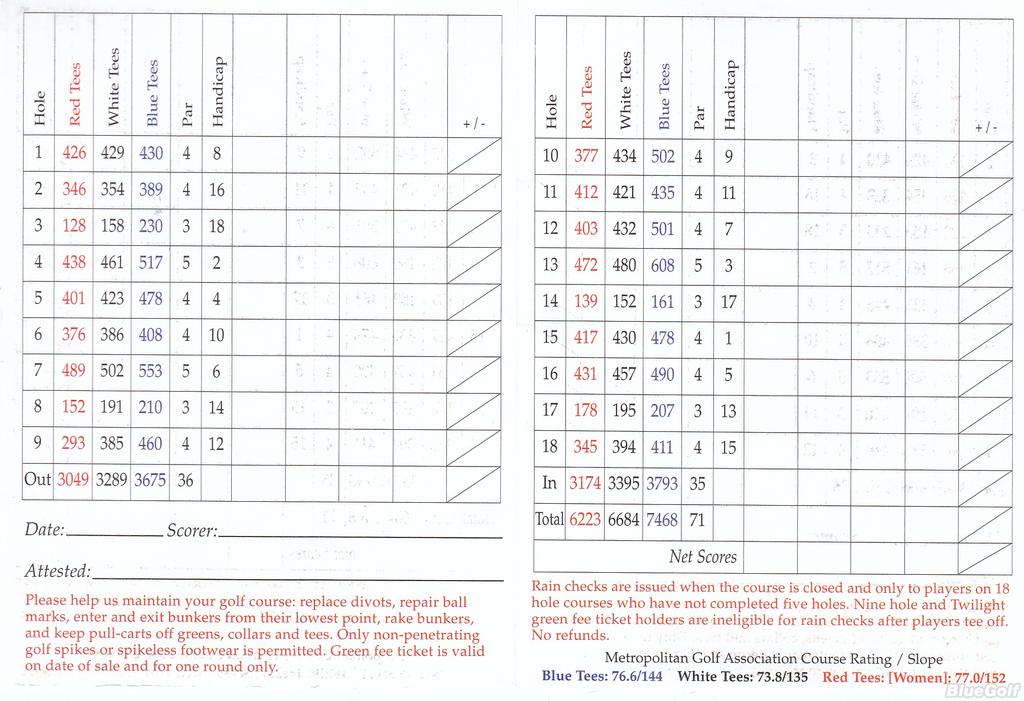 Per usual, this rating isn't based on a 5 being "way too hard". I'm rating a course a 5 when I'd say it's playable and enjoyable, but not easy, for players of all levels. Bethpage Black is hard, but it isn't tricked up and there's nothing crazy asked of you outside of the rough and some extra yardage. I don't think a short knocking 25 handicap would have any fun on it, but the course wasn't built for them. It was built for championship golf. It has a high slope and course rating for a reason. It is going to punch you in the face a few times. Can you take a punch? If so, play the Black. Don't be scared.
Score: 4.5
Composite
The composite score from all categories above takes a hit for the service, pace, and amenities the facility lacks, but there's no shame in the score I arrived at. The course and its conditioning are as good as it gets. If that has more to do with your decision to check a course out then by all means you need to put Bethpage Black on your bucket list. If you need to be pampered, ride in a cart, and have everyone on staff service you like you're the 1st lady, go play somewhere else. This is the People of New York's course, they don't want you here anyway.
Score: 4.25