Never A Doubt
The dumbest question I hear asked in golf of late is this….."is Tiger back?". Of course he's back. Tiger has been back since he won the Tour Championship in September of 2018. "Where the fuck have you been and how have you missed this?"…..is what I'm thinking every time I hear it. With his fused back and mental fragility in tow Tiger played a full tour schedule, contended a ton, and made it through every stage of the Fed Ex Playoffs while winning his last official event of the last calendar year. The only thing left for him to do to keep this question from driving me insane was to end his near 4000 day drought of not hoisting a major championship trophy in his hand. Mission accomplished.
Tiger lured us back in to having interest in him in 2019 with just the right amount of precision, touch and power in his recent play.  Enter the Masters tournament this week and things got even more interesting around Tiger. He looked good in 2018 coming into this week but finished in 32nd place.
I was intrigued on Thursday when I saw him drilling straight tee shots down holes 1, 7 and 11, fairways he's struggled to hit for over a decade. But his putter cost him in the 1st round and what could have been a 65 ended in 70 shots. I shrugged and thought this looks too much like 2010 Tiger still. Then Friday came. He was a magical and surgical mock neck blur you couldn't take your eyes off. The only thing that could have slowed him down was a 40 minute rain delay and an eager beaver security guard.
Saturday in contention would surely separate the men from the boys. How about a 67 with vintage Tiger on the greens and escaping the Augusta pines. Who is this guy and where has he been for 3954 days? Yet Sunday's finale was filled with more obstacles. Koepka, Johnson, Molinari – all guys who had won majors in the last 3 years. All guys with strengths in their games that spell trouble for Tiger. But there was our hero, our Tiger, the guy we've been waiting to reappear in our Sunday afternoon stories – back in his signature red (albeit hideous mock neck) shirt and black hat, ready to reclaim glory.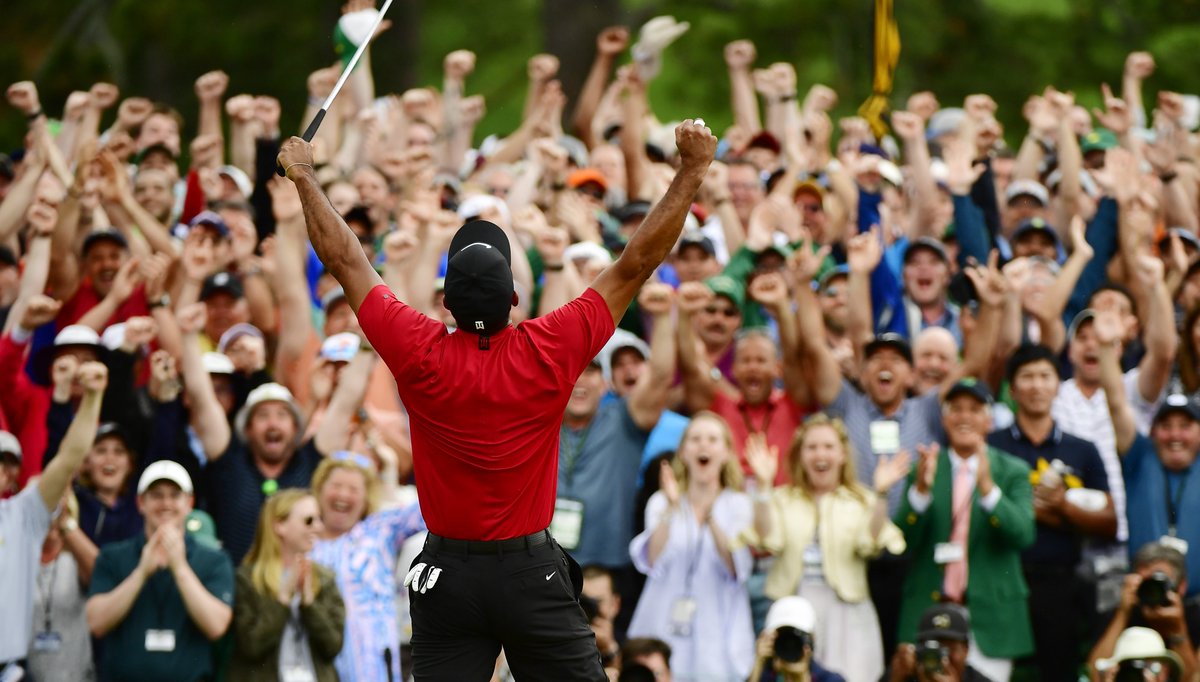 This couldn't have gone any other way. He played chess with Molinari for 11 holes and when Franky found Rae's Creek at the 12 Tiger pounced. Safe to the middle of the green, birdies at 13, 15, and 16 made him look like Tiger circa 2000. And the best bogey of his life at 18 made everyone in the world feel 22 years younger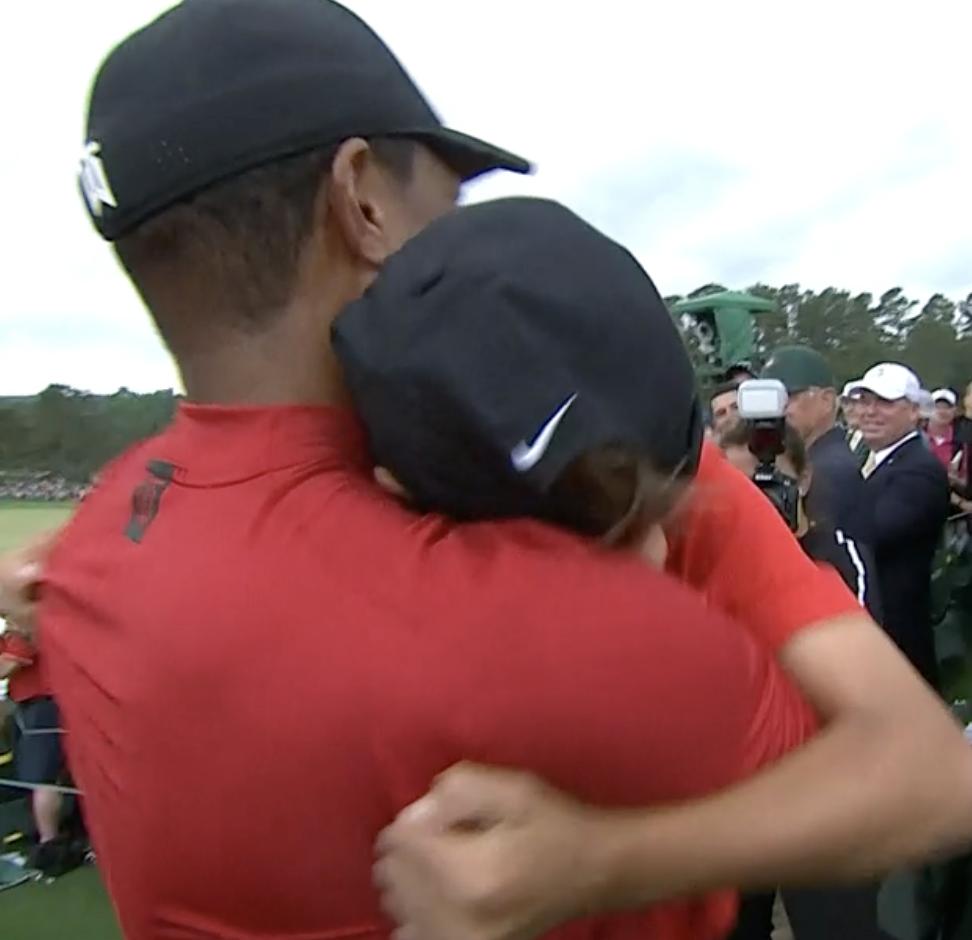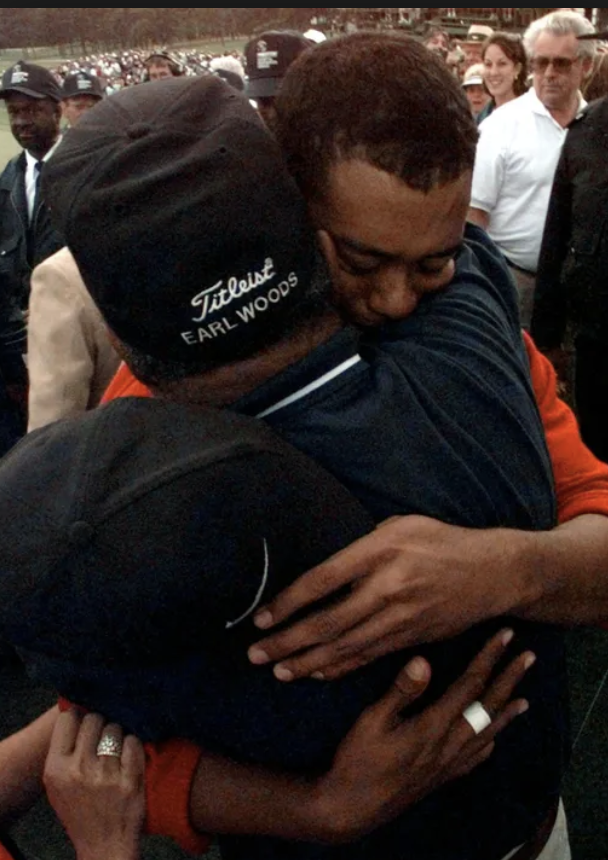 The shot of him above, clutching son Charlie within feet of where he and his pop embraced in 1997, put mist in my eyes. If you're a parent you don't have a soul if you didn't feel something there. Tiger has said for a few years how his kids are what inspire him to keep playing and trying to win. They knew him only as the "YouTube Golfer" for so many years. Today they saw him as the golfing hero the world has known and loved since 1997.

That graphic from Tiger's Wiki page really grabs you doesn't it? It puts into perspective how rough golf has been for TW since his life was destroyed by his scandal in November of 2009. The embarrassment of that along with the back problems that flared up in 2013 are the reasons you see the yellow top 10 finishes fall off the graphic from 2014 through 2017. Tiger had surgery to fuse his back on April 20, 2017. He didn't know if he'd ever walk again, let alone play golf. He had the surgery to restore some comfort and mobility back into his life so he could do more with his kids. Then he figured out that he can make a golf swing without pain and decided to give it a try.
The result is that 24 months later we now have a Tiger Woods who was humbled and is grateful. He understands his place in the public, his place in golf and his place in his own home. He's happy to be a dad and take his kids to soccer but still play in big boy golf tournaments and be out on the Tour with the fellas. And he sure hasn't lost an ounce of the old Tiger swag.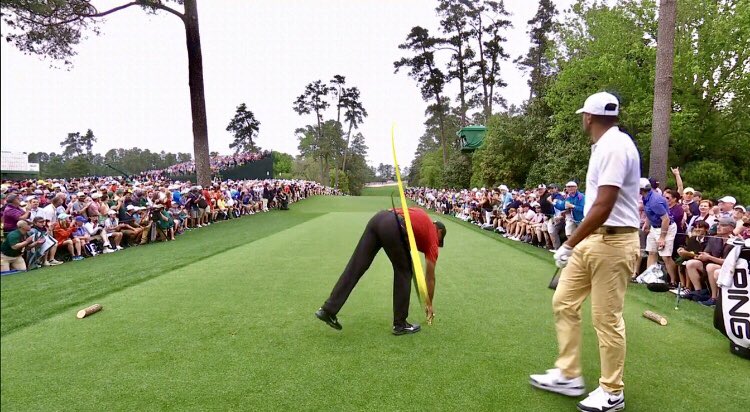 What's next for Tiger is anyone's guess. He has 15 majors. Read that again. I wasn't sure I'd every get to say that, but there it is in print. And it is a real life thing. Fact. He also has 81 wins, which is one behind Sam Snead for the all-time record. He can still catch Nicklaus. He'll be the reigning Masters champion for 364 more days. He's won majors at the next two major host venues (Bethpage Black and Pebble Beach). And he's the captain of the U.S. President's Cup team later this fall. I'd say the next 5 years are damn near limitless.
But step back from all that. Think about the greatness we all were lucky enough to witness today. Think about how you saw either the best or damn near close to the best golfer of all time take down a field of studs playing well, on Augusta National, 11 years removed from his last major win to become the 2019 Masters Champion.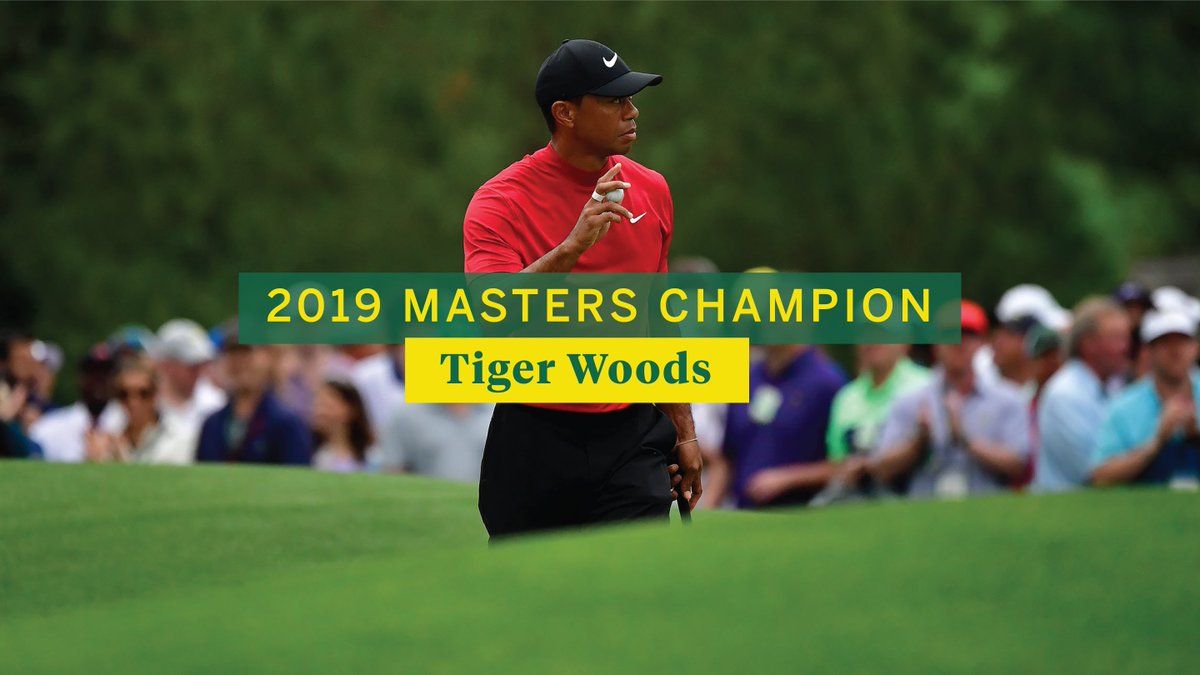 I'm still not sure it was real. Hollywood can't even write something that cheesy and hokey. But it happened. It was real. And it was spectacular.
Thank you, Tiger. Welcome back.