Inspired, If You Can Call It That
I've always been intrigued by the idea of the Dream 18 concept. I first read about a similar concept as a kid when I was becoming a young golf nerd. The book that detailed a dream eighteen holes was the New World Atlas of Golf. Someone gave it to my dad and I'm not sure he ever read it like I did – which was cover to cover, backwards and frontwards, 764 times. If you know the book you know what it looks like.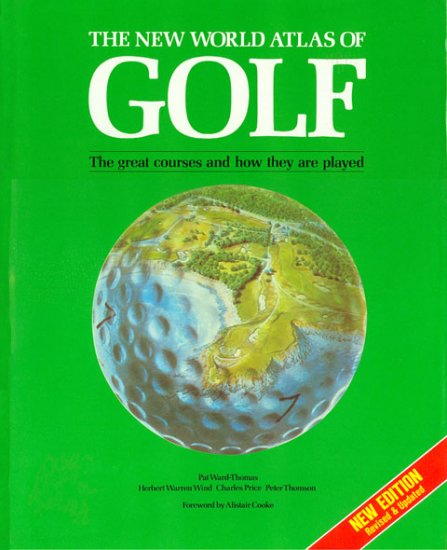 I still have it and reference it from time to time even though it is dated. Last week Golf Channel's Morning Drive started a discussion of their own Dream 18. Matt Ginella and Geoff Shackelford put up their lists and the debate began. Ginella's was Monterey-centric as it included every hole at Pebble Beach from 6 to 10 and also 18. Shack's were largely from the links courses of Scotland. Matt kept his holes in order where 18 at Pebble still had to be 18 on his list. Shack put his holes all over the map. Nice lists, but too many from the same courses and too many that most of us haven't played.
I've never been to Pebble. I've never been to Scotland. But I was inspired by the concept Morning Drive discussed and decided to come up with my own course. Here are my parameters: no doubling up on courses – meaning one hole from each course; I have to have played it; and they have to keep their assigned hole number in my 18 as they are in their real life courses. I'm a man of integrity after all. It sounds simple but it gets a little difficult to actually pull off if you want to come up with a par 70+ golf course. I pressed on and came up with my Dream 18 based on these constraints. The result is a glorious 7,333 yard par 71 track that stretches from Maui to Long Island. This post is part 1 of a 2 post series. On to the first nine:
#1 – Franklin Hills – 451 yards, par 4 
The venerable, but mostly Jewish, Franklin Hills Country Club starts off with one of the best 1st holes in golf. The tee shot is elevated and allows for you to bomb one down from just in front of the starter shack to a generous fairway and green. From the tips you'll have mid-iron or less in and give yourself a good chance at par with a birdie reward for a well struck 2nd shot and a good roll with your putter.
Since the great tree removal project at Franklin occurred in the last few years the first tee now gives you a better look at the rest of the golf course. Your entire round here is enjoyable (even more so once you realize your putts generally break toward 13 Mile) and the tone is set with a great 1st hole.
#2 – Whistling Straits (Straits) – 592 yards, par 5
Number 2 on Pete Dye's most famous Kohler, Wisconsin design probably isn't a hole many of you think of when you think of Whistling Straits. That's part of the rub in this concept. You can only use a single hole from any course. It makes you picky. And it means other holes at the Straits that are more revered get left on the cutting room floor.
Watch the video. That's the best par 5 on this championship layout that has hosted 3 PGA Championships and a Senior U.S. Open. The pot bunker 40 yards short of the green is a motherfucker if you're thinking about going for it in two. The views down the left and long aren't too shabby either.
#3 – Torrey Pines (South) – 200 yards, par 3
Any Dream 18 is going to include a few signature holes and the 3rd at Torrey Pines South course is the first one that pops up on my list. 200 yards plays more like 180. The green is huge but the view is distracting. I snapped this pic on my way to the Rose Bowl just a few years ago.
What else needs to be said about it? The hole gets covered plenty during early coverage of the Farmer's tournament but because it is the third hole is doesn't have a ton of history. It doesn't need it and is glorious without.
#4 – Baltusrol (Lower) – 194 yards, par 3
Let me be the first to say that back to back par 3s is a bad idea on any real golf course. But this is a dream and I can do it anyway I want. Baltusrol's Lower course has a stack of historic, classic A.W. Tillinghast holes but I can only pick one from the great New Jersey course and this has to be it.
Robert T. Jones redesigned this gem back in the 1950s and the members complained that it was too hard. So he went out and teed one up and aced it. No shit. I believe Jones hit a 4 wood for his famous 1. Most professionals were swinging 7 irons there in the 2016 PGA. I think I hit a 5 and a 6 iron the two times I played it. Yes the game has changed but the 4th hole on Baltusrol's Lower course maybe the best 4th hole in the world. Note – this was the lone hole from the New World Atlas of Golf Book (mentioned above) that made my list.
#5 – Bethpage (Black) – 478 yards, par 4
Speaking of Tilly, golf nerds refer to his 5th hole at Bethpage Black as the quintessential Tillinghast hole because it benefits a player who can work the ball in opposite directions from their tee shot to their approach. Off the tee the 5th hole favors a gentle fade. From the fairway up to the elevated green a draw would be required to find any pin on the left half of the green.
The tee is much more elevated than the picture above shows. I wish I could have found a flyover of this beauty. When I first played it in 2002 it was 455 yards. For the 2009 U.S. Open a tee was added to make it play closer to 480. That back tee forces a near 280 yard carry over the last bunker on the right. You've got that, right? The elevated green is also firm and shallow. I think in 2002 I hit an 8 iron in and found it to be fair. In 2006 from 30 yards back my 5 iron approach didn't hold the same. You will have earned a par here if you get to write one down on your card.
#6 – Point O'Woods – 444 yards, par 4
Point O'Woods hosted the Western Golf Association's Western Amateur for nearly 25 years. Greats like Tiger Woods, Phil Mickelson, and Justin Leonard won the event at P.O.W. While the first 5 holes are rather getable for players of Phil and Tiger's caliber, the fun at this legendary Southwest Michigan R.T. Jones design begins at the 6th hole. When I've played it the firm fairway conditions have typically allowed for a scoring iron approach shot. That wasn't the case when the course was designed in the 1950s.
Short iron or not, that narrow green you see above makes the 6th anything but a pushover. I pulled a sand wedge from 135 into the left bunker and made a 6 without hitting a shot that I was really pissed out. The right side of the hole once featured the old log cabin home of Pro-Emeritus, Sam Drake. His dwelling was removed a few years after Drake's death.
#7 – Crystal Downs – 335 yards, par 4
There have been books written about the 7th at Crystal Downs. Ok, not really, but the short par 4 with the boomerang shaped green will make a golf architecture nerd hard quicker than a Vegas hooker could.
I love the hole because of all the options it gives the player. On the day the picture above was taken my partner laid back off the tee by hitting a 200 yard 6 iron that left him a flat stance in the fairway. I hit driver into the middle bunker you see in the side of the hill about 50 yards short of the green. I had to hit a miracle chip to a left hole location to save par. My partner flagged a pitching wedge to 3 feet, made birdie, and won us the hole. You can make a 2 or a 7 on this classic Alister MacKenzie design no matter how you play it. I could talk about the green for another 3 paragraphs but I'll keep this brief. It is subtle yet insane, but soooo much fun.
#8 – The Dunes – 515 yards, par 5
The best 9 hole course in the world has to have one of the best holes in the world, right? Legendary writer Dan Jenkins thinks it does. That hole would be the 8th at the Dunes.
The short par 5 plays anything but unless you know its secret. A large waste area covers the hole from 255 yards from the back tee to about 330 yards. In other words you either hit it 254 or 331. There's nothing in between. That being said, most players lay back and it becomes a 3 shot hole. Your layup 2nd shot becomes very important. Lay up too short and you're blocked by a tree on the corner of the dogleg. Too far right and an over-hanging tree can be in your line. 75 to 90 yards short is about right but to get there you have to hit a pure 225 yard shot with accuracy. 2nd shot layups aren't that tough on any other 3 shot hole I've played.
What's the secret of the hole? If you can carry it 270 or so you can hit it down the 5th fairway and go for the green in 2. That doesn't take anything away from the hole for me. I look at that as a secret you have to unlock. The club caddies don't seem to want to put the idea in your head for some reason.
#9 – Kingsley Club – 165 yards, par 3
Ahhhhh Kingsley. I love this place. And I love about 6 other holes here as much as I love the 9th. But the 9th is truly unique for a hole that looks almost like you could throw it on the green from the tee. When you leave the 8th green a sign points you to either the south or east tee that is being used for the day. The south plays shorter at 135 or so. The sets of tees are 90 degrees apart. The hole is very much exposed to the northern Michigan winds. And the fun as only started because you're not to the green yet.
That picture above is from the east tee and gives you a sense of the contour on the greens. You have to use the banks to get it close but a smart shot to the correct depth will allow you to snuggle it in tight or even make an ace. Miss the green and do your best to make bogey and move on to the 10th. She's a motherfucker but she's fair with a wedge or short iron. I've heard the club now has a 225 yard tee behind the original east tee box. I can't imagine they use it much. The green is too small and a shot with a long iron into it would be insanity. However, I'd like to be invited back to give it a try.
Outward Nine – 3374 yards, par 35
On to the inward nine. Part II coming soon.