Four Posts In 3 Months Isn't Bad For A Dead Guy
Okay, okay, okay……I've been a little detached from this place for most of the summer. Vacations, kids, work, and most importantly my own golf game have taken priority over talking about golf on the interwebs. That's just the way it is. I warned you. But tonight the wife has the kids out of town and I've got some time to babble on about what's happened in golf for a few months. While the dog stares at me and wonders if I murdered the rest of the family I'll press on and hope the beer fairy shows up with better shit than I've got in the man cave fridge right now. Here we go.
The Players
All I've written since the Players is a post about people who blocked me on Twitter and various course reviews. Forgive me while I go back to May for my 1st hot take out of the barrel. On Mother's Day the Players reminded us again while it will never be a major we give a fuck about. First, having it on Mother's Day doesn't help. That's the one day you're supposed to do something with your mom, for your wife, etc. The 1% of ladies who want to watch 4.5 hours of golf on NBC on the 1st nice day of the year doesn't actually exist. Second, do you remember who won? I just had to Google it. Si Woo Kim beat Louis Oosthuizen and Ian Poulter by three shots. Rafa Cabrera Bello and Kyle Fucking Stanley rounded out the top 5.
Besides Louis, those names scream "major" don't they? Poulter treated 2nd like he won. Fuck that shankapotomus loser. And then the defending champ shows up to give the winner the trophy in a Swoosh t-shirt….like he was in the gym getting swolll and took a break to get the crystal out of his locker and bring it to Kim? Major indeed. Pray they move it back to March. Next.
The U.S. Open 
Cool course. Shitty luck with the weather. Deserving champion. Saturday fireworks. Sunday dud. That's about it, right? I really would have enjoyed a Justin Thomas or Rickie Fowler victory. Both those lads played splendidly for 54 to 63 holes and didn't get it done on Sunday. Thomas' 3 wood nearly put itself in the hall of fame with the three shots he hit in the 3rd round with it. I'm still in awe.
In the end it was Koepka who finally broke through. He deserved it. He was even more impressive than Thomas but was also more steady and consistent throughout the championship. I'm not sure he would have won had the course been firm and fast as it is intended, but if my aunt had a dick she'd be my uncle. Koepka's only problem was having Joe Buck call his current girlfriend by his ex's name. Oops for Buck, but that probably got Brooksie double laid for a week. You did see Miss Jenna Sims, right?
Messing that up should prove Buck isn't interested in women. Not that there's anything wrong with that. Koepka took the girl and the trophy to Vegas to party for a long weekend after his 1st major victory. What a life.
The Golden Boy
The Summer of Spieth began a week after the U.S. Open when homie got super angry after holing out in a playoff to win and threw his wedge at his caddie (yes, that's sarcasm).
All joking aside, that's Eldrick-like shit right there. Cool to see as a fan, but that's about right when I started to not root for Jordan Spieth. He's too good. He always says the right thing. He gets breaks and takes advantage of them in route to victories. I find it maddening. I'm not rooting against him, but a Daniel Berger victory would have been more interesting to me. I know I'm in the minority.
Fast forward to the British Open. I was rooting for Kuchar. Spieth was phenomenal in how he went around Royal Birkdale. But the reality is on any other day and with any other player that 5 on 13 is a double bogey 6. That's a 2 shot margin for Kuchar and a lot bigger of a hill to climb. Spieth took advantage of the rules and had the level head to keep all options open when seeking a drop on the practice range. Good for him, but holy fuck. Read that again. He got a free drop to play from the fucking driving range. Why isn't the range out of bounds? The 10th fairway at Royal Birkdale was out of bounds from the 9th tee but the practice range is playable from anywhere? That's a bunch of monkey shit. Without that break I'm not sure you see the birdie barrage that ended with a Mack truck running over Kuchar.
Poor Matty.
What's Up With Tigah?
Oh you know, just free diving for lobsters, taking pictures without his shirt, tweeting about his Raiders pool table, and walking around with busty nannies. Same old shit.
That one, with the large crustacean, from last week……..come on. How are you doing that with a bad back but can't hit a golf ball? This guy is full of horse shit. Either that or his doctor has some very strange rehab methods.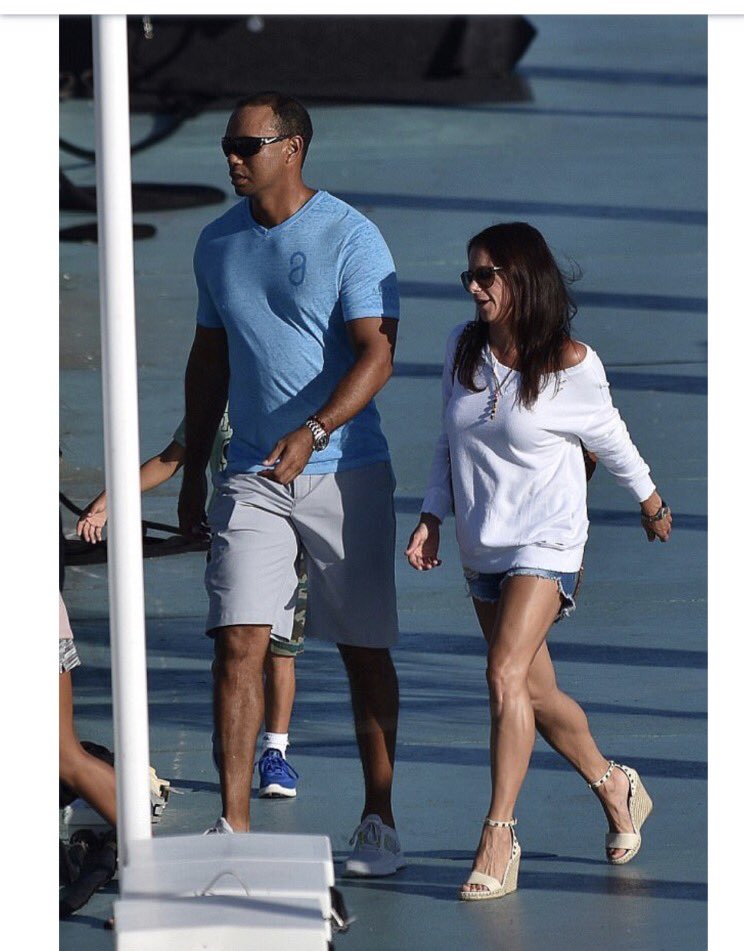 Then that one of the current nanny. Some say they were walking hand in hand right before the click of the camera. I doubt it because she isn't blonde, doesn't work at Perkins, doesn't moo or downhill ski…..you get the idea. Of course he's fucking her. He's Tiger Woods. Yeah, this guy…..
Well, I can't have a TW take without discussing his Memorial Day DUI arrest, right? What's with this dude and holiday weekends? Recall that his 2009 disaster began with his car hitting a fire hydrant on Thanksgiving. His bullshit about being hopped up on pain killers seems to be true but how does he not have enough people around him at all times to monitor what he's high on and where he's going in a car. Can't he get an autonomous Tesla or simply order an Uber? He should have served 10 days in jail simply for being stupid.
The PGA
That's about 1000 words to catch us all up for the summer. The PGA is of course next on the docket for majors. Glory's Last Shot comes to Quail Hollow in Charlotte, North Carolina…..in August. Brilliant idea. It'll be 90 degrees with 110% humidity this week. There's a reason the normal tour event at this course comes to Charlotte in May. Move the PGA you say? Well, that's what the AP broke today. The Players will move back to March and the PGA to May. That's dumb too. They'll be fine playing on Long Island, in Jersey, Ohio, and anywhere south of there but you can say goodbye to past PGA sites like Medinah, Oakland Hills, Hazeltine, and Whistling Straits. They're all out of play for a May date. You can't risk playing in 54 degree weather with no leaves on the trees and the ground still frozen. I don't like the move. Texas, Florida, and other southern states have enough professional golf events. The first PGA in May comes in 2019. Let's hope this is a 2 or 3 year experiment.
As for the tourney itself, I'll take Rickie Fowler. He's due. He finished strong in Akron. And he won his first PGA Tour event at Quail Hollow. That story line seems like something Jimmy "No Pants" Nantz will be telling us about all weekend long. Enjoy it. Perhaps I'll post about the victor before Christmas.