Let That Sink In For A Minute
I never thought I'd type that title, even if it were for a joke. But come Monday morning hell hadn't frozen over and pigs weren't flying, that is unless Rosie O'Donnell was on an airplane somewhere. Dadgummit nearly a week later and I still don't believe it…..Sergio Garcia, 2017 Masters Champion. Of course he did it in a way only fitting of Sergio. Epic ball striking, struggles under pressure, a balky putter, and a slow tantalizing putt to win that curled in the side of the 1st playoff hole to give the former boy wonder his long awaited major championship.
That's the look of a man who either just let out a fart he'd been holding in for 4 hours or a guy who won his first major in 73 tries. Or both. The feeling is probably similar. For Garcia to be paired with Rose and watch him make consecutive birdies at 6, 7, and 8 and pass him by to only then have his worst stretch of holes for the week at 10, 11, and 13….well, the Sergio we've known for 18 years would have melted like a crayon in your couch cushions. What we saw at Amen Corner on Sunday at the Masters was a new man. A man who started taking the blame instead of passing it. A man who took the blame and made the best of it. A man who looked in the mirror and decided to fix what he saw. When his putt dropped his head was finally removed from under the Best Player to Never Win a Major guillotine.
ESPN's Jason Sobel felt it too.
I've hated Sergio for nearly a decade. I've taken joy in his mishaps and mocked him relentlessly. Then a funny thing happened during the 3rd round of the Masters. I started rooting for him because I saw the new Sergio. Gone was the punk-ass who spit in a hole at Doral, flipped the bird to fans at Bethpage, and threw his club in the pond in Ireland. Have a funeral for that guy because he's dead and gone. Pre-2017 Sergio would have made double at the 10th after hitting it in the greenside pine straw. He would have made another double or worse having hit his tee ball at the 13th left of the hazard and into a bush. And he sure as shit couldn't have risen to the occasion to hit one of the greatest shots in the history of the Masters:
Thank god he made the putt to back it up.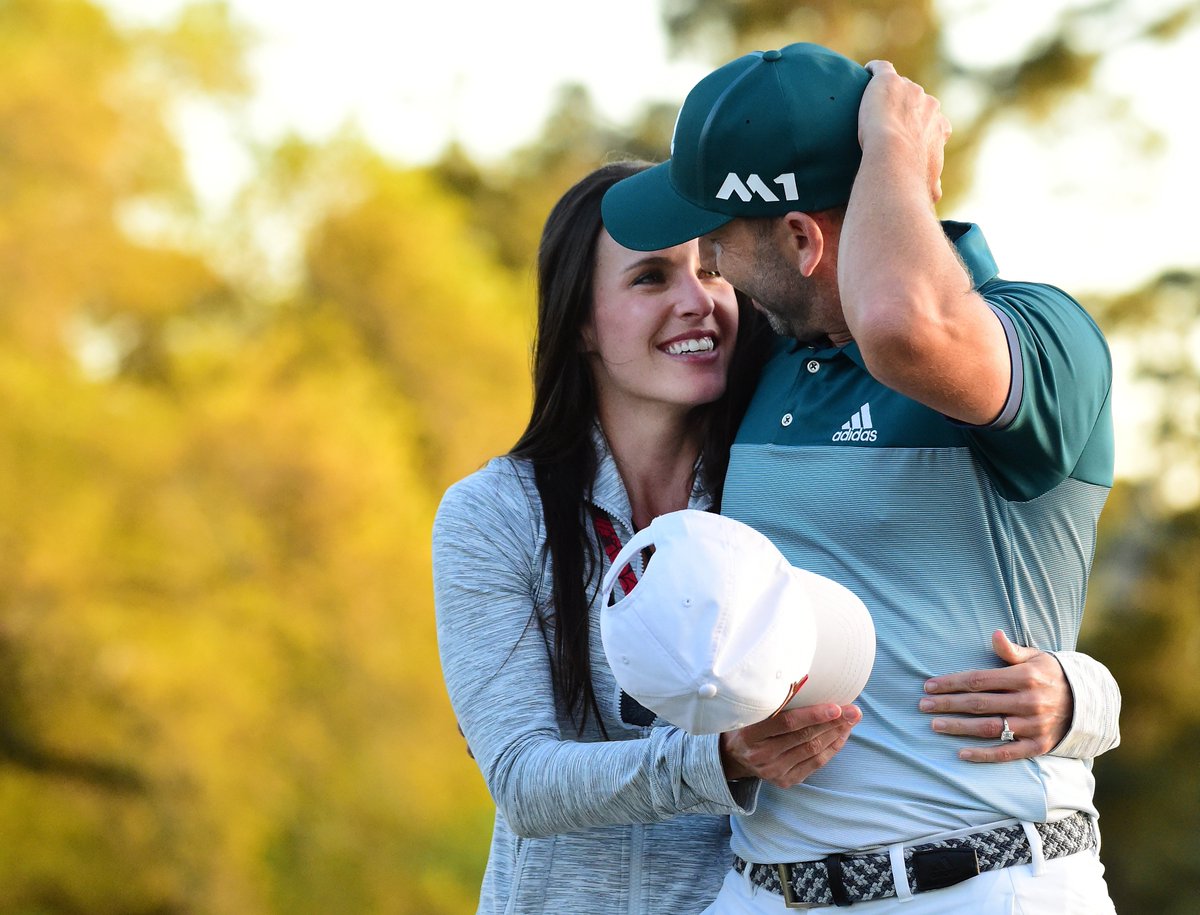 Why Garcia is different appears to have a lot to do with his future bride. Her name is Angela Atkins. They're getting married after the Open Championship in July. We've talked about her a bit before while taking past shots at Garcia. There's not a doubt in my mind he's now a major champion because of her. She's completely reset his mindset, his confidence, and 18 years of mental scar tissue is now gone. She could make millions if she wanted to write a book about it as a self help guide. Her family has had a lot to do with it too.
I'd be remiss if I didn't mention the other side of the great Masters duel we were treated to – Justin Rose. Rose was phenomenal on the course and all class in defeat off it. He obviously has a major on his resume and he appeared to be genuinely happy for his friend Sergio, but this one will sting until he gets his own green jacket. I believe him when he says he thinks he'll get one some day. His high finishes at the Masters give him that belief. Don't let him talk to Ernie Els about that way of thinking. After Augusta he went to the Bahamas for vacation probably felt good about where his game was and how he played, and then he sat down and had a beer and felt like shit because there wasn't a green jacket in his closet. Shit, I'm sad knowing the Masters is 51 week away again, I can't imagine how Rose really feels.