There's No Santa And There's No More Tiger
He's dead to me until further notice. Why? Because Tiger came out of his hole to promote his book about the 1997 Masters on Good Morning America and then sign some copies of it at book stores in New York City. What the fuck? Bro pulls out of Dubai 2 months ago, can't make pressers in L.A. weeks later, but now he's well enough to put on the full court press to promote some lame book? That doesn't add up. And then when anyone has the audacity to question if he'll play in the Masters he and Steiny get all defensive as if those assuming he won't are out of touch? Come on TW. Does this look like a guy ready to walk 72 holes up and down hills and shoot less than 75 all four days?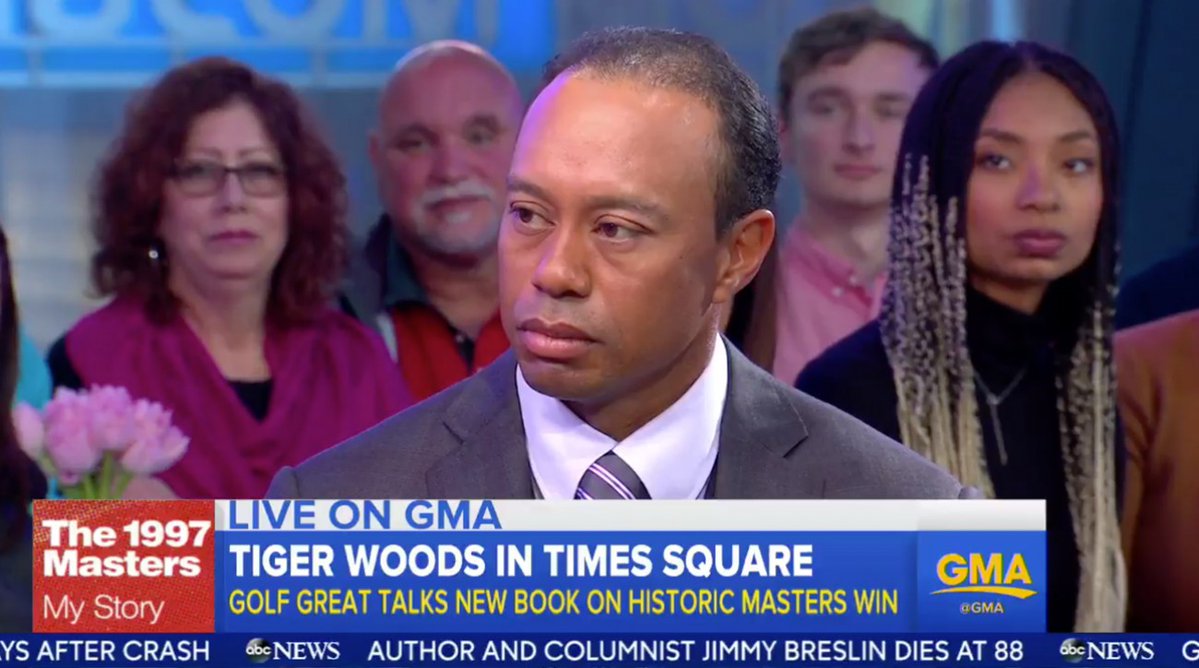 God he looks awful, like a he survived nuclear fallout and was left for dead for 2 months. He did compete in some kind of putting contest with GMA host Michael Strahan. He won. Then he pumped his first like he won major number 15. Is this real life?
I can't take any more of this. I'm getting off the Tiger train until he does something interesting, like starts banging porn stars again or actually plays in a tournament. I think the porn star thing is more likely.
I'm Not Sure They Have A Jumpsuit To Fit Her
If you're on Twitter but not following young PGA Tour buck Grayson Murray you're missing out. He's a funny and entertaining dude who tells it like it is and interacts with his followers in all sorts of tomfoolery. I don't know what his connection is to cyber queen Lindsey Pelas is, but last week he asked her to caddie for him at the Masters Par 3 Tournament if he could qualify by winning the Shell Houston Open.
That seems pretty innocent except for the fact that she saw it in her mentions and said she's in. I know who I'm rooting for in Houston next week now. Why's that you ask? Have you seen Ms. Pelas. Let me save you the search.
Like I said, they'll have to special order a white jump suit for her. And good for Murray for swinging for the fences. Go get it, kid.
Bridesmaids Becoming Brides
In the last two weeks on the PGA Tour we've had two guys win that were more well known for coming up short than they were for closing the deal. Most recently Marc Leishman (1 previous win) took the Arnold Palmer Invitational thanks to this 51 foot eagle putt on the 70th hole of the tournament.
Leishman winning is something we can all get behind. He's only 2 years removed from nearly losing his wife. She's healthy now and he's looking like dark horse candidate to sneak up on a green jacket in two weeks. Remember, he's the guy who was paired with Adam Scott for the final round when Scotty won in 2013.
In Tampa two weeks ago Canadian Adam Hadwin made everything he looked at to hold off former amateur phenom Patrick Cantlay and get his first win. Then Hadwin was back in contention at Arnie's place and nearly aced the 17th on Sunday to catch up with the leaders.
He was fucking robbed. But I don't think he gives a shit. Hadwin's win in Tampa got him into the WGC Match Play this week as well as a special invitation to the Masters in April. He'll be sitting out the Match Play for activities involving his wedding. He's rearranged his honeymoon to play in the Masters. Sounds like he's got a good (read understanding) wife lined up.
I've got to be honest, when NBC first showed her after Adam won in Tampa I didn't take a 2nd look. She had on a hat and glasses and didn't move the needle. But if you dig a bit around the internet for a little more detail on her you'll see that the future Mrs. Hadwin (Jessica Dawn) is hotter than you first thought.
You can see more of her at thanks to our friends at Golf News Net if you click that link you just read past.
That's all I've got for now but lucky for you I'm scheduled to be on another podcast this week so I'll get that linked here as soon as it goes live. Talk to you then.