Two Weeks Is T00 Long
I've failed you. I've gone nearly two weeks without a post, an update, or any other kind of mention on this website. I've tweeted plenty but something tells me that just isn't enough for you junkies. With that in mind I'll do my best to catch up, give you my random thoughts on golf goings on, and make a few desperate attempts to again entertain you along the way. Here goes something…
Bitch Tits In Leather
On Monday night the Golf Channel aired Part I of David Feherty's interview with Phillip Alfred Mickelson……and it was everything I dreamed it could be. His zings and zing-backs with Matty Kuchar, his pimping college ways and meeting Amy, and the description he provided (as only he can) about his 2nd shot at Augusta's 13th in the final round of 2010…..glorious. This is why we love Mickelsauce. The dude is always at 11 while the rest of us rarely reach that level. And he did it all while wearing Fonzy's coat.
Henry Winkler wore it better. Part II comes next week and it promises to be even more FIGJAM-ier. Don't miss it. Set your DVR. There's no better reality TV right now than Phil being interviewed or Phil on the golf course. Did you see his rounds at the WGC Mexico? Dude hit four fairways and 8 greens and still shot 68 on Saturday. Mortals would shoot 78 at best with those same stats. My favorite Phil moment of the weekend was when he clanked it off two trees with his drive at the first hole on Saturday and his ball ended up 70 yards over the green due to hitting the cart path. He hit a full 64 degree lob wedge over a huge tree then chipped in for birdie. Classic Phil.
Other Happenings At The WGC Mexico
Phil finished 7th thanks to shooting even on Sunday. Jon Rahm thrilled us, only to come up short. Rory teased us with a 65 on Friday and not much thereafter. Tommy Fleetwood back-doored a 2nd place finish. Justin Thomas played great once again away from the continental U.S., until he didn't. But JT did snag a Spanish-style ace just to keep things exciting…
In the end it was another dominate win for Dustin Johnson. It wasn't dominant in the margin of victory, but dominant in the fact that he was driving greens with an iron in the thin mountain air.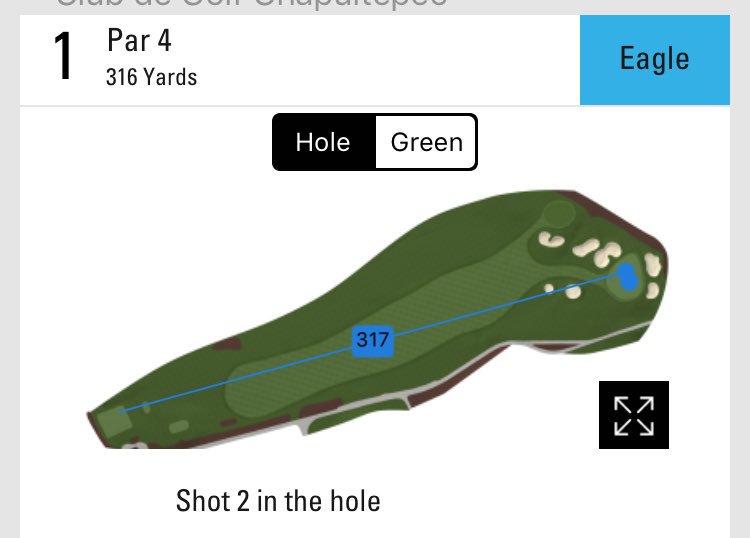 That's fucked up. But snagging another WGC two weeks after becoming number 1 is a nice way of validating your place in the pecking order.
The WGC had some fun shots, lots of hole outs, and interesting shot making in the altitude, but it wasn't all its cracked up to be. Henrik Stenson nearly shat himself thanks to getting a stomach bug and having to withdraw. Mickelson's caddie, Bones, had similar issues and had to leave the golf course urgently to deal with it. Phil's brother Tim stepped in to loop as Bones' back up. Why these dudes drank the water down there is the mystery I can't solve. But shit happens in Mexico, literally. I've been in their shoes. It doesn't take much to make you ill south of the border.
And the golf course, it was a fucking joke to say the least. Being some 7,000 feet above sea level made the course play like like your local 6400 yard muni. It looked like one too with over grown trees, burnt out turf, and chump par 4s the Tour boys drove with irons and fairway woods. Take this mother back to Doral, stat.
Modernizing Golf 25 Years Too Late
The USGA announced some fun changes to the rules of golf last week (due to go in force in 2019). You can drop a ball any way you want. You will only have 3 minutes to find your ball instead of 5. You can tap down damage on the green, including spike marks. You can putt with the flag in. And you can ground your club just about anywhere you want.
Shorter time to search for your ball. I'm in. The rest of these are a bit too liberal for my liking. They're going to be a mess to deal with. We've been told for 100 years that the flag stick being in is an advantage on the green. Now all of a sudden it isn't? The grounding of the club thing may work out but I'm sure some dick face will learn to take advantage of that and the repairing the green rule. This is an aggressive move by the USGA. Unintended consequences will result. Get ready.
I Almost Forgot Rick
In the most boring golf tournament of 2017 Richard Fowler cleaned up on the Honda field in route to a 4 shot victory in nasty/windy conditions in south Florida. Fowler was fantastic save for a few sloppy bogies he made on his way into the barn. His putting was the difference between a win and an average T15 type of week. It doesn't matter how you get it done if you ask me. Johnny Miller would disagree. He criticized Fowler for not closing strong. Ummm……hey dipshit. I think Rick has about 1.2 million reasons why it doesn't matter how you close as long as you win. Its not like he got his 4th career win on a technicality. I think it showed more fortitude to rinse one on 17 and still make bogey than anything Johnny ever did. Did he not remember Fowler's "close out" at the Players in 2015 and the onions he hit shots with on the dreaded island green?
Ray's tweet above makes blood flow to me in funny places. That's a helluva start to the year for golf fans that like to see the new crop of bros taking over. And let's not forget what Dustin Johnson has done, what Phil Mickelson has shown signs of, and Jason Day……errrrrrr, ok. Maybe not JDay. Homie called out sick again with a double ear in-fuck-tion and flu like symptoms. Huh? He did that about 5 days before he had to hit a shot. Weird. Maybe he knew about the trots in Mexico. Or….????
No, come on. I'm kidding. But seriously, put the former world number 1 in a bubble until the Masters, please.
If Tiger Were A Fast Food Chain, He'd Be In And Out
Hi ohhhhhhh!!!!! Because of the porn stars……..you know, the cheating……ahhh fuck it…. never mind. Since we last spoke via this medium Tiger Woods pulled out of everything (except Elin it seems) before he even hit a shot. I doubt he plays Bay Hill next week and I think the Masters is at best a 50/50 proposition. Is it because of his back, or because he knows he can't beat anyone? Pat Perez says its most definitely not his back. Pat said this on PGA Tour radio a few weeks ago. Bad move PP.
Of course, it isn't that I think Pat is actually wrong. I've said plenty of times on this site that Tiger's biggest issue right now is playing the 6 inch course between his ears. He's got to have some scar tissue due to his fall from dominance. Whether that was caused by injury or something else he clearly isn't up to the task of getting past it……right now. With that in mind Pat's statement is correct. Here's the problem. I can say it. You can say it. Nick Faldo can say it. Johnny Miller can say it. Perez can't. You know why, because he's a peer who's never sniffed a fucking major. If anything Perez is the anti-Tiger. Tiger did nothing but close tournaments and kick ass for 16 years on Tour. Perez has one of the worst final round scoring averages you'll ever see from a guy with a 20 year career (hence the tweet above). You and I can say it because no one cares what we think. Faldo can say it, and so can Miller, because they're god damn hall of fame players. Perez? Sorry. It is a polluted thought coming from him.
Plenty of the Twitterits think its cool that Pat was so honest and spoke his mind. In most cases that's great. Not on this. What does he gain from calling out the best player of a generation? He looks like he has some kind of beef with Woods. I don't think that's the case, but I do think he's taken some joy in knowing his old youth golf nemesis can't tee it up and drub him while both guys are in their 40s now. I get that. Perez must have figured out his error too because he deleted his Twitter account within 24 hours of making his Tiger statements.
Oops. Sorry Pat. Thanks for playing.