Thomas Takes Two
If you're a PGA Tour fan you have to love Justin Thomas. There's no other way to slice it. He's talented. He's humble. His swing is a thing of beauty. He's young. And he's really fucking good. About 15 months ago it would have been easy for someone to write how he's in the next group of stars but hasn't broken out yet, lived up to the hype, whatever cliche you want to throw out there from a lazy journo. Thomas won near the end of 2015 to give us a taste and then won the same event again in 2016 to make sure we didn't forget about him. Then the calendar flipped.
All he's done since then is blow away the field at the Tournament of Champions (beside Matsuyama) and dominate the Sony Open from the jump with a Thursday 59. Don't be blinded by the 59 and let that first anecdote slip by too fast. Before the Sony he was the only man in the world who'd beat Matsuyama in a few months. Two do it twice, and then back it up with another win and rise to number 8 in the world (21 spots in two weeks!) is rarefied air.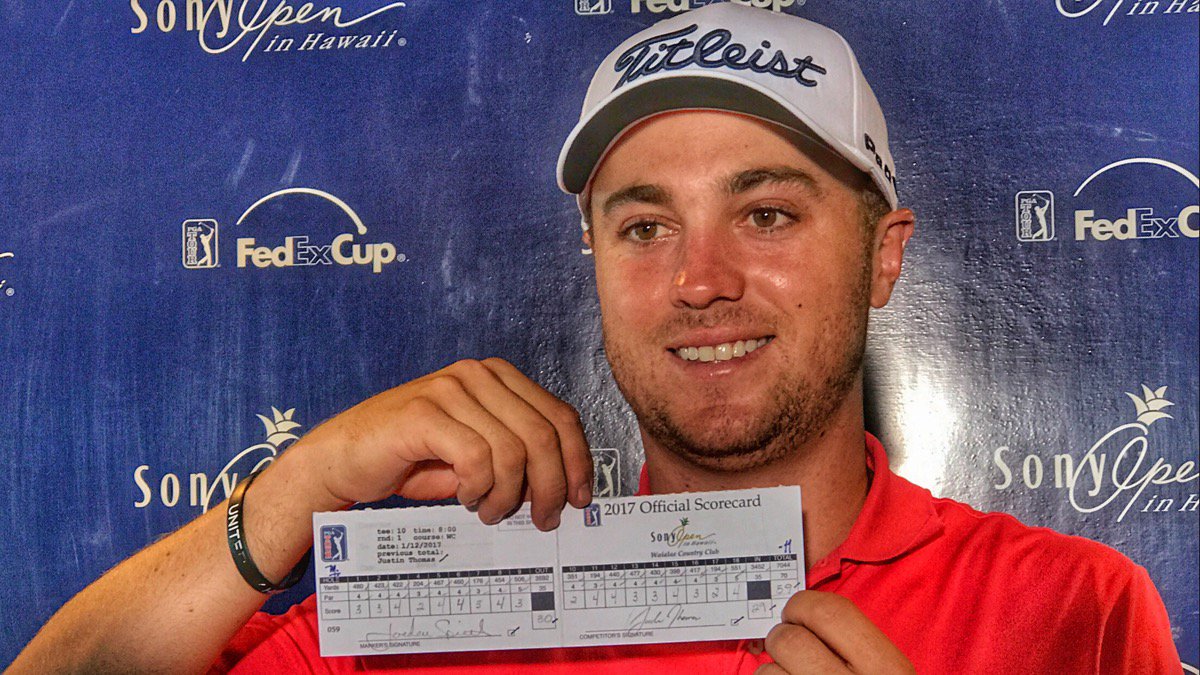 Sure there's been guys like Joe Durant who won 2 events to start a season and then disappeared for 11 months, but there's also been guys like Jimmy Walker who've done something similar and used two quick wins to springboard their year and career. Thomas is clearly trending more toward what Walker did, minus 15 years of grinding. Thomas' Masters odds are still in the 25 or 30 to 1 range depending on where you look. Get him while you can.
Rory's Rib
Rory kicked off his 2017 on the Euro Tour by playing in the South African Open. He looked brilliant at times and rusty at others. He eventually lost in a 3 hole playoff to Graeme Storm, a journeyman who hadn't won in a decade and wouldn't even have status this year if Patrick Reed had played enough ET events in 2016. Once Rors knocked the rust off he was insanely good for stretches. Binges of birdies and eagles, 5 woods flown 300 yards, hole out eagles from the fairway. But he did lose thanks to a missed 5 footer in the playoff. Can you ever remember Tiger doing that?
I looked at the whole week as a very positive start to the year for Rors in spite of the playoff loss. He has a lot more golf ahead of him and majors are the only thing he's keeping track of these days. Then he announced a rib injury today that will keep him away from golf for an unknown amount of time.
I don't think that tweet is that hot of a take. Remember a few years ago when Snedeker looked like the best golfer on the planet. He won a Pebble then sat for weeks with a rib injury and was never the same guy that season. I don't think the whole year is a wash for Rors, but the Masters is 80 some days away. If this lingers in to mid February it will hurt his prep for Augusta.
Furyk For France
In other less than ideal news for golf fans, Jim Furyk was named the 2018 Ryder Cup Team Captain for the United States. Ugh. Sure Jim 'deserves' a chance because of his resume, his grit, blah blah blah…….fuck that. The dude is the biggest loser in U.S. Ryder Cup history. Look up his record, this isn't hyperbole. He has no business being a captain based on how many times he's been drubbed by a lower ranked Euro.
Oh wait, it gets worse. He was asked by the media if being named captain meant he would not consider himself as a playing team member. He didn't rule it out. If Jim makes it on points, which isn't off the table with as much as he plays, he'll play and be captain. That's stepping on my genitals and spitting on me all in one motion. Thanks PGA of America! I don't get how these guys can continue to ignore Fred Couples as a Ryder Cup Captain option. Yes, I know he did a few tour as Prez Cup cap, but so what? He won and the players love him. Freddie in France is the perfect combination. He'd probably bag some froggie babe (is there such a thing?) while leading the boys down the Champs-Elysees for the opening ceremonies.
What The Fuck?
That's all I can say for this one. Take a look and you'll see why:
https://www.instagram.com/p/BPOzq9ilFDq/?taken-by=paulinagretzky&hl=en
So DJ goes from Kapalua to some ski vacation with Paulina and this is their idea of fun? What, did they run out of blow? This is the move of a desperate man, like she said she'd let him have a 4 way if he did it. He doesn't look too engaged in the acts of the video minus that one scene. I expect this from Ben Crane or Bubba, not DJ. I almost took his POTY award away for this.