Putting A Bow On The Show
It is time to get this thing over with, the year, the Shutters, etc. All of it. They've both gone on long enough. The Shutter for WAG of the Year was the show stopper for the first two years of these awards. In 2016 it is the one I've dreaded handing out. The past winners include Amanda Dufner, Alexis Randock (Rickie Fowler), and Paige Spiranac. Dufner and Randock have since parted ways with their star golfing significant others. That's bad mojo for anyone nominated this year. Good luck, ladies, the category is wide open. I try to stick with actual wives and/or girlfriends but as you can see with Paige winning last year I'll also legitimately nominate an up and coming viral smoke show that golfs. Paige was a force of nature last year, she deserved it. Who's going to get the SFG curse for 2016????
The Nominees Are…
Jillian Stacey Bradley – Jillian is the new bride of Keegan Bradley. The couple was engaged in 2015 and smartly waited until after the 2016 PGA Tour season was over to tie the knot. The New England couple then took to Italy for a honeymoon you should never show your wife or girlfriend pictures of because you'll never be able to live up to it (this is the same reason you don't watch BBD porn with your girl).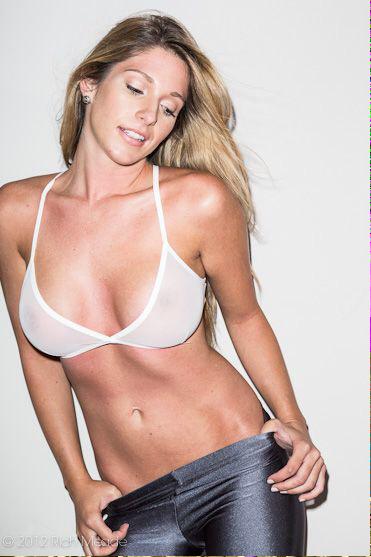 Recently married, super hot, she's a lock, right? Because she's actually with a golfer and not the golfer herself his year counts for or against her too. He only had two top 10s and probably made about as much as he spent on the wedding. Ouch Keegs.
Paulina Gretzky – The fiance' and baby momma to Dustin Johnson, Paulina has been a WOTY nominee on SFG.com before. In 2013 she and pictures of her wearing little clothing practically carried this site to a level of readership that kept me going. She's still dead sexy and Dustin's game has never been better since she came along nearly 4 years ago.
https://www.instagram.com/p/BEmmqr0sj-Q/?taken-by=paulinagretzky&hl=en
The power couple has a young son together and they're still planning on getting married (I'm hearing early 2018). I think this is her year. Dustin's year was too good and she's too hot to ignore. His major win at Oakmont in the U.S. Open just might be enough to put her over the top.
Elise Lobb – Elise is former collegiate golfer at Northern Florida University. She can play but you won't see her trying to climb the ladies professional ranks anytime soon. She's far more likely to appear on your TV as some kind of media persona. She became 2016's version of Paige Spiranac after her good looks, charms, and fun personality went slightly viral. She also held down a month or so as the SFG Up & Comer of the Month.
Elise seems to have a few jobs in smaller roles for various media outlets. I'm not sure what the Golf Channel is waiting for, with her background she's be perfect on-air talent eye candy for almost any show they can think to put her on. Get it done!
Nicole Willett – The Masters Champion's wife had a big year. Hubby Danny won a green jacket, they had a baby the same week he won his first major, and then she got to deal with her brother-in-law's foot in mouth episode surrounding the Ryder Cup.
Like Paulina, Mrs. Willett gets bonus points for her man winning a 2016 major. Unlike Paulina, she also gets bonus points for following me on Twitter. I obviously don't know her personally, but she seems like the real deal. Down to earth, not interested in celebrity status, and more concerned about being a good mom than flashing photos of her amazing life around on social media. That's a good thing for someone in her shoes.
And The Winner Is…
This isn't that clear cut. You've got a new bride, a new mom, some WAGs with major trophies on their mantles right now, and a new viral golf sweetheart. I could give this to anyone. I'll take Lobb out of this right now. She's fantastic but she doesn't hold a candle to Paige who won last year for the same reasons. Stacey Bradley, she's out too because she must have distracted Keegan all year with wedding bullshit for him to have played like that. Paulina is the winner. I can't deny her again. I'd like to say Dustin's performance at Oakmont put her over the top, but the reality is this work by a Fox cameraman is what got her the win.
So yeah, I gave her the win for wearing that white mini knowing she'd be in front of millions of eyeballs with her guy winning the national championship. #LonglivePaulina indeed, and congrats to her for winning the SFG Wag of the Year award.
I think I got it right. I don't need you to confirm it, but I've always given you a voice here and I always with. The poll and the comments are here for you to tell me how you feel. Don't be bashful. Happy New Year!