Round Is More Than A Shape
Well, well, one award down, several more to go. The 2nd Shutter on the agenda is for the Round of the Year. This category is open to any round played anywhere on the planet since November 2015. Of course we mostly only hear about those played on professional tours, but if you shot 67 as a 20 handicapper and won your club championship with two hole in ones I'd probably give you some consideration if it was legit. I digress. In 2016 the nominees are all men, and all on major tours, but now you have something to shoot for next year. So do I. Lets get on with it.
The Nominees Are…
Henrik Stenson, British Open Final Round – I probably should include Phil fucking Mickelson with Henrik as a nominee thanks to his major role in what transpired at Royal Troon in July. Phil shot 65 in the final round of a major and didn't win. If he were a betting man…..pffffffffttttt – I can't even type that without laughing – he probably would have put a few million on himself had he known his final round tally before he teed off. Phil was great that day, but Henrik's 63 was legendary.
Stenson had the putter going along with his normal robotic ball striking, that's tough to beat. He made 10 birdies including 4 on the final nine to hold off any thought of a late Mickelson charge. He and Phil would have shot a best ball of 50 something had they been teammates. This wasn't Thursday or Friday in Phoenix, this was the final round of the Open Championship in less than perfect weather. Ok, so maybe the green were a little slow, but this wasn't St. Andrews without a breeze. He beat third place JB Holmes by 6 shots on the day and 14 for the tournament. If Phil hadn't stayed in sight we'd be talking about Stenson's first major triumph like we used to talk about Tiger Woods' Pebble Beach U.S. Open victory. I'm not sure I can talk myself out of giving this one to the Iceman, it might be too obvious.
Patrick Reed/Rory McIlroy, Singles Match at the Ryder Cup – Ok this one is a dual nomination, or should I say duel. While I can single Henrik Stenson out from Phil above I can't do the same for Rory and Patrick. Stenson became Champion Golfer of the Year for his efforts. Reed got a point for his team for beating Rory. That's not quite the same. This was barely a month ago so I don't think I need to rehash the highlights for you, but I won't miss an opportunity to show them in my favorite Patrick Reed montage of all time (again).
We wanted that match up and we got it. It couldn't possibly live up tot he hype, but then it did. The front nine rivals any stretch of golf ever played. Sure it was match play and the course was set up easy in perfect weather, but there was still Ryder Cup pressure and plenty of adrenaline flowing due to the heated competition. The theatrics, the yelling, the gesturing, the bravado, the crowd…..the match was whip cream on top of a giant ice cream sundae that was the Ryder Cup. I know Phil and Sergio shot 63s just a few groups behind Rory and Reed, but fuck Sergio and Phil's round didn't have the fireworks that Reed/McIlroy gave us.
Stephan Jaeger, Web.com Ellie May Classic 1st Round – You've probably never heard of Stephan Jaeger, or you hadn't until July 28th when he shot 58 in the first round of that week's Web.com event. Jaeger went out on the back nine and posted a 29. He needed a birdie on his final hole, the 9th, to post the first 58 on a major professional tour (nobody really counts Ryo Ishikawa's 58 on a rinky dink course in Japan a few years ago).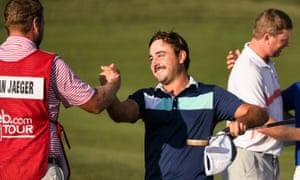 The German born Jaeger smartly laid up on that hole to make his birdie and make history, albeit briefly. His 58 would only stand alone for roughly a week. The round is still ground breaking man-walks-on-moon kind of shit and worthy of a nomination for the 2016 Shutter.
Jim Furyk, Final Round of Greater Hartford Open – Speaking of 58s…..Jim Furyk followed up Stephan Jaeger's effort with a Round of the Year nomination of his own playing early Sunday morning in Connecticut on August 7th. Furyk of course is no stranger to sub 60 rounds, he was the last PGA Tour player to shoot a 59. No man had ever shot a 58 until Jim's historic effort at the TPC River Highlands.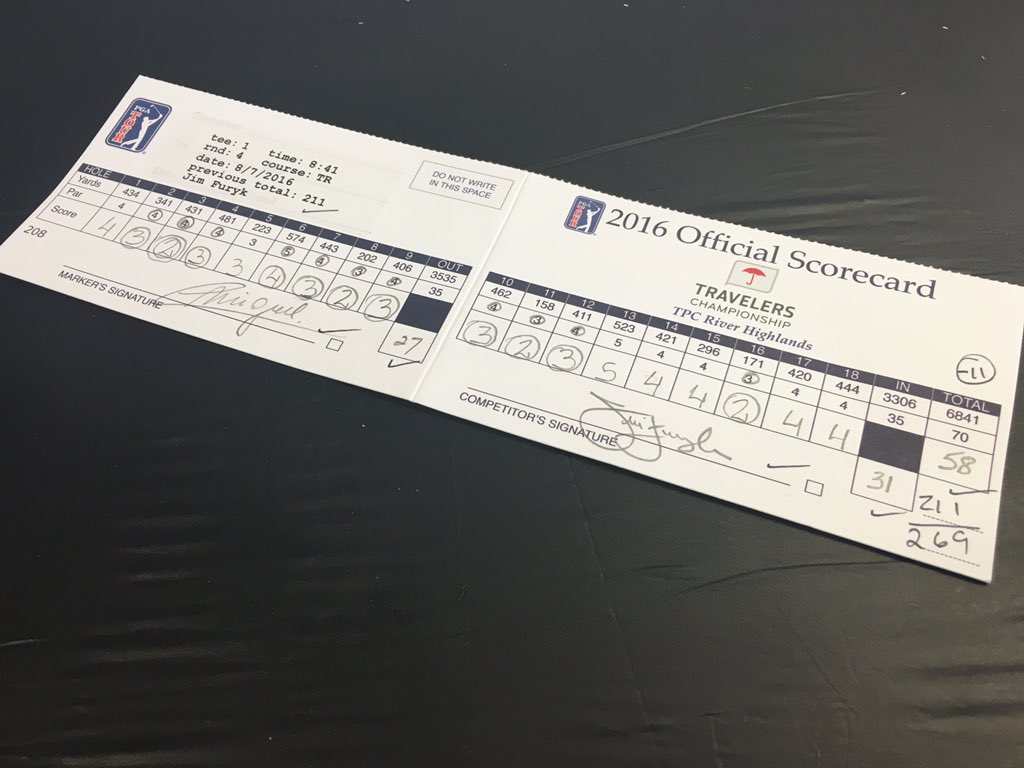 Jimbo barely made the cut that week in Hartford then slugged around Saturday with a 2 over round of 72. He was 14 shots better a day later while hitting all 18 greens and making 10 birdies and an eagle while trying to play his way on to the US Ryder Cup team. Now take a closer look at the image of the scorecard. He didn't birdie two of the easiest holes at the TPC track, holes 13 and 15, a drive-able par 4 and a reachable par 5.
That's the lowest round in nearly one million that have been played in the history of the PGA Tour. Say whatever you want about it, but no matter what adjective you use it isn't hyperbole. That's one for the ages but it did come during a pretty hollow and meaningless round played by a guy well out of contention. Sure it still counts, but it hurts how I weight it versus its peers for my Shutter for Round of the Year.
And The Winner Is…..
Jaeger. Period. Done. No, I'm fucking with you. Jaeger is only nominated as a place filler. Who am I kidding? Furyk. Get the fuck out. This is all about context. Where you shot your score and what it meant matters most. 58 seems great because no one has bettered it, but doing it in Connecticut early Sunday morning is about the most meaningless time to shoot such a score. I'd probably hand this thing right to Reed and McIlroy and not think twice about it most years, but Henrik was too good and his round earned him the biggest trophy of any of the nominees I put up for this award.
The only round I can think of (in my lifetime) that rivals what Henrik did in the final round of a major is when Anthony Kim made 11 birdies at the Masters in 2011. Kim didn't even win, obviously. Stenson nearly equaled Kim, out-dueled FIGJAM, and posted the 30 something-ith 63 in a major. That checks all the boxes for me, and his final round at Royal Troon wins the 2016 Shutter for Round of the Year.
I think I got it right. I don't think there's any question, but I like to give you fuckers a say and that's why there's always a poll at the bottom of the Shutter posts. As always, if you vote "Other" you better leave a comment and tell me what I missed. Player of the Year is next.