Also Known As The Ian Poulter Award
The professional golf season for 2016 is over. The weekend hacker season will be soon for those of us in cool climates. That means it is time again for my year end awards, the Shutters, to be dished out. So here they come, piping hot. As always I'll start with the Whiny Bitch of the Year. Last year we considered (you readers and myself) renaming this one after Ian Poulter, but fuck him. Why give him anything so distinguished? Poulter is and always will be a whiny bitch, and we all know it, so I'll be leaving him off the list permanently unless he does something that I just can't ignore. Now on with the show.
The Nominees Are…
The USGA – It would seem to me that it would be hard for an entire governing body/organization that puts on just a few tournaments to be up for such a nasty award like the WBOTY Shutter. But the U.S. Open rule fiasco and what they did to Dustin Johnson during the final round puts them right at the top of the list of nominees. As you may recall, the USGA watched video of Johnson on a green during the final round of the US Open, which he was leading, and magically determined that the ball moved because of him grounding his putter head behind it. Johnson wasn't sure it moved and he was right there looking at it.
Let Johnson decide if it moved and a penalty should be tacked on? No, not these dandruff coated fuck jobs, they took matters into their own hands and assessed DJ a penalty. They did that to him during the final round, but made him play most of the round in limbo as to if he'd actually get stroked. And to do that to DJ who's suffered from past odd rulings in majors was akin to waterboarding a captured enemy soldier, cruel and unusual.  What the USGA did was wrong, what made it worse was that they delayed their decision and backed it up with no remorse. In the end it didn't impact the championship. DJ got the win and it was well deserved. But that doesn't absolve the blue coats from being idiots and whining about the letter of the law, intent, stupid rules, and using video replay that did everything but convince me DJ's ball moved. Shame on them. They should have shut the fuck up and let the thing play out instead of being drama queens.
Justin Rose, Losing European Ryder Cup Team Member – Let me get this out of the way first. I like Justin Rose. I like how he plays. He's a bit of a dork, but he's a good dude who does things right. I root for him 103 weeks out of 104. Then there's that pesky Ryder Cup week every two years like the one we had in 2016. Rose played ok, but he lost a few matches and when he was asked about the course set up after the Euros lost the cup he said it was easy and felt like a pro-am.
Dude, JR…why go there? That sounds like sour grapes. Rose shot around even par in his singles match against Rickie Fowler while guys like Sergio and Phil shot 63s. If the course was so easy, why'd you play like shit? I think Rose would like to have that comment back in hind sight, but that cat is out of the bag and now he's made the list of nominees at SFG for this award.
PJ Willett, Brother of 2016 Masters Champion – You know this isn't a typical award show when a major champ's brother is nominated for the award instead of the champ himself. You know who PJ is and you know what he said, but just to relive it one more time I've included the full text below.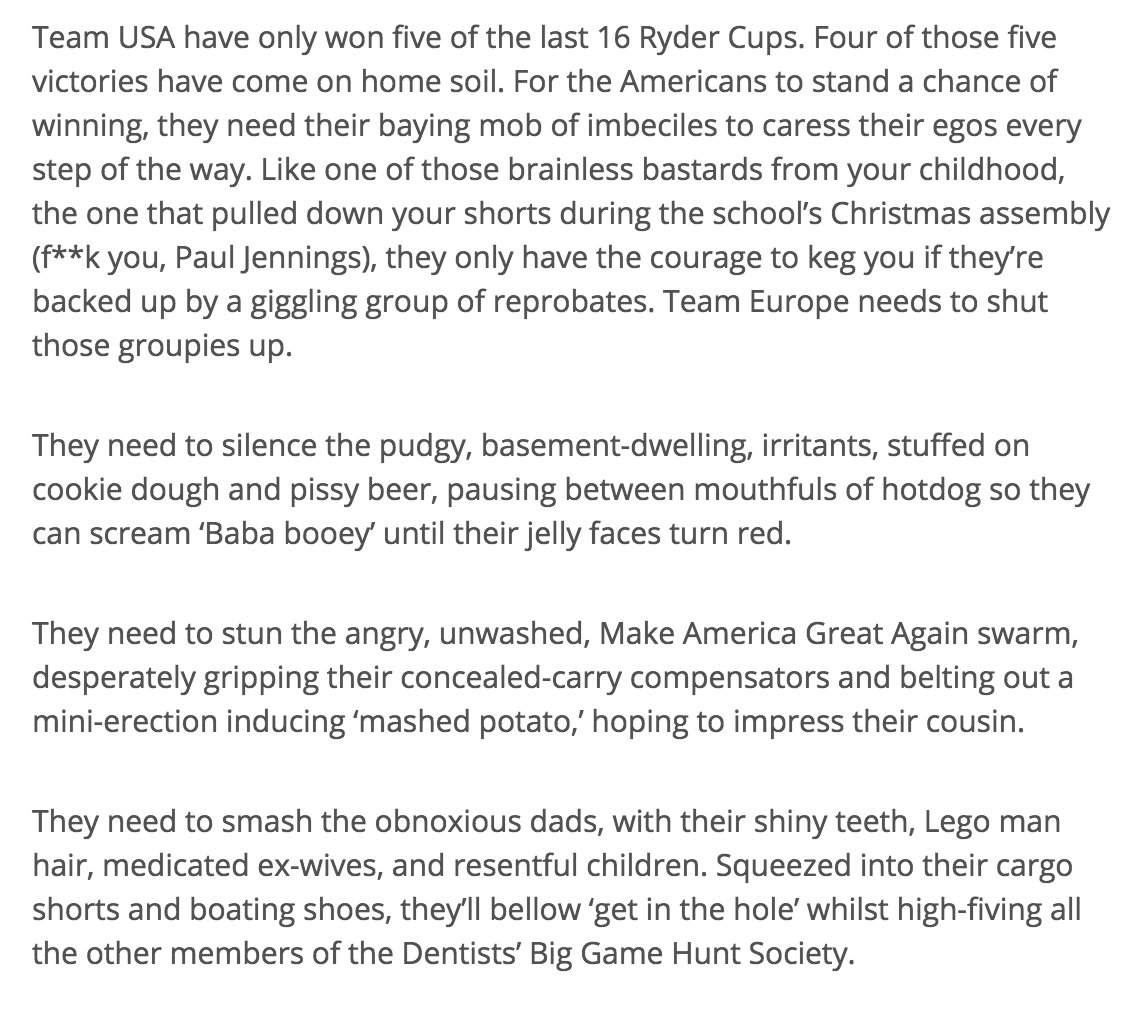 Your brother is about to compete in the 2nd biggest golf event of his life, he's a Ryder Cup rookie, and you go out and say that to damn near start a riot on the grounds of Hazeltine? What a bumbling fuck. I really like Danny and his wife, Nicole. She's a SFG follower, if you believe it or not. She seems sweet. Danny seems real. But this brother of his is going to be a problem for the Willett family unless they get him a fucking muzzle (or break his phone). In PJ's defense, several of the American fans proved him right, but that doesn't mean you can say it, whine about it, or put it on public record. He kept hammering it on social media for weeks after the Ryder Cup too. What an ass. It didn't bother me. I wear big boy pants and have thick skin, but I think he deserves a nomination. The shame of it is he was soooo good on the Twitter while his brother was winning the Masters. I know he tried to be funny, but 95% of the US fans weren't going to see it that way. Know your audience.
Sam Horsfield, Collegiate Golfer at the University of Florida – I said no Ian Poulter this year but Sam is about as close to nominating Ian as it gets. He is IJP's protege' and resident youth asshole of the swanky private golf scene around Orlando. Normally I reserve these nominations for true professionals that deserve to be ridiculed and lambasted for their behavior. I almost nixed Sam's nomination because he's still an amateur, but hardly. He plays more golf for most pros. He's a snobby private school schmuck who's parents are loaded. He'll be on the PGA Tour someday as the next set of man boobs to replace Phil Mickelson's.
So why does he make the list? If you saw him play a single shot at the U.S. Amateur at Oakland Hills this summer you know exactly why? This little bitch cried and whined at the hint of a bad shot. He slammed clubs. He didn't give his opponents any credit for how they played. He was short with the interviewer after he lost. He was a dick to his caddie. In summary, he acted like an entitled spoiled fucking brat. But what else could you expect from someone who actually looks up to Poulter. I hope that he got home and saw how he acted on TV and will change his ways in the future. Sam is very talented. He'll be around professional golf soon enough and probably will have a very lucrative career. If he acts like that later in life he'll be the loneliest man on Tour.
And The Winner Is…..
Ugh. This has to be the weakest field of nominees of the four years in which I've been giving out Shutter awards in this category. I think there are two clear cut favorites contending for the WBOTY. Horsfield is out. I put him on here because I got a glimpse as to what an asshole he is in seeing him play for two hours. That means he sucks, but he's probably not worthy of the space I wasted here to talk about him. Rose? Nah. He's got too much goodwill and a gold medal to boot. He was pissed off they lost and said something stupid. Oh well. PJ Willett and the USGA…..tough call. Both were monumentally stupid in 2016, but I'll have to go with Willett. Like I said, what he whined about doesn't bother me whatsoever, it was funny, but he did his brother no favors because most fans didn't see it that way. That's award winning stuff for all the wrong reasons. Congrats PJ. You get the first award for 2016.
Did I get it right? Hit the poll and tell me.