Patrick Reediculous, A True American Hero
I don't even know where to begin. The Ryder Cup contested in Chaska, Minnesota last weekend had such a multitude of highlights and American swag thrown about it that I've lost track of what happened completely. Lets talk about the big guns first. Patrick Fucking Reed. He did everything but sell beer and raise the flag himself every morning at Hazeltine. At the 2014 matches Reed began writing his own chapter of Ryder Cup lore when he played with passion, grit, and shushed the home European crowd at Glen Eagles. He held his own record-wise too. The shush to the fans has since become his trademark. Because of what he did in 2014 he became the subject of interweb and Twitternerd jokes and memes for nearly two years. His Ryder Cup hype was off the charts. What could Captain Love do to allow him to live up to the hype or shield him from it? How about putting him in the first match of the week as well as the first match of singles, against the best of the best that Europe could throw at him every time out. Yeah, that's all. That'll do. What do you think of that Patrick?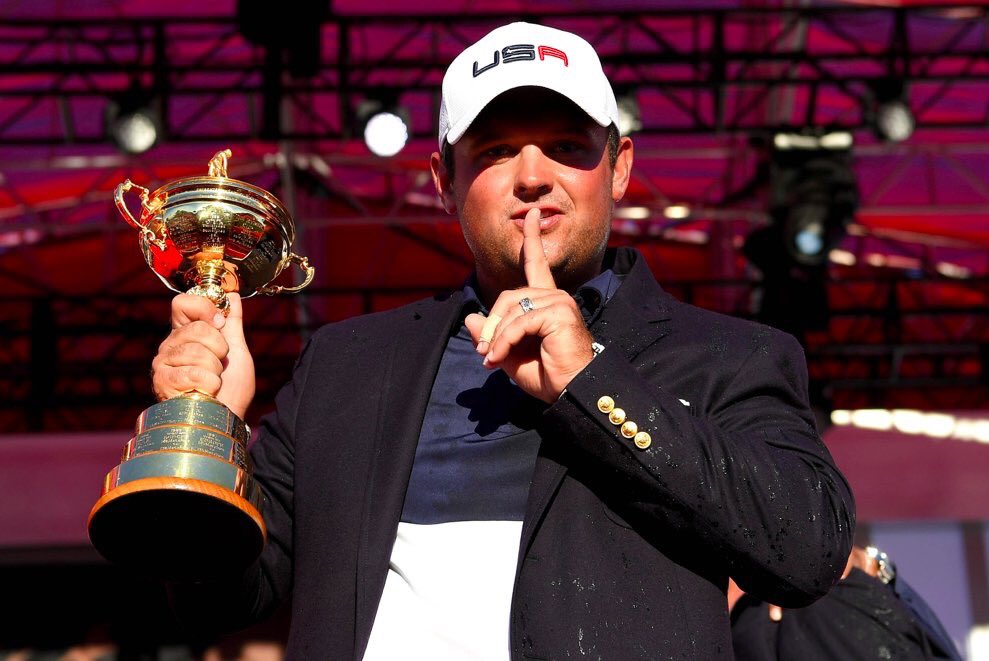 There aren't many things in life that can live up to any amount of hype, let alone two years of insane, cartoon-like, Chuck Norris-esque comparisons. Patrick Reed spit in the face of it all, kicked it in the dick, and played above and beyond any insane amount of expectations anyone could have had for him. Sure he lost a match, the one where he was outgunned with little to no help from a partner. The same one he ran out of his mojo on. The one in which the Euros played their asses off to beat just him. His only mistakes of the week were wearing white pants for 36 holes on Saturday and hitting driver on the 15th hole with a 3 up lead in his 4 ball match against the Spaniards. That cost the U.S. a half of a point. I'll forgive him.
Why will I forgive him? Because he supercharged the other 11 members of the team with confidence they lacked and momentum they needed. He was also a pretty decent hype-man in his own right with how he engaged the drunk home crowds for each and every session. And just when the Euros thought they had a chance in singles, he slayed the beast that is Rory McIlroy in one of the best, most well played matches in the history of international team play. That's not hyperbole. That's a fact. Reed needs a montage. He's earned it.
Maybe now we'll stop poking fun at Reed for his 2014 comment about being a top 5 player. What's next for Reed will be interesting. Can he harness this type of play more on the Tour? Can this performance propel him to win a major or two? I have no clue. He's obviously a world beater when he plays with an edge like this. Look out fellow Tour members.
While Brandt Snedeker was the only American to go unbeaten (he was 3-0), Phil Mickelson is the only other guy on the roster who can even be put in the same sentence as Reed for how he played in the Ryder Cup matches. Phil of course was the jackass (his words, not mine) who opened his fat trap at the 2014 post match presser to complain about Captain Tom Watson's ways, the timing of the captain's picks, and anything else that didn't sit right with him about the make up of Team USA. Then in his pre-cup 2016 presser he threw 2004 Captain Hal Sutton under a giant bus for how he paired FIGJAM with Tiger Woods without allowing any preparation for the two best players of a generation to play together.
Phil was ripe to lay an egg at Hazeltine. He's old. He wrote some checks that many thought his ass couldn't cash. He hadn't played well in recent tournaments (outside of a 29 for his last nine of the Tour Championship). But that's when Phil is most dangerous, when we expect nothing. He got help from a few partners to earn wins in team play, then matched lucky-ass Sergio Garcia shot for shot with a 63 that included 10 birdies in his Sunday singles match. All that for a half point that also killed any mounting Euro momentum.
Have a drink, Bitch Tits, you earned it. Phil was already a Ryder Cup legend. Perhaps now he's a god. He'll be a captain any time he wants to be, but most have him on the books for 2024 at Bethpage, and every two years thereafter.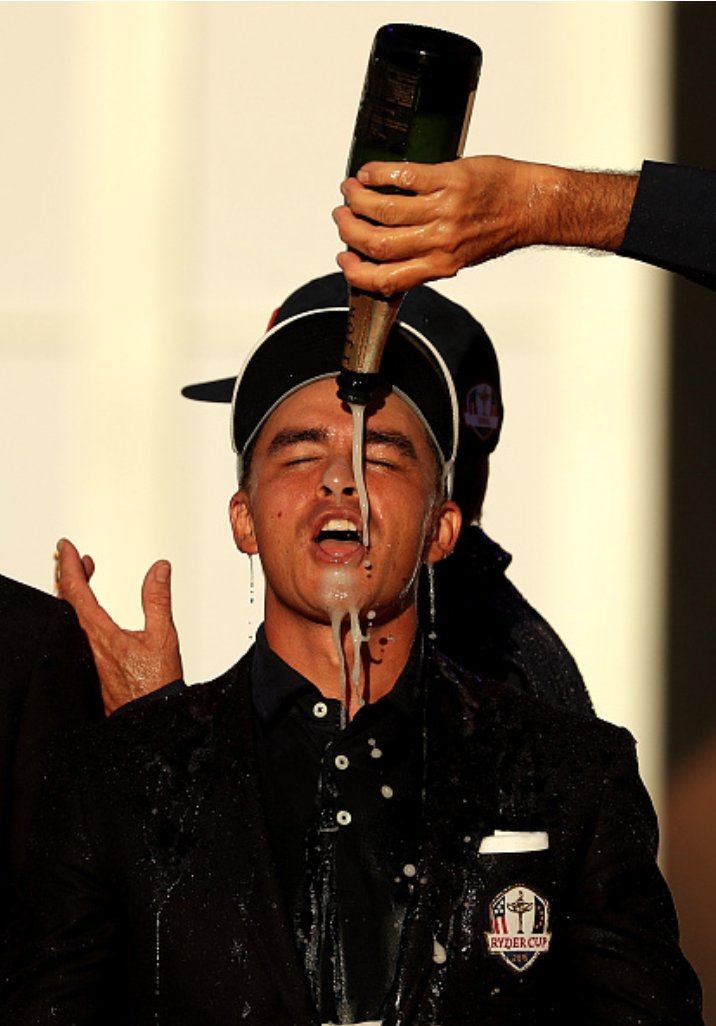 There's no point to handing out players grades. JB Holmes probably played the worst, but he won 1 of his 3 matches. He carried Ryan Moore in that win. Holmes has also now been part of more winning Ryder Cup teams than Tiger Woods, the score is 2 to 1. Moore wasn't great either, but he had a winning record and clinched the deciding point with a comeback over Lee Westwood. That's pretty good for an 11th hour pick. Jordan Spieth sucked but got two wins thanks to Reed carrying his ass. He was so bad there are rumblings that he may be hurt. That's a nice excuse to fall back on. If the US had a breakout star last week it was Brooks Koepka, who went 3-1 while smashing 350 yard drives all over the lot. Reports from practice were that Koepka was off and they didn't expect much from him once the rubber hit the road. I guess Brooks is a gamer. He certainly rose to the moment when called upon.
Most who attended the matches say that the Minnesota crowd was the 13th man. I'm going to disagree with that. Of course the drunks of 10,000 lakes helped the cause, but I think the players and captains might give a nod to a certain Mr. Arnold Palmer, who passed away 5 days prior to the playing of the cup. Palmer was there in spirit with his 1975 Ryder Cup bag standing at the first tee. His umbrella logo was all over the cup in several other ways.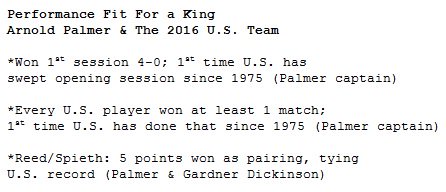 There's too much there for those to be a coincidence, right? The cup found its way to Latrobe, Pennsylvania on Tuesday for Arnold's memorial service thanks to Rickie Fowler. Nice touch, Richard.
Am I going to talk about Bubba Watson? No. He cried. Period. What about Team Europe? I'll only do so briefly. Why rub it in? I loved how Darren Clarke handled everything. I think he whiffed on a few picks and pairings, but he was rock solid in his approach, demeanor, and public appearance. Europe didn't lose because of Clarke, they lost because they got outplayed across the board. Justin Rose's comments on the "easy" set up look stupid. He'll regret that. It was sour grapes.
Lee Westwood is cooked. Dude can't putt and while most feel bad for him I don't. Fuck him. He's a prick and he's killed US teams for years in Ryder Cups while making everything then choking in majors. Thomas Pieters is a stud. He'll win in the US soon on the PGA Tour and be a household name if he isn't already. Then there's Rory…..my god he's tough to dislike for a week. I actually didn't root against him. His greatness, the shots he can hit, the big steel balls he lumbers about the course with….he's everything you want in a great champion. He even got the crowd to chant USA! for the home team once they'd won the cup. He may have performed better in the post match presser than when he was on the golf course. Thank you, Mr. McIlroy, that was a great show. Take a bow.
What Is A Ryder Cup Without WAGs?
The Euros lost the cup, but they might have won the War of the WAGs, which is worth 4 Ryder Cup points alone in my score keeping system. Most of the US team WAGs are just fine, but we've seen them all plenty before. WAGs are more fun for my readers when they haven't made a splash yet. Enter the wife of Chris Wood and the girlfriend of Thomas Pieters.
There's Wood and wife Bethany above. I like what I see, but there isn't much out there to show of her otherwise. We met her when she caddied for Chris in the Masters Par 3 contest. You may recall that she writes children's books for dyslexic kids.
Ms. Eva Bossaerts showed up to the event on the arm of young Mr. Pieters. The Google machine has even less info on her and those in the know, I'm talking to you Potsie, aren't speaking. Well fine then. Word on the street is that she's an ice skater.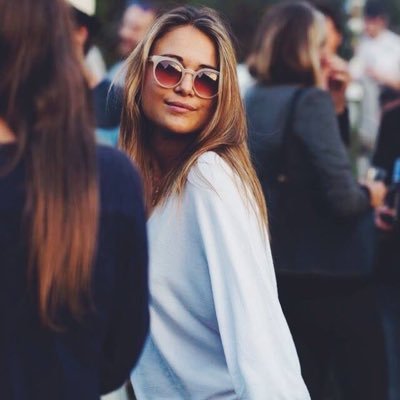 No WAG competition could be complete without the 1st ballot Hall of Fame Golf WAG, Paulina Gretzky. Maybe the US won the Ryder Cup, maybe Paulina did. You decide. She SnapChatted her way through the weekend in style, stopped for selfies with fans, and then on Monday posted a party pic on Instagram with everyone's favorite philanderer, Tiger Woods.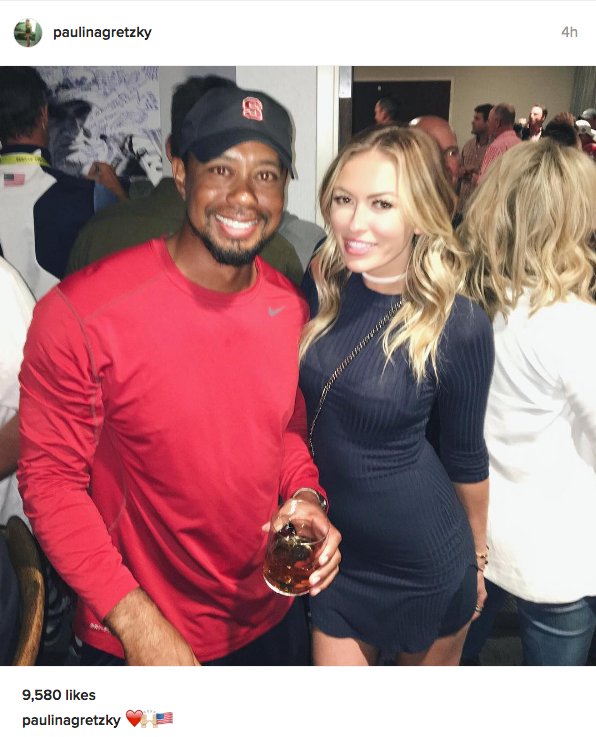 Never leave your girl with Tiger and a cocktail. If Patrick Reed's antics hadn't already broken the internet on Sunday, this would have finished it off. What was Tiger's reaction…?????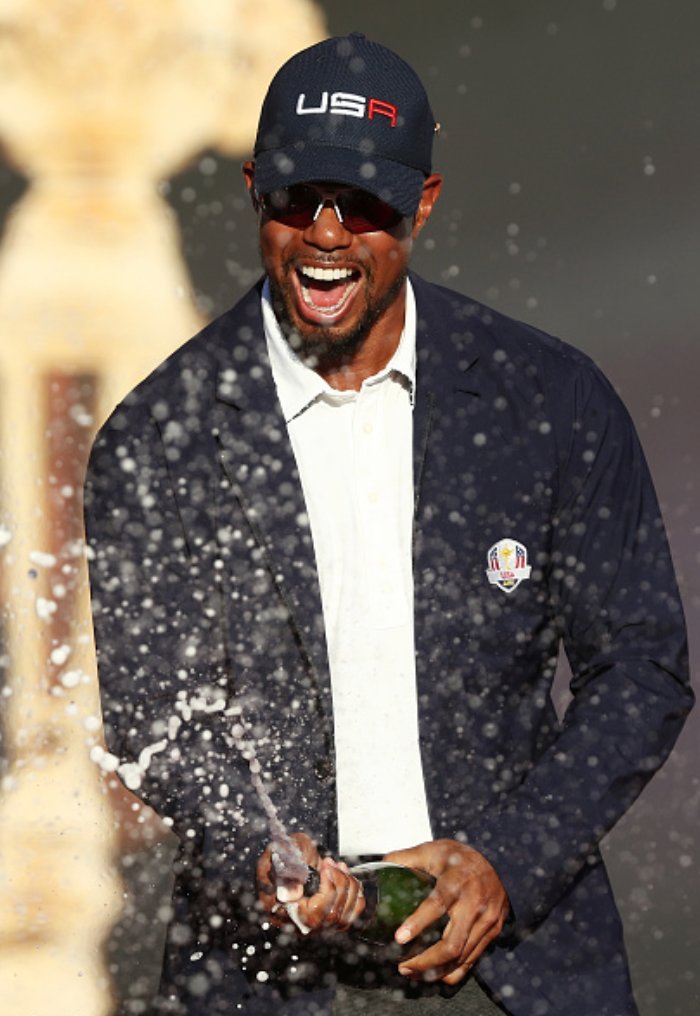 A little excited, it seems. I bet he told her that never happens to him, prematurely. All these WAGs, one had to be there for Rick Fowler to have on his arm, right? No. Homie rolled solo. He was probably expecting Justin Thomas to be his date and that fell through when Ryan Moore got picked instead of JT.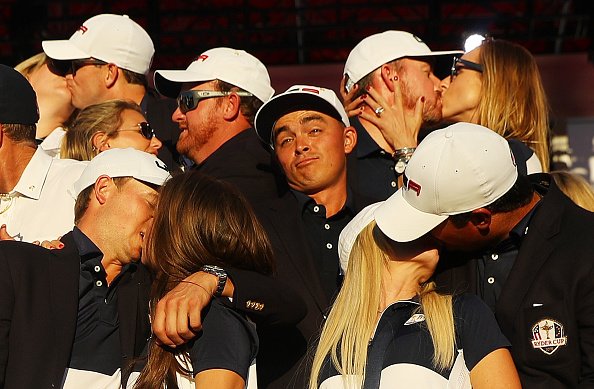 What a weird picture.
Next up, the 2018 version of the Ryder Cup in Paris, France. Here's what we know. Davis Love will not be captain. Most are expecting a US team lead by Jim Furyk and a European team lead by Thomas Bjorn or Miguel Jimenez. Wait, the Mechanic…in Paris…..I doubt the old man would stop drinking all week. He'll have French wine on an inter-venous drip. The pressers will be tits. Literally, he'll probably have French hookers everywhere. I'll have to see that. Sign me up.
Site News
I've crossed with golf season finish line for SFG.com. What does that mean? I'm blowing this site up going forward. You may have noticed I've posted less in the last 6 months than my normal frequency. There just isn't enough time in the day for me to give the site all the attention I'd like to unless I neglect something else. There will still be plenty of posts and tweets, but the format will change completely. Wraps-ups from Tour events are dead. We'll still talk hot golf chicks, don't worry. We'll still have course and equipment reviews as needed (if I ever get new shit or play new high end tracks). And I'll post regularly about the golf topic dujour, but the recaps and their stiff format have gone stale and are no more as of now.
That being said, I'll still be sure to compete the 2016 season with my year end awards, the Shutters. They'll start rolling out soon. Stay tuned.