The Ultimate Driving Machine
I'm almost sick of Dustin Johnson winning. His stock post round presser is lame and boring. He's seemingly past all his rules gaffes on his way to the finish line. And he's so good the field is nowhere in sight to make things interesting. But I do marvel at two things. His massive drives on Pro Tracer and Paulina's ass as it comes hopping out onto the 18th green. I guess as long as that keeps happening I'll be okay with Johnson winning for the foreseeable future. I'm kidding of course. What I really want is a DJ/Rory McIlroy bash off for 18 holes, maybe a few weeks from now…..in Minnesota?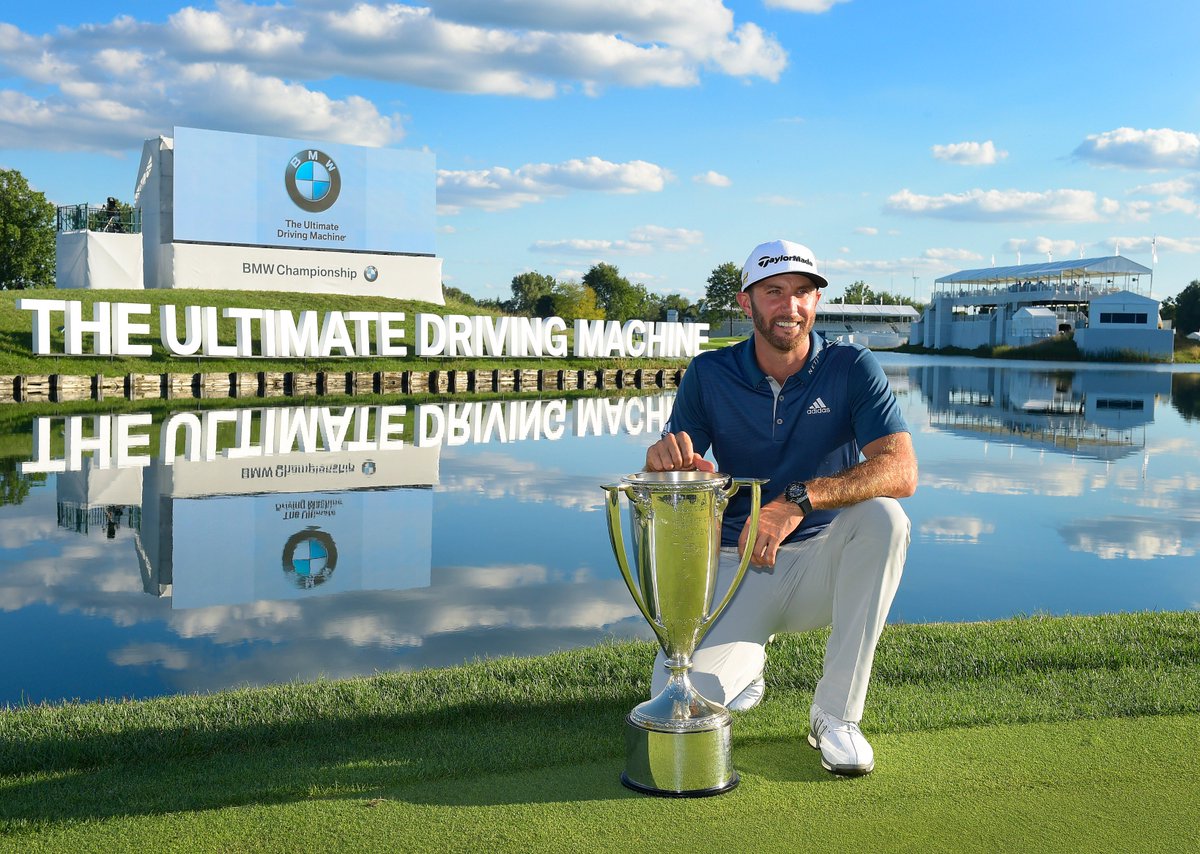 I've been late in my updates to this site but I'm sure you've gotten used to that by now. And because it is Thursday when I'm finally writing about the BMW Championship you already know how Dustin won, why he won, and how dominate he was all over again. I'm not going to beat that to death for you. What you need to know is that Dustin is probably the best player in the world at this moment. He may not be ranked there, yet, but he will be soon. Brandel Chamblee has been pumping that story line on Golf Channel for a few weeks now and he's right. That hurts to say. I hate Chamblee but even he can see where Johnson is headed. He's right where Jason Day was a year ago. The only thing that can stop him now is a drug relapse or a 2nd kid.
Dustin Johnson rarely has an off week from the tee. That held true at the BMW where he lead the field driving distance. Pete Dye's Crooked Stick course was tailor made for Johnson to dominate on. His wedge game is so damn good right now and that's all he had left to the par 4s with his big drives. He played the par fives in 15 under. He played 16 of them for the week. Oh, and he threw in a new putter for the tourney and lead the field in putting average while being 2nd in strokes-gained-putting. You can't beat him with that combination. That's Tiger circa 2000 like shit.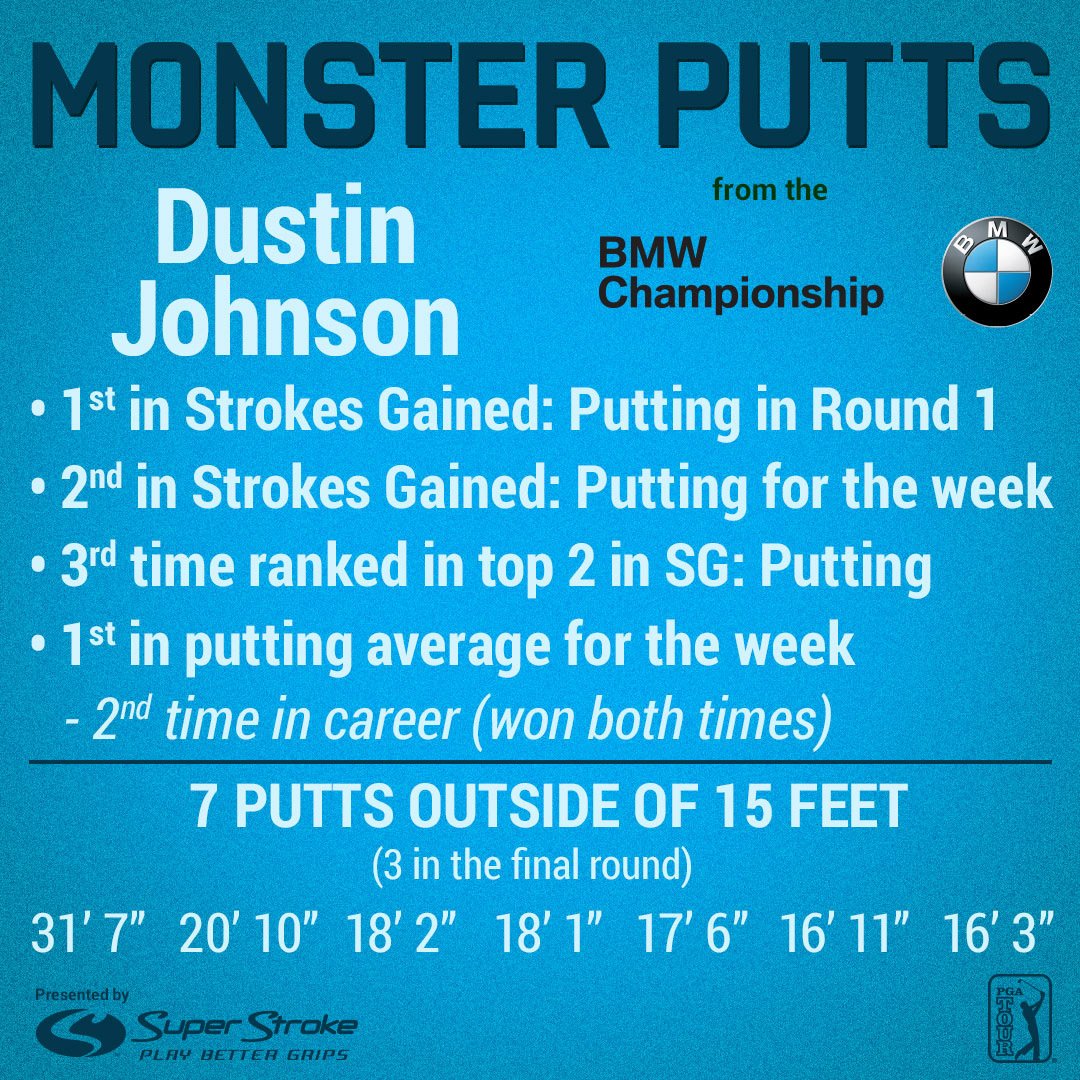 Johnson won't win again next week in Atlanta. The course isn't really his style and he'll only have two par 5s in play which limits his ability to shit on the field by 8 holes for the week. I think he'll carry some momentum forward from the BMW but in the end the off week will have cooled the putter. He'll show well. He'll walk away with a $10 million pay day and a Fed Ex Cup. Then he'll go give Wayne's daughter a good thrashing. See you at the Ryder Cup, DJ. Now back to Paulina.
Usually when Johnson wins PG goes on a Snapchat-Instie bender of her own and we an eyeful of her T&A. It took her about 24 hours but she didn't disappoint. I'm not suave enough to capture her snaps so this is all you get this time around.
https://www.instagram.com/p/BIvzP-3D1Wl/?taken-by=paulinagretzky&hl=en
I think motherhood agrees with her. I doubt we see a glimpse of her in Atlanta. She'll need the rest for her big Ryder Cup WAG weekend in Minnesota.
The Field
Paul Casey could have easily won in Boston last week. He played well but a Rory McIlroy freight train in the final round kept Casey from his first win in the United States in 7 years. He must feel snake bit because he showed up in Indy and played his ass off again for 72 holes and could barely stay in sight of Johnson. He was the only guy in the field that had a shot at DJ. He posted 20 under for four rounds on a 7500 yard golf course. What else could he have done besides have Robert Allenby take DJ out boozing on Saturday night?
My gut says Casey shot his wad at the BMW and will be quite cool by the time the first ball leaves a peg at East Lake. Robert Castro also played well at Crooked Stick and would have been right with Casey if he hadn't shit his bed Saturday with a 3rd round 74. Castro rebounded on Sunday and finished 3rd which earned him a trip back to the Tour Championship. He lives in Atlanta. He went to Georgia Tech. It shouldn't surprise anyone if Castro is in the hunt next week. Outside of Charl Schwartzel, the rest of the field isn't worth mentioning. They were just there. Charl was a round away from calling his 2016 complete. But his 8 under 64 on Sunday vaulted him up the leaderboard 22 spots to 4th place. That 64, Rickie playing like shit, and JB Holmes not making birdie on the final hole (not my math) meant that Charl was in the East Lake field and Fowler was out.
Ryder Cup Pick'em
Don't cry for Fowler. He can use the week off as he preps for the Ryder Cup matches at Hazeltine. I'm still scratching my head how a guy who hasn't done much in the last 6 months like Rickie has, a guy who didn't earn a spot on the team, can be such a slam dunk pick for Captain Davis Love? Love picked Fowler, Matt Kuchar, and J.B. Holmes to get his squad up to 11 players with one more pick remaining for after the Tour Championship. Love made comments in his presser about easily pairing guys together and then dodged ever question about Bubba Watson being on the team with the next pick. That was kind of weird.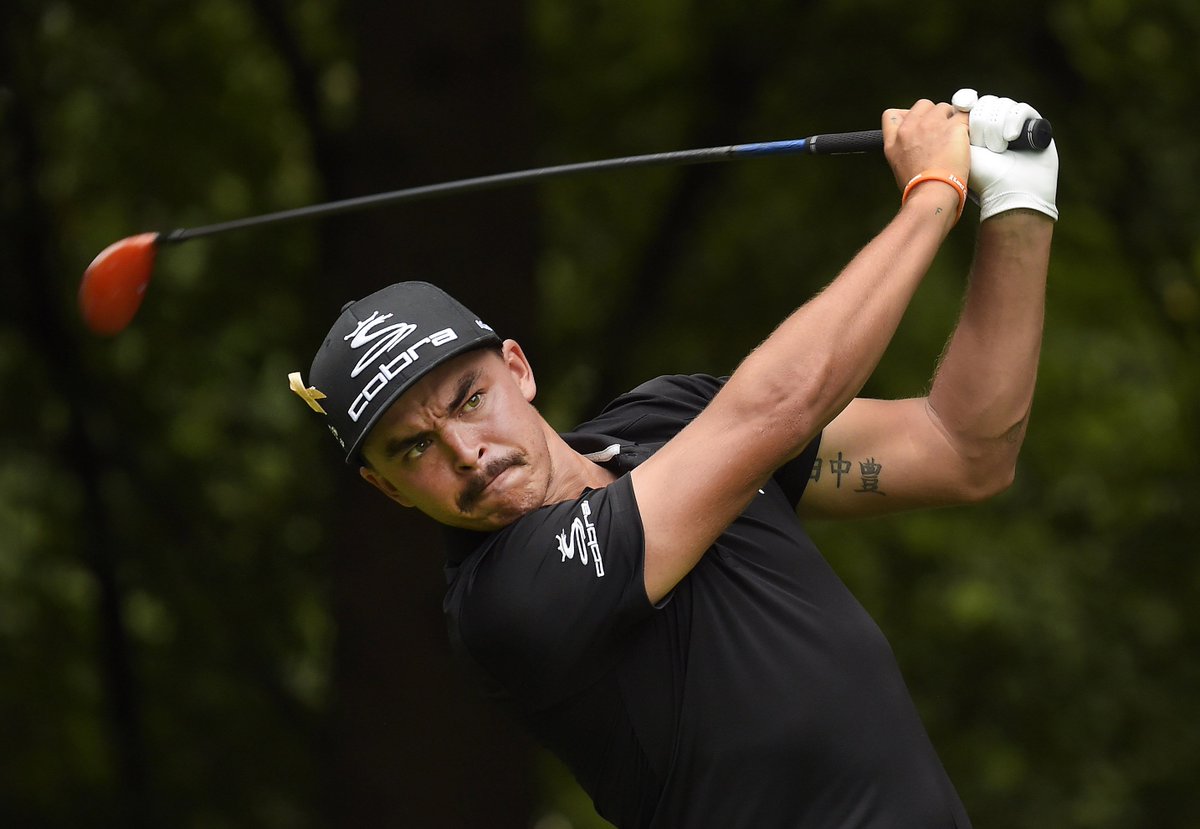 Personally, I'd have picked Tiger, Anthony Kim, and whomever TW wanted as part of the team to get him to agree to the pick (more on that later). I'm kidding, sort of. Fowler's RC record is pretty weak. I don't think his 2016 has been great but it isn't a disaster. He deserves the pick more than a guy like Furyk or Kuchar. Kuchar gets on because he's a team room guy. He's well liked and he's never going to play poorly enough to drag a partner down to a loss. He's not dynamic. He back doors his high finishes. He wears a fanny pack and Sketchers. He could be 0-4 or 4-0 and who will notice? I like the Holmes pick. Golf Channel showed the 2008 matches the other day. Holmes was legit in that thing. He'll be great again at Hazeltine. I have no concerns about him. His emotion will fuel him to a great week.
The choice for the final spot will be interesting. Bubba is out. Love would have just picked him already. Holmes, Fowler, and Kuchar were 10, 11, and 12 in the standings. Bubba is 9th. If he were supposed to be on the team he already would be. Love and the VCs probably did a happy dance when the final standings showed Watson outside of the automatic selections. My educated guess is that the 12th spot will go to Justin Thomas. He's a friend of the Love family as he played college golf with Davis' son at Alabama. With Rickie and Spieth on the team they already have 1/2 the #SB2k16 squad on board. Thomas would make it 3/4. Shit, maybe they can sneak Smylie Kaufman in wearing a mascot costume.
So what if it isn't Thomas? Could Love pick Ryan Moore? Sure. Daniel Berger. Why not? Berger will play well at East Lake. I have little doubt of that. So is the Tour Championship a defacto Ryder Cup qualifier? No, according to Love. Does DL3 have an outside the box option? You bet your ass he does. Tiger Mother Fucking Woods.
Tiger as a pick hadn't crossed my mind but then Matt Kuchar mentioned it in his interview after he was picked on Monday. There was a collective "yeah right" from all of the Golf world. When you stop and actually think about it as a possibility it gets a little more real, or surreal perhaps. I don't know who wrote the above piece at medium.com, but thank god ESPN's Kevin Van Valkenburg decided to share it with the world. That's the best thing you'll read all week if you haven't already seen it. Let it sink in. Let is wash over you. And then cross your fingers and hope that it happens just as the writer laid it out for you. How fucking glorious.
Shot Of The Day
Castro. Eagle. Nonchalant. Need I say anything else? Ok, I'll set it up for you. Roberto Castro dunked one from the fairway on the 7th hole for eagle to help him finish 3rd and make his way back to the Tour Championship.
Cool reaction? Maybe. I had one of those on Labor Day. I didn't throw my club and yell. I simply verified that my shot went in, fist bumped my playing partner, said "fuck yeah" at a normal volume, then tended the flag for my whole group after I got a pic of the ball in the jar. Castro is too cool for school.