Twas Just A Matter Of Time
Over the last few months Rory McIlroy looked more lost on the golf course than he looked ready to win again. It wasn't his driver, his Nike deal, or his gym habits holding him back (but don't ask Johnny Miller). It was his putter, of course. Nike folding up shop on making equipment meant he was free to try and use anything he wanted and put it in his bag for tournament play. He's on record that he's stocked up on $woosh gear and balls for years to come but he did start courting various flat sticks as soon as he was allowed. He found a dance partner in a new mallet-like wrench made by Scotty Cameron and Titleist. He tweaked his grip and his set up. And after starting round one in Boston 4 over after 3 holes he got his shit together and made a charge up the leaderboard.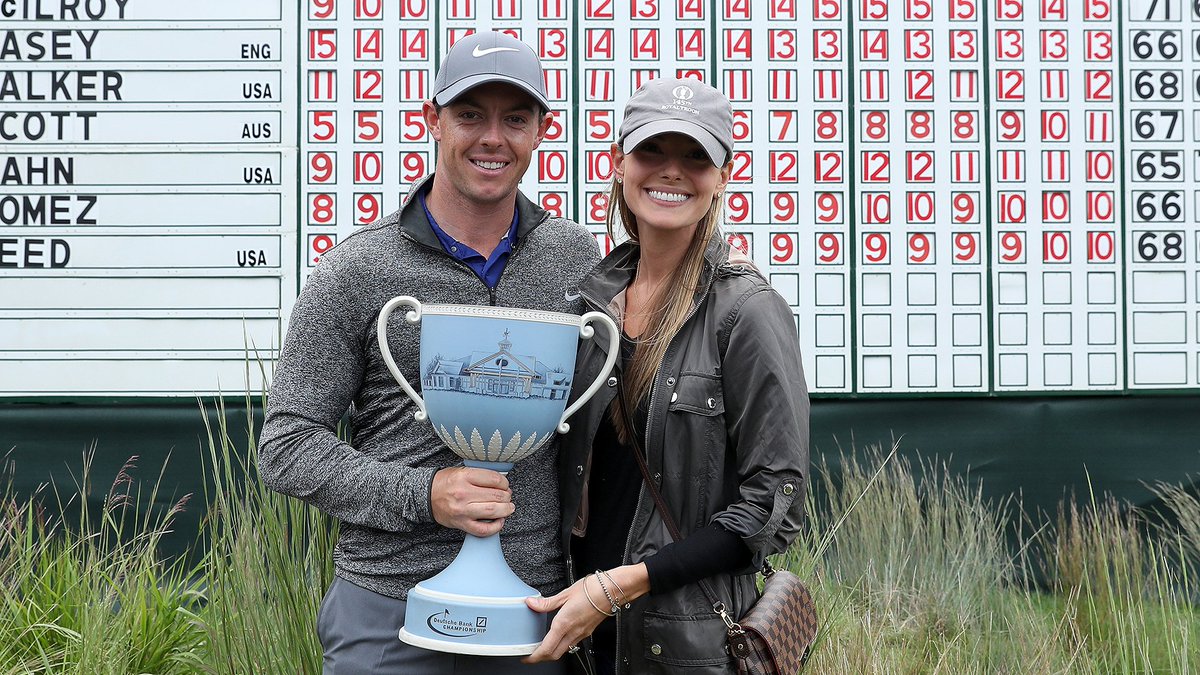 Rounds of 67-66-65 to finish allowed McIlroy to chase down Paul Casey and win his first event in the United States in 2016. He lead the field in driving, strokes gained putting, and average putts per green. No one is going to beat Rory if he's doing wizard shit like that. His 65 on Monday in the final round was most impressive. I think I saw one errant shot for the entire day. He made 7 birdies in weather and wind that was part of a tropical storm. Only Adam Scott's final round equaled Rory's and Scott wasn't really in contention for much of his day.
This is Rory's first win as a newly engaged man. I wonder if that was weighing on him. Remember when he was engaged to that horse-faced tennis pro? He won the week after he broke up with her and admitted wedding planning was a stress to him. This bodes well for the future Mrs. McIlroy, Erica Stoll, pictured above. Now Rory's putter being on means the rest of his game feels a lot less pressure. He's back, all pistons are firing, and he'll probably win at Crooked Stick this week in Indianapolis where the BMW Championship is being contested.
The Field
Paul Casey had a 6 shot lead on Rory entering the final round. The Deutsche Bank was his to lose, and that's exactly what he did. Considering the rough weather he didn't play poorly. He shot 73 which was probably pretty close to the field average for the day. But that's not good enough to hold off a guy with McIlroy's fire power. Casey made passive swings and way too many unforced errors for a guy looking to beat a great field like the Deutsche Bank has. His driver was crooked, his putter was unsteady, and I think he felt the pressure of trying to get his first US win since 2009.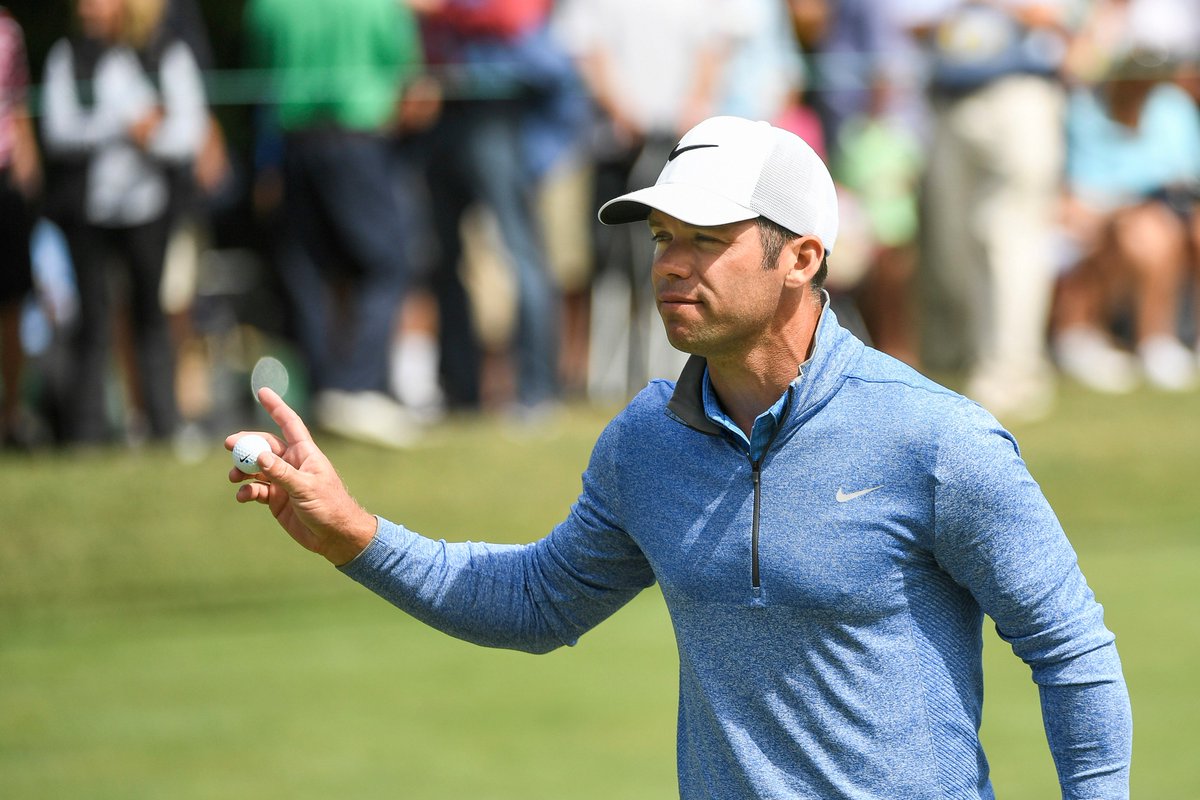 But hey, 2nd place pays well too and I think Paul was perfectly fine with taking that check home (home to his wife – Pollyanna – with the best fakers on Tour).
Smylie Kaufman played in the final group with Casey and was looking to get his first big check in months. The least well known of the the #SB2k16 crew has a Tour win, but he hasn't played in many final groups during the final round. The last time he did so he shot 80 on Sunday at the Masters. Kaufman trailed Casey by 4 shots to start the round and bogied his first two holes, which are birdie holes, to fall out of contention early. His back nine 40 sent him to the back of the pack costing him hoards of Fed Ex points and cash he can't spend in the casinos of the Bahamas next spring.
Ryan Moore finished T8, which is just about where he's been on the leaderboard for over a month now except for his win at the John Deere. If he's not on the Ryder Cup team and Jim Furyk is I'm going to send DL3 a bag of my dog's shit. He's a match play ninja too, dude won the US Am and Publinx in the same year, remember? Adam Scott finished 4th thanks to a back nine 29 that helped him tie McIlroy's final round 65. He might sneak in another win in the next few weeks and throw his name into the Player of the Year discussion if he does so.
Outside of the leaders NBC gave viewers two other compelling story lines to follow. First we had Justin Rose. The Golden Brit was in contention after 63 holes in Boston. He was 11 under and trailed Casey and McIlroy by a few shots. He then made two triple bogies, a double, two bogies, and four pars on the back nine to shoot a ten over 45. Holy shit!
Harold Varner's journey to make the Tour Championship field as a rookie was the other plot NBC fed us. Varner teetered on the brink of the BMW cut (top 70) with every birdie and bogey. After a sloppy bogey at the 15th hole Varner moved from inside the number to the wrong side of it. His clutch par putt at 16 kept him in the hunt but failing to make a birdie at either of the closing holes meant HV3 was heading home. Season over. The Fed Ex Cup isn't perfect, but it does give us some unique story lines to follow outside of the leaders each week.
Shot Of The Day
I'm not sure how it is possible, but somehow Rory hit driver on the 18th hole on Monday and it only went 261 yards. He had a full 257 left to the hole and hit his fairway wood in the greenside bunker. Anything could have happened from there. He could have scooped his 3rd shot and left himself no chance at making birdie with a long putt from the wrong tier of the green. He could have caught the 3rd shot a hair thin and gone long into the dreaded collection area. But no, his wedge game around the greens on Monday was nearly as good as his driver and putter….
A tap in birdie. A two shot margin. The only thing left for Rors was to sign the card and watch Casey play his final two holes from the scoring area.