Golden Rose
I'm back, whether you wanted me back or not. I know, I know. You missed me terribly and couldn't even take your Monday morning shit without my ramblings to read. I'm sorry to have disappointed you but daddy needed some time away. Remember, I have a day job and a family that require my attention more than the interwebs do. So what did I miss? A lot of fucking great golf, with more to come.
First off, lets talk Olympics. Rose wins the gold. He was fantastic all four days of the tournament and deserved the big prize at the end of the 72 hole exhibition. I liked how he embraced the entire Olympic experience. That might be why he won. I enjoyed how he practically rubbed the gold medal in the face of guys like Jason Day and Rory McIlroy. In hindsight the Olympic tournament was a great event on a very cool course. All the terror talk, Zikka, it was bullshit media hype that the top players should have ignored. Yet in the end this isn't some game changer in a sport with 400 years of history behind it. It will be a side note to the year's majors every 4 years. There will be some cute and quirky stats that come from it. A gold medal here or there might sway a Player of the Year race in someone's favor in the future. Outside of that I'm not going  to give it a second thought.
Kudos to Kuchar and Stenson for playing their guts out and taking home medals from Rio as well. I'll also give a big tip of the cap to Gil Hanse for designing a compelling golf course on shitty land in such short time. The design, the bunkering, the grasses he used…dude nailed it. We know that Rory was watching, Jason Day too, and don't think for one second that Jordan Spieth wasn't getting an earful from Rickie Fowler about being a pussy for skipping the games. I suspect all will crawl to Japan for the 2020 games if they get the opportunity to play for their countries.
Ugh, too bad I can't get that image of Rosie out of my head. He's a pretty big dork to begin with, sunglasses issues and all, then throw the dude into a UK themed tracksuit and let him slick his hair up and he rivals any Staten Island guido waddling through shitty pizzeria. I hope he got a bowl of soup with that.
Moore Deere
I'm told Ryan Moore won the John Deere Classic. I love the event and how it is usually a show case of young talent trying to make it on Tour as they fight Zach Johnson and Steve Stricker for every dollar available to them. Sadly this year I didn't catch any of the Sunday action. I've got no Shot of the Day for you and in general no comment about the actual golf. I'm happy to see Moore win because he's one of the more under-rated players on Tour and I'd like to see him in more WGC events than also ran stops like the Deere.
Outside of Moore winning the buzz out of Silvis concerned Robert Allenby, he of Hawaiian made up stories and kidnapping fame. No, we weren't talking about him for his golf, or firing a caddie mid-round. Allenby has missed 90% of his cuts this year and has a high finish of T63 in the two events in which he did play the weekend. Who would want to talk about him and how terrible he is?
Instead Allenby made headlines because he was arrested for trespassing and disorderly conduct outside an area casino around 3 am. This happened about 12 hours after he again missed the weekend cut. He was hammered. He's done with golf. His season stats tell you he'll be lucky to find a home on the Web.com Tour in 2017. My gut says Mr. Finchem will suspend him for quite some time anyway. I'd go play in Europe for a year if I was him to try to figure out life. The Euro brass seem much more accepting of drunken shenanigans their players are up to.
I Missed Hartford Too
I actually watched the action in Hartford two weeks ago. Somehow fate found me with time on my hands in my house that day. I watched Russell Knox gut out a great par on the 72nd hole to send a knockout punch to Jerry Kelly's gut as he waited in the scoring area to see if he'd get a chance at a playoff. Poor Jerry. Great hat toss though.
Fucking-A did Knox earn it! The other story from the GHO was Jim Furyk's early Sunday 58. He was 15 shots behind 54 hole leader Daniel Berger to start his final round. Three hours later the two were tied (largely thanks to Berger blowing up). Furyk shot 58 but don't kid yourself, he had no pressure on him. Of course there's a lot rattling around in your head when you're 11 under after 13 holes, or whatever the number was, but Jim has been there before. He shot 59 in Chicago in 2013. He didn't birdie two of the easiest holes on the back nine at TPC River Highlands because he was shitting himself. That is the lowest round ever on Tour in some 1.5 million tries. What an amazing stat. Jim deserves credit for the number but that 58 may not even win my award for the Round of the Year.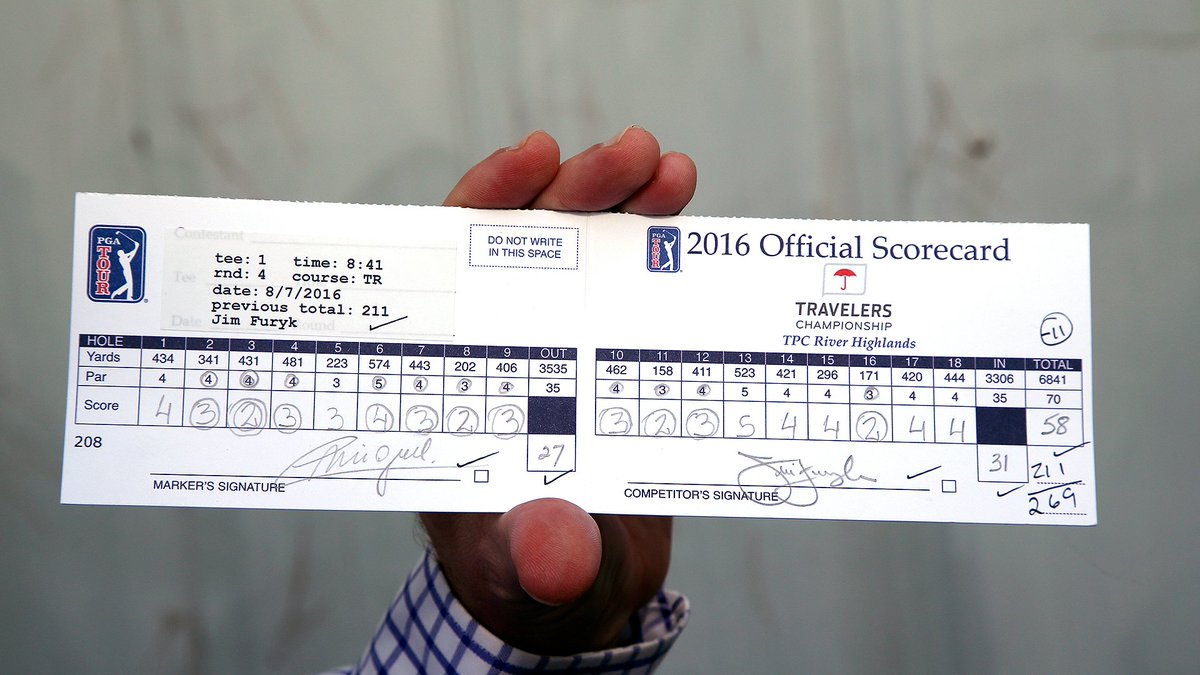 Oh relax, it will be nominated. It might win, but this is no slam dunk. Remember, Stenson shot 63 in a major in the final round and won. A 58 on a TPC during a sleepy Sunday morning can't top that.
US Am and Womens Olympics
All that golf and there's still so much in front of us. The women get their shot at the Olympic track in Rio this week. I know you're not expecting me to say this, but I'll be watching. I want to see how they compare to the men. I want to see them cry when they get medals. And I want to see if there are any foreign hotties in the field that aren't LPGA regulars. See, I haven't changed since I've been away.
We also have the U.S. Am in Detroit this week at Oakland Hills. Unlike some years I think the Am is wide open. There isn't a distinctive favorite. The stroke play portion of the championship ended on Tuesday. Wednesday will kick off with 23 players playing off for the final 8 spots in the 64 man match play bracket. Then round 1 of the matches will start. The final will be held on Sunday. Oakland Hills hosted the Am in 2002 but the USGA hasn't been back since. That's mostly because the Ryder Cup came in 2004 and the PGA was there in 2008. Once the PGA rolls in to town the USGA generally stays way for a bit. This works similar to how you don't fuck your buddy's crazy ex-girlfriend for at least 6 months after they broke up. #Respect
I've played Oakland Hills. It is a venerable, historic track. It is long. The rough is always thick. The greens are always insane. But it won't play all the way back for the ams this week. And the Detroit area as seen a bit of the wet stuff in recent days so you can expect plenty of birdies being given up by the old Monster* (c) Ben Hogan. If you made me pick a winner I'd take Texas' Scottie Scheffler. He's a former U.S. Junior Amateur champ who looked really comfortable in match play at the NCAA Championships in June.
WAG Round Up
When you're on a 3 week mini hiatus you not only miss a bunch of golf, you miss WAG pics fluttering about the interwebs. If you caught one that I didn't don't be shy, tweet it to me or email me. In the meantime you'll have to settle for these. We had this Twitpic from Chris Kirk showing us his lovely wife again – this time on the beach.
Remember, she's had at least 2 kids.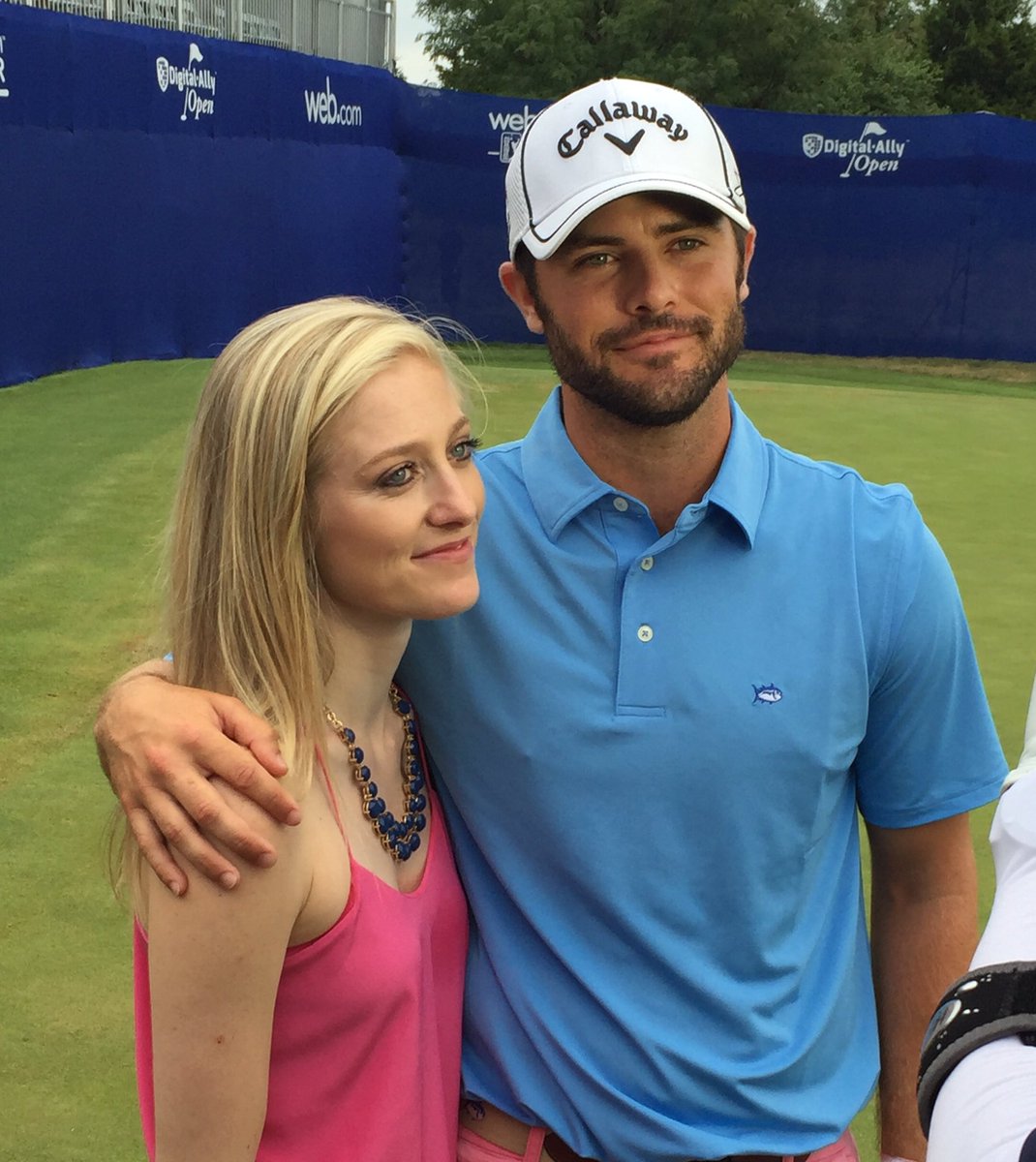 Wesley Bryan won a 3rd Web.com event for 2016 and got instantly promoted to the PGA Tour while I was away. Then he showed up at the John Deere and grabbed a top ten finish. Somebody sneaky at the Tour snapped a quick pic of him with his wife/girlfriend. I'm not a fan, but I know you horn dogs wanted to see her. Who is she?
Lastly, Mrs. Justin Rose – Kate, traveled with her gold medal winning hubby to Rio and didn't disappoint when she greeted JR on the final green. Did your medal stand get erected quickly? I think I actually down played her look once upon a time. I take it back. She's won me over.
That's all for now. I'm hoping to get back to regular updates soon. I also still need to select an August Up & Comer. If you have a nominee please drop me a line, comment, email, whatever.