I've Always Been A Day Late And A Dollar Short
Maybe being nearly a week late in a major wrap up post is a bit much, but life happens. With a bump in the schedule from the Olympics the PGA Championship came and went the last week of July, but it did not go quietly into the night thanks to Jimmy Walker. Walker lead Glory (hole)'s Last Shot from wire to wire after opening with a Thursday 65. He only lost the lead briefly on Sunday morning when he began his 3rd round with a few bogies. He was only briefly threatened in the final round when Jason Day hit an all-timer of a shot to make eagle at 18. Walker is a world class player who's come into his winning ways in the last 3 years since he began working with Butch Harmon.
Walker had zero PGA Tour wins before 2013 when Harmon came into the fold. He won 5 times in 2 years, but before the PGA he hadn't won in 17 months. I thought the Jimmy Walker comet had come and gone. Then Baltusrol came arond and fit Walker's game perfectly, especially with the sloppy weather that hit the course all week long. Jimmy took advantage and played a near flawless yet smart final round to become the Tour's latest 1st time major winner.
Walker made 9 straight pars to start his day then missed a green at 10 and appeared to have some stress facing him to save par. Instead he holed his bunker shot to make his first birdie. Apparently that freed Walker up a bit to go on and birdie the 11th as well by making a smooth 20 foot left to right putt. More scrambling and more stock pars followed until Walker played the hole of his life to birdie the stout 17th hole. At that moment he had a 3 shot advantage and could taste the Wanamaker trophy. His dream was complete after making a quasi safe par at the last.
Some Twitter dorks questioned Walker as a major-worthy player, as in his game isn't up to snuff with the big boys who pick off majors in bunches. While I don't think Walker will win another major in 2017, don't sell him short. Watch him swing. He's rock solid. When his putter is hot he's a top 10 player in the world. Who does he have to thank for his success? Certainly Butch Harmon is on the list, but Jimmy never would have hooked up with Butch if it weren't for his wife, Erin.
As the story goes, Jim contacted Butch to try to work with him. Butch didn't get in contact with Jimmy right away and Erin took that as a slight. She called Butch herself to get the golfer and instructor together. The rest is history as I laid it out for you above. Jimmy is a quiet guy. He's known for his astrology hobby, star gazing if you will. She's the ying to his yang. For all the credit Harmon gets for making Jimmy who he is on the course, I'd say he should only get 49% of the credit. The rest goes to her. He wouldn't have the Wanamaker trophy without her.
Winners & Losers
Fourth major in the books, 4th edition of major winners and losers at your fingertips. That's how we roll. Here goes:
Winners
Jimmy Walker – The champ gets top billing, how could you ever justify anyone else? Walker now joins players like Jason Dufner, Keegan Bradley, Louis Oosthuizen, Charl Schwartzel, Dustin Johnson, Danny Willett, and others who are 1 time major winners with gobs of talent to win more. Who will break out of this pack and tag more majors? Who will never get another and be a Davis Love or Justin Leonard type?
Did he just go full Dufner there on Erin with the ass pat? I think he did, with the kids around too. That's straight out of my play book.
Jason Day – Day didn't win but he did make things interesting. I've made comparisons of Day to Tiger Woods all season long. Everything Day did at Baltusrol was Woods-esque. He mounted a late charge and nearly won the damn tournament with his B game. Not a lot of guys can do that.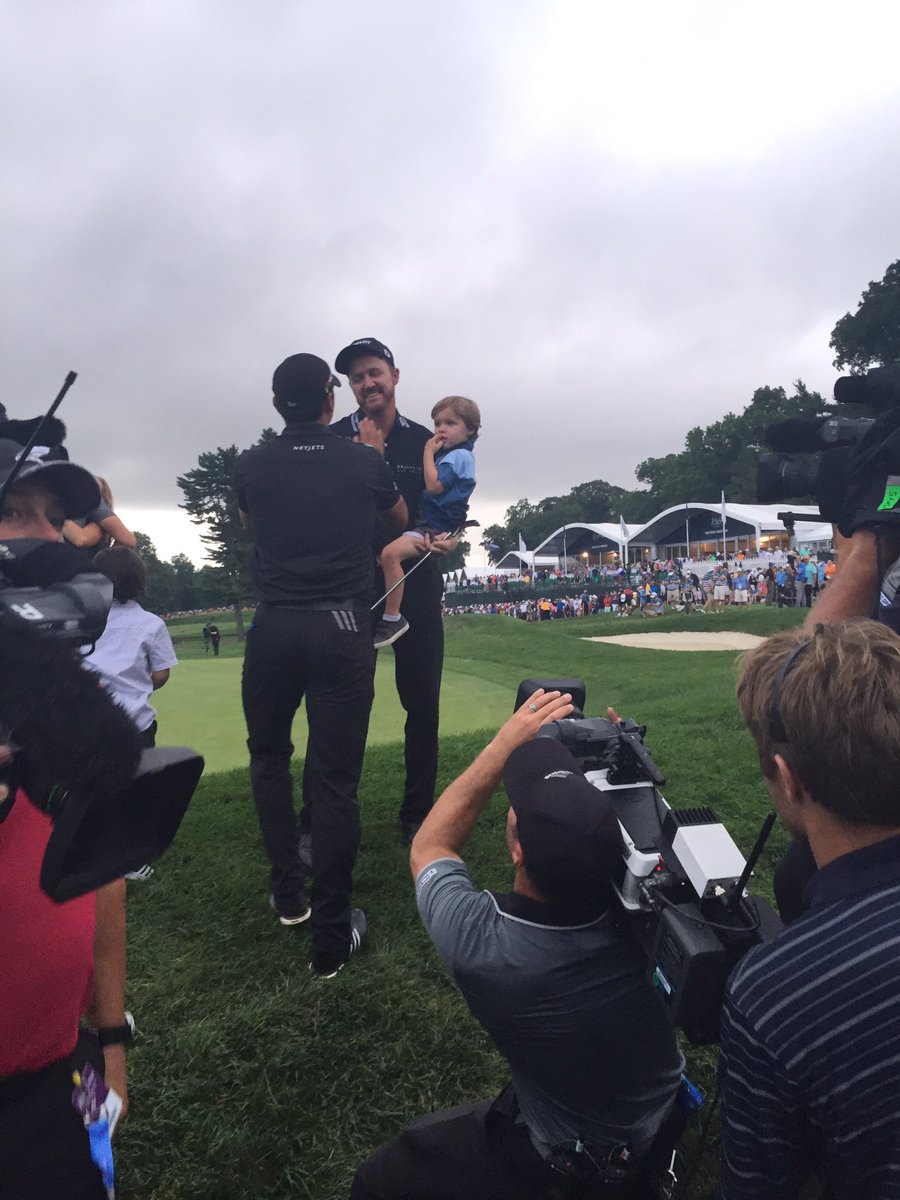 Then he stuck around to congratulate Jimmy in person because that's the kind of guy he is. He and Jimmy are bus buddies at most Tour events. Their families know each other well. Without a doubt there are more majors in Day's future. Walker getting this one won't hurt Jason's legacy and that shot he hit to the 72nd green is the stuff of legend.
Daniel Summerhays – Where the fuck has this guy been and what was he doing in the PGA Championship in the first place? He's won of these guys that makes a bunch of cuts but never really contends on the weekend. I was shocked to find out he's won over one million dollars on Tour for the last 4 years. Who knew? His 3rd place finish at the PGA is a game changer. He's in the Masters and several other big boy tournament for 2017. If he can take advantage of those opportunities he'll move up in class among his PGA Tour peers.
Robert Streb – I could say see Summerhays, Daniel above, but most golf fans have at least heard of Mr. Streb. He's actually won an event before. You forgot that didn't you? Due to the weather delays and the PGA not re-pairing for the final round Streb played the final 36 holes in the last group with Jimmy Walker with mucho air time. He held his own just fine and finished T7, his best ever finish in a major. He was 1 putt away from locking up a spot in the Masters field next year but I'm not going to shit on a great week by a PGA Tour also ran just because he did everything but earn an Augusta invite.
Butch Harmon – I've already detailed the difference Harmon has made with Walker. He's done it with Tiger, Rickie, Phil, and Walker is just the latest proof in the pudding that Harmon is the best at what he does. Sadly, Butch isn't looking too good. Big Cat better get over to Vegas and see the old man before he's 6 feet under.
Losers
Golf Fans – We essentially got dicked out of the 3rd round theatrics we were hoping for on Saturday afternoon. Playing that round on Sunday morning took the wind out of the Jersey fans. Maybe that isn't all bad.
Now we fans have to wait 8 more months for another major. That flat out sucks but I'm hopeful the Ryder Cup makes up for this slight.
The Favorites –  I'm looking at you Dustin and Rory. You can't take the collar in majors for the year if your name is Rory McIlroy and you are the most talented player in the game. If you're DJ and you've done what you've done in 2016 I would give you a pass from making the cut and not contending, but missing the cut and shooting some of your worst rounds of the year was a disaster for him. DJ will be fine. Rory has to steam on this for 8 months. I will be curious to see what the 2017 Rory looks like with new equipment.
Matsuyama's Putter – The side story from CBS outside of the Walker/Day duel was Hideki Matsuyama's inability to get the ball in the hole. He hit it great, but his putting became laughable. I think he'll take more positives away from the PGA due to his high finish but his attempts with th flat stick will be something to keep an eye on next time he is in contention at a major.
PGA of America – They got the weather wrong. They got the hole locations wrong. They looked bad in Jordan Spieth's ruling. But in the end we finished on time and they look a whole helluva lot better than their USGA counterparts in how they run a championship. I think they tried to make the best of the weathe situation, but they also could have moved up Saturday times so they could have got the round in and re-paired for Sunday.
Vijay Singh – This old grumpy fuck missed the cut and bolted for Connecticut so he could work on his game in solitude. I'm not kidding. Take a look.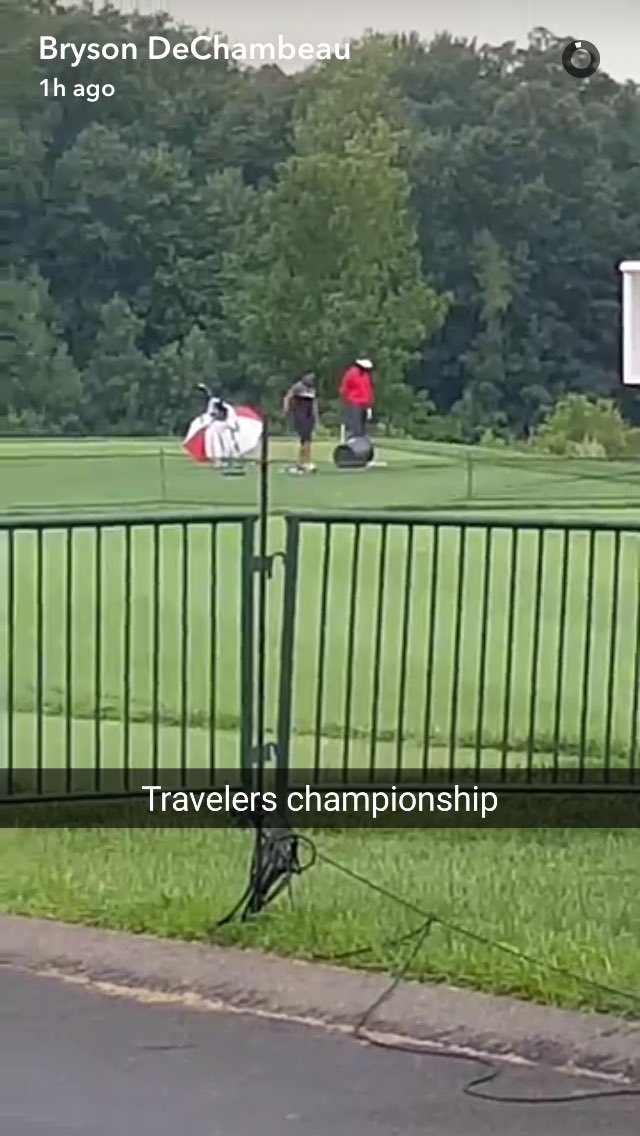 That is the most VJ thing ever. Looks like he's practicing with all his friends too.
Shot Of The Day
For as long as I've awarded a SOTD or week I can't recall ever calling for a tie. That ends today because I cannot deny what both Jimmy Walker and Jason Day did.
First Walker got his round jump started with his hole out at the 10th. It was huge and I do not think he wins without it.
Then Day's 2nd shot to 18 happened. If he had won this would have been the Shot of the Year.
I can't pick one so therefore you get both.