Like A Five Course Meal, I'm Still Savoring Every Bite
I'm not going to recap every shot we watched Henrik Stenson and Phil Mickelson strike in their epic standoff at Troon to become the 2016 Champion Golfer of the Year. I can't do them justice. Besides, you watched them all anyway. Of course you did. It was must see golf like most of us have never witnessed before, or at least since Tiger Woods stole Cinderella's slippers right off Bob May's feet when the clock struck midnight at the 2000 PGA. Henrik and Phil battled blow for blow for all 18 holes. They made 14 birdies and an eagle between them. Their 4 ball score would have been a 57. Are you fucking kidding me? They did it under cloudy, windy conditions, while more than 10 shots clear of the field, in the final pairing of a major championship. Phil totaled 65. Henrik 63. Amazing.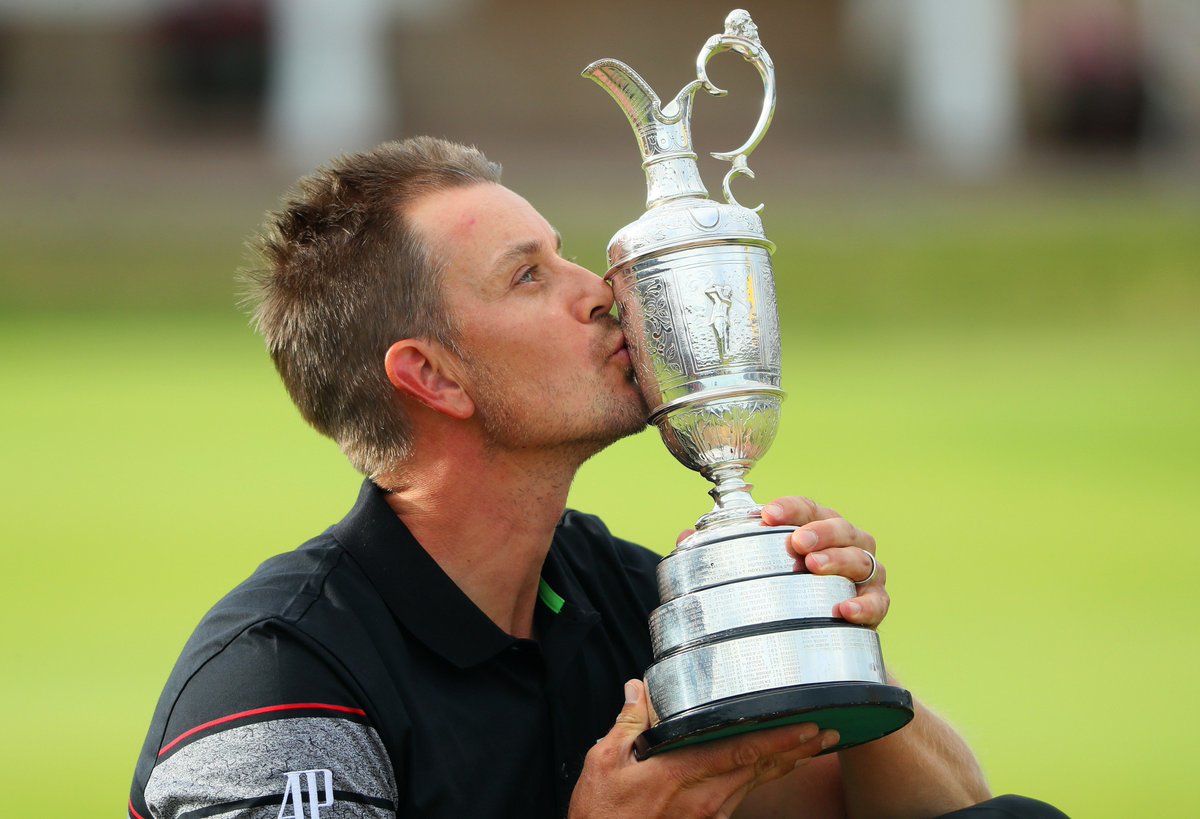 Stenson earned his first major unlike I've ever seen a golfer do before him. Johnny Miller's final round 63 at Oakmont to win the 1973 U.S. Open has long been the gold standard of going low to win a major. Not anymore. Stenson's 63 now holds the top spot in my mind. He couldn't have done it without Philly Mick pushing him. I'm not sure Stenson missed a green. I don't recall him having to chip on a par 4 or par 3 all day. He technically missed greens but then putted from the fringe. His two bogies were 3 putts. I still am not sure he's not a robot. Phil was bogey free for his 6 under round of 65. His opening birdie at the first hole set the tone from the jump. These two were so hot they set the spider cam ablaze.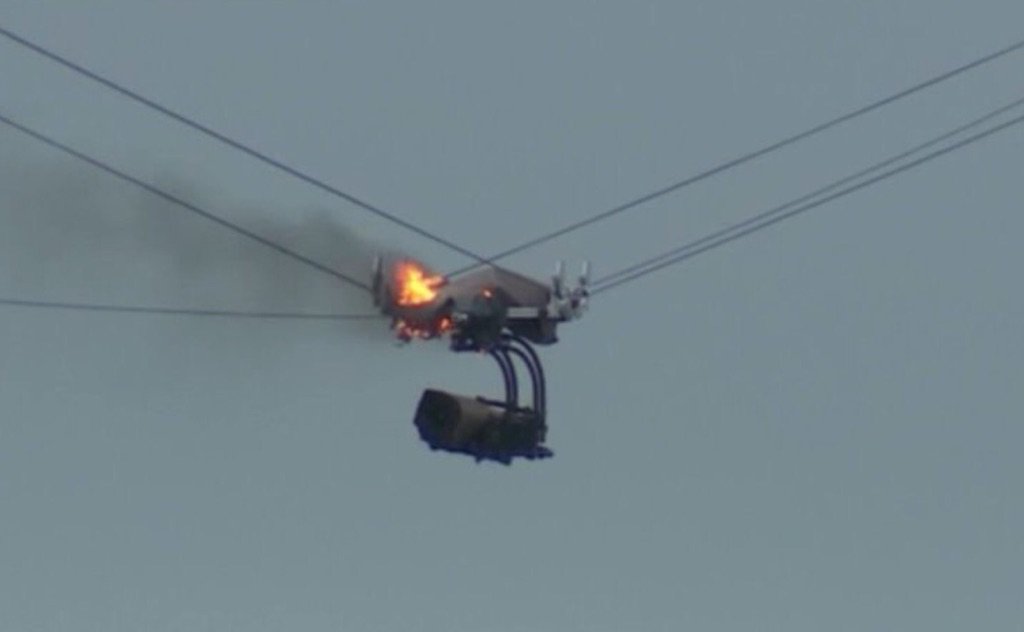 Ok, that's not exactly true. But they were in the proverbial zone. Stenson didn't even know what he shot until he got to the scorer's table to sign his card. Score wasn't on his mind, his only goal was to keep his foot on the pedal to stay clear of Mickelson. For much of the day Mickelson was a cat with 9 lives taunting Henrik. He couldn't put Phil away. Once Hank walked in a 50 footer for birdie on 15 and dodged Phil's eagle effort at 16 it was clear that Stenson's first major was eminent. Then Hank hit it stone dead on 17 when Phil missed the green. Ball game. As the two men finished their round they embraced and congratulated each other. Phil knew he didn't lose this like Winged Foot or Merion U.S. Open attempts. He got beat by a better guy, and he acknowledged that fact like a true champion.
Winners & Losers
That leaves us with your favorite part of every major wrap up at SFG.com, the Winners and Losers of the week. No more beating around the bush.
Winners
Henrik Stenson – You know the drill, the guy with the big trophy on Sunday night of a major always gets top billing. Stenson shot 63 in the final round of a major after he slept on the lead. In doing so he held off one of the 10 greatest players in the history of golf. That's all. No big deal.
If the dude is going to basically hit every green and then walk in putts like that, like he did all day, well there's no stopping him from beating down the field. He set an Open Championship scoring record at Royal Troon. This isn't pitch and putt, no wind, St. Andrews. This was nasty, mean, windy, gloomy Royal Fucking Troon. He beat DFL place Greg Chalmers by 40 shots!!!! Chalmers won a PGA Tour event two weeks ago. I'm thrilled for Stenson and his major victory was well deserved and earned. I'm just pissed that I picked him to win the 2015 Open at St. Andrews instead of this one.
Phil Mickelson – What? Did you really think I'd put a guy that shot 17 under in the loser list just because he finished 2nd? There's a reason they say it takes two to tango. Even in defeat Phil made and became a big chunk of Open history this week. If it weren't for his 2013 Claret Jug I'd probably feel bad for him for not getting the win.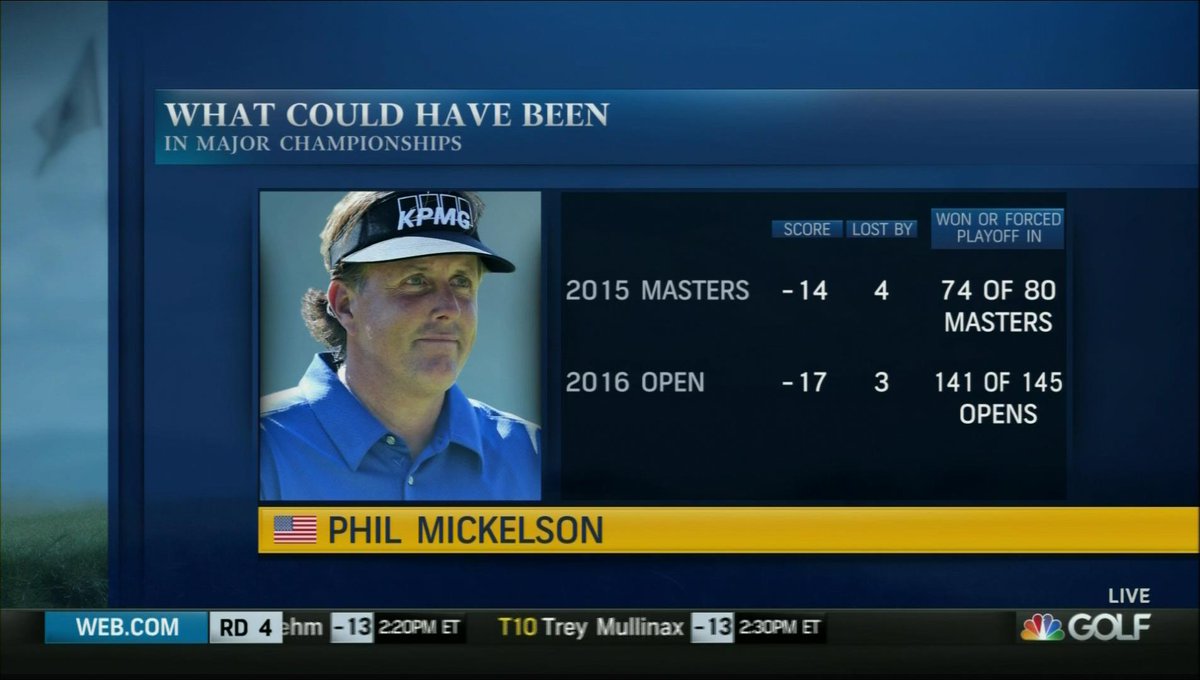 What was it Phil was saying about golf gods earlier in the week? That Golf Channel graphic tells you what he's gone up against, and it doesn't even count all the times Tiger Woods handed his ass to him.
I normally don't think of Colin Cowherd when I think about golf commentary. In hearing Herd's show this week he compared Tiger to Eddie Murphy, because he had a great run as number 1 but then became a "has been". He then compared Phil to Bill Murray, because he was never number 1 but he kept churning out hits for a much longer career. That's not a bad analogy. I'll buy it.
The R & A – Boy do these old codgers look good after such a great championship, especially in comparison to the buffoons running the USGA. In ever changing weather conditions they made good decisions, stuck with them, and let mother nature and the golf course determine the winning score instead of trying uphold par or some strange ideal they think has to be protected for their championship. They also made rulings when necessary without hesitation. Everyone in Far Hills should take notes. I think everyone that had anything to do with the Open at Royal Troon would agree, except perhaps Thomas Pieters' 7 iron.
Andrew "Beef" Johnston – When you become a cult hero in about 5 weeks, finish 8th at the Open to sneak into a spot at the PGA, and have the nickname "Beef" you'll make my winner list more often than you won't.
My god is this guy fun to watch. Its like Boo Weekley, John Daly, and Angel Cabrera all put their DNA into the same woman and he's the result. And he can play too. The fans loved him, waived hamburgers at him, and he soaked it up like a guy who knows this might not last forever. Then again, maybe this is just the beginning of a 20 year career for the man once called "beef head".
Steve Stricker – Did Father Time forget to tell Steve Stricker he's nearly 50 years old? Nah. Old guys often hang around the top ten at the Open (see Watson, Tom and Mickelson, Phil). I think Old Man Winter is the thorn in Strick's side instead. Dude spends most of his time in Wisconsin hitting balls in the cold. It takes until July to thaw his game out. Its also why the shit weather at the Open doesn't bother him. Like "Beef", Steve's 4th place Open finish will also get him into the PGA. He was only in the Open thanks to a high finish at the Quicken. That makes him a winner, parlay style.
Losers
Sergio Garcia – He's now 0 for 72 in majors. He was everybody's pick last week at Troon. Sure he snagged a top ten finish but he's running out of chances. He's not going to win the Masters. That means he might have 15 to 20 more shots at a major before he's done. He'll make the loser list for everyone one of those he doesn't win.
Bill Haas – Bill had never finished in the top 10 at a major championship. He did so at Troon for the first time, so why does he still make my loser list? Because he started the final round in 3rd place six shots off the lead. There was no pressure on him to win. Yet he shot 75 and barely hung on to his spot in the top ten. I think it is fair to expect more from a guy with his resume and pedigree.
He finished 18 shots behind Stenson. But hey, I will give him the best dressed award for the week. That Peter Millar layer look works well in Scotland.
Olympic Golf – Rory, Spieth, Dustin, and Day are all out. If you're scoring at home that's the top 4 players in the world no-showing in Rio. Spieth made it official last week from Troon right before the deadline. He is the golden boy. He was doing commercials for Team USA for the last year. He has no kids. What is he really scared of at the Olympics if Zika isn't a concern? I'm not sure what could possibly save Olympic Golf at this point. The format is failed, the course could be as well, and now the field is flawed. I'm glad they juiced the whole fucking summer of professional tournament golf for the shit show they're going to feed us next month.
Rory McIlroy – Rory won his pre-tourney presser this week taking shots at Olympic Golf, growing the game, and a few of his top 4 peers. Then he broke a club, got a fashion and fitness lecture from Johnny Miller, and back-doored a top 5 finish. I'll take the finish as I used him this week in my pick'em pool. Everything else is a bit of fail when you're a talent like Rory. His frustration showed on Saturday.
NBC – This one is hard to justify. The Peacock was largely good all week with their coverage. Feherty was solid. Maltbie was stellar. Roger and David together was borderline brilliant in covering the Stenson/Mickelson game on Sunday. They gave us tons of hours of television coverage with great graphics. Mike Tirico was a nice addition to the team. Even Miller was tolerable. I'd give them an A if they'd simply used protracers on nearly every shot. Yes, I see it on Rory's swing above, but they didn't have it available on the 11th hole? They showed hundreds of tee balls leaving that tee over a gorse patch to a blind fairway. Why not have the tracer? That fail erased all the good they did in every other way. Their ratings did kill though, they even beat Fox's U.S. Open final round number. That's big.
Shot Of The Week
There were a ton of nominees. If Phil makes eagle on 16 on Sunday and wins that 280 yard 3 wood to the green might have been the swing. Stenson's putt on 15 is stellar, but I don't like giving awards for putts. That leaves us with Louis Oosthuizen's ace from Thursday.
Remember when he made an albatross at the 2nd during the final round of the 2012 Masters? He threw that ball into the crowd just like he did with his ball from the ace at Troon. What the fuck, Louis? The man has no sentiment.
Close Shave
Did you forget there was an opposite field event in the states going on this past weekend? Yes, a bonafide PGA Tour event declared a winner at the Barbasol Championship played in Auburn, Alabama. After 4 playoff holes Aaron Baddeley canned a 25 foot putt for his first win in 5 years. He was pretty jacked up because he was playing in 2016 on the past champion one time exemption. Now he has full status for the next two years. Ironically, even with the sponsor being a shaving cream company, Aaron looked rather scruffy during his big win. But who fucking cares? The good news is a win from Bads means we get to see wife Richelle again. It's been along time. I still can't believe she's a mother of four. 
You heard me. MOTHER OF FOUR!!!!!!
God bless her.