Chalk One Up For A Midshipman
Billy Hurley lost more than he won in 2015. He also lost his Tour card and (tragically) his father. If you're not familiar with Billy Hurley you sure as hell should be after the 2016 Quicken Loans National. In 2015 while prepping for the Quicken, played about 30 miles from where he grew up, Billy's mom informed him that his father was missing. He was somewhere in his car, without a cellphone, but with his gun. Billy's dad was a police officer. He was a proud man who loved watching his son play golf. For whatever reason he took his own life and Hurley struggled for the rest of the season to play golf in the wake of this tragedy. Just like that, Tour card gone, dad gone, and the former Naval Academy graduate would be back in Web.com Q-school searching for answers.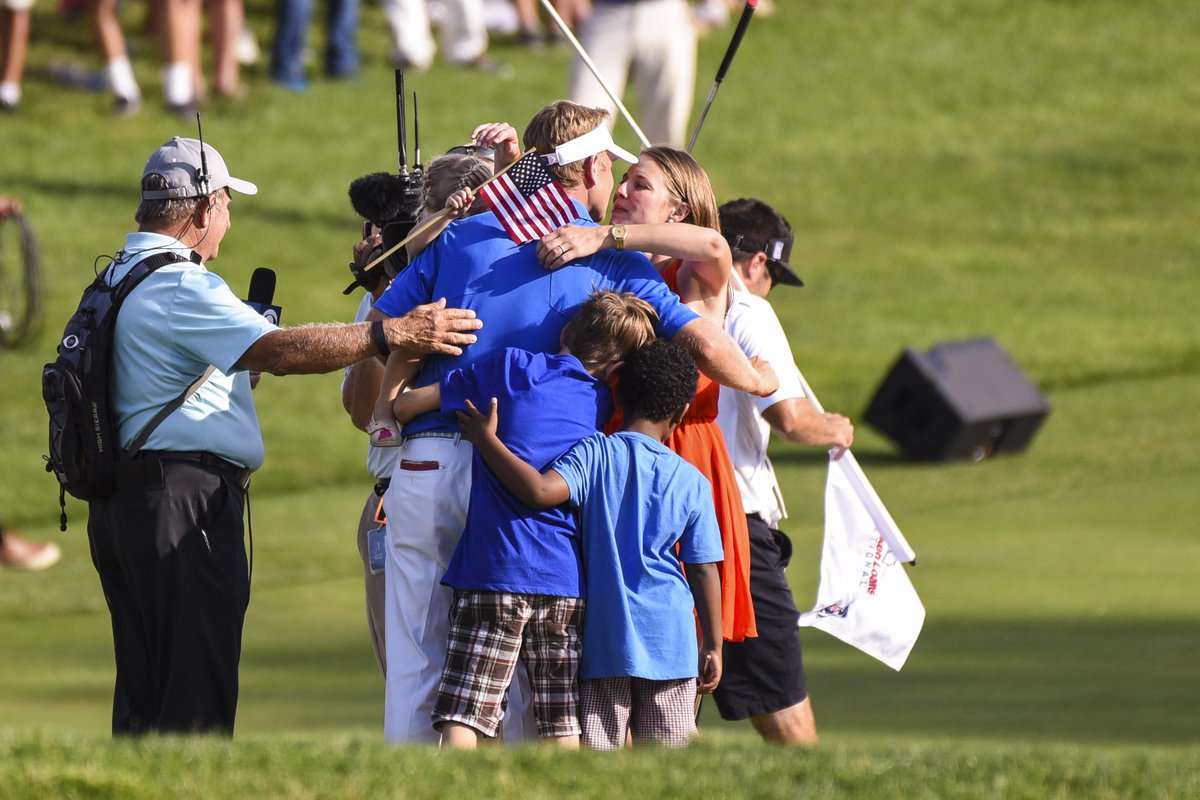 Hurley has played 2016 PGA Tour events largely on sponsor's exemptions. He found himself in the Quicken field thanks to a sponsor invite handed out by host Tiger Woods. Woods gave Hurley the exemption because of his ties to the Navy and Woods' passion for all things armed forces (his dad was a Navy SEAL). Fate found Hurley shooting rounds of 66-65 into the weekend. A 67 on Saturday meant he lead the field and Ernie Els by two shots at Congressional going into the final round with hundreds of Hurley's friends and family in attendance. A Sunday 69 held off Hall of Famers Els and Vijay Singh, as well as former (last week) top ranked amateur Jon Rahm, and gave Hurley his first career win in over 100 starts.
As you can see Hurley's round was full of highlights. He got a lot of good breaks throughout the round which is often what separates the winners from the field. Hurley was ranked 607 in the world before this week. He'd made less than 100k for the year on Tour. Now he's got a 2 year exemption and is in all the big events for the next year besides the final three majors. Great shots, some good luck, and a story book ending to his week in front of family and friends….its hard to not think someone, somewhere, had a hand in Billy's 1st win.
The Field
Jon Rahm was the top ranked amateur in the world for over a year. He won the college golf Heisman twice. Last week he was the low amateur at the U.S. Open and finished T23. This week he turned pro and lead the Quicken after 1 round and chased leader Billy Hurley all weekend long. Rahm hits it damn good, minus this shank, and has a bit of magic in his hands when wielding the putter.
He has played in 3 events (2 as an amateur) for the 2016 season and finished in the top 25 in all three. Needless to say, I was impressed. He's a walking ATM, so what else could he possibly have going for him? Oh, that's right….a smoking hot girlfriend who was on the track squad at ASU. This is her, Kelly Cahill.
Dude doesn't shank it often, does he? You can see more of Kelley on her Instagram account.
How do you follow that? You talk about how 53 year old Vijay Singh nearly became the oldest ever winner of a Tour event. Without Hurley's heroics that would have happened. I hate Veej. I really do, but I can tip my cap to what he did this weekend. He hit it great and I don't think this was a one off scenario. He'll likely contend again soon. Ernie Els isn't as old as Vijay but it feels like he is. With Els and Singh battling down the stretch I'm sure half the viewing audience was checking their calendars to make sure they weren't transported to 1995 in some weird time warp. Els was better than everyone but Hurley for 54 holes but made a gaggle of sloppy bogies on Sunday that kept him from the winner's circle.
Harold Varner finished T9 at Quicken. Thanks to the tournament within the tournament that high finish landed Harold a spot in the British Open field. Tiger Woods didn't play Congo this week but he did show up to fulfill his duties as host. In doing so he showed us more of the new Tiger that I can't quite grasp the idea of yet. He's soft, humane, and thoughtful. He was actually vested in the outcome of the tournament and openly rooted for Hurley.
Who the fuck is this guy? Then he sat in CBS' tower/booth with Faldo and Nantz for close to 90 minutes. It wasn't some bullshit sponsor obligation. He was real, he was mostly truthful, and he gave some great insight into shots the players were hitting, thoughts on Vijay's chipping methods, and tons of other shit. Good job, TW. In other news, he didn't give us much information on his return to playing. He still doesn't know. He thinks he's still a ways off.
Shot Of The Day
With Vijay bearing down on Billy Hurley late on the back nine BH3 found a fairway bunker and could only advance his ball to about 30 yards short of the green. I figured he was about to make a bogey and open the door for Vijay to steal a victory. Then this happened.
Onions! That bird was followed with another at the 16th hole and those two 3s sealed Hurley's first win. Congrats again to the Hurley family on their Cinderella story.