Henry Fownes Wasn't Fucking Around
When Mr. Fownes thought up Oakmont 127 years ago he had no intentions of making it an easy golf course. Why anyone would expect that to change over a century when the members want it tough and then the USGA comes to town? Oakmont is one of, if not the toughest golf course in the world. It is known for its lightning fast greens that stimp out near 14 feet, its brutally thick and coarse rough, and its narrow fairways. We saw Angel Cabrera win here in 2007 with a score of +5. Why would anyone think 2016 would be any different? Yet here we are on Tuesday of U.S. Open week and all the talk is about how tough the course is, how it might not be fair, how #8 is a ridiculous par 3, how the greens are too fast, etc.
Ok, we get it. So don't hit it in the rough. And if you have to miss it in the fairway, do so in a bunker. Ahhhh…..but the bunkers have been fluffed too! Not to the point where a ball will bury when it shouldn't, but to a degree that will allow the ball to settle into its trail that it makes as it settles in the sand. That means a shot played from the sand will be harder to control. Wait, a bunker that is an actual hazard? Yes please. I'd like to see more courses do this, but who has that in their budget? The greens, the sand, the rough……all hard, but the topography of Oakmont presents its own problems. Just ask Chris Crawford's caddie. This is Bill and he broke his ankle getting in and out of a bunker on Tuesday. Don't be like Bill.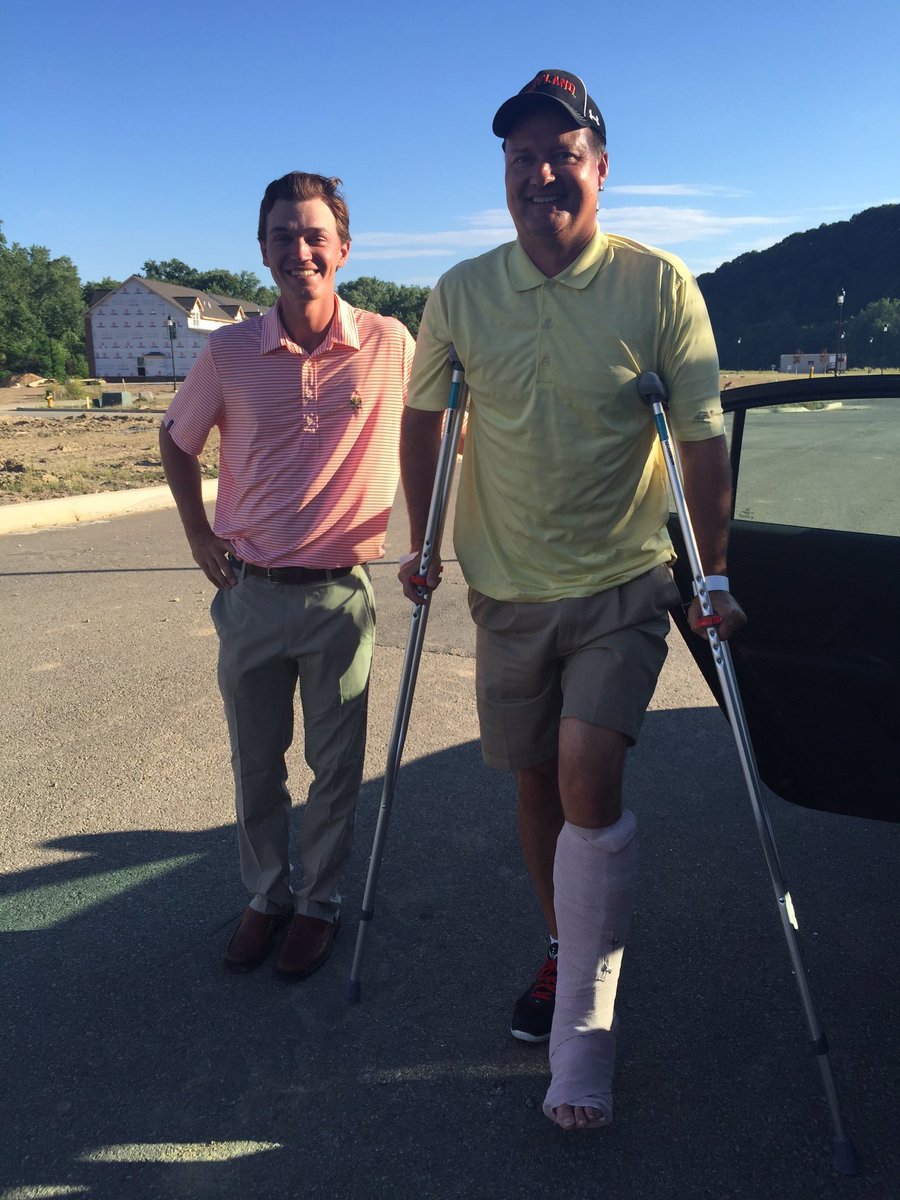 All the other bitching coming from Western Pennsylvania concerns the par three 8th hole at Oakmont Country Club. Yes, it is listed at 288 yards. Yes, it can play 300 yards. But the USGA isn't going to play it that long and embarrass the players if the conditions aren't right. If the forecast calls for a 2o mph wind into the players face on a given day they'll move the tee up 20 to 30 yards. And if there's no wind in play the players really only have to get the ball about 240 yards off the tee to have it trickle on to the green. No one will likely even hit driver here unless its wet or windy.
The journos and tweeps that like to keep pointing to #8 as a golf problem don't seem to understand that Fownes intended on the holes being played with a wood of some sort with the ball chasing on to the green. A par 3 green need only be reached in one shot. Every player in the field can make that happen.
Back to the greens. This is where we're going to have some fun for the week. We'll see balls run out that looked like they were at a complete stop. We'll see some guys putt off the green. And we'll see Tour pros tremble over a downhill 4 footer even more than they do at Augusta. There was some talk this week that they'd get to dry and firm and perhaps the USGA could let them get out of control.
That won't happen. The USGA agronomists are paying close attention to the grass. In addition to that the forecast is calling for some storms to come through on Thursday and Friday. I think we'll see some lower scores in the high 60s due to the wet weather early but after the mean old course dries out our winning score will rise to the wrong side of par and then some, call it +3 if you want to put a number on it.
The Players
Robert Garigus played well enough at last week's U.S. Open sectional qualifier to find himself in a playoff to get into the Championship. After two playoff holes he was on the outside looking in at Oakmont. But he wasn't done, he and Brian Gay were set to tee off again for another playoff to be the 2nd alternate from their sectional. After 38 holes were already in the books for the day both basically said 'fuck it' and they flipped a coin for the last alternate spot. Bobby won the toss with an astute tails call. There wasn't much of a chance of that alternate getting in anyway. Or was there? With less than 48 hours until the first ball goes in the air 6 alternates have already been added to the field. Garigus is still 3rd in the hole on the alternate list, but anything could happen, and Bob could end up in all thanks to a coin flip.
Jason Day is the number one player in the world and he's my pick to win this week (dark horse pick is Louis Oosthuizen). As the number 1 ranked player he's obligated to sit with the journos for a pre-tourney presser. Here's what he had to say about his son's new commerical and his wife's milk jugs.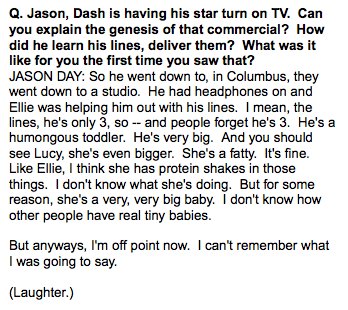 I said the same thing about my wife's tits just the other day. No I'm not kidding, but I didn't say it to a room full of golf scribes that would publish the quote. His wife took it well based on her Twitter reactions. Like mine she's probably use to the all too occasional off color remark from her hubby about her boobs.
FIGJAM was in Pittsburgh, but then he wasn't. Just like the last time the U.S. Open was in Pennsylvania (2013 at Merion) Bitch Tits has a daughter graduating from 8th grade and he had to fly home to see it. He'll be back in the 'Burgh with a day to spare this time so don't get cold feet about that bet you made on him in Vegas last March. Oh, and speaking of Philly Mick, ESPN's Kevin Van Valkenburg took the time to document FIGJAM's near misses at the Open and wrote a fantastic piece about them that ranks them in order of how heart breaking they were. Spoiler! He's got Merion at number 1. I don't disagree with that take. I'd probably go with Merion and Winged Foot as co number 1s, but this works too. Hit the link in the tweet to read the piece.
I think Mickelson will contend but fade over the weekend. I think Spieth will finish in the top 10. I like Day to win because his putting stats tell me he's the best at that on the world's toughest greens. He's also a grinder that should rise to the top under the Open's tough conditions. The Louis Oosthuizen dark horse thing is just a gut feeling. I'd also like Justin Rose if he wasn't still healing from an injury. The Vegas money is coming in fast and furious on Dustin Johnson thanks to his Sunday 63 in Memphis. I don't see it. His putting stats my reason for ruling him out. Even if he does contend you already know how that story ends come Sunday around 8 pm. I don't know if I can watch that again.