Jack's House Of Milkshakes
This is the worst week of the year to follow Tour pros on the Twitter. All they do is snap and tweet pics and videos of them getting delicious milkshakes from the Muirfield Village club house. Fuck those look good.
But once Thursday hits we talk about golf, the course, and who went low. No more milkshake shit. The gossip out of Muirfield on Thursday morning concerned Rory McIlroy. Rors just won the Irish Open putting left-hand-low. So why the fuck not switch back to a conventional grip two weeks later with the U.S. Open on the horizon? He wouldn't, would he?
He did. I've been calling for this for 6 weeks but after the Irish Open I was convinced he'd see the experiment through for 2016. This has a hint of desperation to it. I hope you didn't bet him at Oakmont. Rors shot 71 in round 1 at Jack's house and missed some short putts in doing so – FYI.
Jason Day shot 66 on Thursday, just like the world number 1 is supposed to. That's a much better day than he had on Wednesday when his daughter shit all over him. And we're lucky enough to live in a world in which he can tweet his Instagram of her blowout to all his 1000s of followers.
Speaking of shitting one's self, Dustin Johnson leads the Memorial after 18 holes due to his 64 that included 10 birdies. Jordan Spieth shot 70, which isn't interesting in itself, but he did start with 7 putts in his first 7 holes. If you're scoring at home, that means he went 16 holes in tournament play dating back to Colonial taking only 16 putts. Wizard. He's a fucking wizard.
More interesting than Spieth wizardry is the case of Canadian Graham DeLaet. Graham WD'd from the Memorial on Wednesday thanks to being a total headcase. He said so himself.
Wow. So honest, but so odd. It must really be in his head if he's admitting it. Remember when DeLaet shinned so brightly at the 2013 Presidents Cup at Muirfield? It must be killing him to sit this one out with the chip yips.
Who Stepped On A Duck? 
For the 2nd straight Wednesday, Golf Channel gave us an NCAA Championship match in prime time from Eugene Country Club in Eugene, Oregon. This time it was the men of Texas and Oregon battling in extra holes for a championship. If you missed it you need to start paying attention (or you have a life that I'm jealous of). Texas' stud Beau Hossler sat out the matches with an injury which meant UT was down 0-1 to the Ducks right out of the gate. They made up this deficit when former U.S. Junior Am champ, Scottie Scheffler, beat newly crowned individual NCAA champ, Aaron Wise of Oregon. That set the stage for Longhorn Taylor Funk (son of Fred) to battle the Duck's home grown hero, Sulman Raza, for the title.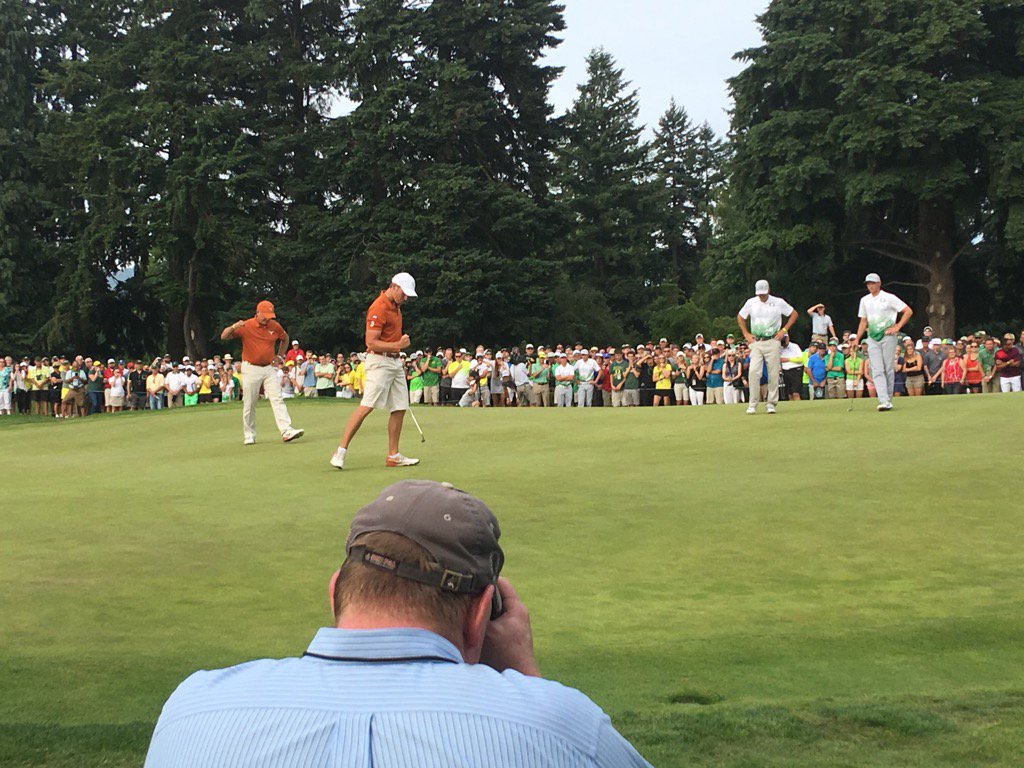 Thanks to Funk's clutch putt (above) the match went to extra holes. Funk made scrambling pars to stay alive while Raza hit fairways and flagged iron shots. Raza couldn't convert shortish birdie putts on the first two extra holes but then made a 5 footer for a birdie on the 21st hole of the match to give Oregon their first NCAA Men's golf title. The home crowd stormed the green and chaos ensued, especially for Golf Channel's Nicole Castrale.
Urban Dictionary no longer defines "epic fail", it just shows a clip of Castrale's gaffe. In all seriousness, the entire two weeks of NCAA title bouts on Golf Channel were tremendously entertaining and well done by the GC folks. Pro Tracers, great interviews, lots of actual golf action, what else could you ask for? CBS could learn something from these broadcasts and the Olympic games should revise their format to include match play, NOW.
Did You Notice?
There's a new SFG Up & Comer of the Month and I bet you didn't notice. No, it's not heffer Lindsey Vonn. But she was Snapping images like this of herself fellating a hot dog over the weekend.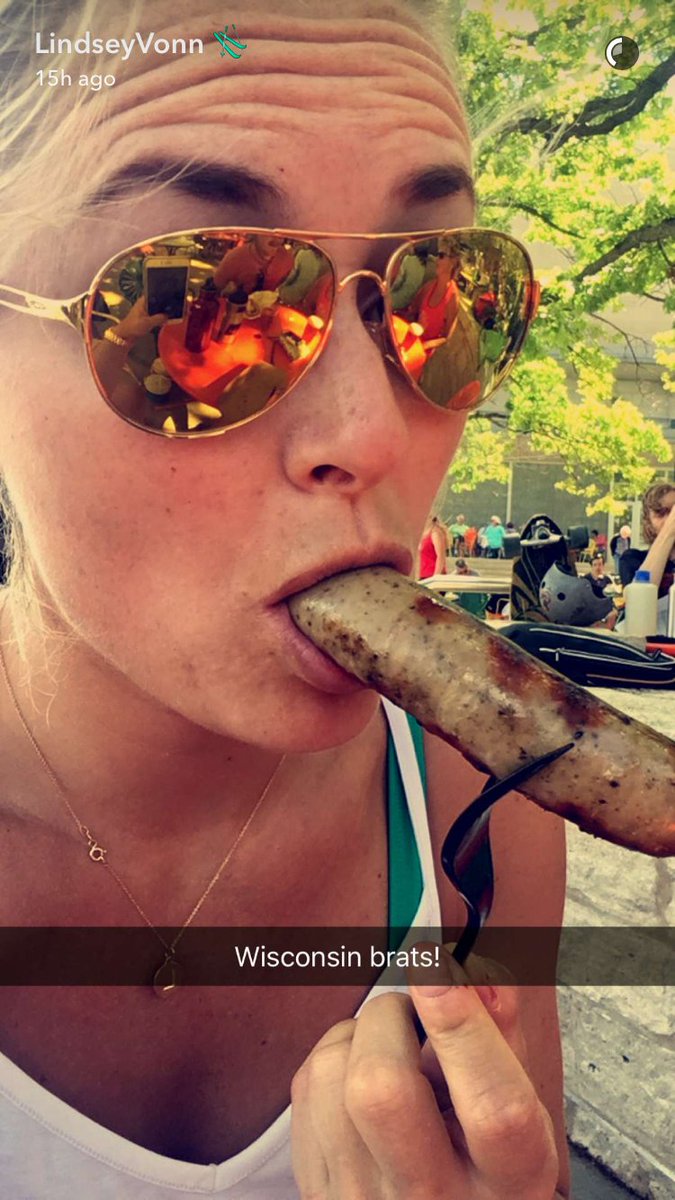 No, the June Up & Comer is the LPGA's Brooke Pancake. Brooke is a former Alabama University golfer who is sponsored by Waffle House. That makes sense.
She is also recently married, has a nose piercing, and really big….eyes. She's ranked 428 in the world, has made $223k in her golf career, and hasn't played in an event in 2016 that I can tell. She is apparently sidelined from action with a rib injury. Get well soon, Brooke.