Perhaps His Career Isn't Over
Jordan Spieth winning again, and winning in Texas, was only a matter of time. Many of the dopes that write about golf for a living wrote him off after his collapse at Augusta. I know much of the golf fans that troll Twitter did the same. The hot takes were plentiful – Jordan is done, Jordan got lucky last year, Jordan can't putt, Jordan's swing is fucked up. No….none of it was true. He was fine. And statistically his 2016 wasn't that different from his stellar 2015. But no one wants to base their arguments on facts and reality. The narrative was that the Augusta collapse would mentally cripple him. His win Sunday at Colonial changes that narrative and takes us back to facts. Jordan Spieth is really good. Period. And he isn't going anywhere anytime soon.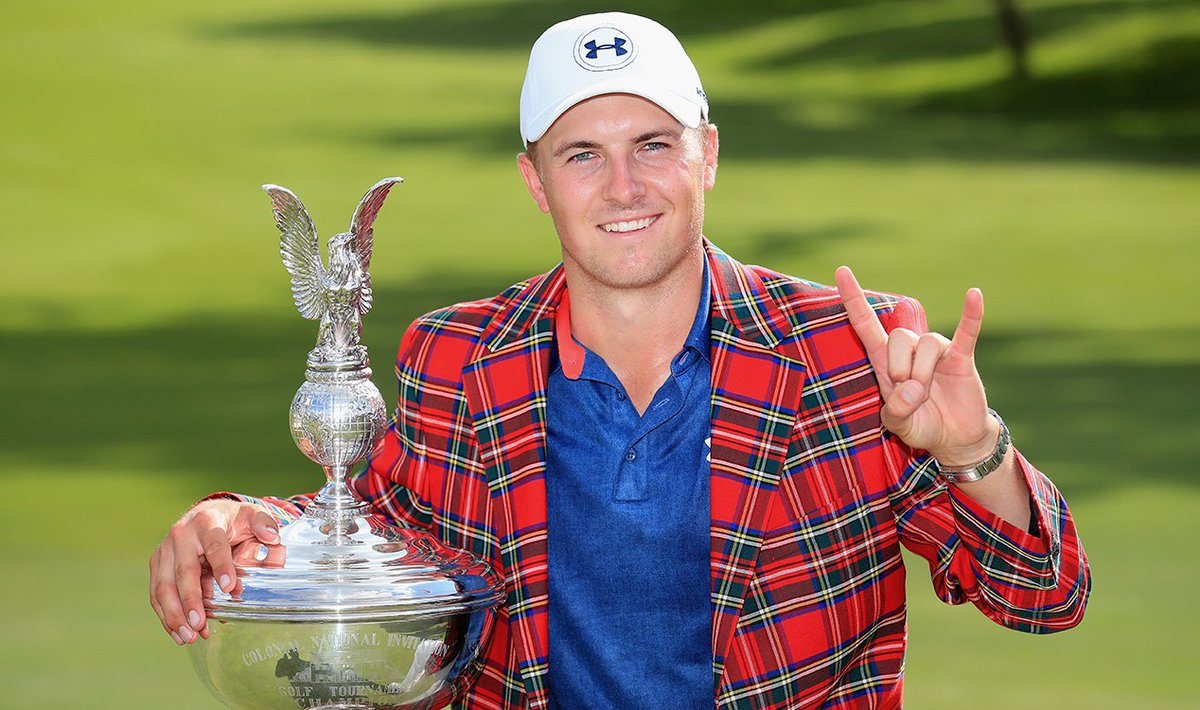 If like me you were enjoying the holiday, sunshine, and everything other than sitting in front of the TV watching golf then you didn't see much of the Dean & DeLuca (is that for fucking real, by the way?) Invitational either. I'm not using the sponsor name. They don't pay me. It is and always will be the Colonial. To recap, Spieth cruised around the course for 3 rounds and put himself in the lead after 54 holes. He parred his first 9 holes on Sunday and fell behind challengers like Harris English. Then he closed the back nine with 6 birdies all done on 9 putts. Yeah, NINE PUTTS for NINE HOLES. That's insane. More insane were the two bombs and a chip in that went in for him to close the tournament on holes 16 through 18. Get him some coffee. He's a closer. He always has been.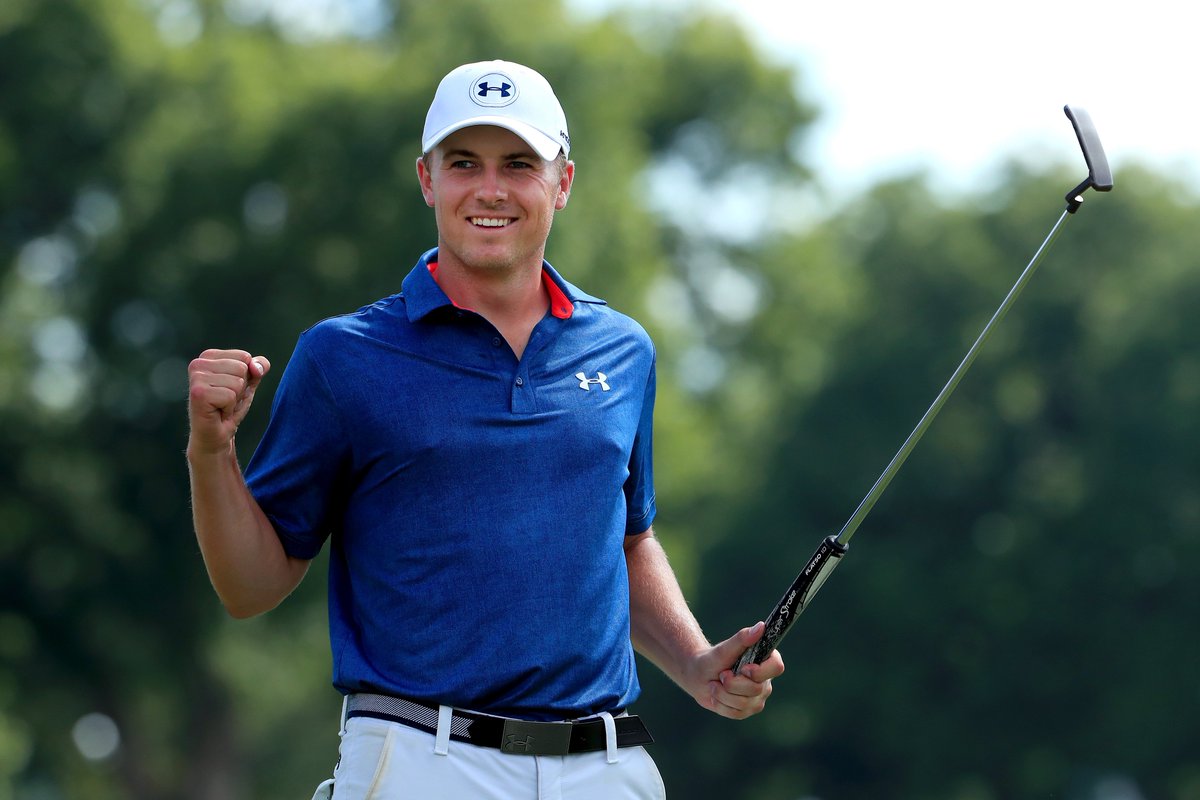 Jordan now has more wins at 22 than Tiger Woods had. No shit. Don't put too much stock in that. Woods turned pro after two years of college. Jordan did it after one so he has a full season on Woods at relatively the same age. Through their first 86 events played on Tour Tiger has more almost double the wins that Jordan has.
What else does a Jordan Spieth Colonial victory mean for golf? It means the top 3 players in the world have all won in their last start. Day won the Players, Rory won the Irish Open, and now Jordan took his turn. Oh, and they're all headed to Jack's house this week for the Memorial with the U.S. Open two weeks away. Meanwhile, former number 1 Tiger Woods is not in the field as we all had hoped. Ehhh….who needs Tiger anyway with this top 3?
The Field
Harris English often gets labeled at "too talented to not win more" by the naive golf media. The reality is that it is really fucking hard to win on Tour. There's only so many Rorys, Jordans, and Jasons. Harris English had another shot at victory at Colonial and fired a final round 66 to give himself a chance. Then Spieth happened. Its not like Harris could go out there and whack Jordan's putts away from the hole with his 3 iron. Sometimes the other guy is better. English will get his again, and might do so where he's already won in Memphis in a few weeks.
Ryan Palmer, Webb Simpson, and Kyle Reifers probably all feel about the same as English after getting Spiethed. They just don't have the same expectations on them that English has. If I'd have picked a winner on Sunday morning I would have gone with Palmer because he's a member at Colonial. Palmer shot 68 but couldn't get out of neutral on the last 11 holes after being 3 under through 5. Reifers wore some interesting pants in humid Texas that he'll probably have to throw out.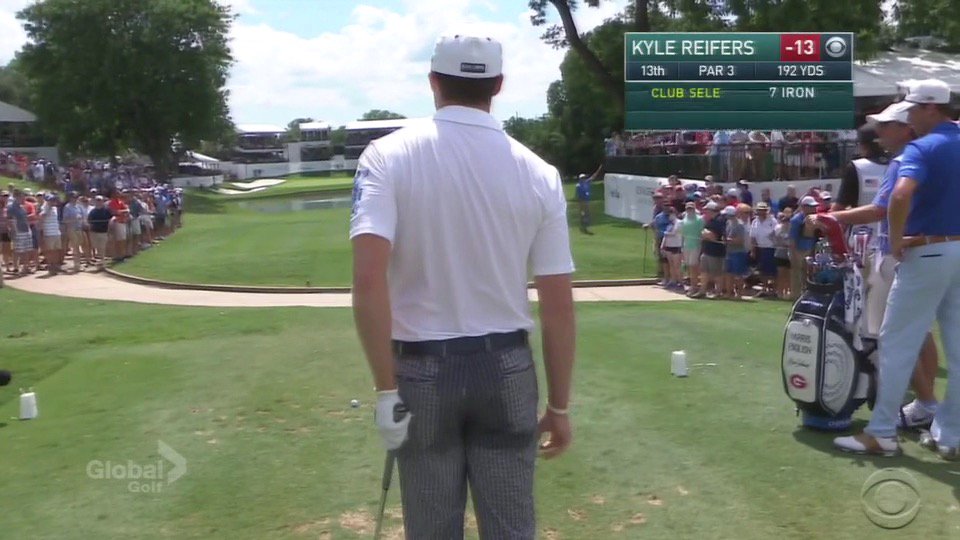 Wow. Don't all these guys wear dry-fit only material now? That's amateur hour. The Swamp Ass title will now temporarily be transferred from Bobby Garrigus to Reifers.
Second year player Tony Finau made the cut at Colonial and looked to be a sleeper for the weekend. On Saturday Finau pegged a girl in the gallery with an errant tee shot and made her skull bleed. He was over par the the rest of the weekend and finished T34. Finau was once hit by a ball and had health issues that occurred due to the accident. He wanted to make sure the girl he hit was okay so he found where she was and took her flowers. What a guy.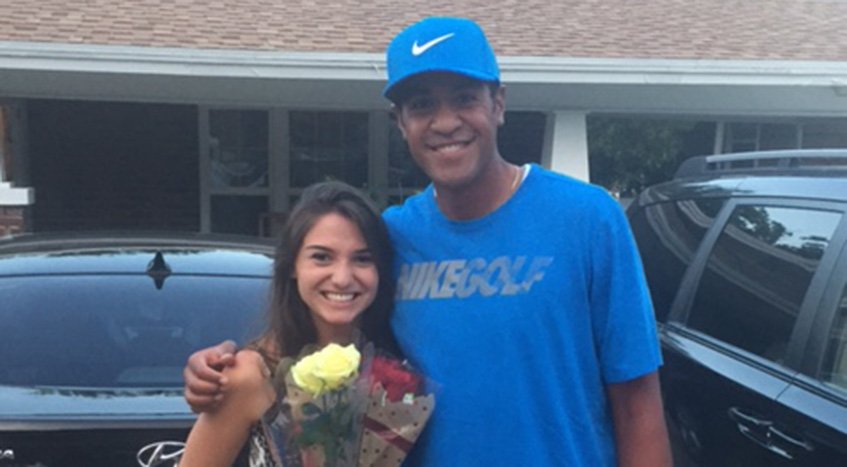 That's like some bullshit romantic comedy story line, isn't it? Perhaps she's too young for Tony, I can't tell.
Shot Of The Day
Spieth, 17th hole, at Colonial….what else can you say? He's a wizard with his wedges and his putter. I haven't seen 3 consecutive holes outs like he had to close the tournament from any one besides Tiger. If this was 1850 Old Tom Morris would be ready to burn Jordan at the stake.
That's an easy call, but I have a bonus for Shot of the Week today. It comes from Thursday at the Senior PGA Championship. My friend, John Dal Corrobbo – a club pro from the Brickyard Crossing course in Indianapolis, holed out on 18 for a first round 65.
John was playing in his 2nd consecutive Senior PGA thanks to winning the Senior Club Pro Championship in October. Last year he barely made the cut. This year he was in 3rd heading into the final round. Its pretty cool to see someone you know paired with Tom Lehman, battling Hall of Famers like Bernhard Langer and Colin Montgomerie. John finished 7th and gave all his friends a family a thrill. Golf Channel even had him in the booth for an interview. He teaches about 40 lessons a week and helps run a golf course. Being able to compete with that group of legends is phenomenal. Congrats to him and good luck with whatever comes next.