Rors Out For Rio? 
We don't know that yet, but it's a possibility. As of today we've had Charl Schwartzel, Adam Scott, Marc Leishman, Louis Oosthuizen, and several other top pros say they have no interest in playing for their country in the Olympics come August. It isn't that they don't want to represent their countries but rather they're all scared to death of the health issues plaguing the Rio games. Of the highest concern for golfers is the Zika virus that is being transmitted via mosquitoes. The virus is known to cause birth defects. Any golfer with a young family or starting one is probably going to be very cautious in how they approach their trip to Brazil.
Why should this matter to Rory? Because as he noted in his post Irish Open presser, he and fiance' Erika Stoll might be starting a family soon and he wouldn't want to put her or a future child at risk. That's big news. That basically confirms they're engaged (was previously only rumored) and that she's not waiting around for kiddos. If Rory pulls out (insert conception joke here) of Rio I expect Jason Day and anyone else with kids to follow. Spieth and Rickie will probably still go.
I had written all the disastrous Rio stories off as media drama but I'm starting to rethink that. By August we'll end up with maybe a few top ranked players in Rio and we'll be oh so glad that the PGA Tour fucked the whole 2016 schedule to accommodate the event.
Four Ball Champs Crowned
Two SMU golfers won the 2nd USGA Four Ball Championship at Winged Foot on Wednesday. Benjamin Baxter and Andrew Buchanan will now have their names forever etched on a USGA Championship trophy thanks to their 3 & 2 victory over Brandon Cigna and Ben Warnquist. That's not a bad start to your summer vacation having just finished your finals a few weeks ago.  I assume they're only in the 4 Ball thanks to SMU being ineligible for the NCAAs because they're on probation. I enjoyed seeing high level amateur golf on TV every day this week. There were some great shots and fun matches, and you can see the highlights of the championship match below, but the star of the week was the golf course – Winged Foot East.
The East Course is often over shadowed by its big brother, Winged Foot West. The entire 36 hole layout at Winged Foot makes for one of the strongest 36 hole facilities in the world. That being said, there's always one course that the USGA or PGA seem to favor for one reason or another to host the big tournaments. Baltusrol in neighboring New Jersey has a similar set up. At Winged Foot the East Course was recently renovated by Gil Hanse, he who designed the Rio Olympic course. Seeing the 'lesser' track host the USGA 4 Ball Match Play portion of the championship was a treat for course junkies like me. Kudos to Fox and the USGA for providing us with a unique viewing opportunity. I think Fox is contractually obligated to show the championship to get the U.S. Open. Their coverage this week wasn't awful, but giving Paul Azinger an open mic and a bright green light to talk is going to wear me out by June 19th.
Meanwhile In Oregon…
While the Men's 4 Ball was going on in New York, the Women's 4 ball was being contested at Streamsong in Florida. I didn't watch a minute of it because it wasn't on TV. I did watch the Women's NCAA Championship on the Golf Channel all week. By the way, who's the dumb fuck in Far Hills that schedules the Women's 4 ball during the NCAA Finals when the best players will be in Oregon instead of at Streamsong? At the NCAAs the final came down to two Pac 12 rivals, Stanford and Oregon, facing off in the championship matches.
Washington built a lead in a few matches and put a point on the board before the Cardinal. Stanford tied the matches at 1 but trailed in the 3rd match by 1 hole with one to play. The Husky player had to lay up from the rough while the Stanford player hit the green in regulation. While Washington lead (at the time) in the other matches this match looked to be crucial for Stanford to get to have any hope of still winning. Then Washington's Ying Luo hit the shot of the week to give Washington the 3rd match.
With a sizable lead in the other matches I think much of the Washington contingent thought that shot had won them a national championship. It hadn't but the letdown had already started. The last match on the course that was dormie through 15 but went to all square after this lip out on the 18th.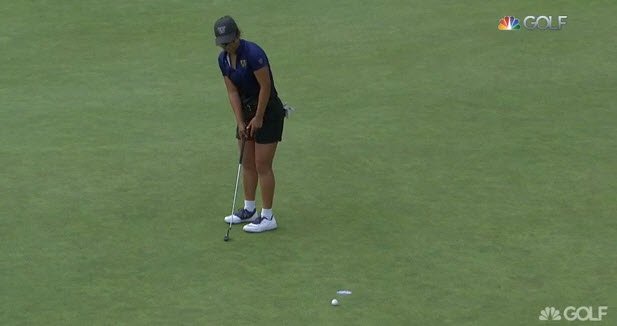 Now two matches were in extra holes. One win for UW and they win. Two wins for Stanford and they win. Stanford won the first match. The final match was now on its 20th hole with both players missing the green. UW's Alvarez, who 3 putted the final hole of regulation and lipped out for the win, hit a phenomenal pitch that left a conceded par putt. The Stanford player ran her chip by and missed the comeback putt to give UW the victory. The cliche' saying here is that no one lost. I do feel that's true in this instance. Golf was played at a high level by both schools. They have a lot to be proud of. I didn't feel bad for Stanford, after all, they won last year.
The big winner here was the golf junkies who got to watch live golf that really meant something until 10 pm on the East coast. The Golf Channel did a great job with coverage. They had every shot, every emotion, and even threw some pro-tracer action at us. The Twitter reaction was 1000% positive, which is very rare. So maybe everyone did win, but UW got the trophy.