They're Convinced He Did It On Purpose
On Monday morning Tiger Woods met the media at Congressional for a Quicken Loans media day event and a charity closest to the pin contest. Tiger arrived promptly and answered questions about his health and his return. The news on that front was grim. In short, Tiger still doesn't know if he'll be back next week or next year. He wishes he did know so an end was in site. He's trying to get his body more pliable, whatever the fuck that means. Then Tiger hit 3 balls from the forward tee over water at Congo's tenth hole. The shot was 102 yards. Woods hit all 3 balls in the H2O. Here's the video:
That's real, it isn't doctored. There are 1000s of internet truthers saying TW did this on purpose so he could let the military veterans he was competing against win the contest. I doubt that. He could have just hit it 20 feet left if that was the case. His swing looked slow but not bad. He looked swoll and stiff (insert porn joke here). He hadn't warmed up. It was about 50 degrees out there and TW had 4 sweaters on. I think it would be pretty easy to not have that yardage down for a guy who hasn't played much and hasn't warmed up. Why his PR folks let that happen is something I still can't figure out.
And with that, those 3 swing have been over analyzed more than his simulator swing from a few months ago, and even more than his Blue Jack National swings last month. They mean nothing. Anything is still possible with Woods, anything but playing at a high level in 2016. He could come back whenever but it won't matter because he won't be in game shape, condition, etc. Lets stop the bullshit. TW coming back is a big story, but golf is in fine shape for now without him. Let it all go. When he plays we can bring the state of his game back up as the topic du jour.
The Bakers Bay Bros Where At Oakmont, Minus Jordan
While the media was centered on TW's water balls the Bakers Bay Bros were heading to Oakmont for a scouting report on next month's U.S. Open track. Well, not all the bros. Jordan Spieth was in Dallas getting ready for the Byron Nelson (more on that in a second). Smylie Kaufman, Jordan Thomas, Rickie Fowler, and Fowler's caddie played 36 over two days at Oakmont and Snapchatted more of their shenanigans from the course. Doesn't Oakmont have a phone policy? If not that's good by me. I enjoyed seeing the course through the eyes of the 3 Casamigos' snaps.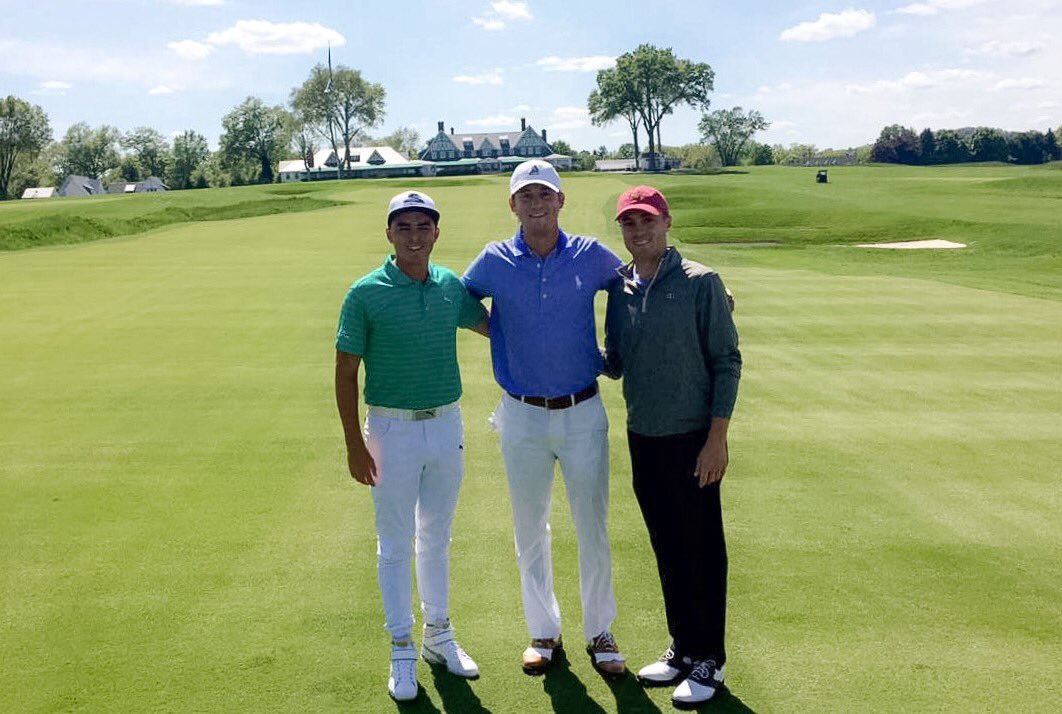 Fowler is the only one of the three technically in the field as of today. Kaufman and Thomas are both in the top 60 in the OWGR so they should be in when the USGA sends out invites in the next few weeks. Kaufman is at 48. He's not likely to drop out, but he might have been acting a bit presumptuous in going to Pittsburgh instead of local qualifying.
Then there's Jordan. While putting on a clinic that is somehow connected to the Nelson he decided to attempt a trick flop shot with a marshmallow to close it down. I've never seen this before, but apparently Jordan has this up his sleeve as a go to crowd pleaser.
His reaction is kind of dorky, but I'm sure the kids loved it. On a more serious note I'll be curious to see how Spieth bounces back this week on his home turf after an MC at the Players. I'd say he's close to a lock for a top 10 finish but I'm not picking him to win. What if he misses another cut? Gasp! He might as well hit three wedges into the Potomac and let the media shovel dirt on him like they're doing to Tiger.