Tougher Than The Rest
I've compared the Jason Day we began to see last year to Tiger Woods a few times. I'm more than sold on the idea that Day has entered Woods' stratosphere. When is everyone else going to jump on board with this? Day won the Players Championship in wire-to-wire fashion on Sunday and did everything from tying the course record to grinding out an over par 3rd round played on double-cut, crusty, fast greens. He made birdies in bunches, didn't bogey a hole on the back nine all week (first ever to do so), and saved par in every conceivable way one can. Yet his most important stroke of the week might have been the five foot bogey putt he made at the 9th hole that followed 3 flubbed chips (more on that later).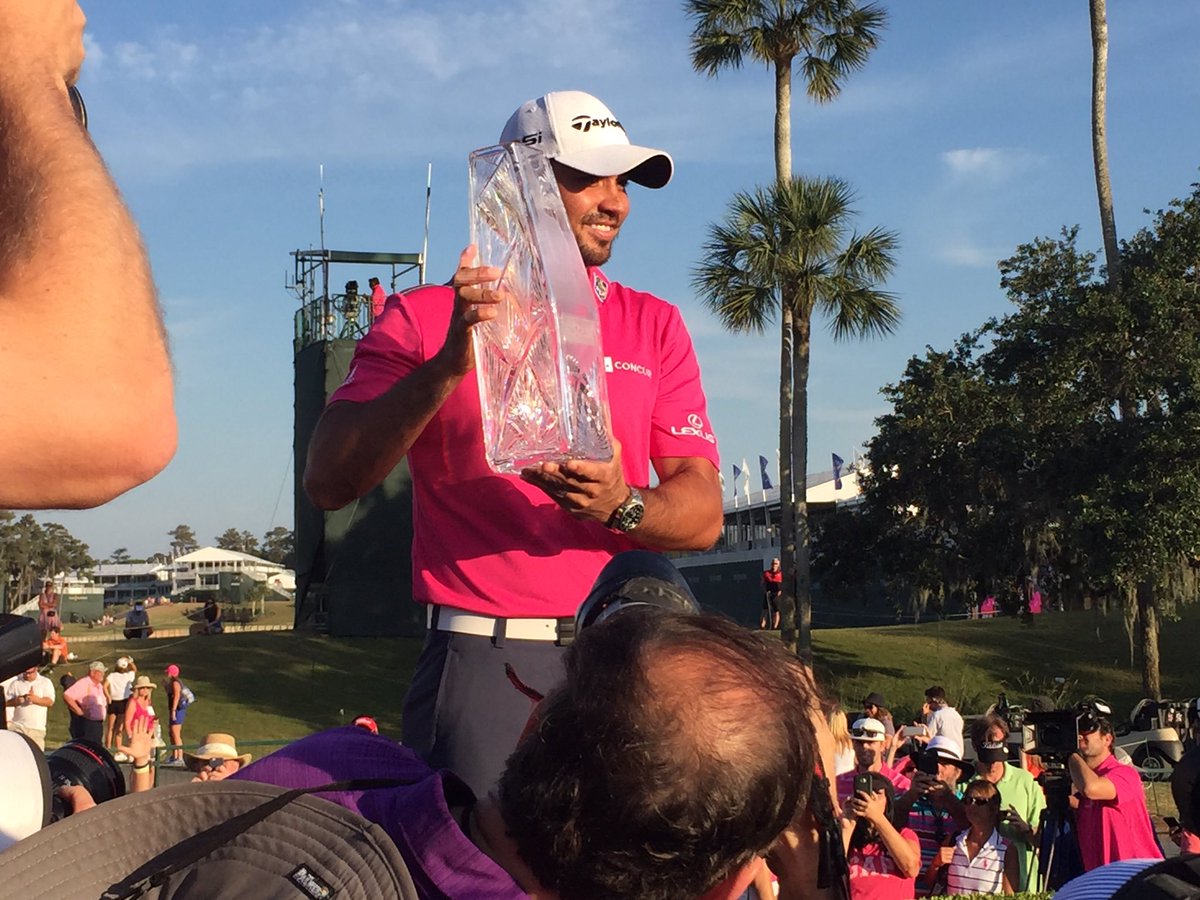 Day was fortunate to be off early on Thursday under soft conditions. He took advantage and stepped on the gas by making birdie on half his holes in round 1. He was lucky again on Friday when a storm blew through the TPC course and he got to play his final 4 holes of round 2 on Saturday morning under softer conditions. If you watched any of the 3rd round action you know that the shit hit the fan with regard to the course set up that day. Day survived a late tee time on the browned out course and kept his 36 hole 4 shot advantage into Sunday. The tournament was over before he went to bed Saturday night. This is the new Jason Day. He's a killer, a closer, and a champion that is the closest thing we'll ever see to Tiger Woods again.
The best example of this tougher, steely version of Day came at the ninth hole on Sunday. He was at a point in his round where doubt could have crept in. He bogied the 6th hole and the field was closing in. Players were posting 10 under. Day appeared to be thinking birdie on the long par 5 when he went at it in 2. After stubbing a few chips he had a 5 to 6 foot putt for a 6. Miss that and the field is back in it. He wasn't having it. He buckled down and knocked that bogey putt in. There was never a doubt he'd make it.
Day gives up on nothing. He doesn't give away a single shot. Grind, grind, grind. Try to make everything. Sure its easy to say he's the best because he hits sky high drives that fly 320 yards, but that's the part of his game that grabs your attention. It is the sizzle to the steak Watch him putt. That's the meat. He's never pulled the blade back with a thought of not making that shot. He doesn't work that way anymore.
Day told the Golf Channel crew that things changed for him after he missed out on the British Open playoff by one shot in 2015. He was sick of losing. He was sick of being great but not a champion. Those days are long gone. Jason Day is now dominant. He became tougher than everyone else thanks to his near misses. The Players victory was his 7th in his last 17 starts. That's a Tiger-like run, but he's far from done.
The Field
The leaderboard will say that Kevin Chappell finished 2nd. He did. And he got over 1 million dollars for his efforts. But he never threatened Day. He hit some great shots, I'll give him that. I saw some comparisons of Chappell to what Kevin Kisner did last year at the Players. Nah. Kisner could have won if not for Fowler's epic finish. Chappell was never in same ballpark as Day. The only thing I see in Chappell that is similar to Kisner is that Chappell is knocking on the door and will win soon. That's right where Kevin Kisner was in 2015 after the Players.
Matt Kuchar finished T3 with Ken Duke, Colt Knost, and Justin Thomas. Like Chappell, Kuchar didn't really threaten Day either. He could have. He knocked his 2nd shot on the par five 16th hole to about 8 feet for eagle. That would have propelled him to 11 under when Day still had a lot of golf to play. Kooch left the eagle putt short. That's embarrassing. He also didn't fire at the pin at 17. He played safe like he was playing for the paycheck. I don't blame him but that tells you a little bit of what goes on in Kuchar's head. He ticks differently than a guy like Jason Day. Less heart. Less self belief. Add that up and it equals zero major championship trophies.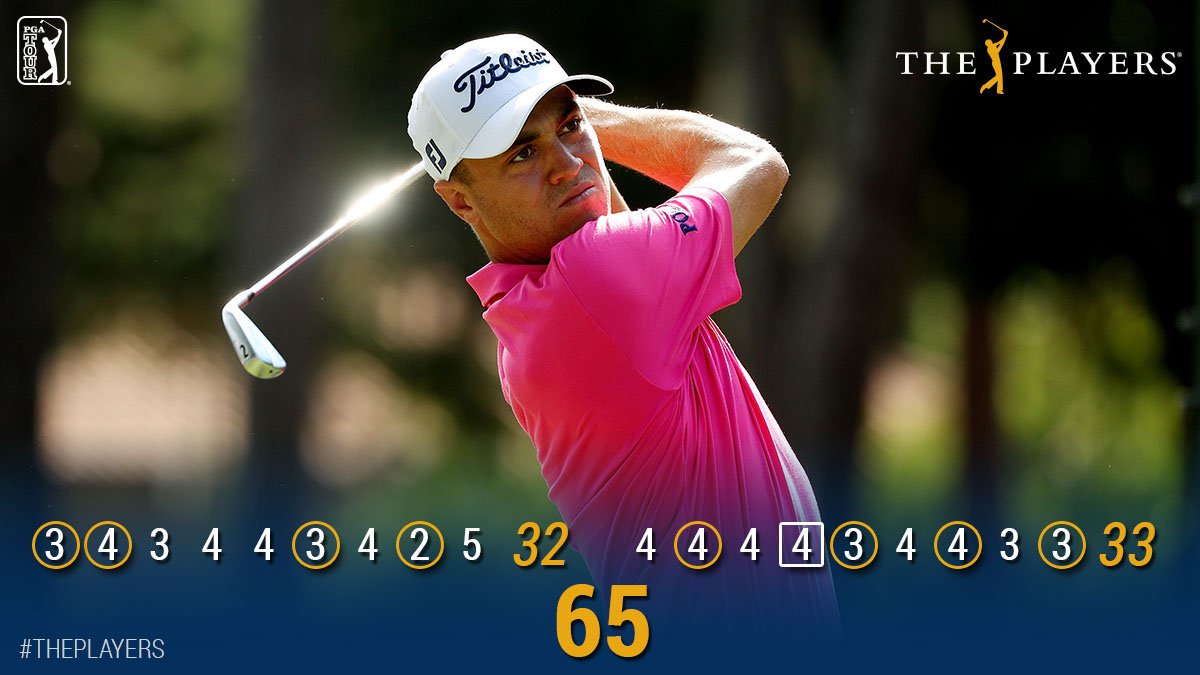 That's Justin Thomas' final round. Pretty sporty. Thomas posted his -10 total early enough to make him wait around to see if anyone could better his clubhouse lead. Thomas was the only #SB2k16 bro to make the cut. He made the most of it and grabbed a big check and valuable Ryder Cup points.
Hideki Matsuyama was paired with Jason Day in the final group. He's a proven winner and a world class player, but he wasn't ready for prime time on that golf course with Jason Day in the driver's seat. Colt Knost also finished in the top five thanks to a great week and a course record 63 on Friday. Knost should have broken the course record but 3 putted his final hole.
With friends like that, who needs enemies? I'm guessing Ken Duke doesn't have any enemies. The 47 year old Duke isn't easy for me to root for because I rarely root for the journeyman. I want to see greatness in my golf. I don't go to a 5 star restaurant and order a salad just like I don't watch championship golf and root for the little guys. Duke is so likeable that even I can't root against him. He can't contend on a lot of the big boy courses on which Tour events are held, but a baked out TPC Sawgrass….sure. He pulled a Paul Goydos from 2008.
This was Ken's best week since he won in Hartford 3 years ago. He was loving the crowd and all the support. Why shouldn't he? He won over 8 times the amount of money he'd won to date in 2016 thanks in large part to his 3rd round that was 10 shots better than the field average. We might have our 2nd Shutter nominee for Round of the Year thanks to Ken.
Rory McIlroy shot a 64 on Friday and a pretty nice 70 on Sunday. His first and third rounds were largely shit. He was near the top of the field in greens in regulation for the week and made nothing with his putter. Stats don't lie.
When is he going to end this left-hand-low experiment?
As I said above, Justin Thomas is the only 1 of the 4 Bakers Bay Bros to make the cut at the Players. Jordan Spieth looked rusty having not played since the Masters. He had some short game issues and told some journos that he needs to fix his attitude to play better. Golf Channel cameras caught him blaming his caddie, Michael Greller, for some of their club selections being off. Sorry kid, you've got to own that. Never go full Bubba. Rickie Fowler hung around in Jacksonville after missing the cut because as the defending champ he had to give the trophy to the winner. He looked pretty happy when he got to give the crystal to good friend Jason Day.
Quit Bitching
The golf course staff couldn't water the greens Friday night because about 15% of the field hadn't finished their 2nd round. After the 2nd round was completed Saturday morning the greens were cut and rolled again. No water was put on them. Scores were low and the forecast had humidity in it. That changed and the lack of water plus the clear atmosphere and light breeze dried the greens out faster than Gilbert Godfried's face can dry a twat. They were already rolling quick, but these conditions made them crusty and extra firm and fast.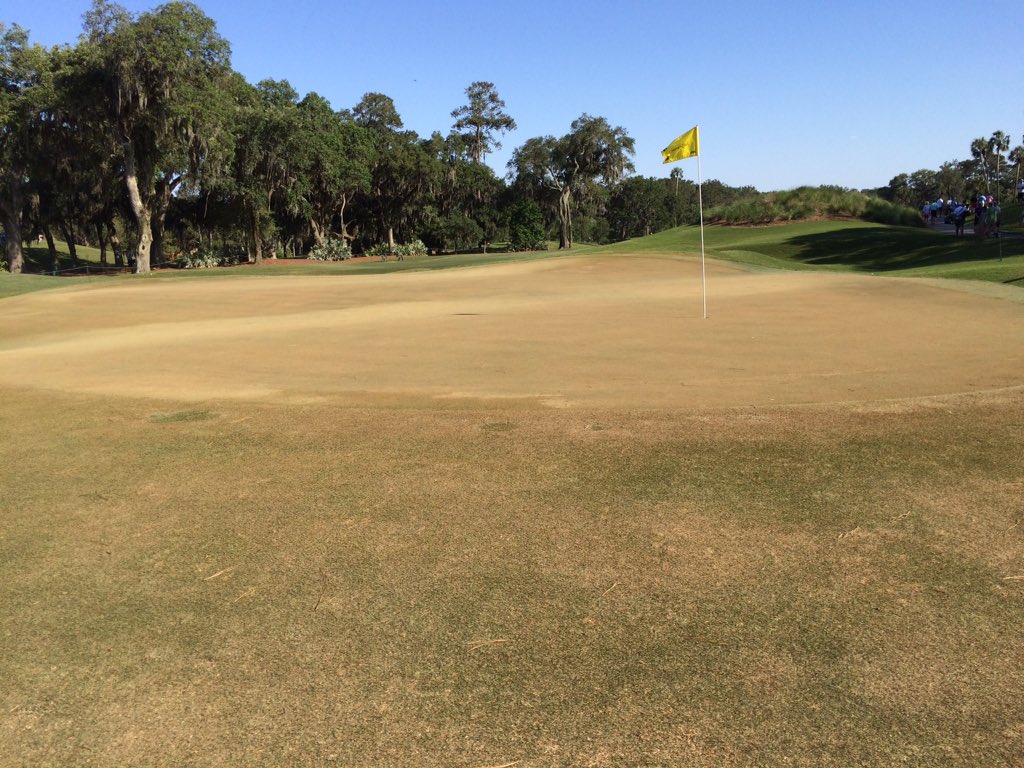 That's when the bitching started. A few players like Matsuyama and Ken duke shot rounds in the mid 60s. The rest of the field threw up all over themselves with few exceptions. NBC couldn't stop talking about it and golf Twitter went ape shit. I wasn't having it.
Did I miss where only certain guys had to play the course dry and fast? While the course played different from the first 2 rounds, what does it matter what the set up is if everyone has to face it? There were about 75 guys that made the cut. They're playing for $1.9 million. I'd play on fairways of broken glass, hot lava for rough, with 50 mph winds and not give a fuck if I shot 104 as long as I won. The bottom line is these guys don't like being embarrassed. They like their courses perfect. I can't blame them because that is the expectation but the way they voice their displeasure makes them look like cry babies. Hi Ian!
Shot Of The Day
Because of the big lead Day had and because of the course conditions there weren't a ton of great candidates for Shot of the Day. Kevin Chappell's eagle pitch in at the 11th is your winner. This was KC's 3rd eagle of the week and it got him back under par for his round. When the dust settled that eagle also gave Chappell the 1 shot margin he needed to finish solo 2nd. In other words, his eagle was worth about $600,000.
Chappell had the Shot of the Day, but I'd be remiss if I didn't show you the Shot of the Week. This one was easy and it goes to Will Wilcox who holed his tee shot for an ace at 17 on Friday.
That is an all-timer of a reaction. Will did shoot 82 on Saturday in the blood bath to take some of the air out of his ace. FYI, he did buy the media beers. The ace was the first since Miguel Jimenez made one in 2002. Wilcox's and the Mechanic's aces were some 6000 tournament shots apart.