Players Championship – Round 1
Jason Day, what else is there to say? Number 1 player in the world starts the Players with a course record tying 63….should we just turn off the lights and give him the trophy? Not quite yet. Day was brilliant on Thursday morning with his 9 birdie, bogey free, 1st round. The round was clean. The course was soft and get-able. Day took advantage. But there's plenty of talent right on his tail in Rose, Haas, Els, Koepka….and oh, there's last week's winner James Hahn at -5.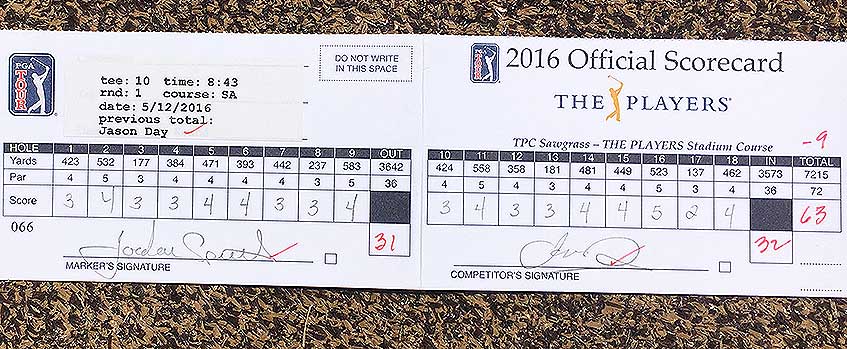 Defending champ Rickie Fowler showed up with some shiny bright shoes and his normal joggers to complete the ensemble. Rick had it to -3 through 13 holes but bogied the 14th and doubled the 18th with his approach shot in the drink to finish even. That has Fowler in a tie for 83rd. As for the shoes, well here they are:
Puma has pumped them via social media for a few weeks. Perhaps "warned" is a better word than pumped. Nick Faldo must have missed the warnings because he about had seizure when Rick appeared on the 1st tee with those things on his feet. I've got no problem with them. This is Fowler's style. He's a great salesman for his sponsors. Do and wear whatever the fuck you want.
Players favorites like Jordan Spieth and Sergio Garcia join Rickie at level par. Spieth played the back nine first and came to his final hole (the 9th) at -2. He hit it over the green in 2 and then took 5 more shots from about 30 feet to finish. Watching this blew my mind. Obviously we're not at Baker's Bay anymore. He's rusty. His short game is rusty. He's not going to win this week but he's going to get a lot better as the week goes on.
Outside of Day the big storyline from Thursday was the course's lack of defense. The 2016 first round statistically is the easiest ever at the Players. The number is marginally better than a few 1st rounds that were played in March before the Players was moved. It is far and away better than any other first round played in May. The participants felt the course was a little softer in the morning and allowed players on their game to go low. Shane Lowry posted a 29 on the vaunted back nine! In the afternoon scores were just a bit higher. Almost every favorite not named Spieth did some damage at some point. Everyone but Henrik Stenson, that is. The Big Swede shot 77 and is in 135th place. Only Matt Jones, Chesson Hadley, and Steven (I Can't Break 80) Bowditch are behind him.
He Wants To Be One Of The Cool Kids
Just like defending champion Rickie Fowler, Rory McIlroy also shot even par in the afternoon waive of round 1 at the Players. Just like Rick, Rory shot 72 in Nike's newest apparel fuck up, joggers. Like I said above, its fine for Fowler to wear them. He's owned his odd style since he showed up on Tour. Why would Rory even go down this road?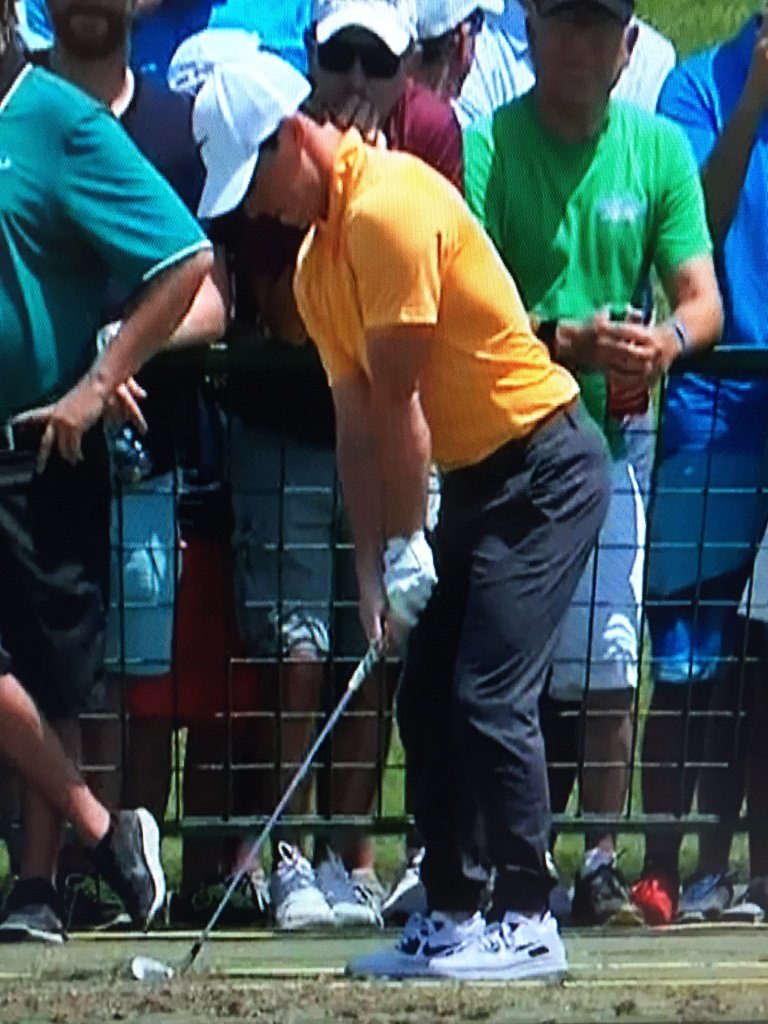 Remember when Rory signed with $woosh and said part of the appeal was how clean of a look he'd have with their garb? Now he's wearing multi-colored shoes, blade collars, and joggers. What the fuck? Aren't you supposed to develop a sense of style as you age? If you ask me Rory is looking harder for something when he doesn't need to. Those look stupid. As a joke Rory said he wanted to arrive at the 1st tee with them rolled up to his knees. He showed that look off after the round in an ad hoc post round presser. I hope we never see these hideous things again on him. He's better than that.
Who Can Drink That Much Pepsi? 
Keegan Bradley got engaged last year. Since then his golf game has been pure shit. Ok, it wasn't much better last year either before he gave his girl a ring. I can't tell you what's eating Keegs but its gotten ugly and he's trying anything now to make a change in his game. The latest move was the firing of long time caddie Steve "Pepsi" Hale.
On the year Bradley has missed more cuts than he's made. He told some journos he thinks he's figured things out and might show signs of playing well soon. I don't think that'll be this weekend. He's also even par but his ugly double on the 18th (his 9th) was hard to overlook after missing the fairway by about 50 yards left into the hazard.
He replaced Hale to try something new and thanked him for everything he's done for him. That's classy at least. Pepsi has been replaced by Nick Watney's former caddie, Chad Reynolds. While I think we'll see Pepsi back on another player's bag soon, lets take a moment to look back at his finest moment, his cat fight from the 2015 WGC Match Play.
Ahh Pepsi, you and Keegs will always have Atlanta Athletic Club and memories of Miguel.