Hahn Couldn't Crack An Egg
You saw the CBS narrative, right? The dead horse they beat about James Hahn's eight missed cuts in a row before he teed it up at Quail Hollow last week. EIGHT! I can't explain it. He can't either. But CBS's Peter Kostis said it best, "perhaps he finally stopped tinkering". Whatever Hahn figured out it looked damn good over the weekend at the Wells Fargo. Now he's the 2016 champ.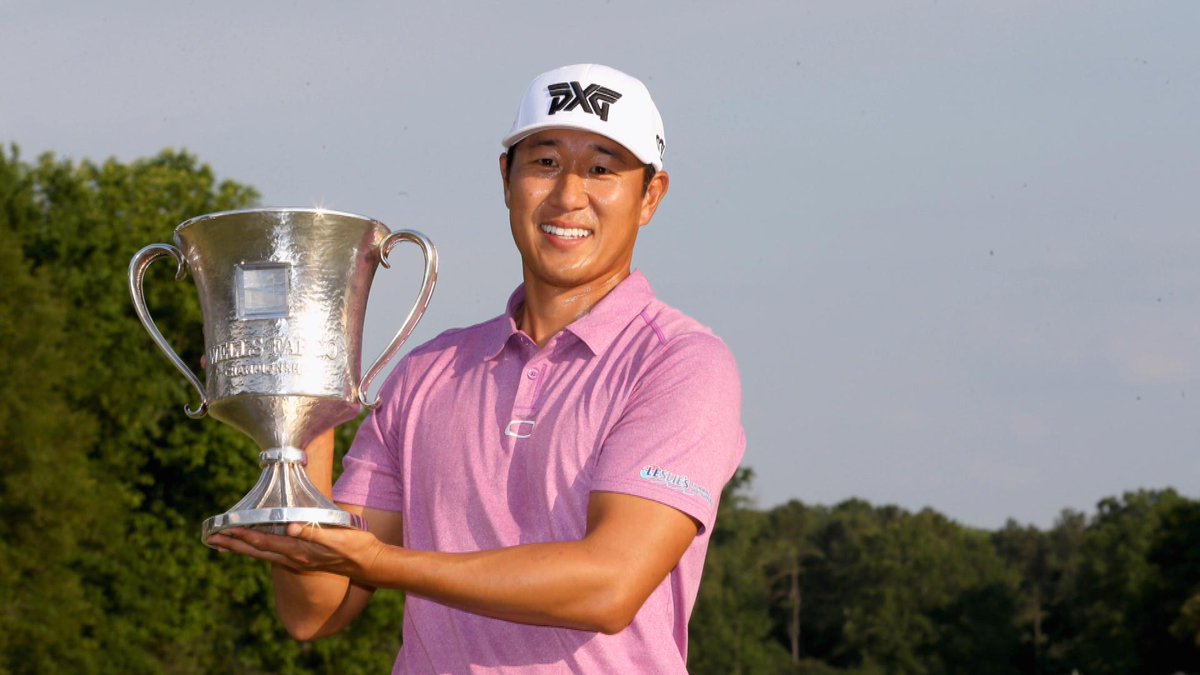 Hahn beat Roberto Castro's plodding precision and putting game with his version of power golf. He put on quite the ball striking show as he toured the course in the final round. I watched about 80% of his full swing shots that the broadcast showed and he hit each of them flush. That kind of a a performance makes the 8 missed cuts more head scratching. Where Hahn struggles is on the greens. You can see how he lacks confidence at times with the flat stick in his hands. He made enough clutch ones on Sunday to get the job done. He also made a bomb for eagle at the 7th that propelled him to victory.
So am I the only one that was reminded of Anthony Kim while watching Hahn do his thing in Charlotte. Stop, stop the "oh you fucker you're racist" shit right there. I'm not. This has nothing to do with Hahn and AK both being Asian-American. They both have some swag in their walk. They both hit bombs with their drivers and go flag hunting with their other wrenches. They've now both won at Quail Hollow. If you don't see it I can't help you. What's even more weird is that AK was sighted at a Dallas pet store over the weekend by some random guy with a Twitter account.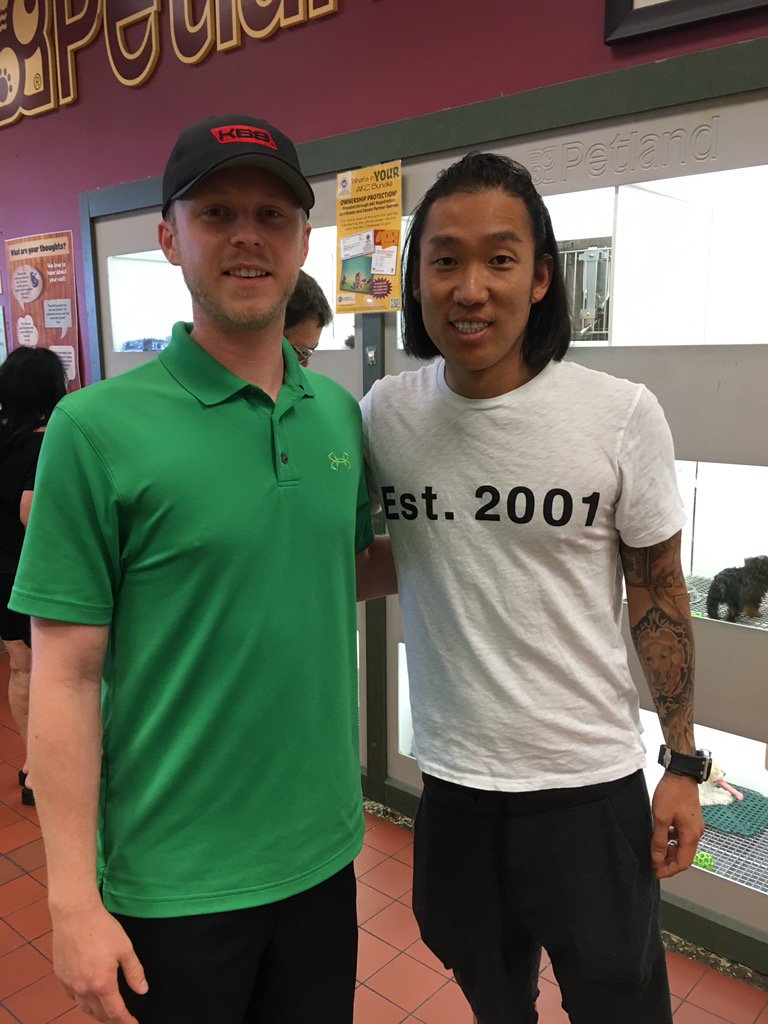 Whoa. The hair. That sleeve of tats. He's lost a lot of muscle too. There's no PGA Tour golf in his future. We'll just have to enjoy James Hahn in his place.
Back to Hahn. He won at Riviera last year. He did, look it up. He has that kind of talent. Big boy tournament. Big boy course. Why can't we get more of this from him? My gut says we can. My brain says he goes back to missing as many cuts as he makes for the rest of 2016. What's that? You want me to say something about Mrs. Hahn. Nope. Sorry. You know the cliche' about saying something nice.
The Field
I'll be honest, well when am I not, I wasn't rooting for Mr. Castro to win. Not at all. I have nothing against him he just seems like a nerd. He kind of walks like he's an animated video game character. His pants have pleats. He's a Georgia Tech guy. Stewie Cink, Matt Kuchar, David Duval…..nerd, nerd, nerd. Look at the UGA guys on Tour. They all seem like fun besides Bubba (I don't count Patrick Reed in there). Castro played his ass off. This was his to lose and he did just that with that pair of shitty bogies on 16 and 17. I guess its hard to swing with both hands around your neck. He choked again on his tee shot in sudden death. Then he made an all-world bogey off a guys face and from his shoes just to make Hahn earn it with a big 5 foot tournament clinching putt. 
I'm sure Castro was pretty pleased with the big 2nd place check, but I'll be shocked if he ever wins on tour. He hits it no where. He does putt like a crazy fucker but he'd have to be white hot to beat the field for a week. I don't see it happening.
Rose is almost as guilty as Castro for gagging the Wells Fargo away. He hit it as good as Hahn did and somehow putted worse. I don't have his stats in front of me but it was ugly. Whatever Rosie is trying to do with that modified claw grip he needs to stop. He's wasting a year of his career. If you've won a major putting one way why would you ever change your ways unless the USGA has banned it?
Rickie Fowler was the 54 hole leader at Quail Hollow. He looked like he had one hand on the trophy on Saturday night thanks to shots like this one:
He was making birdies and had everything under control…until he got to the 7th hole on Sunday. That's where Rick went for the green in 2 at the short par 5. He air-mailed the green and his ball bounced out of bounds off the rocks in the hazard. He made double. I'll give him credit for bouncing back from that to stay in contention but I don't think a T4 after a final round 74 is what he had in mind.
Rory McIlroy played one round of golf between the Masters and Wells Fargo. Of course it was going to take him a while to get warmed up. I didn't take him in my pick'em because I thought he might shoot 75-70 on Thursday and Friday and go home early. He made the cut, got stuck in neutral on Saturday, then found his gear with a sizzling 66 on Sunday.
It could have been better. He botched his 2nd shot on 18 and made a bogey to finish 4th. Imagine if he flagged it there, made birdie, and was in the playoff with Hahn and Castro.
Mickelsauce was up to his old tricks at Quail Hollow. Phil always plays well in Charlotte but he can't win. This was no different in 2016 obviously. Phil played well save for his quadruple bogey 8 closing his 3rd round. He also shot a Sunday 66 and to finish two back of Hahn and Castro. CBS has some good analysis of what Phil has worked on this year in his swing and how it has made him more consistent. Kudos to Peter Kostis for nailing that.
Jason Kokrak didn't make the cut as the Wells Fargo but did send the interwebs ablaze when video of him pitching out from the grand stands on to the green went viral on Saturday. I still can't fathom why he didn't take a drop other than he didn't give a fuck and he wanted to go viral.
I'd expect that from Phil. Kudos to Kokrak for trying it, pulling it off, and owning it.
Shot Of The Day
The bomb by Fowler on to the short par four 14th was pretty good on Saturday but that can't win the SOTD for Sunday. The Kokrak grandstand shot was great, but that's not worthy either. I hate giving this thing for putts but Hahn's 50-some foot bomb for eagle that the 7th hole is what gets the nod.
That's too good and too big to ignore. Hahn beat Rickie Fowler by 2 for the week but beat him by 4 on this hole alone in the final round. They all matter quite a bit over the course of the week.