Stop The Madness
Tiger Woods was at his new design in Houston on Monday to play a few holes for the official grand opening. Mark O'Meara was there too to keep him company. TW tweeted his tee shot from the 18th hole at Bluejack National and the interwebs can't stop talking about that one swing. In case you care or have not seen the clip, it looked like this:
On Tuesday somebody went on the USGA's website and checked to see if Tiger was registered for the U.S. Open. Of course he is. The interwebs exploded again. His name in their database means Tiger's camp filled out the same paperwork they do every year. It means nothing other than he has the option to play if healthy. Tiger told the press that the five holes he played on Monday were the first 5 he'd played since August in his last Tour event. Remember all those rumors of him playing in the upcoming Wells Fargo tournament at Quail Hollow? Not happening. You don't go from zero to 60 like that. What is his best case scenario if you ask me? I could see him trying to come back for Jack's place, the Memorial at Muirfield Village. There's no way he's playing Quail Hollow and he'd be a fool to try to come back at the Players. I'll put his odds of playing the U.S. Open around 10%. Just the thought of seeing him at Oakmont makes me shudder because of the resulting epic carnage.
My bigger issue with all things Tiger this week has been the #Twitternerds trying to analyze his one swing. Several golf publications ran out and asked top teachers for their opinions on that clip. Inferring anything from it is a fool's errand. You have one swing, from one angle, and no idea where the ball went (we were told it was straight). He looks ok. Of course he looks slower but unless you have launch monitor data from that you don't know shit. And the people that do know what they're talking about are still comparing this version of Woods to Super Tiger of the early 2000s. That too is foolish. It is time for the masses to realize that the old Tiger is dead and gone. What we get from him now is gravy, and he said that exact word in December when talking about his future. He's going to play about 10 events a year starting next year. He's not going to swing a driver 125 mph ever again. Take what you get. Enjoy him while you have him. And stop trying to fix him or analyze the state of his golf game. There's no point. We won't know until we know.
Kevin Kisner, Tour Rebel
Kevin Kisner seems like a pretty laid back guy. That's why I was surprised to read a tweet about him being suspended from his home golf course. Then I read it was South Carolina's Palmetto Club, which I'd always heard was a pretty laid back place, and I was even more surprised. Golf Digest investigated and found out the Kevin and several other members were caught cart racing and had their privileges revoked for the time being. The races happened a few months ago when some outlet called Vice Sports came to film an inside look at Kisner away from the Tour.
That's a pretty tame race. And all the dudes in that clip got the same punishment as Kisner. Must be they're making an example of these boys. They also probably know that Kisner lives on the course so they won't lose him. The rest of the 8 minute clip is a nice feature on Kisner and his boys. Solid job by the Vice staff to put that together. I've never had an opinion one way or another on KK but that made me a fan.
Get Off My Lawn
Remember last week when all anyone wanted to talk about was the bros of #SB2k16? I guess there's a hangover effect of it because some wonks are still talking about it. Rickie and Smylie are back at it in New Orleans this week so the media at the Zurich have been asking them a shitload of dumb questions about it. Jack Nicklaus and Gary Player have decided they want to be invited to #SB2k17. No, I'm not kidding. Both tweeted such thoughts. And other so called journos, bloggers, and penises with ears like Geoff Shackleford have been writing pieces about how stupid the whole thing was.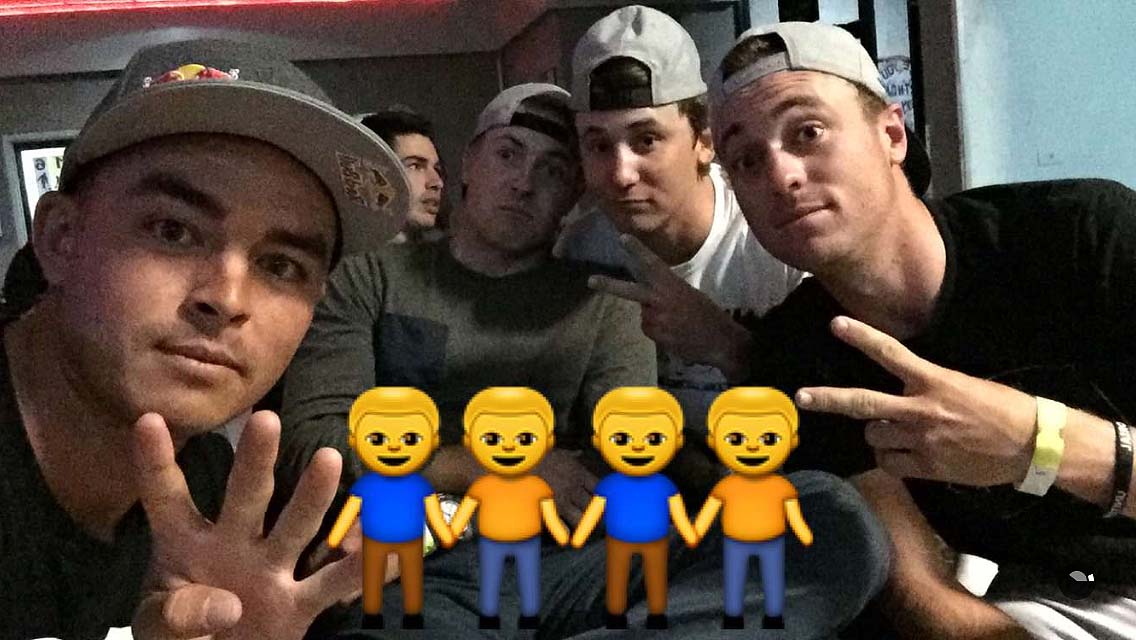 Leave it to Shacklefuck to take the fun out of something nearly every golf fan with an internet connection was enjoying. A quote from his site:
"It wasn't that cool.

At times, the behavior exhibited was boorish, unbecoming of pro athletes who do so much to inspire kids and reckless to their physical health.

Projecting a little, this hyped series of "Snapped" videos spoke to golf's embarrassing desperation to be liked by a younger generation, fueled by corporations who want to reach demos that the sport has almost never delivered. As someone who has subscribed to the narrative about the next wave of stars—nicer, more social media friendly, more grounded—the "Snapped" antics were kind of cute on day one. But by day four of the drunken behavior, the celebration of the next gen's legacy suggested a peculiar precedent has been set."
Yawn. What a bag of dicks he is. My gut says Geoff has these thoughts because he was such a geek that he never got invited to hang out with the cool kids. This is his way of fighting back for all those atomic wedgies he got in grade school college grad school.
First of all, an impressionable child is of an age that isn't allowed to be on Snapchat. They also probably aren't reading sites like this that talked about #SB2k16 in detail. And even if they did what did they see? No boobs. No f-bombs. The guys weren't embarrassing their sponsors. They're all over 21 and they're allowed to have some fun.
There was no staging in the Snaps either, as Geoff hypothesizes. These guys use Snaps like we use napkins. They have fans. They enjoy interacting with them. If they got their bar tab paid for because of their efforts so be it. If you were bored with the Snaps by Day 4 then why the fuck were you still watching? The fact that he was still watching tells me how deep the Snaps of #SB2k16 reached. Plain and simple. Geoff doesn't understand fun. Give him a glass of Merlot, hand him his house slippers and tell him to kindly fuck off.
Next Up
For SFG I'll be knee deep in the Zurich Classic this weekend. Hopefully it doesn't get too bogged down with delays. The forecast for New Orleans is calling for heavy storms for much of the weekend. For fantasy purposes, just know that I have Billy Horschel locked in so he'll probably miss the cut after finishing T4 last week. Oh, and check the calendar. The end of the month is coming. That means a new Up & Comer is going to be crowned. I have a leader in the clubhouse but feel free to drop a nominee in the comments if you so choose.