If The Boot Fits
Charley Hoffman dominates the TPC San Antonio Oaks course, but he doesn't win on it, at least not before today he didn't. Chuckles was more under par on the Oaks course than any other player since the Texas Open moved there a few years ago. Charley also has gained a reputation for going low on Thursday while being mostly invisible on Sundays. His final round scoring average ranked 200 out of 201 players coming into this week. Hoffman was determined to change that narrative on Sunday and did so with an exclamation point.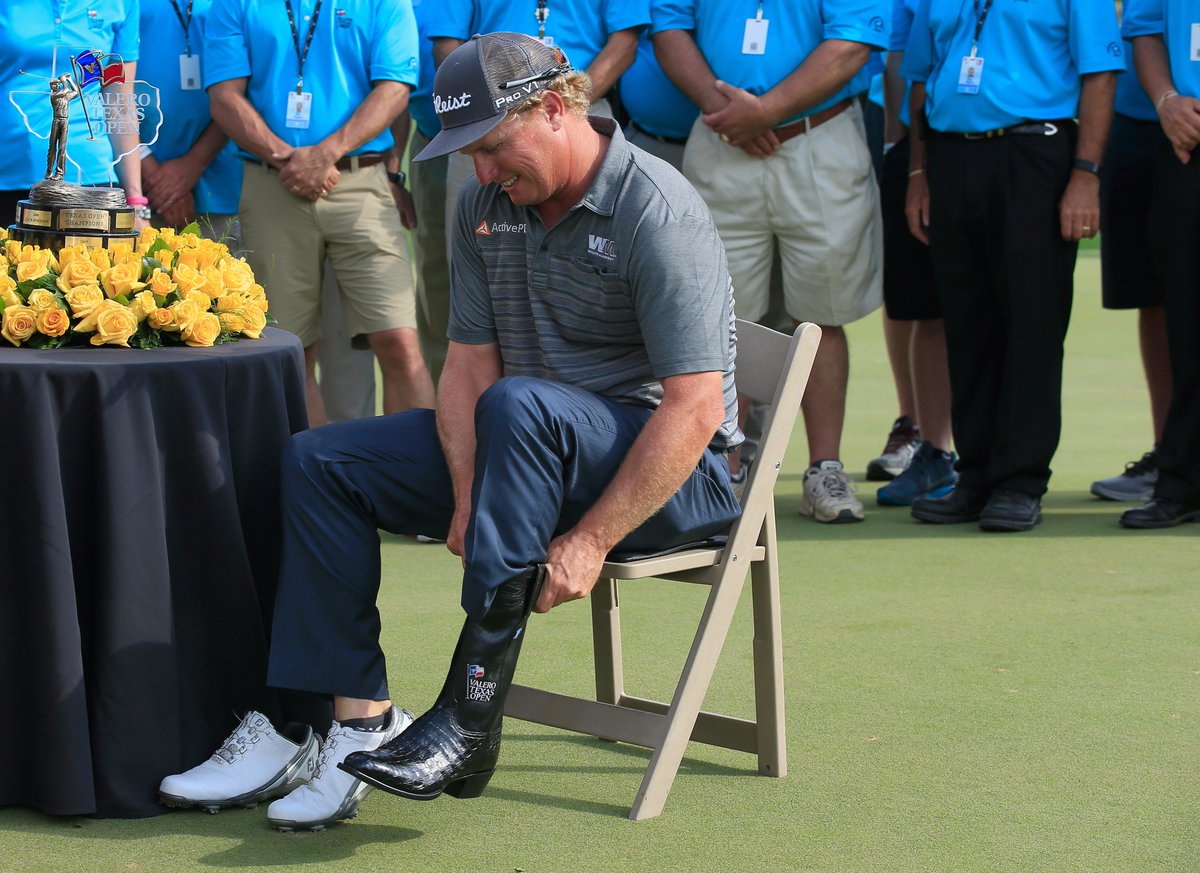 Once CBS came on the air in San Antonio I think Charley hit every approach and/or tee shot dead flush until he got to the 16th tee. His ball striking was more than impressive for the first 6 holes of the back nine, but Hoffman only took advantage of a few of the birdie opportunities he afforded himself. His most glaring missed chance to extend his lead came at the 15th when he hit his 2nd shot to about 9 feet while playing companion Patrick Reed was putting from 30 feet off the fringe. Reed nailed his putt and Hoffman missed. His 2 shot margin was shrinking.
Hoffman dodged bullets from Reed on the next two greens and made gutsy par putts of his own to keep a 1 shot lead going to the final hole. Reed's heroic shot making resulted in a tap in birdie. Hoffman needed to get up and down in a short-sided bunker situation to avoid playing Reed in sudden death with all the momentum in Patrick's back pocket. Hoffman blasted to about 8 feet and then drew on his clutch putts from 16 and 17 to bury another for the win on 18. Sweet relief ensued.
Without a doubt this was a different Hoffman than we've seen in the clutch in the past (save his chunky wedge at 17). As I said above, his ball striking was flawless through 15 holes. But when the shit hit the fan on the final three holes he showed some onions on the green with the putter. I didn't think he had that in him. He was my pick this week so I had some skin in the game while watching the action. I doubted him every time he faced a knee knocker and he proved me wrong every time. Good for him. Charley is easy to root for and you could tell the bugaboo of past shit Sunday rounds had started to get to him. He talked about having heart and guts in victory. That and a little bit of luck with Reed missing short putts will get you a new pair of cowboy boots and a new lease on life.
Is there a Mrs. Hoffman? Sure there is. He didn't birth two kids on his own. Hoffman's better half is Stacy Vasil Hoffman. She appears to be pretty active with the PGA Tour wives' group but Mrs. H hasn't made a peep on Twitter in nearly two years so I don't have much else to say about her.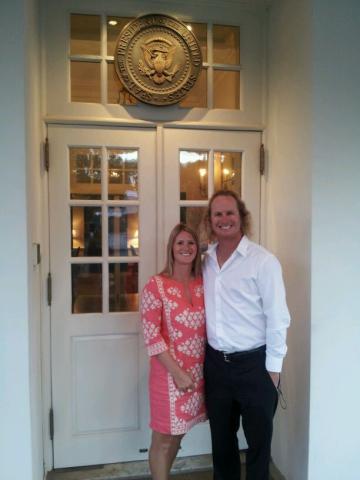 That's the Hoffman's at the White House from a few years ago. The one below might be even older.
Seriously. That's all I've got. CBS didn't show much of her either. Of course they didn't show much of anything that really mattered this week but that's a talk for another time.
The Field
Patrick Reed played like a snake laying in the weeds. He played well most of the week but was somehow a little bit off the radar for the first 68 holes of the Valero. Then he made that bomb from the fringe that I described earlier on the 15th hole to begin to put pressure on Hoffman.
Reed then hit it to about 8 feet at 16. And missed. He hit it to 6 feet at 17. Miss. Finally PR hit a ballzy 2nd shot from 246 yards in the rough into the par five 18th and nearly willed the eagle chip in to the hole to steal the tournament. He's killing himself for the misses at 16 and 17. He literally called himself a loser for not winning yet this year. He's got a handful of top 10s to this credit. He's playing well but his comments show he's way too hard on himself. Pat is a different dude.
Billy Horschel's game is rounding in to form. He had his chances on Sunday playing in the 2nd to last group on the course with Hoffman and Reed. In the end he had the best seat in the house to watch Reed battle Charley because he couldn't convert enough birds to catch the front runners. Billy enthusiastically made sure he was the first to congratulate Hoffman after his winning putt fell. He also had some pretty spiffy Ralph Lauren pants on that stirred some Twitter discussion.
If you're from the South you probably think those are probably money. If you live anywhere else you they might not appeal to you. I liked them. And Billy isn't afraid to let Ralph dress him in just about anything. The dude wore octopus pants at the U.S. Open, remember?  Oh by the way, Billy returns to New Orleans next week where he's a recent champion. Might be a decent fantasy pick…I'm just saying…
Martin Piller at one point on Sunday found his name at the top of the leaderboard with a two shot lead. His double at the 13th hole killed his chances but he did manage to finish T4 with Horschel for his best ever tournament appearance on the PGA Tour. Why do we care? Martin is probably better known as Gerina Piller's husband than he is as a Tour player himself. Gerina is a much bigger name on the LPGA Tour.
You may recall that she earned the key half point in her singles match at the Solheim Cup last fall that assured the Americans of winning the cup. Gerina is also a former WAG of the Month on ShutFaceGolf.com. She was in contention at her own tournament this week and finished 3rd at the LPGA's Swing'in Skirts event in San Francisco.
When dawn broke on Sunday, Ricky Barnes, Brendan Steele, and Luke Donald were the men to beat in Texas. They made up the final group of the day. Barnes lead by 1. Steele had lead (or was within 1 shot) since round 1 finished on Friday morning. Their group shot 74, 74, and 75 on Sunday. For Ricky it was a missed opportunity at his first win in his 220+ starts. For Steele it was a chance to again win an event at a course that is his only PGA Tour victory (2011). And for Donald it was a chance to validate his 2nd place finish from the Heritage after being off the grid for a few years. Their final rounds are each littered with disappointment. Hey, they all still finished in the top 13 and get nice checks but none of them had over par rounds on their mind when they prepped for Sunday.
One final note that I didn't see much smoke about while following along on Twitter. Early in the broadcast when CBS was showing Ricky Barnes butcher the 10th hole they went to replay his shot and an NBC graphic was featured in the transition. Take a look and note the incoming Peacock on the screen with the CBS eye in the corner.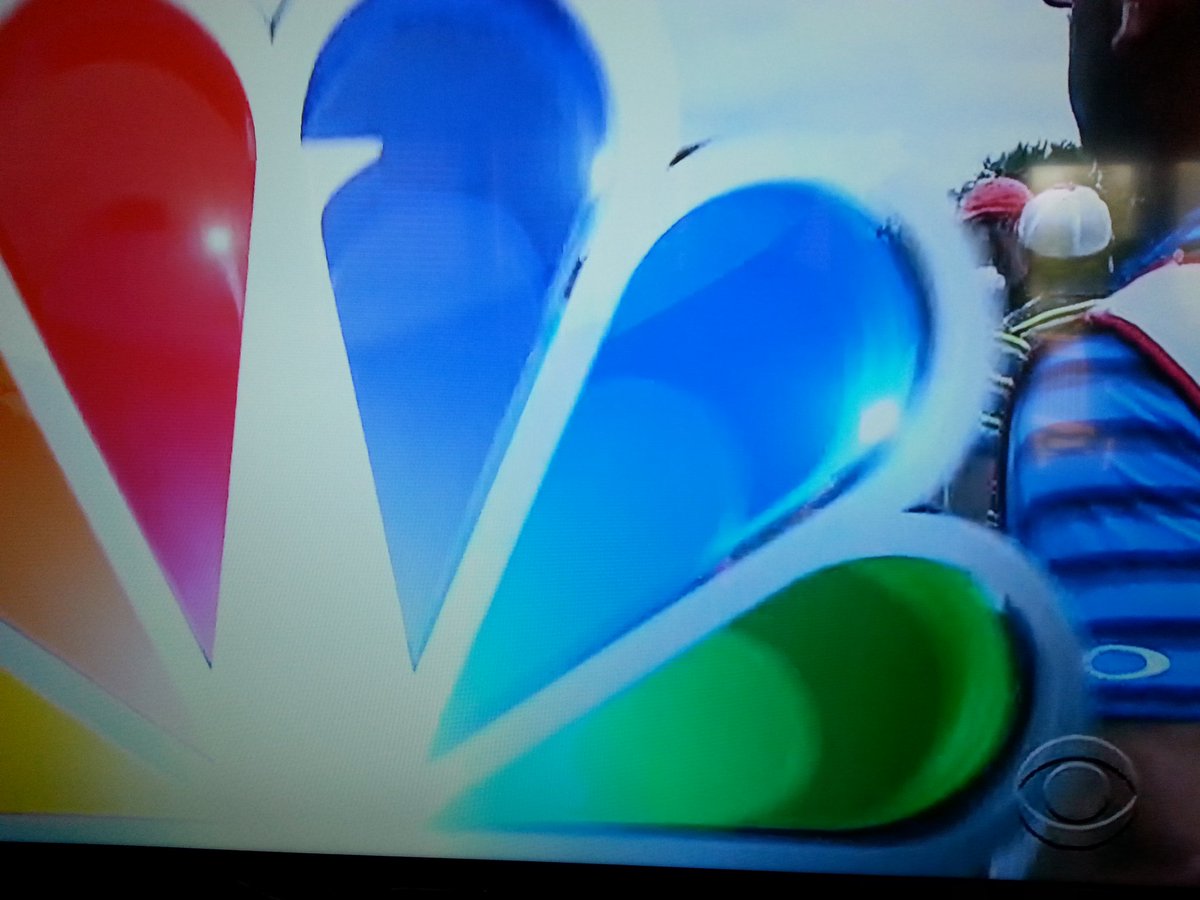 What the fuck is that? My gut says CBS was using NBC equipment for the week. They probably find it easier to do this for lesser events and use whatever the Golf Channel has available on site from covering the Thursday/Friday action. Does that sounds right? What other explanation could there be? Even if that is the case how does a CBS producer or production team member put that graphic up?
Shot Of The Day
Patrick Reed's slinging hook into the 72nd green from the rough, with an iron, from 246 was pretty damn saucy. But it didn't stay on the green. His chip with the ball against collar and leaning on the 2nd cut…..that was something.
If Reed had gone on to win that would easily be the SOTD. But it isn't. You know I don't like to give putts the SOTD award but Charley Hoffman's game winner gets a pass. It was an "ONIONS!" type of putt. I completely wrote him off after Reed's chip. I told my wife he had 0% chance of making it.
BOOM! Charley told me to go fuck myself. That putt was big time.