What The Fuck Is #SB2K16? 
It is a stupid hashtag made up by 4 young bucks going crazy in the Bahamas. Of course that's what it is. So who's going island crazy? That would be Jordan Spieth, Rickie Fowler, Justin Thomas and Smylie Kaufman. What are they doing? Whatever the fuck they want around the Bakers Bay club. The week started off with word that Rickie Fowler was at a country concert shotgunning beers over the weekend. He was just getting warmed up.
Rick and the boys then jetted to Bakers Bay for a spring break getaway in between the Masters and their next starts on the PGA Tour. These guys grind hard. They're all young and rich. Why wouldn't they need to blow off a little steam? For our pleasure Rick's giving his peeps a look at the tomfoolery via his Snapchat account.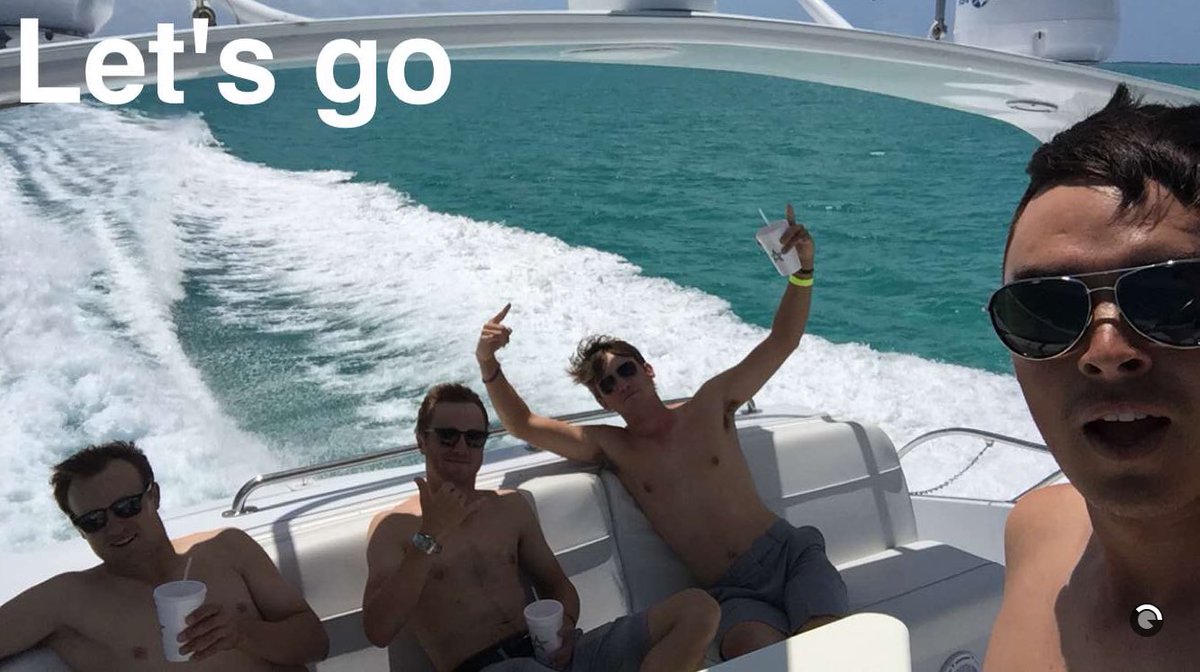 That's the gist of it right there. Four dudes. Lots of booze. And shenanigans. They're golfing barefoot and bare-chested. Their speech is a bit slurred. They're harassing each other while they hit balls and doing trick shots. Ladies, this isn't unique to the #SB2k16 crew. This is what guys do.
I'm shuffling TPS reports at my desk living vicariously through them thinking that's what I'd be doing with my idiot friends if we were there. I'm just excited that Fowler is putting so much of it on social media for us all to see. This is part of why the next generation of golf is so much more fun than what we're used to. Tiger never let us in. Now Fowler and the boys are going balls out and we get to watch? Give me more.
I do find it a bit curious that there's no ladies in any of these activities. Jordan has a girlfriend. So does Smylie. Was this a whole #Dudefest thing, no girls allowed? And are there no other women on the island throwing their panties at these bros?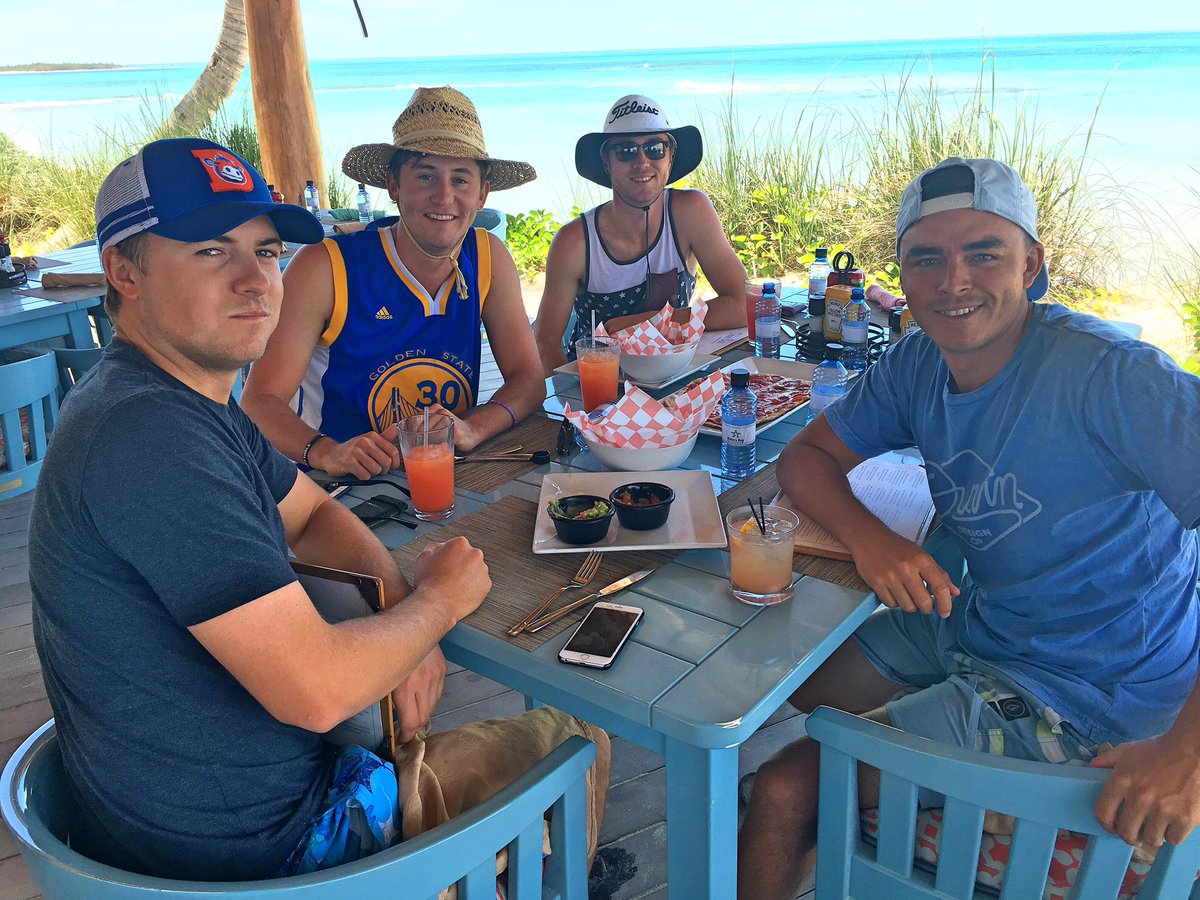 Look at Spieth in that pic. He's fucking hammered. And Smylie is priceless in the videos. Jordan might be a bit of a light weight. As I said on Twitter, I think Smylie should be Rookie of the Year on Tour just for getting invited to #SB2k16. And his performance there is the cherry on top and you know why if you watch the videos. I can't wait to see more tomorrow.
What Is The Opposite Of #SB2k16? 
I'll tell you. It's Gerry Lester Watson playing golf in China at the European Tour's Shenzhen International. Oh sure this is a big cash grab for Bubba. He's getting paid quite well to be there. He's also sans family and seems to be enjoying himself according to his tweets. He's tweeting his night chipping sessions and made a new friend in Kiradech Aphibarnat (the happy barn rat). The two took part in a pre-tourney ceremony in which Watson looked like a jerkoff in a cape.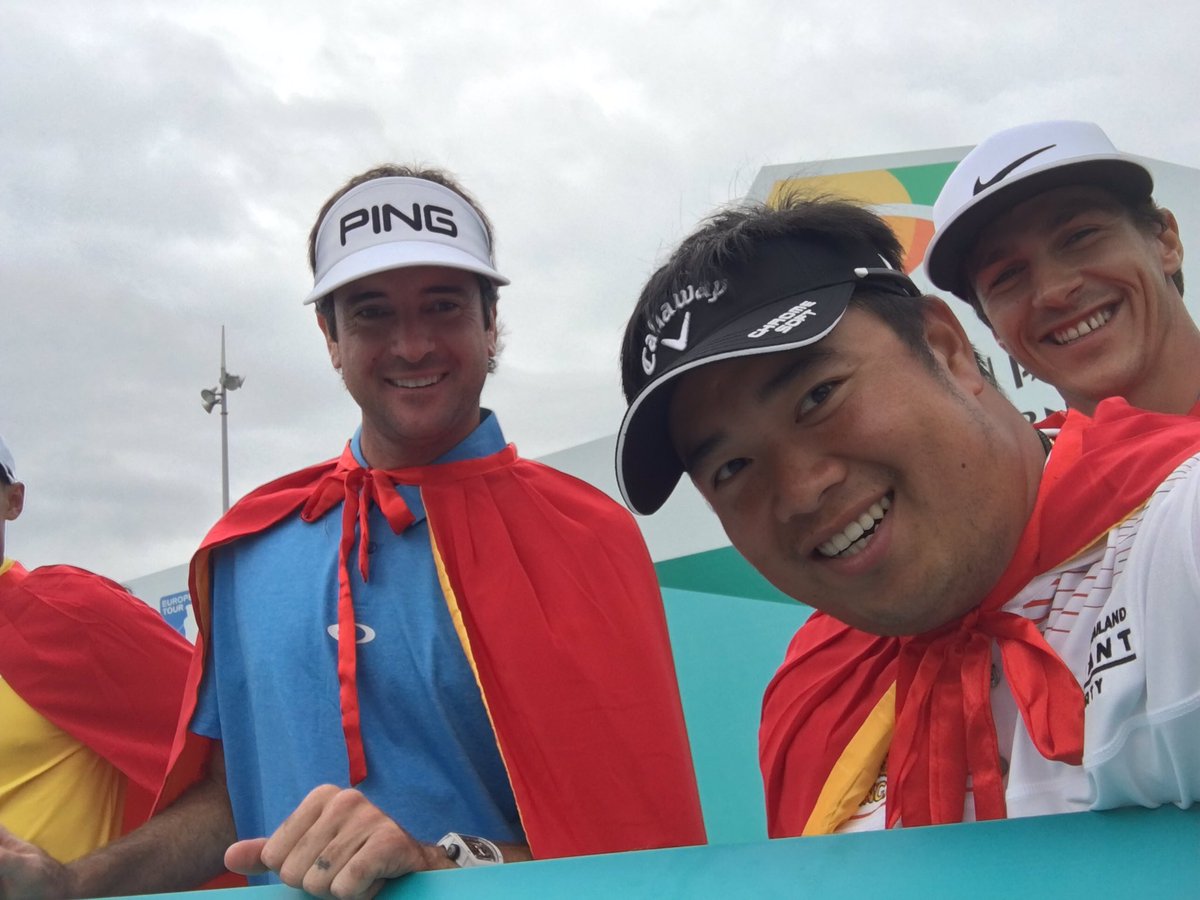 Barn Rat is the defending champ. The field for Shenzhen is actually pretty decent. It might even be better than what we see in San Antonio this weekend for the Valero Texas Open. Oh, and it'll be on in the middle of the night most of the week (starting Wednesday night) if you can't sleep and you need to get a golf fix.
Speaking Of Euro Golf…
2016 Masters Champ Danny Willett finally picked up a club ten days after his 1st major victory. It was a hit and giggle event back in England. No big deal. He and his management team also told the PGA Tour he's accepted membership on the PGA Tour as his Masters victory afforded him for the next 5 seasons. Don't worry Union Jackers. He's not giving you the full Paul Casey treatment.
Willett's manager, Chubby Chandler, has indicated that Willett will play and be a member of both the PGA Tour and the European Tour. And that bottle of Johnny Walker in his tweet…it seems as though Mr. Willett has come home to a never ending supply of complimentary goodies thanks to his new found fame and glory. As always, to the victor go the spoils. And to the runner up….may you have good friends and good rum in the Bahamas.