I'm Back Bitches
Did I leave you in a lurch after the Masters? Yeah, I did, and without any warning. I figured 8 straight days of posts were enough and you wouldn't miss me. Besides, we all had Masters hangovers until about Saturday anyway, didn't we? Truthfully I made my fantasy pick for the week, Matt Kuchar, and then blew town for work. I was tied up all week and didn't have time to post. But I'm back now and our normal schedule should resume. What did I miss? I missed a drab performance at the RBC Heritage and a U.S. Open breaking out at the Open de Espana (more on that later).
That's South Africa's Branden Grace. He's the newest first time PGA Tour winner thanks to his final round 66 at Pete Dye's Harbor Town course. Grace started the day just inside the top 10 and then cruised past the leaders with his front nine 32 that included 5 birdies. Grace never opened the door for anyone to catch him after that. He made two more birdies on the back and then a very clutch par on 16 that put the last nail in his challenger's coffins. His swings on 18 were very much stress free thanks to the two shot lead he built.
Grace isn't a household name to many American fans but he might be soon. He was poised to win the U.S. Open at Chambers Bay last year before a 71st hole hiccup. He's also won 10 time around the world before today. He was a thoroughbred on past Presidents Cup teams too. South African golf godfather Gary Player predicted Grace would win the Masters last week. While the Heritage is not the Masters, Grace does get that spiffy tartan jacket with his trophy for his efforts. Gary the godfather was off a week.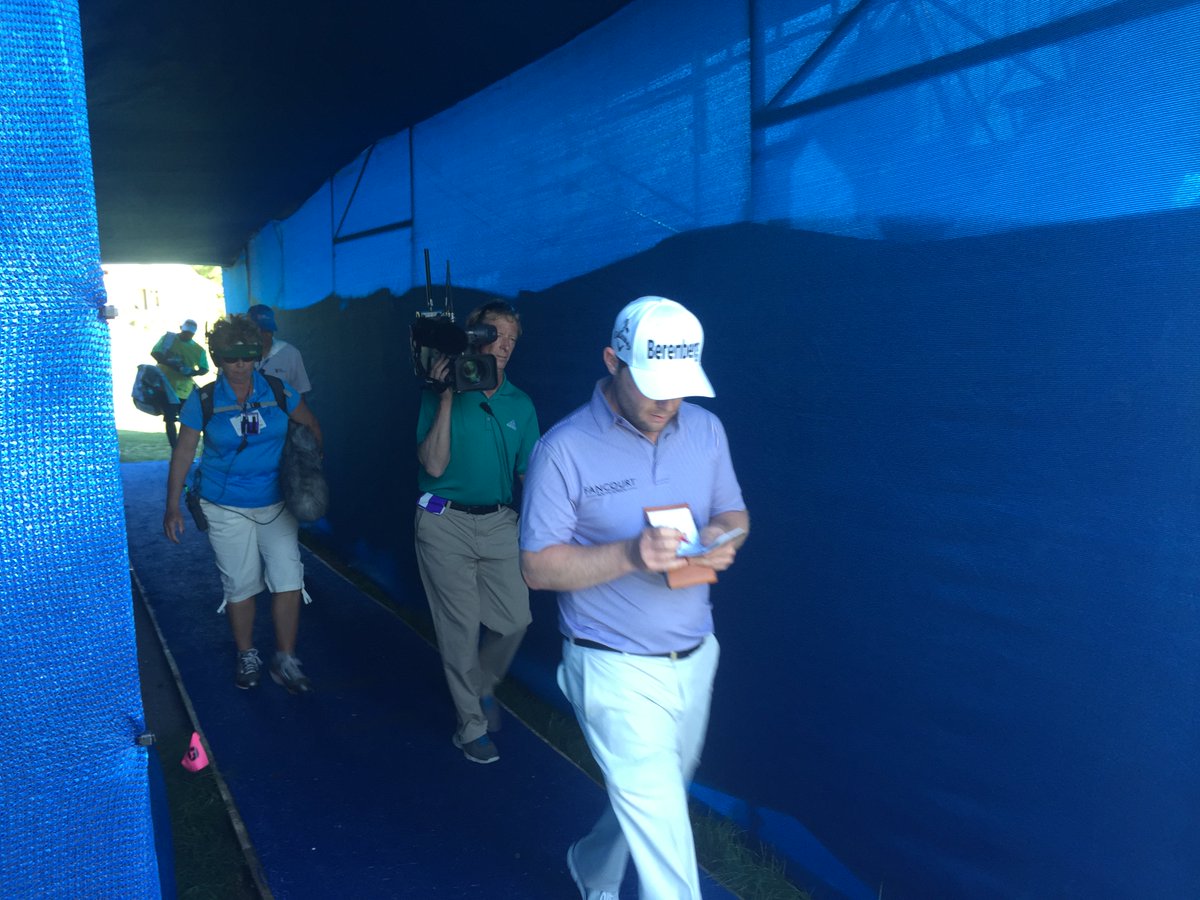 In victory Grace showed poise, a great short game, and a zest for shot making while shaping his ball around Harbor Town's narrow alleys and chutes. He also had a wind-cheater driver swing working that got the ball running on the ground some 50 to 60 yards at times while hiding from the wind. Grace will be several millions of people's 'dark horse' pick at the next two majors. He should be picked. He's not a dark horse.
Grace also made noise on Sunday when his fiancee was captured by CBS waiting for BG to come off the 18th green. Her name is Nieke Coetzee. I've talked about her on SFG before when Branden won the Qatar Masters in 2015. My comments from that 2015 post still stand today. Here's more of her because I know you pervs are probably in heat.
After seeing her on CBS today I think I'm becoming a bigger fan (even with that urban sombrero on). Why was she wearing that? The interwebs tell me she's a bit of a country girl. She's in to horses. I've always been told to look out for the "horse girl" but the future Mrs. Grace seems to lack whatever quality it is that will send most guys running from said "horse girl".
The Field
Outside of Grace's Sunday round the action at the Heritage was pretty boring. I watched a good chunk of the tourney both Saturday and Sunday. Am I the only one that felt like Luke Donald was stuck at -7 like he was in a time warp? Was my DVR stuck? Luke did play well enough to make you think he could be relevant again on the Tour for the rest of the year, but be careful with that line of thinking. Harbor Town is the course he plays the best on. His T2 performance could be a fluke. He lead for most of the 72 holes of the Heritage but didn't have enough in the tank this week to hang with Grace over the last nine holes. I'd like to see another top five finish before I can confirm he's found his game.
Donald has been out of the limelight of professional golf for a few years now. I hadn't realized how much he'd aged. Did you see his head of gray hair? That's what having daughters can do to you. It got me (though not nearly as bad as Luke) and its already getting Adam Scott!
As I told you it would happen last week Bryson DeChambeau turned pro and put all his new Cobra and Puma gear in play at the Heritage. Then BC went out and finished T4. He also lead the field in ball striking. Not a bad start. Bryson made about 250k for his efforts but more importantly he finished high enough to get him into the Texas Open next week. That means he doesn't have to use one of his 6 remaining sponsor exemptions. He has to make about $750,000 in his limited schedule to earn his card without going through the Q-School/Web.com bullshit.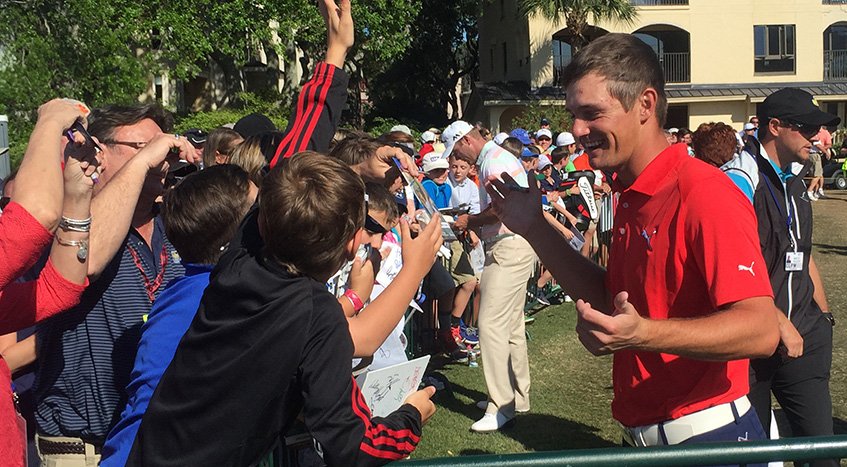 Jason Kokrak played in the final group with Donald. I thought he held together pretty well with all that was on the line…..right up until the final hole. He missed the green badly at 18 from the fairway and then made a sloppy double that not only cost him a bunch of cash but helped DeChambeau earn a little extra without hitting a shot.
Kokrak keeps knocking on the door. He's likely to break through at some place like Memphis or the Byron Nelson in the next 7 weeks or so. I also liked how he and Donald's games were such complete opposites yet here they were playing in the final group. CBS even showed us why this happens at Harbor Town with data on their tee shot distance this week compared to the rest of the season. If only they hadn't had dim-witted Dottie Pepper doing the explanation the whole production might have come off smoother. And while we're dissing CBS…..no, no….I'm not going there today. I don't have the energy and you already know what their problems are.
Jason Day was in Hilton Head this week. He was also the 36 hole leader. Then he shot a Saturday 79 to fall off the cliff at the end of the leaderboard. I still don't know what the fuck happened. When was the last time the world number 1 lead after 36 holes and was 8 over in his 3rd round? And for that matter, when was the last time the current world number 1 played the Heritage? Kudos to Day for playing. I don't think he'll be back.
Shot Of The Day
If this doesn't prove the Masters hangover theory I don't know what will. Zach Johnson wins the Shot of the Day. Ugh. That hurts to type. But Zachie Poo earned it even if there was probably more luck involved in the shot than skill.
What? What do you want from me? I only have so many choices when it comes to SOTD. Did you want Bill Haas' flagged iron shot from 17? Too bad. Billy gooched that short putt and made a par. Pars don't win awards.
Who's The Beef? 
What's better than waking up on Sunday morning and watching live golf with a guy named Beef leading the field? Outside of golf at the 4 majors, nothing. Meet Andrew Johnston, AKA "Beef". Johnston won the Open de Espana by one shot on a tough course in tough conditions with a +1 score to par. Here's how he felt about it:
That's a mug only a mother could love. Between Danny Willett winning the Masters, Lee Westwood finishing 2nd, and now Beef winning the Open de Espana the golfing Brits have had quite a nice run in April. What's the over/under on Beef's Sunday night beer consumption? I'll set it at 18 and probably would still take the over. God bless him.