'Fate And 'Golf' Are Both Four Letter Words
One swing. One swing changed the fate of two men dramatically on Sunday at the Masters. It has happened before in the final round at Amen Corner and it will happen again. That's why we love the Masters and that's why we're glued to the action every 2nd Sunday of April. This year the two men who's fates were changed with one swing were Danny Willett and Jordan Spieth. By now you know the how and the why of what happened.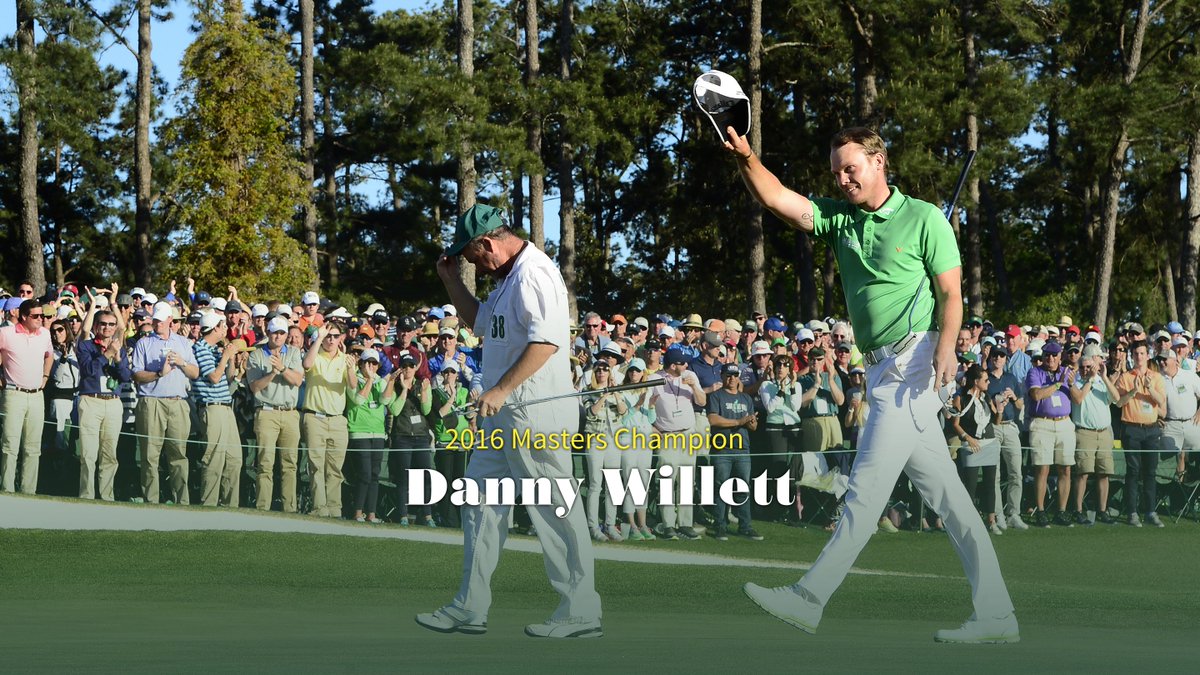 Willett's world was changed by fate for the first time about 9 months ago when wife Nicole found out she was pregnant. I'm sure he freaked out a little bit when he realized her due date was Masters Sunday. From what he said in interviews as recently as a month ago it sounded like he had already convinced himself that the Masters wasn't in the cards for him this year. Then at Doral he nearly won the WGC event and his plight to find a way to the Masters became the golf media narrative surrounding him. That's when fate stepped in again.
Nicole gave birth to the Willett's first born 11 days early. I'm sure she was relieved to get the little bugger out. Becoming a father is one of the best days of your life. I imagine its even better when you realize you now can go play in the Masters in a year when your game is strong enough to win it. Hmmmmm…..I wonder if he knew the stars were beginning to align for him at that point.
Getting to Augusta was half the battle. Due to the birth Danny stayed home with his son and bride as long as he possibly could. He didn't even see the grounds at Augusta on Monday as he got in late that night. Because he showed up Tuesday he was the last man in the 89 player field to officially 'enter' the Masters. That also meant his caddie got the number 89 bib, the same one Jack Nicklaus' son wore while caddying for him in 1986 when he won for the 6th time.
Danny still had to play his ass off once he got to the Masters. And that's exactly what he did. He survived the first 3 rounds at level par and trailed Spieth by 3 entering the final round. I predicted -5 would get into a playoff before the round started. Danny said in an interview after his victory that he was trying to get to 6. He posted 5 and concluded his week with 13 birdies and 8 bogies. Here's how he got it done on Sunday.
Fate stepped in again in favor of Danny Willett around 5:40 pm…..or right about when Jordan Spieth put his ball on the tee at the 12th hole. Even without Spieth's epic quadruple bogey Danny was going to be a roadblock for Jordan to get by down the stretch. Willett was rock solid throughout round 4. He made every putt you're supposed to and hit clutch shot after clutch shot on the back nine. He also didn't make a double or worse for the entire week. He wouldn't have had to chase Spieth down at all if he hadn't played Augusta's par 5s over par for the first 3 rounds. That's unheard of for a green jacket winner. It also changed on Sunday when he birdied 8 and 13 for the first times all week.
While Jordan was still on the golf course trying to salvage his tournament Willett had to sit and wait to see how Spieth finished after he posted his final round 67. Spieth failed to birdie 16 and bogied 17 to make Willett's quest for a major complete. I loved the reaction he and his caddie had in the clubhouse as they watched.
One week ago I figured that the birth of his first child would not only keep Willett sidelined for the Masters but would lead to a quiet summer for the Englishman from Sheffield. New born babies have a way of crimping your golf game. Instead Willett gets in the field, takes the green jacket, and moves to number 9 in the world rankings. His summer plans might have just changed as he's virtually assured of representing the Queen's Kingdom at the Olympics. Fate is funny in that it doesn't let you know its plans. Now the Willett's lives will never be the same because of it.
Winners & Losers
If you're new around here and haven't suffered through major with SFG before let me tell you that this is the part where we run down the big winners and losers of the week. Without further adieu…
Winners
Danny Willett, 2016 Masters Champion – The guy wearing the newest green jacket on Sunday at the Masters is always the biggest winner. Unlike Bubba I'm guessing he didn't wear it to the local Waffle House tonight to spill lard all over it. Danny is also a winner because he's a new dad and he's married to the lovely Nicole. Mrs. Willett is a SFG favorite and even once acknowledged our presence after being crowned one of the original WAGs of the Month.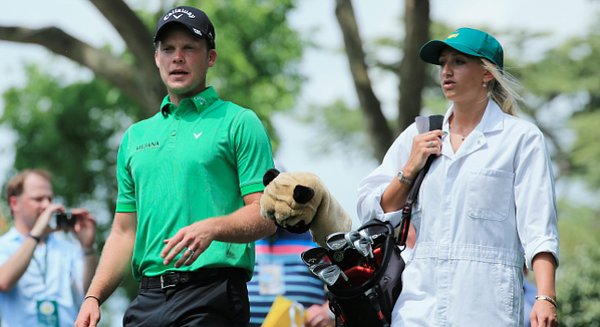 Danny being pretty damn good and getting better sucks for American golf fans because now Team USA has to deal with him at Hazeltine in the Ryder Cup matches. Like Europe needed any more depth.
Redbud – Also known as the 16th hole at the Augusta National Golf Club. On Sunday Redbud was giving up good feels like a Vegas hooker. She allowed not one, not two, but 3 men inside her in one shot. Yes, three aces on the same hole in the same round. We should have seen this coming after the 9 aces in the Par 3 Contest. The 1s were made by Shane Lowry, Davis Love III and Louis Oosthuizen.
Oosthuizen's bounce of Holmes ball was freakish and I've never seen anything like it. Louis is now part of 2 very historic shots in Masters history. He's going to win one of these some year. The three ace makers all get something champion Danny Willett doesn't, that's crystal from the club. You get crystal for eagles. Danny didn't make one on his way to victory. I think he'll take finishing 1st over the crystal.
Jordan Spieth – Did you really think I'd put him on the loser list? Not a fucking chance. He's finished 2-1-2 in 3 Masters appearances. He's slept on the lead at the Masters something like 8 of the last 9 nights of the tournament in the last 3 years. He didn't have anything close to his A game this week and still beat 87 of the 89 players in the field.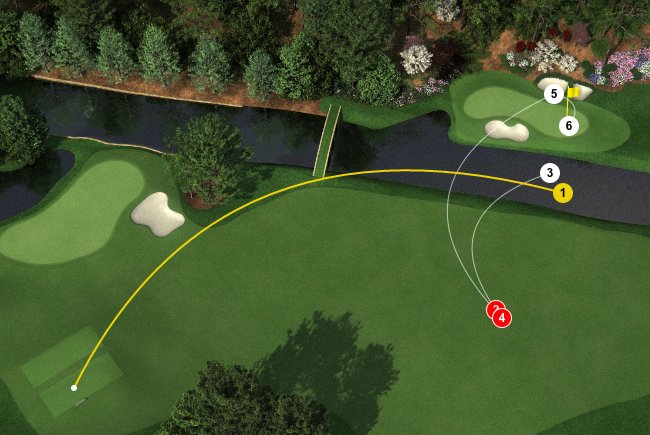 That's his tracker image from the 12th hole. It was ugly. Blowing a 5 shot lead in 9 holes is Norman-esque. I'm still not quite sure how it happened. I know this, it will never happen again. I've been critical of Jordan in the past. I didn't like how he reacted when things went awry versus Bubba in 2014. He grew from it. Since then I've often felt Jordan is like the teacher's pet. He says the right things, he's squeaky clean, and he's a sponsor's dream. If he were my enemy that would drive me nuts. In a moment of crisis like Jordan faced on Sunday after collapsing at the Masters his class and thoughtfulness were his greatest assets. I can't compliment him enough for that. It is always hard to remember he's 22 and even more so when he can be as graceful in defeat as he was today.
Englishmen –  Brits Willett, Fitzpatrick, Casey, and Westwood all finished in the top 10 at the Masters and all broke 70 on Sunday. Again, the Ryder Cup is becoming daunting for the American side. At least Casey isn't eligible. Fitzpatrick might not even make the team. The big move here came from Westie. His eagle at 15 put him in contention for the first time in a long time. Did you realize he'd sunk to 66th in the world rankings?
Bryson DeChambeau – The U.S. Am champ had a great week at the Masters. Low amateur? Check. Style and grace? Check. Lots of publicity, fame, and fans gained? Check. Million dollar endorsement deal in the bank on Monday? Check. What else could he have possibly asked for?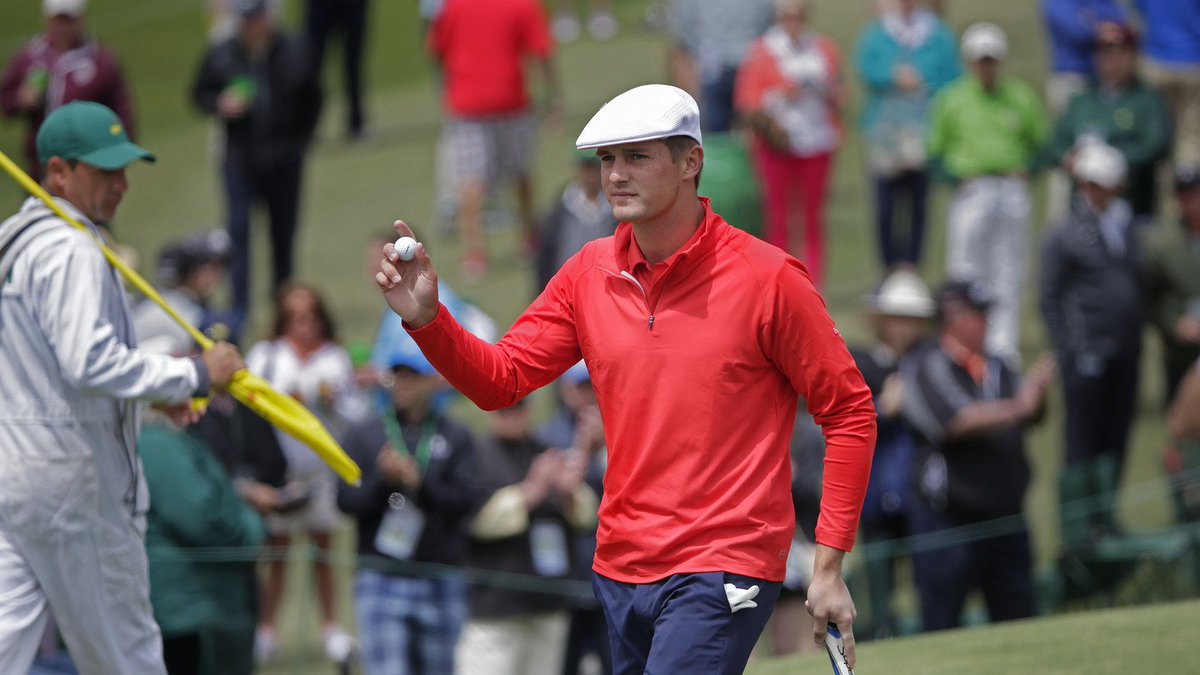 Bryson is signing with Cobra/Puma tomorrow when he turns pro. Golf Channel says Cobra made a set of clubs to match his wacky specs. This week he'll play in the Heritage at Hilton Head and get his first non-SMU paycheck if he makes the cut.
Losers
Phil Mickelson – If you come to the Masters as a 3 time champ and are leading the Tour in scoring average you probably have pretty high expectations. That probably makes missing the cut even harder to deal with if you're Phil. Worse than just missing the cut for Bitch Tits, he wasn't too far off the lead on Friday when he left the 6th green. Shit hit the fan as he cruised in with a 79 and his worst ever round at Augusta National.
FIGJAM also wore this hideous all gray outfit without a belt while he shot that zip code. How tragic.
Lee Westwood – "Ummmmm, dude. You already have him on the Winner list" is what you're saying to me right now. Well yes, yes I do. He deserves his spot up there because he played well and is back from golf oblivion. He also earned his spot here because after his eagle at 15 that gave him a chance at his first major championship he promptly 3 jacked the 16th hole when Willett made birdie. He gagged. That's what Lee does in majors.
Rory McIlroy – Another Masters, another back door top 10 for Rory. He played 3 of his 4 rounds at Augusta under par. Not bad. But the other round was a pair of hockey sticks (77) and he shot that while paired with Jordan Spieth in the final group of the 3rd round. That was a prime time showdown and he got his ass handed to him. He also missed a golden opportunity to complete his quest for the career grand slam.
I'm out on his experiment with a left hand low putting grip. I don't have any data on it but I think if we look back on his putting stats from when he made this switch we'd see that he's not getting better on the greens.
Dottie Pepper – David Feherty now works for NBC/Golf Channel and he had the week off….and he still proved how valuable he was to CBS and how big of a mistake they made by letting him walk last fall. How? Because we had to hear Dottie Pepper calling David's shots and getting his interviews. She's bad. Like I'd rather have Bill McAtee getting those interviews bad. Do you know how bad Bill is? I'd fire Dottie tomorrow. She has trouble completing her thoughts and doesn't offer any valuable information to the viewer. You have enough bench depth at CBS when McCord is allowed on the grounds of a tournament that you don't need Dottie. Verne essentially takes Gary's spot at the Masters. CBS needs to start a talent search ASAP to find someone that can fill David's shoes. Feherty's absence was easily masked earlier in the year during the west coast swing. At the Masters it was magnified and irked me to the point where her voice felt like nails on chalkboard every time I heard it.
Dustin Johnson's Putter – I'm not sure there was a player at the Masters that hit it better from tee to green for four days. And that shot DJ hit through the trees on 15 to find the green in two was epic. Yet here we are on Sunday night of a major and DJ mustered no better than a T4 finish. That doesn't sound bad but I can't get the sight of him missing 3 shortish eagle putts both low and short.
They call the low side of the hole the amateur side for a reason. DJ is one of the 5 most talented golfers in the world. How can he miss such crucial putts so badly? In his post round chat under Augusta's famed oak DJ told the media the putts "just didn't fall". They can't fall if you don't give them a chance to go in!!!!!! I often think part of the reason Dustin is as good as he is comes from his lack of excess thoughts bouncing around in his heads as he plays. I'm also convinced his lack of brain activity is why he never wins the big ones.