Moving Surviving Day At The Masters
I told you guys that Saturday's 3rd round would be all about survival and not everyone would make it out alive. That's about how it went down but the survivors weren't who I expected them to be. The Spieth/McIlroy clash was supposed to be one for the ages. Instead it was a TKO won by Spieth in the first 9 holes. Jordan didn't play great but he out thought McIlroy around the course, out wedged him, and out putted him to death. McIlroy couldn't get out of his own way and shot 77 and didn't make a birdie for the first time in 80 rounds at majors. Who saw that coming?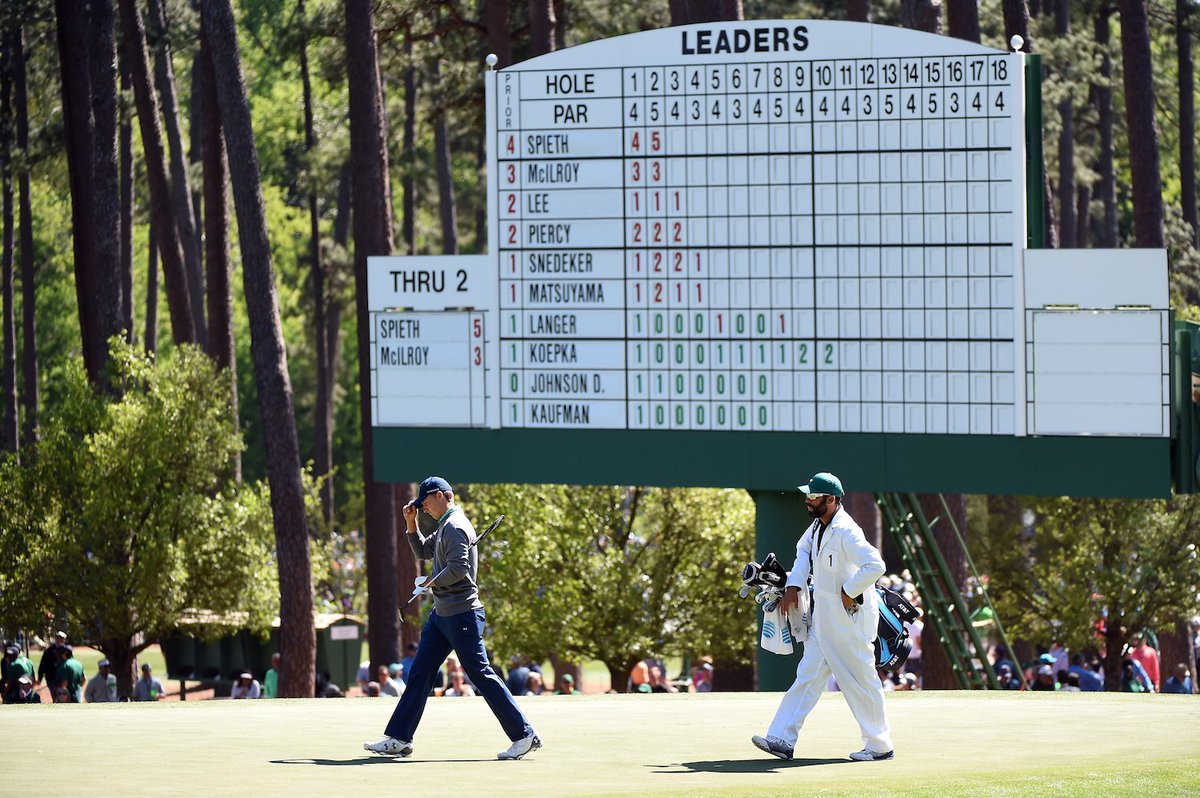 Jordan Spieth now finds himself with the 54 hole lead by one shot over Smylie Kaufman. You read that right. Smylie Fucking Kaufman. There's plenty of other chasers too. Truthfully, I believe every guy at +1 or better has a realistic shot at winning. I think -5 gets you in a playoff. I think -6 wins outright. The course will be set up for scoring on Sunday. The weather will be better. A 66 will be shot by someone. The problem for all the chasers is that Jordan hasn't ever blown a 54 hole lead in his short career. It isn't impossible. Did you see him playing army golf on Saturday. He's still in the lead because of his putter and scrambling ability. He's not 10 under with an 8 shot lead because he couldn't hit a fairway with his driver to save his ass.
Next Year Rory
McIlroy was awful on Saturday. His body language doesn't help his cause when things go south. He doesn't play dry and windy courses that well and therefore was never comfortable on ANGC. He might have been intimidated a bit by Spieth. His cross-handed putting experiment doesn't seem to be improving his woes on the greens either. All that being said and the dude is only 5 shots behind Rory. I think that's too far back.
I already said -5 is, at a minimum, will be the score posted. Rory would have to shoot 65 to get there. That's not happening. If it did it would be the greatest round ever played in my opinion. There's also 10 guys between Rory and Spieth. If the course is giving enough to allow a McIlroy 65 then someone in front of him probably will shoot 67. He won't pass 10 other guys. He's done.
Round Of The Day
Not a single player broke 70 at the Masters on Friday. Saturday offered much of the same until Smylie Kaufman got hot on the inward 9 and posted a 69. Amazingly the Masters rookie is now in solo 2nd and playing in the final group with Spieth tomorrow. A rookie hasn't won the Masters since Fuzzy Zoeller did it 37 years ago. Smylie, Fuzzy, Fuzzy Smylie……there's symmetry there that I can't put my finger on. Kaufman has never even played in the final group of a PGA Tour event before. He's also only played in 1 other major before and he missed the cut.
Kaufman did win in Las Vegas last fall and he also has a proven track record on the Web.com Tour. So fucking what? None of that matters when you're playing in the final group of the Masters. I'm a Smylie fan and he was very impressive on Saturday. Now he has to sleep on that after talking to the media after his big 3rd round. That's uncharted territory. He's fucked like a porn star getting a pizza delivery. I'd like for him to hang in there with Spieth but I can't see it happening. The most likely scenario is that he posts something around +4 on the front nine and then CBS doesn't show him again until he putts out on 18 in front of Jordan's winning tap in.
The Challengers
When Spieth played his final 2 holes in 3 over par he let a lot of world class players back into the 2016 Masters. Bernhard Langer was going to have his say even without Spieth's follies. The 58 year old German golfing robot has two green jackets and won his last one 3 months before Spieth was born. He also putt Jack's last jacket on him and 1986 because he was the 1985 winner. Langer shot a 70 today to jump up to 3rd place 2 shots back of Spieth. He was amazing in the blustery and difficult conditions. He has a legit chance on Sunday but he'll have to post a 68 or so to win. He doesn't hit it far enough to make enough birdies to shoot 68. If the weather stayed blustery and the course stayed crisp he'd have a better chance.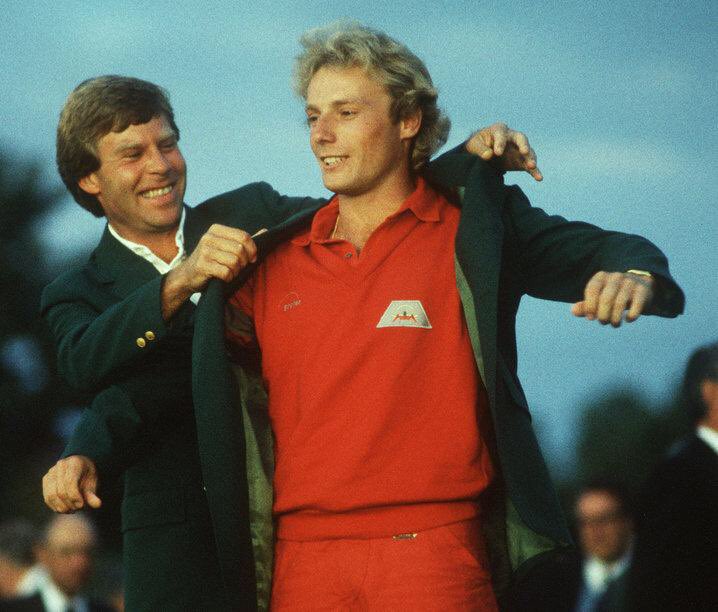 Hideki Matsuyama got it to 4 under on the back nine and let a few get away on his way in like Spieth. He finished two back with Langer. Am I the only one who doesn't think his tempo and pause is smooth? He looks more out of sync after he strikes the ball than any player in the field. The results are good and that's all that matters. Matsuyama is an under-rated putter and if he gets hot on Sunday a 67 or better is certainly there for him. I told you to watch out for him yesterday. He might be Spieth's worst nightmare on Sunday.
Danny Willett, Jason Day and Dustin Johnson are lurking at even par. You probably didn't know Johnson was in the tourney because CBS refused to show him. This isn't a joke. He kept hitting bombs and playing entertaining golf and the network broadcast barely aired any of it. I know because the online coverage had him on. He hit the 15th green from behind the trees and CBS acted like they didn't see it.
I don't expect Johnson to be in Butler Cabin on Sunday but he's perfectly capable of a 67 or better. If he does do it he'll have to post the score and kind of back into a playoff or something. If he's got to make a putt down the stretch I'll have to look away from the screen for obvious reasons. Danny Willett and Jason Day on the other hand might be the next biggest threats to Spieth not named Matsuyama.
World number 1 who bombs it in Jason Day….saying he's a threat is obvious. He's already played the front in 31 shots this week. He'll need a little magic like he had on 14 today (above) to win his 2nd consecutive major. Willett isn't being talked about much but he should be. His story of not expecting to play in the Masters but getting to do so thanks to the early birth of his son would be something (until Nantz butchers it to death).
So Who Ya Got? 
If you asked me "Spieth or the field?", I'd take the field. But a gun to my head and I have to pick one guy to win I'd be a fool to go against Jordan. I saw a few Day predictions on the Twitter. Its possible but I'd give it about a 10% or less chance. Spieth is more like a 33% chance on Sunday. Who are you taking?
If you said 'other' I want you to put your guy's name in a comment. Don't be a coward.
Urban Myth Busted
Yesterday I gave you all the build up to the Bubba Watson/Jeff Knox clash that was supposed to be the under card to the McIlroy/Spieth rumble. Much like the main event the Knox/Watson tilt wasn't much of a fight either. We know Bubba shot 76 and he won. The first twosome out hit about 12 shots shown via online coverage. Knox put it in the drink on 12 but did hole a bomb on 13 for his birdie. Then the caddie took the ball from the whole and #toursauce erupted from every sprinkler in Amen Corner.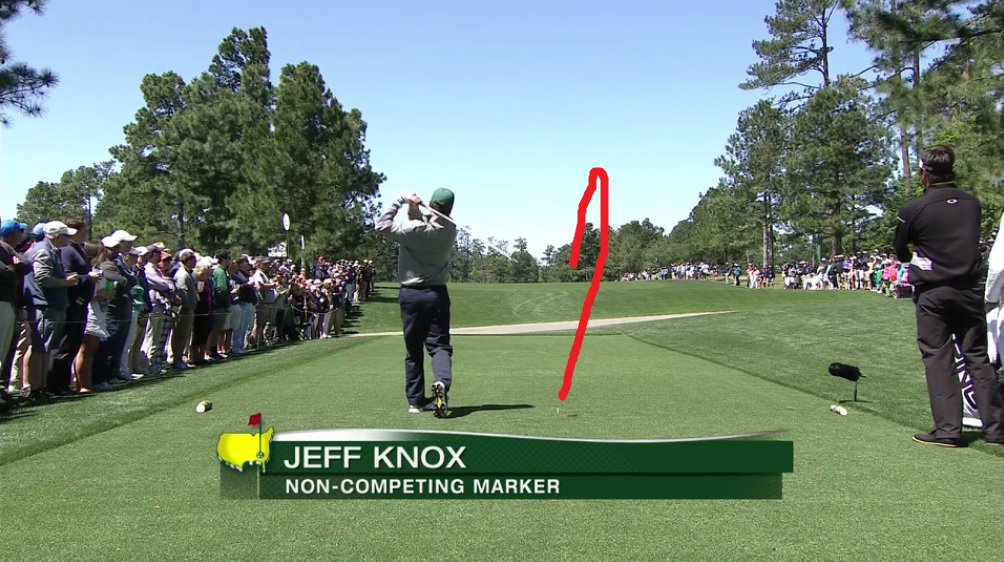 According to a quickly deleted tweet from Bubba's caddie Knox shot 80 when using equitable stroke control for his X on the 12th. Knox survived Bubba even though he was defeated. His reward for that? A Sunday date with a bigger headcase that shot 85 on Saturday…
Pray for Jeff Knox. #prayforJeffKnox