Maybe He Will Get His Jacket Fitted
Jordan Spieth never got his green jacket fitted last year after he won the Masters. He didn't want to part with it while it was being altered. He also figured he'd grow into it over the years. Perhaps after round 1 of the 2016 Masters he'll change his mind. What do you mean he hasn't won the Masters in back to back years yet? I swear the entire golf and internet world has already crowned him.
And why shouldn't they. He's the only guy in the field who didn't make a bogey today on his way to a 66. That was the low round of the day. Jordan was flawless as he chased his ball around Augusta National. He went out in 33, came in with another 33, and barely broke a sweat in doing so. I didn't see the whole round, but I did see him stress a little on the 11th hole. He hit his tee ball in the trees and then calmly played a hero shot to the left fringe that hung up out of the hazard. He two putted from there but had to make a tricky putt to save par.
As easy as Spieth made golf look today he'll have a whole different mess of problems come tomorrow. He played in the morning on Thursday and got the best of the weather while the wind was down and the greens were soft. Tomorrow afternoon will feel like a different golf course for him. I think he'll come back to the field a bit. I'm not rooting against him. I'm rooting for the field to be able to keep up with him so this isn't over on Saturday night, like last year.
The Haves
Danny Lee and Shane Lowry are 2 strokes behind Spieth in 2nd place. Both played well and we of course saw that coming. Right. Lee's been around Augusta a few times back in 2009 but he didn't play well as the reigning U.S. Am champ back then and missed the cut. Lowry was a Masters rookie last year and missed the cut himself. Now these two are shooting 68s with the lights turned on bright in round 1? Golf.
Paul Casey, Justin Rose, Soren Kjeldsen, and Sergio Garcia are all T4 after shooting 69s. Nice. Casey must be feeling better after his illness at the match play. Garcia birdied holes 13 through 16 to flip his round upside down. These positive vibes come on the heels of Sergio telling the media earlier in the week that his time to win a major had come and gone. Oh really? This is some Jedi mind shit that he's trying to fool himself with. If he's somehow within a few shots of the lead on Sunday the drama surrounding him will be epic. I'll root for him for 2 more days at least just to see his meltdown.
The rest of the top ten is rounded out by the group at 2 under including Rory McIlroy, Billy Horschel, Scott Piercy, and Danny Willett. Willett wasn't supposed to be at the Masters. His wife was due with their son this week but the kid showed up early to get daddy to Augusta. Good job, kid. Rory is right where he wants to be. He survived a windy afternoon and now can go out in calmer morning conditions and build on the momentum he found late on Thursday. Rors looked solid and motivated, but what do I know about his mental state. He could post 66 or better or 74 or worse on Friday and neither outcome would shock me.
Pay close attention to those guys at -2 or better. 95% of the last 20 some Masters winners have been in the top 10 after Thursday. With the wind blowing for two more days I don't think you can count out guys still within 5 or 6 of Speith. There's a lot of fire power at -1 too. Walker, Snedeker, Matsuyama and Westwood are all lurking there.
The Have Nots
The other side of the coin from the guys mentioned above were the total disaster rounds carded by several favorites and other major champions. Rickie Fowler was a popular pick. He started his 1st round with a double bogey and then came back with 3 birdies in 4 holes. He turned in 36 shots and was sailing along until he struck his 3rd shot on the 13th hole. That ball found Rae's Creek and the result was a snowman. Rick carded a 44 on the back nine and an 80 for the round. See you next year, Rick. Mid Am champ Sammy Schmitz was one worse on the inward nine than Rickie and shot 81. His GoFundMe money was well spent. I hope he pays back all his donors or gets audited by the IRS.
Jason Day eagled the 2nd hole and shot 31 on his first nine. How could he possibly be lumped in with the 'have nots' in this post? He came home in 41. I'm watching it on my DVR as I type this. I still don't believe it. He might not either. The good news for Jason is that he's a 67 or better from getting back in this thing on Friday.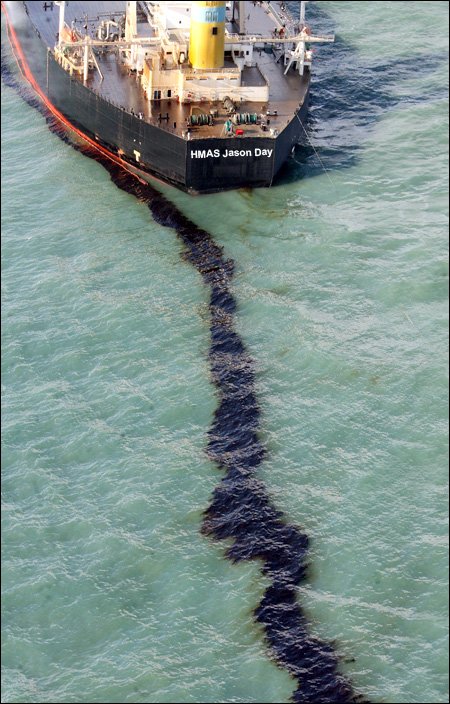 Day started leaking oil when he missed a 4 footer on 15 for par. That was ugly. Then he found the drink at 16 and made a triple bogey. He was a putt away from being in a tie with Spieth on the 13th green and shot even par.
Bubba Watson had a sinus infection earlier in the week. When I saw the wind in the forecast on top of his illness I wrote him off quickly even though he's played great in 2016 and won 2 of the last 4 Masters. Like a broken clock I was right for once.
Gerry shot 75 and rinsed two balls in H2O on the back nine. I was legitimately worried for his looper. Adam Scott was one worse than Bubba with a 76. I didn't see a shot of it. He wasn't in a featured group and was off the golf course before the ESPN broadcast hit at 3 o'clock. How does a guy who's played as amazing as Adam has for the last month shoot 4 over? He changes caddies just for the Masters to a fuck like Stevie Williams and golf karma kicks him in the dick. That's how.
Ernie Els' Masters got off to an amazingly awful start. Els missed the 1st green and pitched up to a make-able range for his par. Then he had an out of body experience, or something like it, as he putted out for what was first called a 10.
Els' score was later adjusted to a 9 with only 6 putts. I have no idea why. Ernie then hit the 2nd green in two shots and 3 putted for par. That's like a bad dream you can't wake yourself up from. Somehow Ernie held it together to be only 3 over for his last 17 holes.
Get Your Kicks
Keegan Bradley was 2 under after 2 holes and still shot 74 without the aid of a belly putter. He did this in some special Jordan (Mike not Spieth) shoes that have MJ's comeback jersey number on the side. Why? Those look awful. He might as well wear snow boots. Keegan better start winning golf tournaments soon or this will be his last season exempt in to majors. The 5 year exemption from his 2011 PGA win ends in New Jersey this July.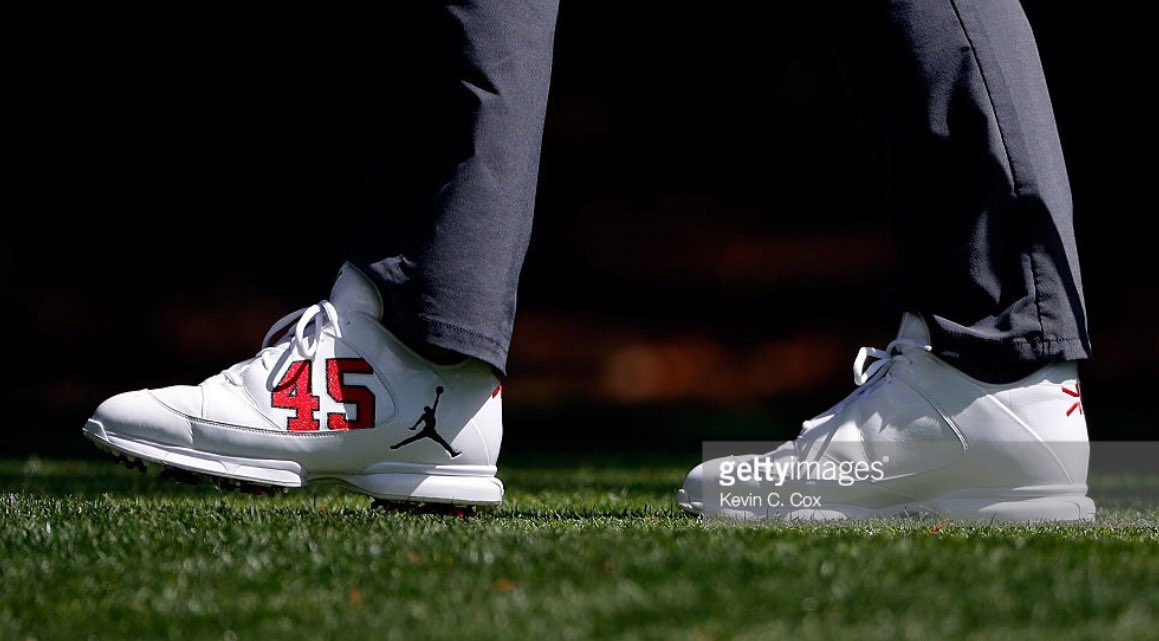 The shoes on the right belong to Rory McIlroy. Rors wore those to honor Kobe Bryant who will be playing his last game next week. Why Rory is choosing to honor a psychotic asshole who bought his way out of rape and sodomy charges is another question. I know this is all cross promotion bull shit from $woosh but can Rory really be a fan of Black Mamba? I thought he was a soccer guy. And why roll them out at the Masters?
Honorary Indeed
As it does each year the 2016 Masters began with ceremonial tee shots by honorary starters Jack Nicklaus and Gary Player. Arnold Palmer was also present but didn't hit a shot due to his health.
Jack teared up during and after his shot. My gut says he did so because he knows Arnold isn't long for this world and this week might be the last time he sees his old friend. You saw the clip above. Palmer doesn't look well and doesn't look like his mind is sound. The club did let him drive a golf cart earlier in the week so perhaps his health is better than we know. The fact that no one wants to talk about it tells me my gut is probably right.