I Hope They Had Wet Naps
I had a wet nap once. Or is that a nocturnal emission. Never mind. Tuesday at Augusta means two things. Tee times come out and the defending champ hosts his annual dinner. Let's do dinner first. What was on the menu from host Jordan Spieth? Texas BBQ, corn bread, a boring salad, and a warm chocolate chip cookie with ice cream. That sounds pretty damn tasty to me.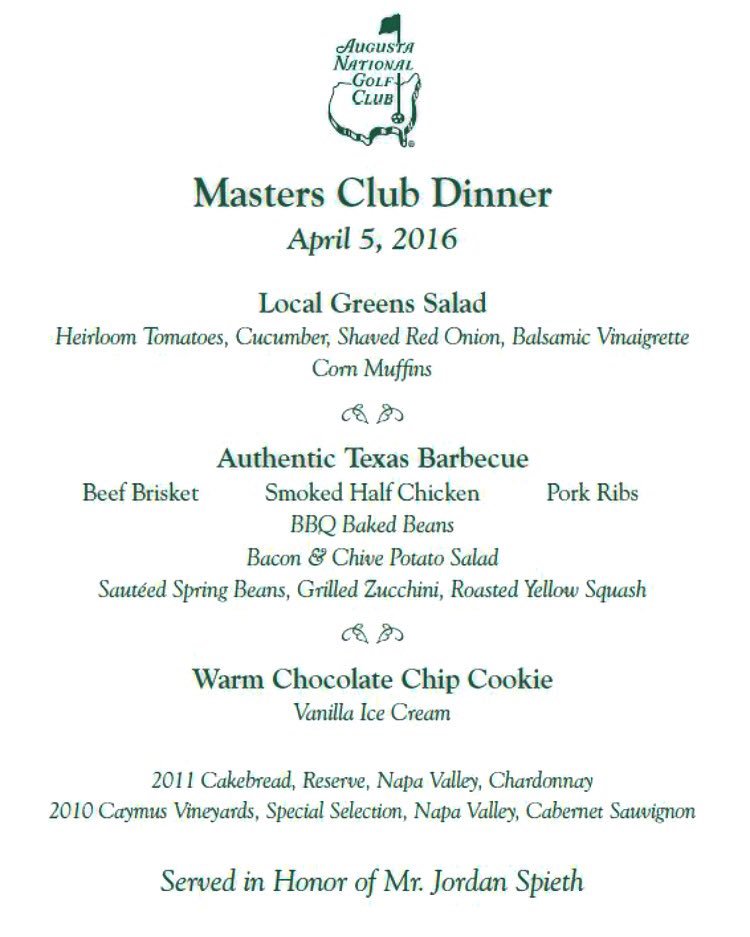 I'm told the wines were fine as well but what do I know? Wine isn't my thing. Tiger approved of Spieth's selections.
My favorite part of the dinner is the inevitable group photo that surfaces on the interwebs about 60 minutes or less after it is taken.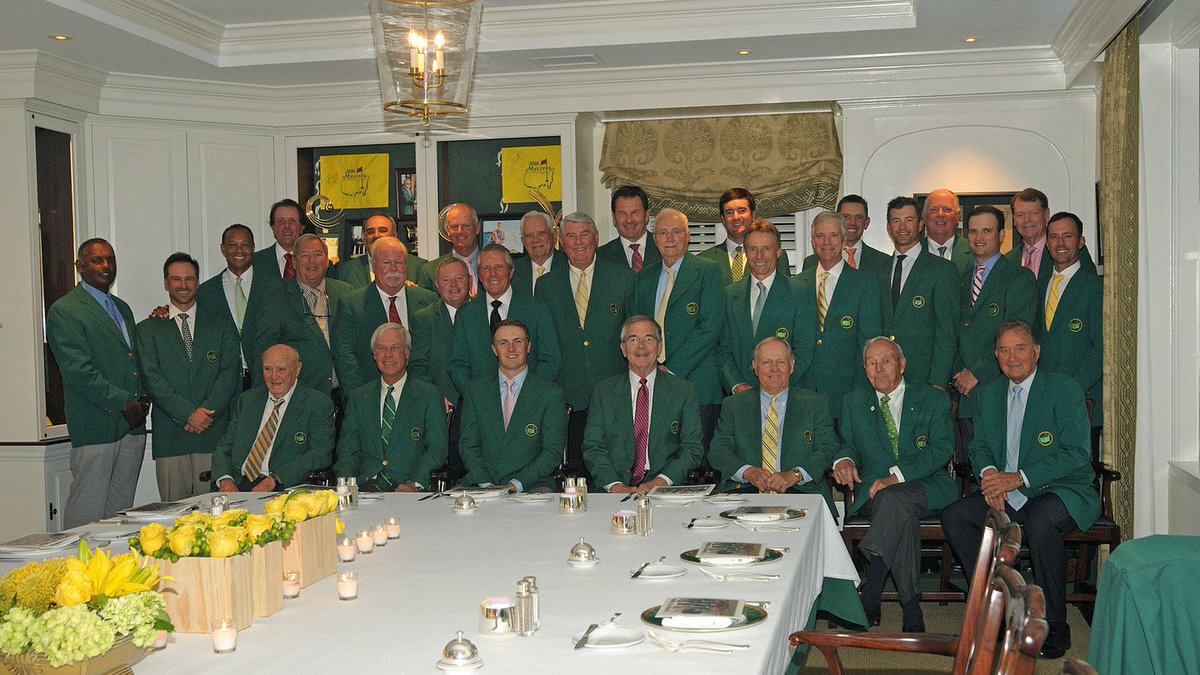 Its hard to glean anything from their positioning. We know that Tiger sat by Arnie and Jack based on some tweets. We know that Faldo sat across from them with Player and Phil. Hey wait, how did Mike Weir and Zach Johnson sneak ……errrrrrr…. oh yeah. The 2003 and 2007 champs get invited.
Speaking Of 2007
Do you remember what happened that year? The wind blew, it was chilly, the par 5s weren't reachable, and Zach Johnson wedged his way to a win as the only man under par in the end. Ugh. That could never happen again, could it? Word on the street is that the greens have some extra crisp to them in the middle of the week when the men of the Masters usually wait until Sunday to let them get crunchy. And the forecast calls for high winds.
That only shows the average winds for the day. Gusts up to 30 mph are possible. What does this mean? To me it brings guys like Kuchar, Zach, and other plodders back into the mix for the first 3 days. High ball bombers like Rory and Jason Day will be equalized by the wind. Can a plodder do enough on Sunday to hold off a bomber? We'll see. I think the conditions along with a sinus infection knock Bubba Watson right off the list of contenders. He's too fragile to overcome both. I like guys like Rose and Fowler more now. That's not going out on a limb, but Rickie loves the wind and Rose is steady. That might be the perfect recipe to beat the field and the elements this week.
Sweet Tee Times
The men of the Masters made the pairings public on Tuesday morning, right on schedule. There's some good ones but nothing overly exciting or must see. I'm also a bit confused by the Spieth pairing. I know the current champ typically plays with the U.S. Am champ. That's still happening as Bryson DeChambeau is with Jordan. Their third is Paul Casey. Why? I thought other majors champs were usually in that group. Casey is far from that. Here is a look at the rest of the groups.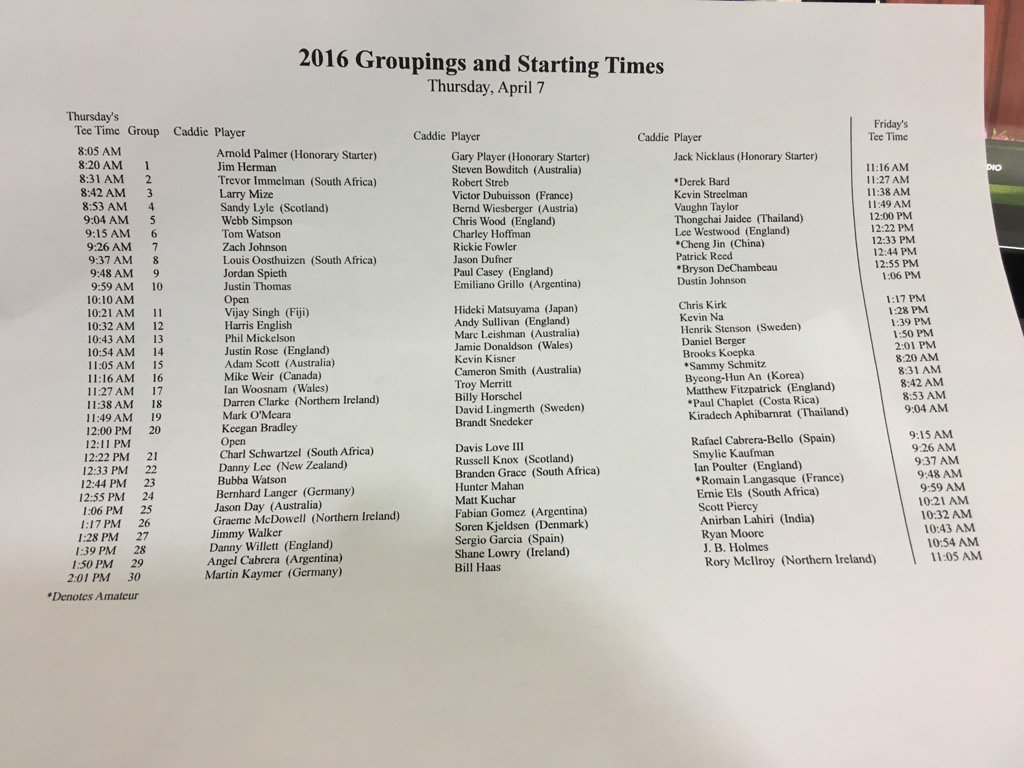 Day goes with Kooch and Ernie Els. That's worth a watch if Ernie doesn't hack it around. Koepka, Kisner, and Adam Scott are getting attention…..well Scott is. Koepka is certainly coming in to the Masters under the radar. The Kaymer, Haas, Rory group is a pretty good end to the day too.
The Amateur
Anyone who the press wanted to talk to today was hauled in front of the masses for a pre-tourney presser. Phil was funny. Rory was honest. And Adam was charming. Otherwise things were pretty boring until U.S. Am Champ Bryson DeChambeau took the hot seat. I can't recall an amateur ever being the center of the media's attention before the Masters. BC is a cool cat. He's going to be a star. He's also still a bit of an unknown to the golf masses. Why not pick his brain? Here's an excerpt from his chat: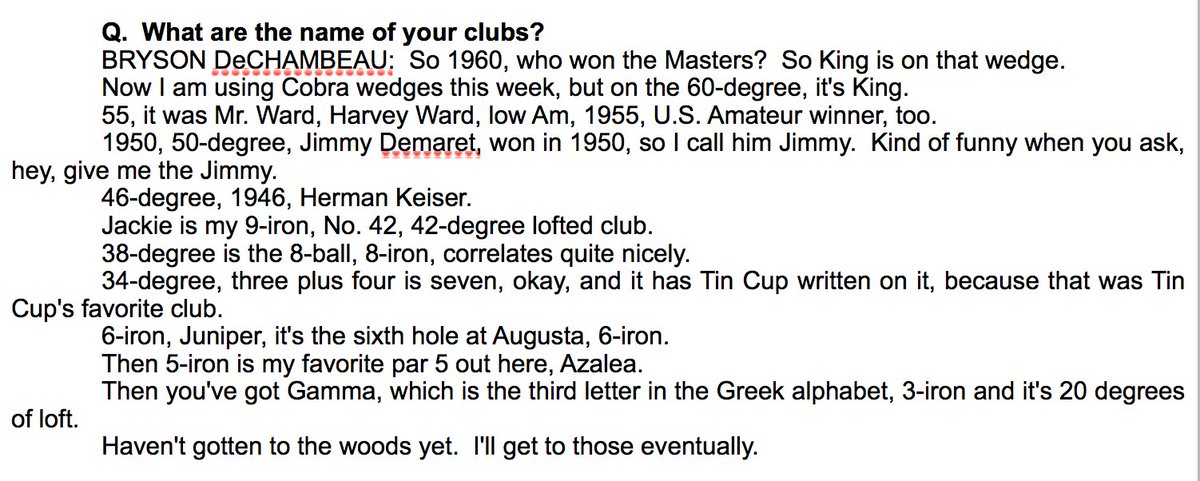 Waaaaa????? He is interesting. And yes, he's naming his clubs. I might try that. At SFG we've talked about DeChambeau's set up before. In brief, he plays all his irons at the same length and weight, about that of a 6 iron. The lofts are different. His driver and 3 wood are both tweaked out. And his putter is like nothing you've ever seen. He's unique and this little look into how he named his clubs is just a snap shot of what's going on upstairs with him. On Tuesday he played a practice round with Phil. I'm sure some of their chats would have given science nerds a boner. Phil said they're scared Dustin Johnson away. Shocker.
'86
Jack Nicklaus went right from his presser, to the Champions Dinner, to live tweeting Golf Channel's premier of '86 -a mini documentary commemorating the 30th anniversary of his last Masters victory. Ok, he wasn't really tweeting because he said he'd be missing the showing in his presser. But someone was tweeting for him with some cool insight. I was a bit young and barely into golf when Jack captivated America with his last hurrah at the Masters. After watching the program I now understand just a little bit more of what this was all about. Jack was done. Jack was too old. Jack hadn't contended all year. But a final round 65 and another Greg Norman collapse was all it took to put another green jacket on his back.
One of the highlights of '86 was all the talk of Jack's space-aged putter that yielded so many birdies for Nicklaus on Sunday. The MacGregor Response was a piece of shit but Jack using it sold a lot of putters. How do I know how bad it was? It was my first putter and I still have it.
The entire program was captivating and perfectly done by the people at the Golf Channel. It had a little bit of everything. John Cusack narrating, the putter, the locals, the broadcasters, the writers, the other professionals, the volunteers, Jack's son and caddie, his wife, the trainer…..pretty much every one but the members of Augusta National told us where they were, what they were doing, and what they thought of Jack's great triumph over the talented young Euros (and Norman). If you didn't see it make sure you seek it out on Golf Channel and DVR it as it will be re-aired multiple times in the next week. And if you want more of '86 and Jack you can see the entire CBS Sunday broadcast on demand at Masters.com.