Pack Your Bags Herman Family
You're going to Augusta. It should never surprise golf fans when a guy that has played in 50 or more PGA Tour events wins the tournament in a given week. The Tour's slogan is "these guys are good". They're pros for a reason. Its not like Jim Herman is some Monday qualifier who got lucky to get his spot in the Shell Houston Open. He is a life time journeyman who no one expected to win this week, but he played his guts out and now gets a cushy 2 year exemption, an invitation to some very high level events for the next year, and a trip to the Masters this week. Hell yeah.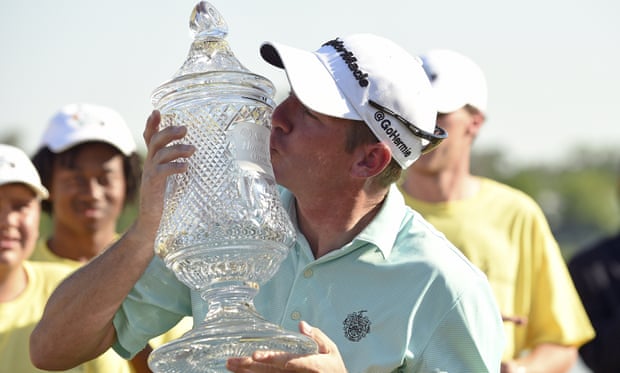 The reason Herman's win is surprising is because he'd played so poorly for PGA Tour standards over his last eight events. He was barely making cuts aside from one top 20 finish. There was no sign of progress or improvement. He simply showed up in Houston this week with "it". Golf is a bitch that way. No one can explain this phenomenon.
Herman played error free golf the last 13 holes of his final round while NBC's Johnny Miller kept waiting….no, begging for Herman to get loose and fuck something up. It didn't happen. If anything Herman was better once the pressure got heavier. He hit greens, made putts, got up and down when he needed to, and those two shots on 18 to clinch his winning par were big time. Where's this guy been? As the broadcast team told us he was hiding in Donald Trump's proshop in Florida until the political wind bag told him he'd fire him if he didn't go play on the Tour instead. Even the Donald knew Herman was too good. Talent is often obvious.
Herman broke down pretty quickly after putting out on 18 and getting the NBC mic thrown in his face. How could he not? The guy just changed his life for the better forever thanks to the best four days of golf anyone could ever ask for. On playing in the Masters, he said he never thought he'd make it there. So how does a guy who had no plans to be in Georgia next week suddenly find a place to stay when homes and hotels have been sold out, reserved, and claimed for over 360 days? I have no clue. I hope his agent is well connected.
What else to we know about Jim? His wife is Carolyn. Would you like to meet her? Tough shit. I know its SFG tradition to show you the winner's wife but when the gal is tweeting bible stuff I'm not going to post pics of her for you internet goobers to ogle. The Herman's have some kids. And Jim looks like the typical family man.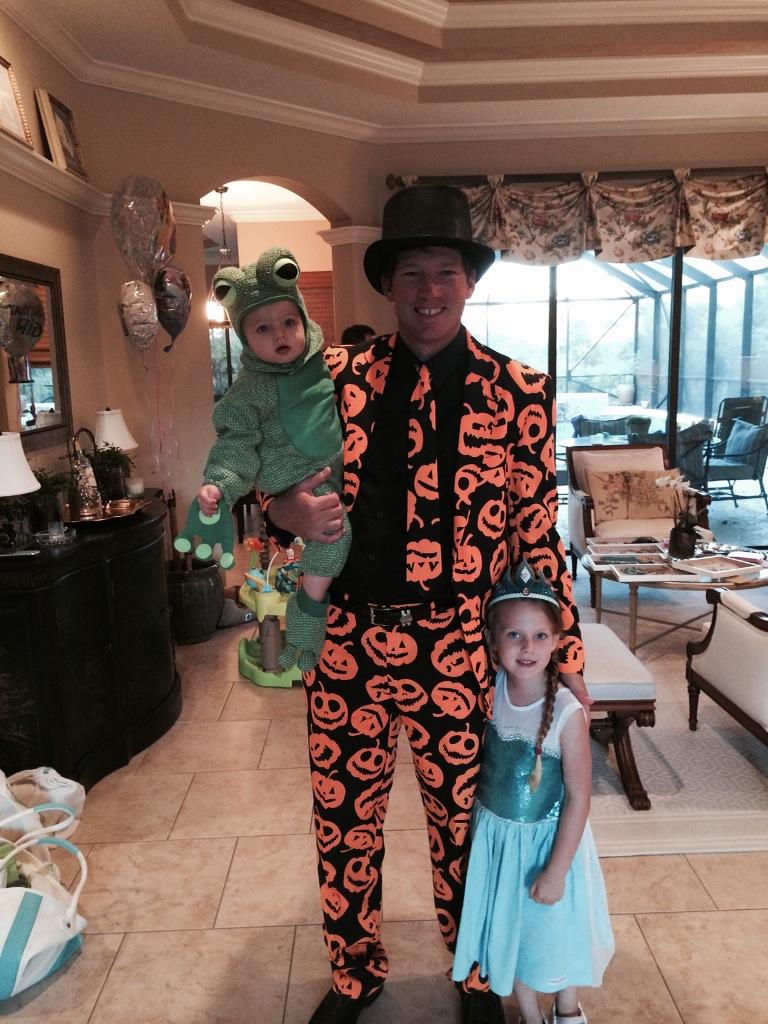 What a breath of fresh air from the typical buff, young, uber-millionaire winners we have from week to week. I like this guy.
The Field
Henrik Stenson skipped the match play because he didn't want to play so many weeks in a row heading in to the Masters. He preferred to play Houston the week before the first major of 2016 so the 2007 match play champ stayed home. That seems pretty stupid but he did look more rested than last week's runner up, Louis Oosthuizen, who played awful and missed the cut. Stenson and his robotic ways of launching rocket 3 wood shots down the fairway looked great again, just as he did at Bay hill a few weeks back, until he actually had to make a putt on Sunday's back nine. It is a good thing 2nd place pays well on the PGA Tour because Henrik is racking up silver medals.
Another rocket launching balky putting talent in Dustin Johnson finished 3rd behind Stenson. Johnson made 100+ feet of putts the first three rounds in Houston and looked damn good going it. He looked good enough that Twitterverse started fitting him for a green jacket. Sigh. I'll never buy it. His putting magic was gone by Sunday. Russell Henley isn't in the field at the Masters next week. He needed a victory in Houston to get to Augusta. After 7 holes on Sunday he was the man to beat. Then he wiped his drive into the H20 at the 12th hole while trying to drive the green. See ya Russ.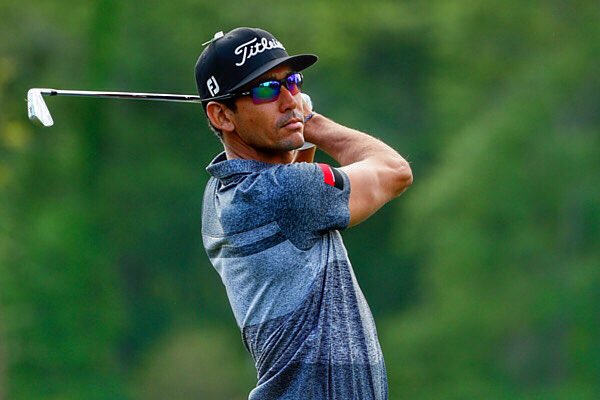 Rafael Cabrera Bello was one of the few guys who made it late into last weekend in Austin that was both in Houston and playing well. He saved his best round of the week for Sunday and got a sneaky top 5 finish for his efforts. If the Tour was playing in San Antonio next week instead of Augusta he'd be a favorite to get his first win in North America. 2015 Rookie of the Year, Daniel Berger, was back from his injury that happened while he hit a wall on the final hole of his match versus Phil Mickelson last week. He shared 5th with Henley thanks to a Sunday 66.
Shot Of The Day
The SFG SOTD comes to us via the newest 300 to 1 favorite to win the Masters, Jim Herman. Like I said above, Herman was at his best on Sunday when his nerves should have been the shakiest. At the 16th hole he missed the green to the left with probably the worst swing I saw him make all day. His ball hung up in the grass between the green and the bunker. Then Herman made some magic happen on his 2nd shot.
That was delightful. It was also his last birdie of the day with the tough 17th and 18th holes looming. Chipping in gave him the 1 shot margin he needed to get his first win and go to the Masters. That has to be the Shot of the Day.
Middle Finger To The Green Jacket
The Masters is full of traditions unlike any other (will they send me a cease and desist just for typing that?). The Par 3 Contest, the honorary starters, crystal for eagles, Butler cabin….you know them. And I could go on forever. What is becoming a new tradition at the Masters is the Drive, Chip, & Putt contest being held on the Sunday before and shown on the Golf Channel. We wake up to this glorious view of Augusta National and kids hitting balls, chipping, and reading putts like their idols on Tour do. Golf Channel covers it superbly and its only gotten better with the addition of Pro Tracer this year. Even better is the discussion it generates on Twitter. Everyone is watching and commenting and the kids are throwing #toursauce all over the place.
That is Stephen Robert Hernandez who won the boys 7-9 division. The kid was pretty funny but then became a bit of a spaz when the Golf Channel opened their airwaves for him to speak. I guess 9 year old boys are prone to such behavior. Are they also prone to flipping off Mark O'Meara and the millions watching at home on TV when they get their trophy?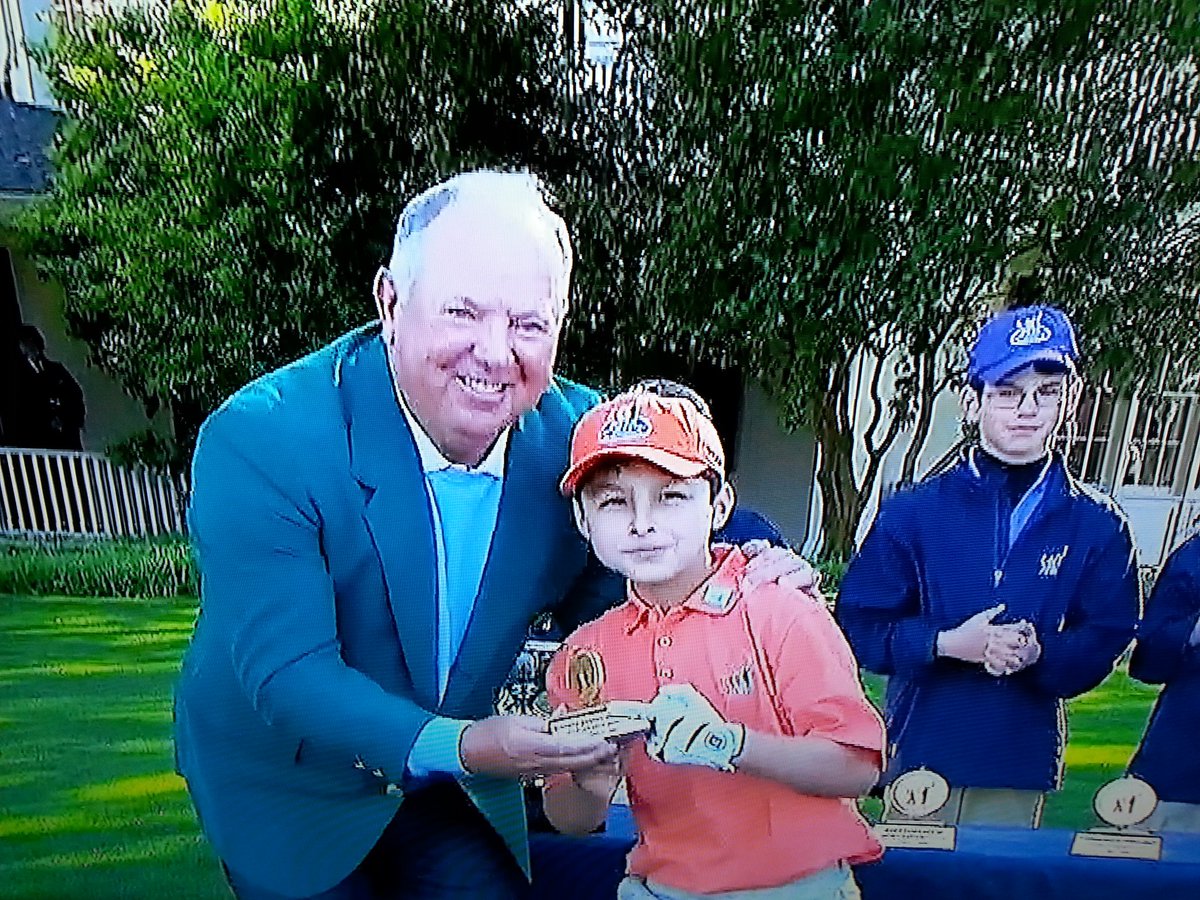 I did a double take. Young Mr. Hernandez is quite a stitch. Stay young and hungry little fella.