The New Tiger
Another week another trophy for Jason Day. That's why the statement above comparing Day to Tiger Woods isn't full blown hyperbole. Day won at Bay Hill last week. He played in a corporate event in Houston earlier this week and therefore never saw the Austin Country Club course before he teed it up in his first round match against Graeme McDowell on Wednesday. He then hurt his back in that match with GMac. It looked like he might concede his Thursday match with Thongchai Jaidee and then would take his chances with Paul Casey in trying to advance out of pool play. That didn't happen. Instead Day got treatment and showed up Thursday to whoop Jaidee while looking completely healthy. The rest of the week is now history.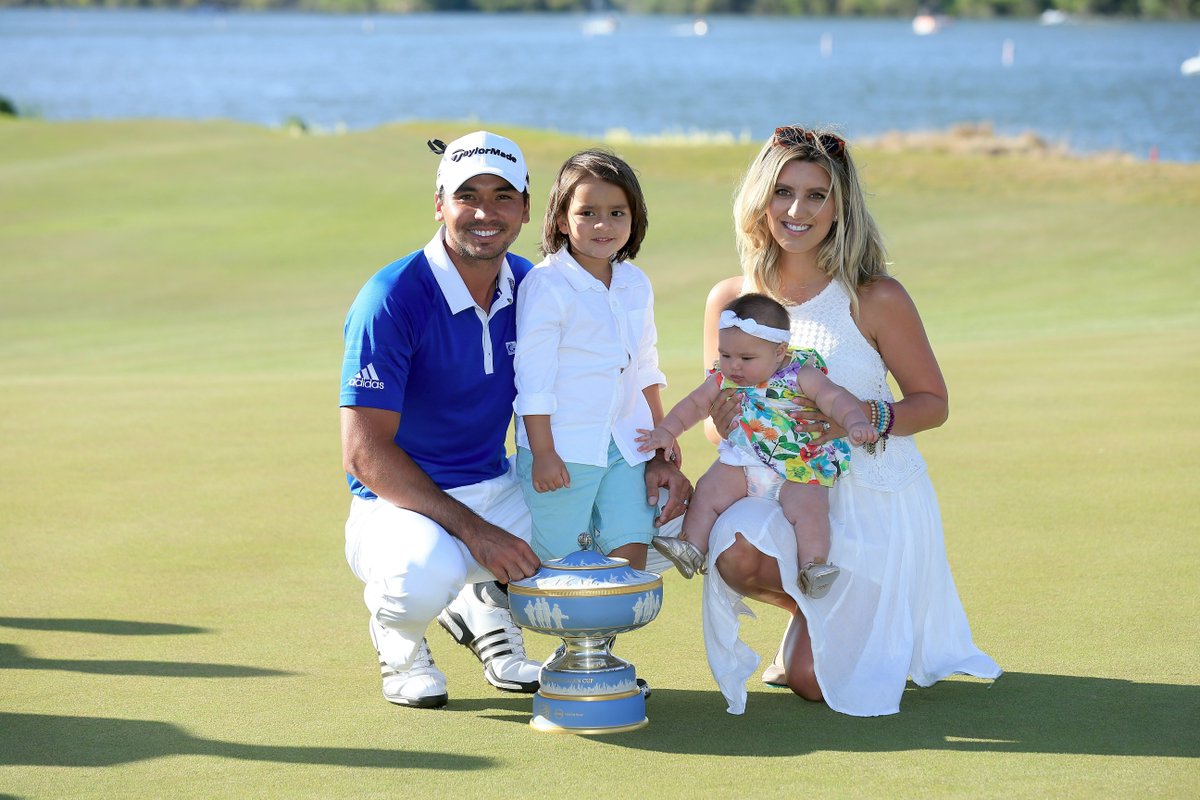 I thought playing Jaidee was a mistake, but I'm not a doctor and I don't know what was going on with Jason's back. He obviously knew what the issue was and how to handle it. His move at the ball is so powerful, violent and quick that I assume he could blow a disc in his spinal column with any one of the 20 swings he makes in a day that reach 120+ mph. As Golf Channel showed, Day was constantly stretching and doing pseudo yoga moves in between shots to work his back issues out, but he never looked worse for the wear like he did on Wednesday. In fact, this was his first swing out of the gate in his match with Jaidee after the injury.
Good god. That's just a snippet of what Day did to the Austin Country Club course and his opponents over the weekend. En route to his 2nd WGC Match Play title, Day beat GMac, Jaidee, Snedeker, Koepka, Rory and Oosthuizen. Look at those last 4 names again. That's a pretty decent list of scalps. He would have beaten Paul Casey too but PC conceded his match to Day after 6 holes as he'd been battling a stomach bug all week. Day made the ACC track look like a pitch and putt course with some of the aggressive lines he took off the tee on certain holes. The clip above is one example. The firm and fast conditions in Texas made 350+ yard drives a regular thing for Day.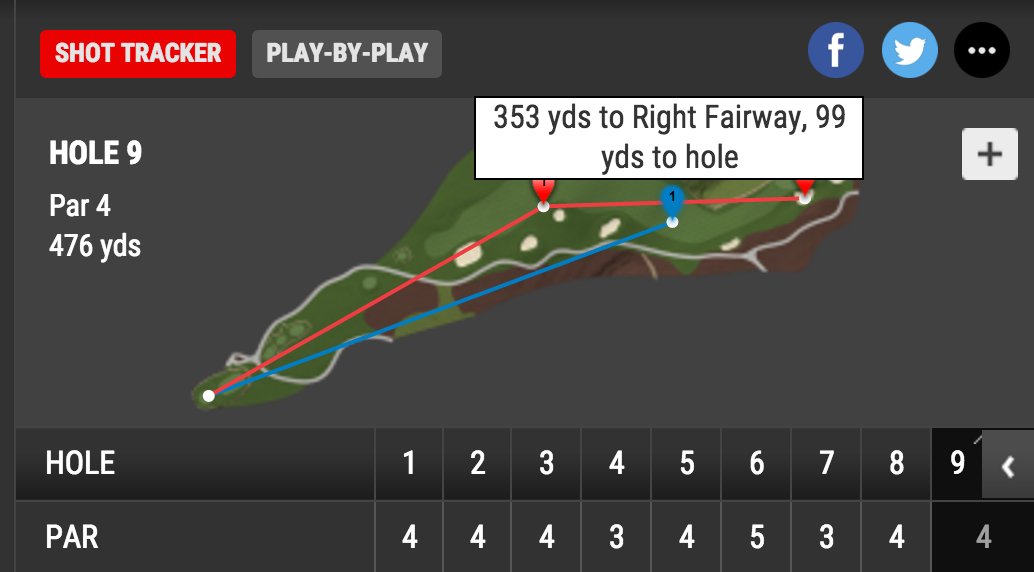 Louis did hit the tree to leave his ball 82 yards behind Day on the 9th hole on Sunday afternoon, but you get the idea. After surviving Koepka and Snededar on Satruday Day knew he'd be ranked number 1 in the world come Monday no matter what happened Sunday. But he'd have to run through Rory McIlroy on Sunday morning in the semis if he wanted another trophy. Their match was a delicious Easter treat for golf fans. Day took advantage of the few openings Rors left him and took a 1 up lead to the 18th hole (after giving McIlroy a generous par putt on 17). As well as the match had been played up to that point the twosome somewhat butchered the final hole until Day's clutch par putt from 12 feet found the center of the cup.
Day's super hero shots and majestic scrambling seemingly make him impossible to beat. Does that sound like anyone you've seen rise to number 1 in the world before? I said this last week after Bay Hill. I said it again in a mid week post. Day is becoming Tiger right before our eyes. He's the best of the best and only his health can slow him down. He's won 6 of the last 13 events he's teed it up in. Chew on that for a second.
The Field
Louis Oosthuizen hung with Day for as long as he could in the championship match, but he didn't have it on Sunday. He was only in the final match with Day because his morning opponent, Rafael Cabrera Bello, played like absolute shit. All credit to Louis for knocking Jordan Spieth out in Austin where the fans were all in for Jordan. He also took care of Dustin Johnson in the quarters with a tidy round. Rory's result at the Dell-WGC will say he finished 4th but the reality is the semi-final match with Day was the championship. He was completely uninterested in playing for 3rd place later with Cabrera Bello. I thought he played pretty well for the most part but he missed a ton of putts inside of ten feet that would have won holes versus Day. That's the chink in the armor as he heads to the Masters and I'm not convinced his new left-hand-low putting method is the proper fix.
Rafael Cabrera Ballo had a pretty decent week in Austin. By winning his pool and making it to the round of 16 he assured himself a top 50 world ranking. What does that mean? It means he locked in an invite to the Masters based on said world ranking. He wasn't done there, he played great on Saturday to get the the final four. As I stated above, he was pretty shitty against Louis on Sunday morning but he more than made up for that laid egg by beating Rory in the consolation match. Did we learn anything about Rafa this week? Yes. He's a hell of a player who looks destined to torment future U.S. Ryder Cup teams like his fellow Spaniards have. He also has a Swedish girlfriend named Sofia Lunstedt who works for the European Tour.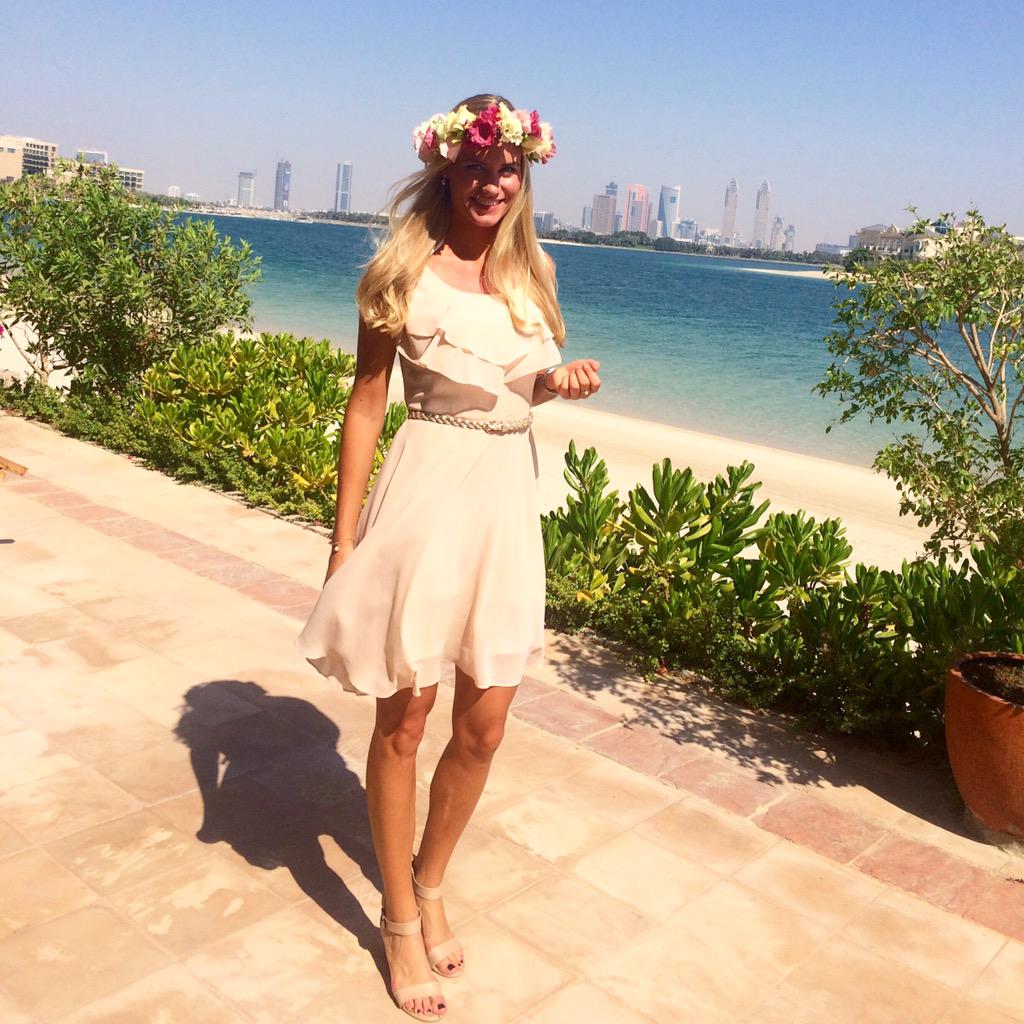 Not bad.
Ok, that one doesn't do much for me. No sweater monkeys either. Sunglasses and a boob job and you'd think she was one of Jesper Parnevik's nannies.
Jordan Spieth's game looked pretty damn good for most of the week until Saturday morning when he got to the course and couldn't find his swing. He lost to Louis Oosthuizen and said after the round he showed up to the course with a left to right ball flight he's not familiar with. He couldn't fix it, didn't adjust too well, and let Louis take advantage. Jordan did note that he would have been about 10 under for 72 holes for his week. That sounds good, but I think it would have been about 7 shots behind where Day was after the same number of holes. All was not lost for Jordan as he found time to join the party boats on the river along the course with his girlfriend and Rickie Fowler after Saturday's play was complete.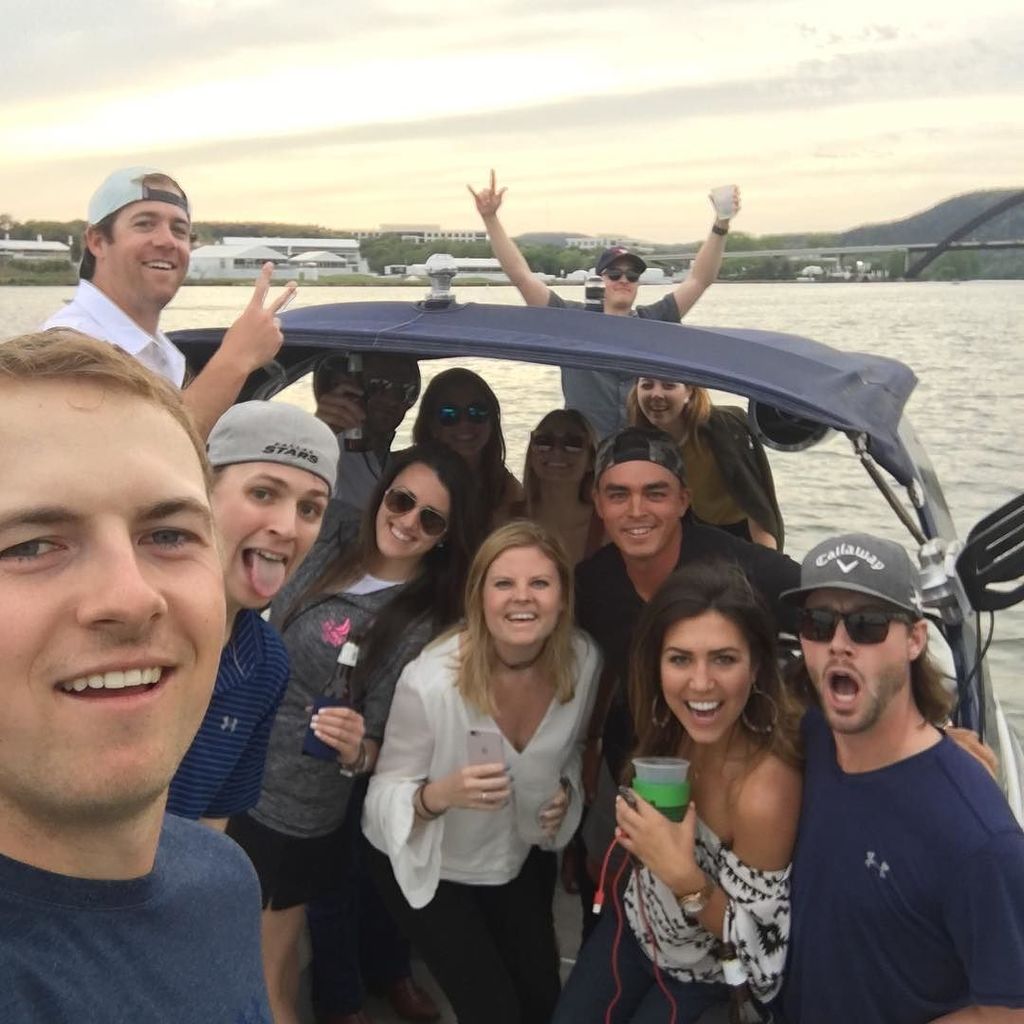 Patrick Reed looked unbeatable through 3 rounds of pool play. He and FIGJAM both beat Mathew Fitzpatrick and Daniel Berger to advance to a winner takes all Friday match. Patty boat raced Phil out of the gate and was 7 up at the turn. He holed out for eagle and that jokingly sent Phil walking for the clubhouse. Reed burying Phil like that wasn't even the most brash thing he did in Austin this week. He unveiled his trademarked silhouette from the 2014 Ryder Cup where he shushed the crowd. Reed's logo, complete with a profile that shows his chubby chin, appeared on his belt buckle and his tees just in time to faceoff with Bitch Tits.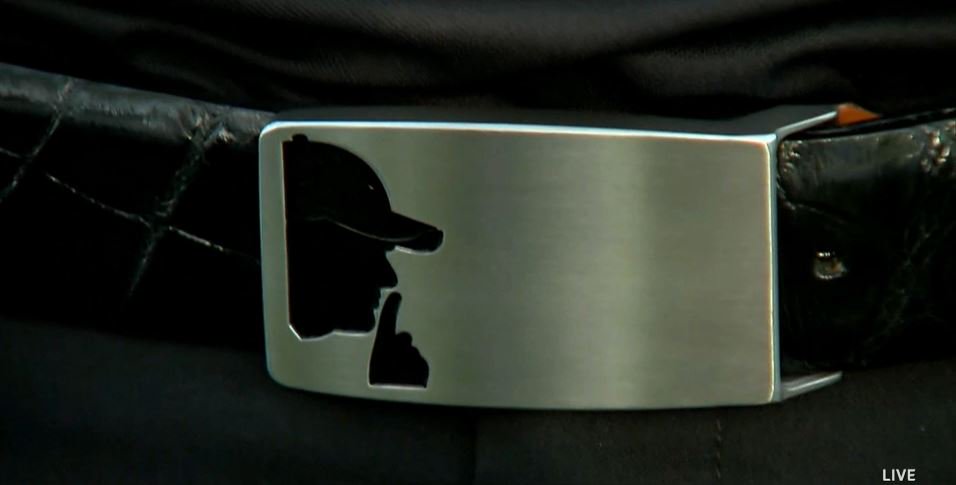 Surprisingly Reed lost to Dustin Johnson on Saturday morning. That seems to happen when you go nuts on someone like he did on Mickelson the day before. Maybe it was buckle karma.
Shot Of The DayWeek
You guys know I usually give you a shot of the day from Sunday/final round action. Sometimes I make exceptions when a shot is just too good to not share from an earlier round. This one is an exception but it is for a different reason. The reason in this case is that only 4 players were on the course on Sunday and while there were some great shots hit none of them were worthy of a SOTD award. Instead I went with Reed's hole out from the fairway on the 10th hole of his match with Phil Mickelson.
That's too good, Phil's reaction is too priceless, and it was also Reed's 2nd eagle of the first ten holes. Can you imagine what Reed's ego was saying in his head after that found the jar? Sounds like a caption contest.
Enhorabuena En Su Primera Victoria
As you likely know there are certain events like the British Open and the WGCs that the PGA Tour considers an official event but yet they also host an "opposite field" event somewhere else for the players that aren't in the big boy field. This week the Tour hosted the Puerto Rico Open as an opposite field event with the Dell Match Play going on in Austin. With 64 of the top players in the world in Texas the PRO is up for grabs. In the past the event has been a nice spring board for younger players to get experience and valuable dollars/Fed Ex points. Second year player Tony Finau has been knocking on the door of his first win for a while. He kicked the door down this week in Puerto Rico.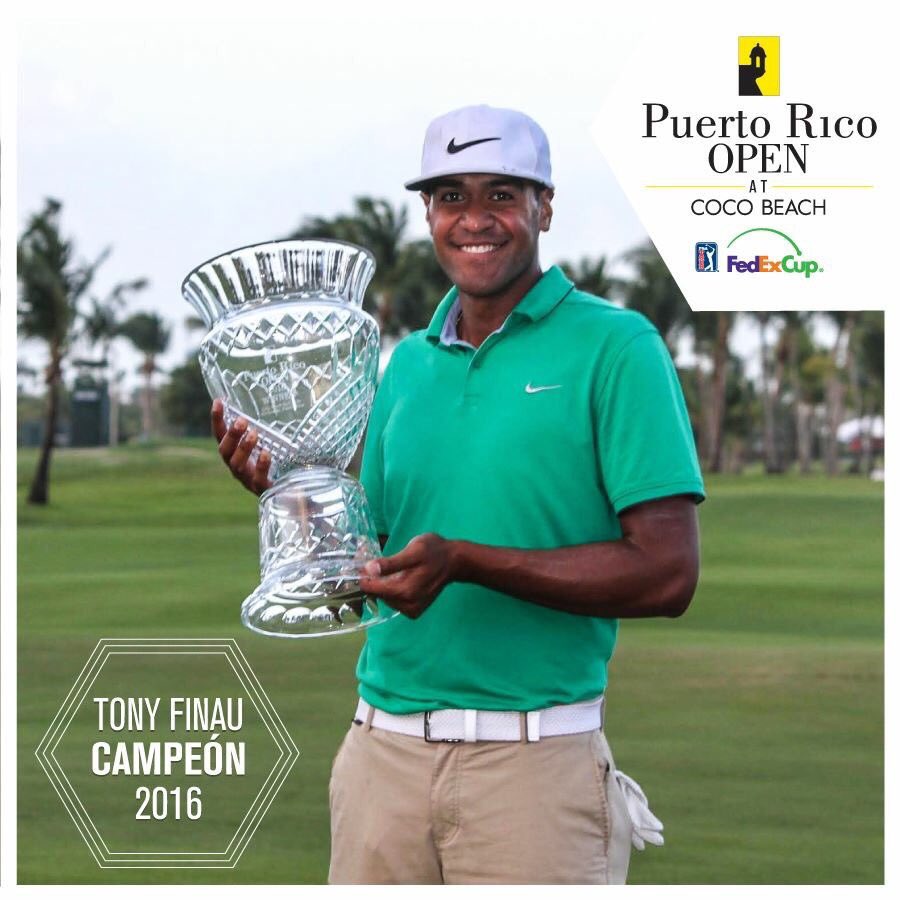 Finau came out of the gate on Sunday as the hottest player on the course and even had a five shot lead at one point. He came back to the field and ended up in a 2 man sudden death playoff with veteran Steve Marino. Marino was also looking for his first win. He's been close several times before. After the twosome both birdied the first two sudden death holes Marino 3 jacked from about 30 feet after having an eagle putt. Finau made a great up and down from the bunker over the 630 yard par 5 (he hit driver-8 iron to downwind) to make his 4 and defeat Marino.
If you follow a bunch of Tour pros on Twitter you know that Finau's victory was a popular one. They all love him. Seven years ago Tony and his brother were cast members on Golf Channel's Big Break reality show. It was clear how fierce of a competitor he was on the show but he was also very pleasant and easy to root for. I've hoped he'd break through with a win like this ever since. His win gets him into every event you can imagine for the next year with the Masters, U.S. Open, and British Open being the 3 exceptions. Bummer. But if he keeps playing like this getting into majors other than the PGA won't be an issue much longer.