Better Than A Fucking Goat
It's WGC Match Play week! And as much as I'm happy that I'll have golf to watch all week I'm less than thrilled at the reason that I get to watch it. I'm get a vasectomy on Friday. Bloody balls aside, Friday will be a big day in the WGC event. That's the final day of pool play and 3/4 of the field will be heading home. There will also be playoffs o'plenty as needed to decide pool winners. Buckle up. I'll do my best to keep up on the Twitter if you need running commentary to follow along. If you don't follow me then you missed my fearless predictions for each pool winner. Let me run them down for you. Donaldson, Wiesberger, Barnrat, Fitzpatrick, Fowler, Matsuyama, Kizzire, Moore, Casey, Lee, Kuchar, Willett, Pieters, Lingmerth, Na, Kaymer.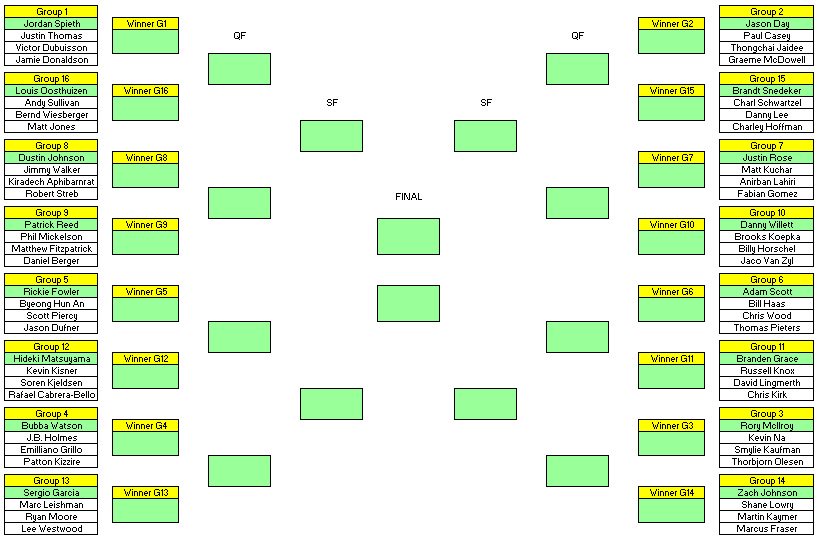 How do those look to you? They have to be better than this dumb ass goat's picks.
Seriously, if I lose to the fucking goat I might suspend myself for a week. I've got Casey winning it all so he's fucked. And that's why I'm not shocked at all why he lost on Day 1. Golf Channel mentioned that while Day 1 doesn't send anyone home directly anymore, only 3 of the 32 Day 1 losers from 2015 advanced out of their pool.
Jason Day Can't Stay Healthy
After Jason Day won at Bay Hill last week I had someone ask me what he's capable of. After watching what Day did at Arnie's house, the way he channeled Tiger, the texting with Tiger, how solid he is, how solid his support system is…..I opined that Day's ceiling was that of what we saw of Tiger in his prime. No, he's not going to win four majors in a row. He's not going to win a bunch of Tour events in a row. But another year with 5 wins and perhaps two majors……that's feasible. Believe it. My caveat to this person's question was Day's health. The vertigo, the allergies, the wrist, the back – something is always up with Jason. So what does Day go out and do in round 1 at the Match Play? First, he drives the green at the 370 yard par four 5th hole.
Then he whoops up on GMac to get the win. And finally he tweaks his back and his status for the rest of the week is in jeopardy. Fuck!!!! Jason, listen to your body. Don't put your chances at the Masters at risk. Plenty of the talking heads are saying the same and speculating that Day will forfeit his Thursday match to see how he feels on Friday. If he can't go Thursday then just go home. There's no reason to make an injury worse. Tiger probably already told him that in a text.
Other Matches
There were matches on the course besides GMac and JDay's. Phil is at the tournament for the first time in years. I see this as FIGJAM's way of showing how committed he is to the Ryder Cup team. He also needs the points to help him make the team. Bitch Tits faced off against another former U.S. Amateur champ in England's Matt Fitzpatrick. They won their Ams 23 years apart. Phil, wearing Austin's favorite burnt orange, beat up the tiny Brit 5 &4.
Phi almost looks skinny in that shade. Jason Dufner beat Rickie Fowler in what is technically an upset. It is according to Vegas and world rankings, but who's the player holding a major championship victory here?
Danny Lee and Charl Schwartzel faced off with Charl prevailing on the 18th hole. I'd forgotten about Lee's bizarre match play behavior. He gives his opponents almost no putts throughout the round. I don't recall how this went down at the Presidents Cup last fall, but I distinctly remember in the 2008 U.S. Am (won by Lee) that Danny often forgot to concede 6 inch putts to his opponent. I don't think he does it to be a dick. I think he does it accidentally because he's so caught up in his own game.
And speaking of the course….I knew nothing of Austin Country Club before this week. When it was announced that the WGC event would move from Harding Park to ACC last year I didn't understand the reason. I'm happy to say I was wrong. This place is fantastic for match play and great to look at on TV. There are short par 4s that can be driven. There's par 5s that can be eagled. There are holes through the trees and holes that look like a links course. And the super has the place running firm and fast. I like it.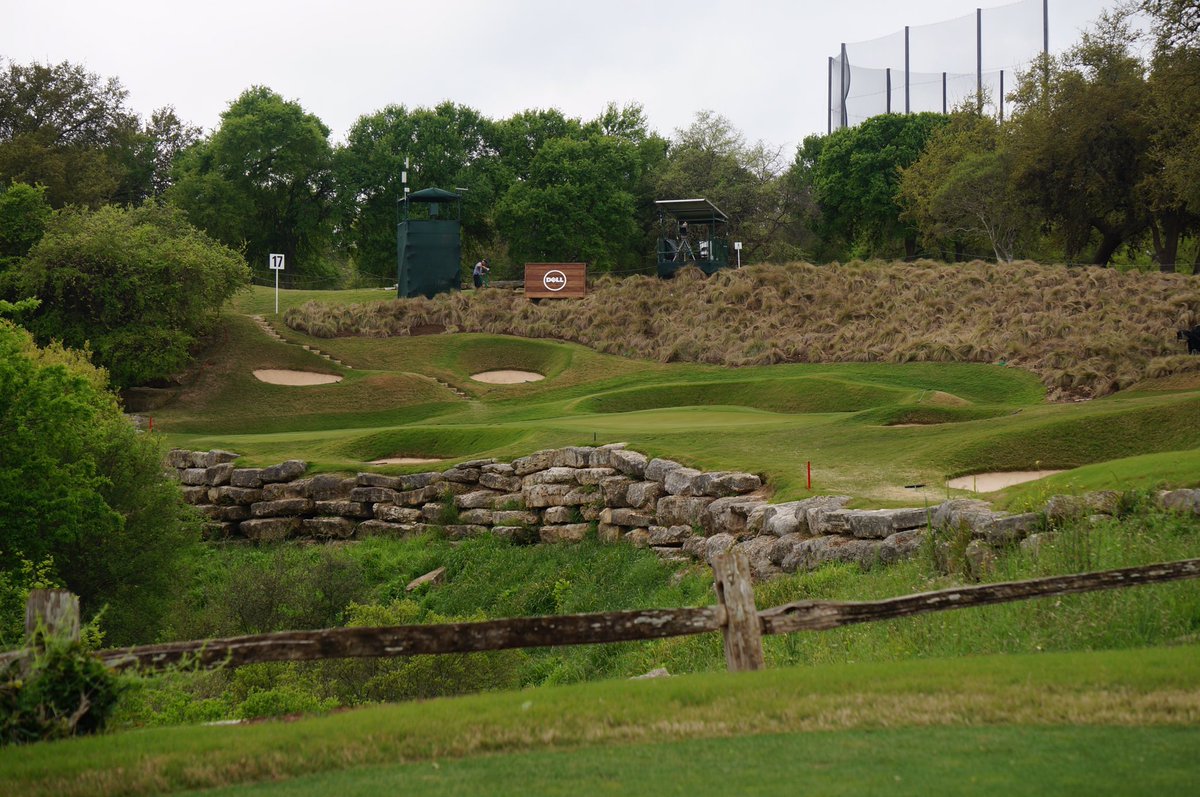 That's the par three 17th. It would look even better if there wasn't a driving range net fucking up the view. The Pete Dye track looks perfect for match play because of the mix of holes I described above. I hope that holds true throughout the weekend.
Oh Canada (Tour)!
In other viral golf news of the day (it actually happened on Tuesday), amateur Sam Johnston made a quintuple bogey on a par three and then on the very next hole made an albatross on a par 5. He did so while playing in the Canadian Tour's Qualifying School Tournament.
Holy shit! I wonder what happened on the par 3. Johnson is currently in 27th place through Wednesday's action. And this happened on the heals of Aussie Tim Hart's wild Sunday down under in which he made triple on the final hole, shot 61 with said triple, and still lost in a playoff.