Can I Make More Day Puns?
Of course I can, but I'll try to dial it back because every other golf column/post/tweet you'll read for 36 hours about Jason Day's victory at Bay Hill will be chock full of them. As for Day and his play, I was beginning to think that 2015 was too good to him and that he'd sit on his laurels in 2016. He's got a new (giant) baby girl at home. Perhaps such a distraction would keep him from ever finding his form from last year. I think we can put that to rest after his wire to wire victory at the Arnold Palmer Invitational.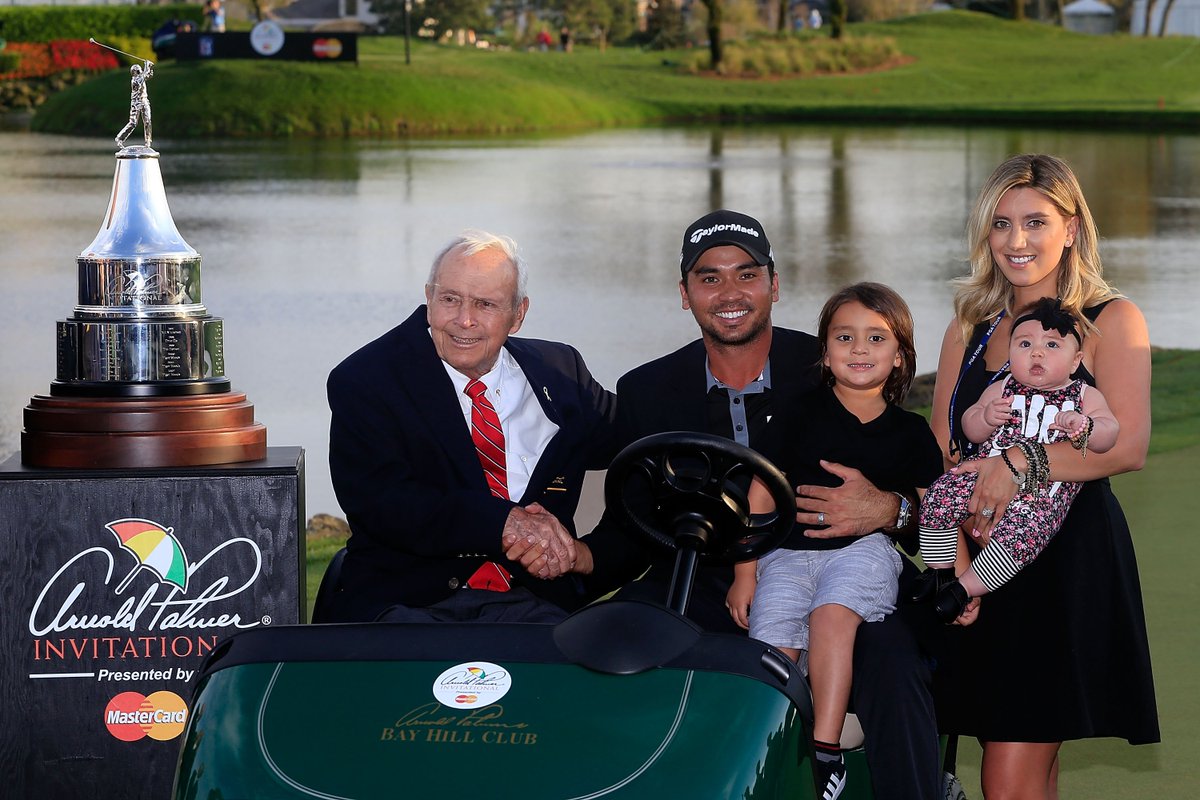 Day opened the AP Invite with rounds of 66 and 65 to take a healthy 36 hole lead into the weekend. On Saturday in the midst of some nasty weather Day posted a 2 under 70 to maintain his lead. That wasn't surprising as I think Day is one of the best foul weather players on the Tour. I'd imagine that when you spend your winters in Ohio the nasty stuff becomes a little easier to deal with. On Sunday Day had a few sloppy bogies on the front nine. His challengers were mounting their charges. I thought the rust from not contending might kick in and end his bid for an API title. Jason Day doesn't roll over that easily. Instead of letting the tourney slip away he bit down hard and found his grinding ways. He birdied the 9th hole, the 12th hole and the 17th and made no bogies in his final 12 holes. And that par save at 18….that's where the guy butters his bread (more on that later).
So JDay is out of Ohio hibernation just in time for the Masters. That's not an accident. I don't think he even had his A game over the weekend. He hit some flared approach shots that didn't look like vintage Day. He's texting with Tiger – don't think that doesn't give him a little bit of an edge. His clinching up and down 18 looked like it was right out of Tiger's greatest hits. My only bitch about Day is his pace. I get the visualization. That is what he does. It is a big part of his success. His 5 and 1/2 hour round on Saturday is inexcusable, even with bad weather. His 4 hour and 20 minute round in a twosome on Sunday in normal weather isn't much better. Perhaps the Tour fines him for this and he doesn't care. We'll never know.
Are you looking for a classic SFG WAG post here with some Ellie Day images? Sorry, you're not getting that today. There's plenty of her available, just Google her. I'm not going to give you current pics when she gave birth about 5 months ago. That's not fair to anyone.
The Field
As NBC told us the AP Invite was Kevin Chappell's 150th start on the PGA Tour. He still doesn't have a win. He seems to come damn close at some point every year. I'm not sure he'll ever come closer than he did today. He didn't lose the tournament. Far from it. His final round 69 was the best of the four guys that actually had a chance to win. His bogey at 18 ended up being the difference between 2nd place and a playoff with Day. His drive in the right rough was no different than Day's, but the lie was god awful. Day's lie was perfect in contrast. You need a little luck to win sometimes. Chappell didn't have it on 18 today. Tough break. NBC did give us a look at Mrs. Chappell. Perhaps she'll fill your Ellie Day void for the day. Her name is Elizabeth.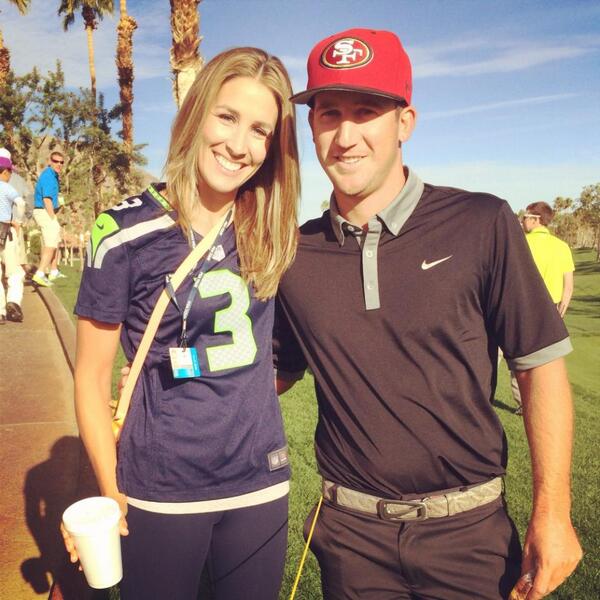 Henrik Stenson finished 2nd in 2015 at the AP Invite. This year he'll have to settle for a T3 showing. My god he hits it good. Three wood in the fairway, 275 to 310. Laser iron to the green. How does he not win more? Because his short game blows dick. He missed the green at the 14th hole into a shaved chipping area and had all kinds of green to work with. He ran the chip 15 feet by and made bogey. His chip at 16 after rinsing his 2nd shot was pretty similar. Does he have the touch of a rapist? How can a world class player like Henrik have such a flawed short game?
Troy Merritt was paired with Jason Day in the final round. Believe it or not he made two doubles in his first 9 holes and still had a chance to win the tourney. That's because he birdied the first 5 holes of the back nine to fight back in to a tie for the lead. Much of the internet wrote him off after this shank he hit.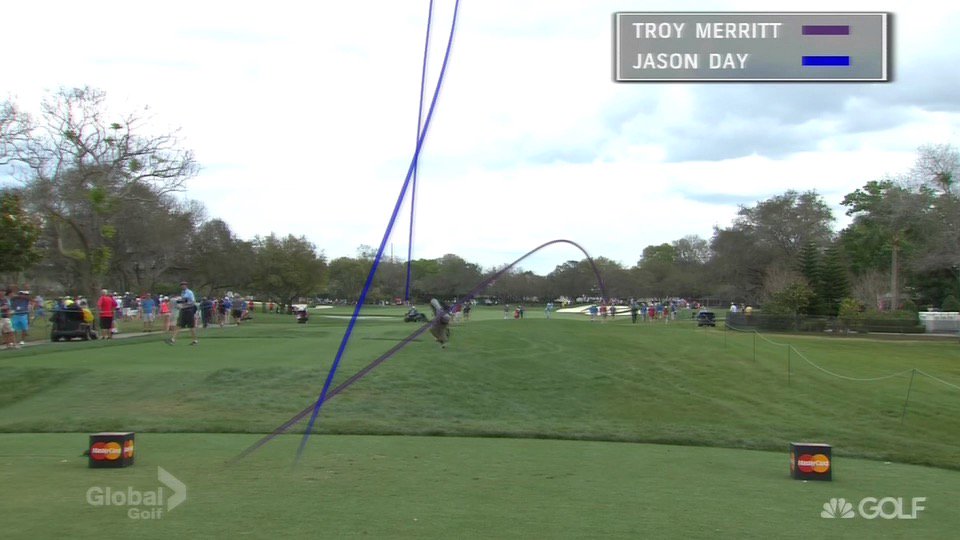 Merritt's birdie bonanza ended with an amazing holed bunker shot from greenside at the 14th hole. It looked like it was going to be his day. He also rolled in a fringe putt for par at the 17th, but still needed a birdie at 18 to catch Day. He went flag hunting on the 72nd hole and found the lake, which meant he found 3rd place with Stenson.
Aside from the leaders the early action on Sunday at Bay Hill was the Rory McIlroy/Bryson DeChambeau match. The powerful twosome went through the front nine in 61 combined shots. Yum. That had the Twitter buzzing. The buzz was mostly about Rory and the green jacket the internet gave him for his front nine 30. Both players finished their back nines in 35s. I would have liked to have seen more of their shots but both were pretty much done for the day by the time NBC came on the air. Rory's week can be summed up in one Tweet from ESPN's Jason Sobel.
That's so good, but so bad all in the same. Doubles don't just go away. They're like a virus. They have to run their course. Its possible this happens by the time the Masters starts but I doubt it. Think about where his game is right now – he shot 65 on Sunday and didn't beat the reigning U.S. Am champ over 72 holes.
For all the pre-tourney talk about Arnie's health NBC did show Mr. Palmer today sitting behind the 18th green. On camera I guess you could say he looked like you'd expect, but once you studied his reactions, color, and interactions more you could see this isn't the same Arnie we've seen for years at his place. I'm not sure he knew where he was for much of the day.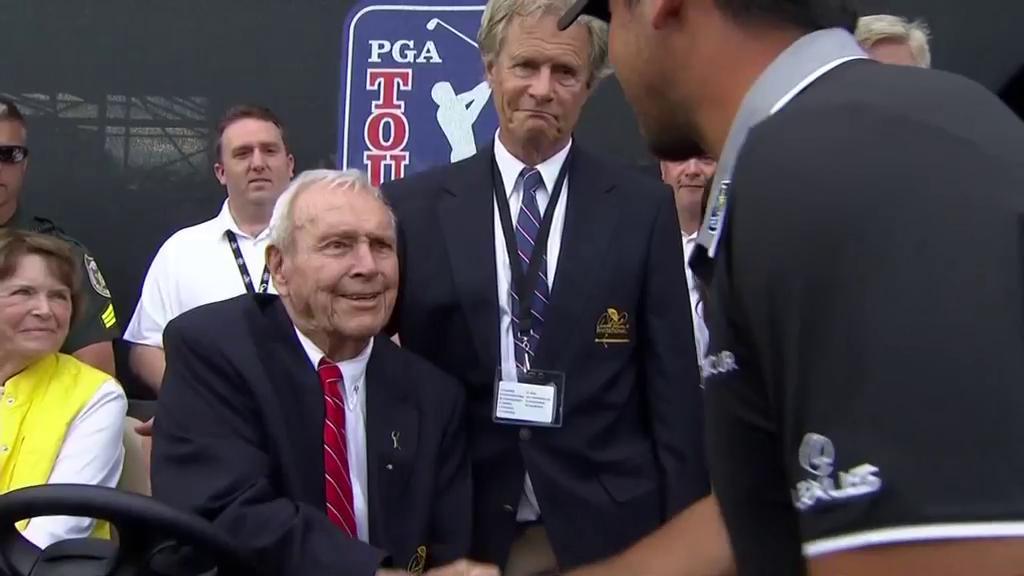 There are some other shots of him on social media in which he has a blank stare on his face while posing. They had to bring a cart on to the 18th green for the trophy and blazer presentation. My guess is he may have had a mini stroke or something like that in the last few months. The shoulder injury as reported last week sounds more like a cover up.
Shot Of The Jason Day
Merritt's bunker birdie on 14 was pretty good, but under the circumstances I'm going to give the SOTD to Jason Day. His up and down at 18 was saucy. Down hill lie. Water long. Lots of ground to cover. Big swing where anything could go wrong. All he did was hit it nearly stone dead.
Onions! That was a big boy shot and very worthy of my weekly award. Day says pressure like that makes you want to run away and hide. Yeah, I could see that if you're not comfortable in it. Day clearly doesn't have those issues anymore. He thrives in the clutch. He's now one of the games best closers.
What's Next? 
The WGC Dell Match Play event is next, live from Austin, Texas. That means we get the 64 best available players in the world and Wednesday golf! Fuck yeah! The Match Play has a new format this year with some variation of pool play. Golf Channel has a selection show on Monday night to complete the pools. Players ranked 1-16 in the world will be the top seeds in their pools. Then players from other segments of the official rankings will be filled in at random, but evenly weighted from each segment of players. Make any sense? You'll figure it out. Golf. On. Wednesday. That's the key here. Be ready.