One For One Million
Ernie Els and his wife have an autistic son. When the Big Easy's boy was diagnosed with autism he formed a charity that works tirelessly to raise money for research. A big part of the charity's fund raising comes from a golf tournament that occurs on a Monday each year in the middle of the PGA Tour's Florida Swing. The Florida Swing is full of Monday events like the Member-Pro at Seminole and the old Tavistock event at Lake Nona and Isleworth. As great as those days are for the pros that participate, the Els For Autism event might be the one most near and dear to them. Dozens of them show up to play for Ernie and his son. This year Rickie Fowler made it even more special by making an ace that gave $1 million dollars to the Els' charity.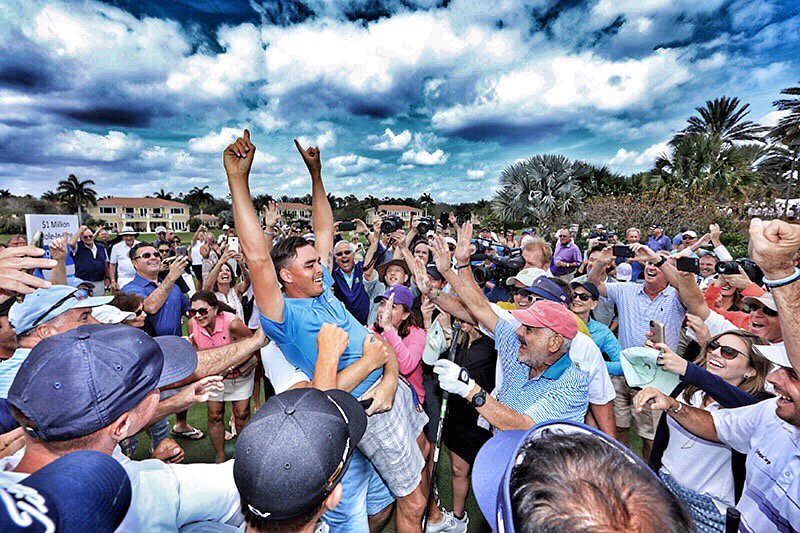 On his 19th hole of the day, with his sticks and shoes already put away, Rickie Fowler returned to the golf course with Luke Donald's wedge and one hopped a glorious shot into the jug for the big pay day. Does Rickie get to use that as a deduction when he does his 2016 taxes? No one was more excited about the shot than Els of couse. He's picking Fowler up in that pic. Here's the video.
That is tits. And look at Rory in there getting pumped up about the ace. The ace, its story, and the video went viral within about an hour of it occurring just after dinner on Monday. Congrats to Fowler, Els, and everyone involved in Ernie's Charity. I hope that cash goes a long way for the cause.
As for the odds of the ace, most hacks have about a 1 in 12,000 chance at making an ace on a normal par 3. A scratch golfer's odds on the same hole would be 1 in 5000. A professional that plays on Tour has roughly a 1 in 2500 chance at an ace. I'd guess that on a 111 yard hole like the one Rickie aced those odds are cut by almost half. Call it 1 in 1300. It is still a great shot, but I hope the actuary that priced the Hole-In-One Insurance for the Els outing knew what he/she was doing.
Feherty Back In A Big Way
David Feherty's talk show came back on the Golf Channel this week with much fanfare. Sure David has been back on the air with NBC a few times in 2016. His talk show wasn't tweaked too much while on hiatus, but it did go nuts in getting the first guest for the season. Jordan Spieth took the time to sit down with Feherty for a two part/two hour interview discussing his epic 2015, his family, and almost everything else on David's mind. Part 1 aired on Monday and it was fantastic. Spieth was very open and honest about his life on Tour, how things have changed so fast for him, and how he is and will deal with the success he's had.
The best nugget from Monday was Spieth talking about playing practice rounds at Augusta with Tiger and Ben Crenshaw. He told a very specific story about practice putts Tiger hit on the 16th hole and how seeing Tiger do it made Jordan take a few notes and rolls himself in the back left corner of the green. Sure enough, he found his ball back in that part of the green with a tricky par putt on Sunday afternoon in 2015. While Spieth was leading at the time, he knew that if he made the putt for par on the 70th hole of the Masters he'd be home free on his way to his first green jacket. Jordan drew on his knowledge from the practice round with Woods to make his read and drain the crucial stroke. Golf.com reported the story on their site today and cited that Spieth mentioned it in his pre-tourney interview at Valspar today. I call bull shit there. Why not just cite the Feherty interview? Part 2 airs next Monday at 9 pm Eastern.
Hail The King While You Can
Arnold Palmer's grandson, Tour player Sam Saunders, told ESPN that his grand father won't be lurking about the grounds of the Arnold Palmer Invitational at Bay Hill as much as normal next week when the Tour hits Orlando. For whatever reason Palmer isn't well and his health is ailing. There's no report as to why but some of the interwebs are hinting the end is near. Let's hope these rumors are just that.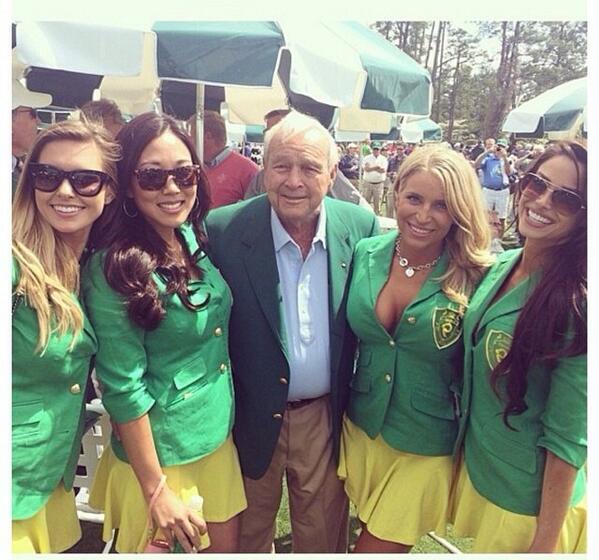 Palmer is 86 and he won't live forever, obviously. Hopefully what ever is the trouble is cured soon and we see him hitting his ceremonial first tee shot at the Masters in 4 short weeks. When he does go the golf grieving is going to be epic. The Golf Channel (founded by Palmer) will air tributes to him during every waking hour in which live golf isn't on the air. It will probably be nauseating but it will be well deserved. Get well soon, King.