Good Things Happen When You Drop Dead Weight
Am I talking about Adam Scott ditching the long putter or former caddie Steve Williams? Both. Two weeks in Florida for the PGA Tour and two big boy wins for former world number one, Adam Scott. I'm guessing most golf fans expected Rory to be the former #1 rising back up the rankings after a big win on Sunday. That's what Golf Channel was talking about. Rory this, Rory that. Dustin Johnson was mentioned too, but the 9 over par total posted by the final twosome wasn't even close to being good enough to get it done. Instead Adam Scott fought through two mind numbing front nine double bogies to shoot 32 on the back nine for his first WGC win. I had a feeling when the wind came up he'd be the guy to beat at Doral. Look what he did at the somewhat windy Honda a week ago. The way Scott hits it and swings the club, who else would you take under those conditions?
One thing going against Adam was his short game. After driving it over the green at the short par four 16th, Scott faced what looked like a relatively easy bunker shot that if he got up and down for birdie would give him a two shot lead. If you played the clip above or were watching the telecast you know what happened. He fucking shanked it. Don't kid yourself, even though it landed on the green that was a mini hosel rocket. I suppose you can say even his skanks shanks look good. To his credit he did bear down on the next chip and got it up and in for par, but his nervy finish was just getting started. On 17 he found a fairway bunker yet made a stress free par. On 18 his tee shot squirted slightly right and he found himself having to decide if he'd play safe or play hero. He went for hero.
Winner's luck indeed. He couldn't not have hit a more stupid shot. That easily could have cost him the championship if not for the ball staying up on the bank. His caddie should have slapped him for even trying it. Shit. Maybe the caddie should be fired for suggesting it. With the ball in the rough there's no way he could predict it to be able to cut back and find dry land. NEVER AIM AT A HAZARD! If he'd have tried to go right and hook it I'd probably not have shit myself when I saw him lineup where he did. Hit it where Phil did in the grand stands, make a 5 at worst and you're in a playoff. Play safe and try to get up and in from 100 yards is what half the field or more would have done (hi Zach Johnson!). Trying to hit the cut shot brought 6 in to play and was the only way he could have lost in regulation. He flat out got lucky, but that pitch to get up and down for 4 was good enough to make up for his approach-shot-brain-fart (more on the pitch later).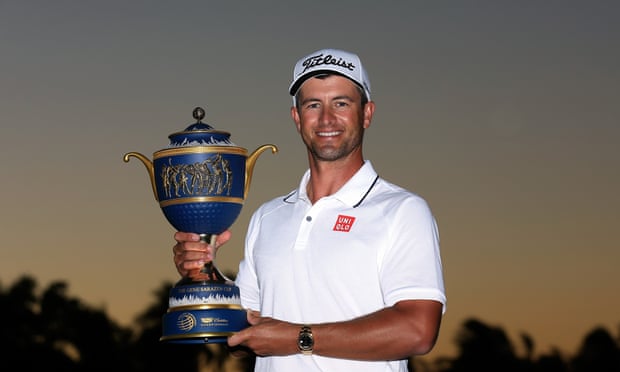 I'm elated for Scott, mostly because I picked him to win this week, but more so because its another slap in the face at the long putter ban. We talked about this last week when Scott won the Honda so I won't rehash it, but the dude has figured out life without anchoring way ahead of other guys who've converted from belly and broomstick putters.
His winning putt today was all onions. In his post round comments he again touched on the balance he has with his young family. He's playing great. He's in a good place mentally. He's putting well. And he'll be a one of the 3 biggest favorites to win when he arrives in Augusta in less than a month. Did you read that? LESS THAN A MONTH TO THE MASTERS!!!!!!!!!!!!
The Field
Bubba Watson has placed 2nd at Doral 3 times in the last 5 events played there. I don't think he minds the $1,000,ooo runner up check. But I think he'll be even more excited when someone brings the following to his attention. Can this be happening again?
Will someone step up to save us from Watson being a 3 time Masters Champion? Rory? Rose? Rickie? Scott? I'll have a hard time picking someone other than Watson. He's hitting it great and having finished 1 and 2 in his last two events tells you all you need to know about the state of his game.
Danny Willett was in contention through the weekend  and had a chance to tie Scott on the final hole until he rinsed his tee shot in the drink. If you don't know who Willett is you need to start paying attention. I've talked about him here…….ok, I've talked about his wife plenty. He would have won the Euro Tour's Race to Dubai in 2015 had Rory not jumped the pond late in the season and stole it from him. Don't go picking Danny to be your dark horse at the Masters. Word on the Twitter is that he's going to sit out this year's first major because he and the Mrs. are expected their first child.
That's understandable and probably the right decision for him. The good news for us is that an April birth should mean that Mrs. Willett will be fully recovered in time to flaunt it with the rest of the Ryder Cup WAGs in September. Willett should be a near lock to make the Euro team.
Another week, another good showing from FIGJAM. He was 5th alone. He shot par or better in all four rounds. He's not going away in 2016. This might be the most consistent stretch of golf he's played with top 10s, top 20s, etc. or better over the last month or longer. He has 3 top 5s in 6 starts! Who is this guy? At times he appears he's got everything going. Hitting it long, hitting fairways, irons look good, putting is alright, and his short game never leaves him….then he kinda pukes when he's in contention. That's not the Phil we know and love. That's the Phil that's still not quite confident in some of the changes he's made. I think he still has another gear we might see at the Masters or at Oakmont. If Bitch Tits were a stock I'd be buying now and holding through the PGA. He wants another major. He wants to make the Ryder Cup team. He's all in.
As I said early, Rory was everyone's pick to close out the WGC-Cadillac with ease on Sunday. It wasn't his day. He'll have some regrouping to do after his final round 74. I think he was a little off and Doral can be a tricky place to try to find/fix your swing when the fans are on and blowing. Sunday was also the first time he was in contention putting left hand low. He made almost nothing. He'll also need to have his own Crying Game moment after he hears the slurping Johnny Miller did over his physique. Did you hear that after they showed his swing in slo-motion on the 8th hole? "Bulging back muscles, triceps, wrist lag, buffed out, his thighs, really buff"……those were the words Miller used while watching Rory in full flow. Creepy.
Rory played shitty and still beat Steven Bowditch by 10 today. Bowditch didn't break 80 all week at Doral. I probably would have had to give him 3 or 4 shots a day this week. Some media folks on Twitter said this is the first time a player has shot 80 or worse for four rounds in a Tour event. That's hard to do because most of the time you get cut after two 80s. Jason Gore once shot three 80 somethings and a 79 at the Tournament of Champions. Some other guy I've never heard of shot 4 rounds in the 80s in Vegas and the cut was made after his 4th round in a 5 round event circa 1983. This was info from the Tour. I'll take their word for it. Bowditch's shit show is rarefied air.
Dustin Johnson, playing in the final group, wasn't much better with his 79. His 2016 struggles appear to be around to stay. Jimmy Walker had a Shot of the Day nominee at 17 that was part of his 66. He back-doored a top 10 finish out of that.
Law Breaker
Of all the dumpster fires Doral gave us this week, this one's my favorite. JB Holmes teed off early on Sunday ready to collect his check and go home. He played like shit all week. And he shot an 80 of his own in the final round that included 3 doubles, 3 birdies, and a triple. The fun started out of the gate at the 1st hole when Johnny Wad found the hazard way left of the first fairway. He then went to the far side of that hazard to take his drop, which is legal. He could have taken two club lengths on that side, dropped, and played with no problem. Instead he went to the far side of the H2O and then moved back in line with the pin the get more room to clear some trees. Holmes dropped there, played toward the green, and was told he just fucked up by a rules official.
As you can see from his Shot Tracker, Holmes made a complete mess of the 1st. He was penalized with a "serious breach" and dropped where he should have the 1st time and played the hole out from there. Back to the fairway in 5. Just off the green in 6. And 1 putt from the fringe for a routine 7. Nicely done, JB. How do these guys not know the rules?
Shot Of The Day
I could easily give the Shot of the Day to Jimmy Walker for that deuce he made on 17. That's a skin. But instead, after denying Adam Scott as the Shot of the Day last week when he won, I'll give him the double dip for his heroics at Doral. As dumb as his 2nd shot was to even attempt at the 72nd hole, his recovery from inside the hazard line was brilliant.
Remember, that shot came on the heels of a short game shank at the 16th. He had to be thinking of the shank when he got over the ball on 18. Great stuff from a guy known more as a ball striker than a short game wizard.