We All Had Scott Piercy And Marcus Fraser Winning After Round 1
Rory McIlroy, Jason Day, and Jordan Spieth are paired together for the first 2 rounds of the WGC Championshp at Doral this week. That sounds like a bag of firecrackers to me. A bag that sank to the bottom of a lake, that is. When these big pairings are set up at made for TV events like Doral we rarely get the show we had hoped for. Thursday at Doral was no different. The course is hard. None of the top 3 players in the world played bad, they just didn't all break 66 like we'd want to see as fans. In fact, no one in the field bettered 66. Fraser and Piercy, whom I'm sure everyone had in the fantasy lineups, lead after 18 holes at -6.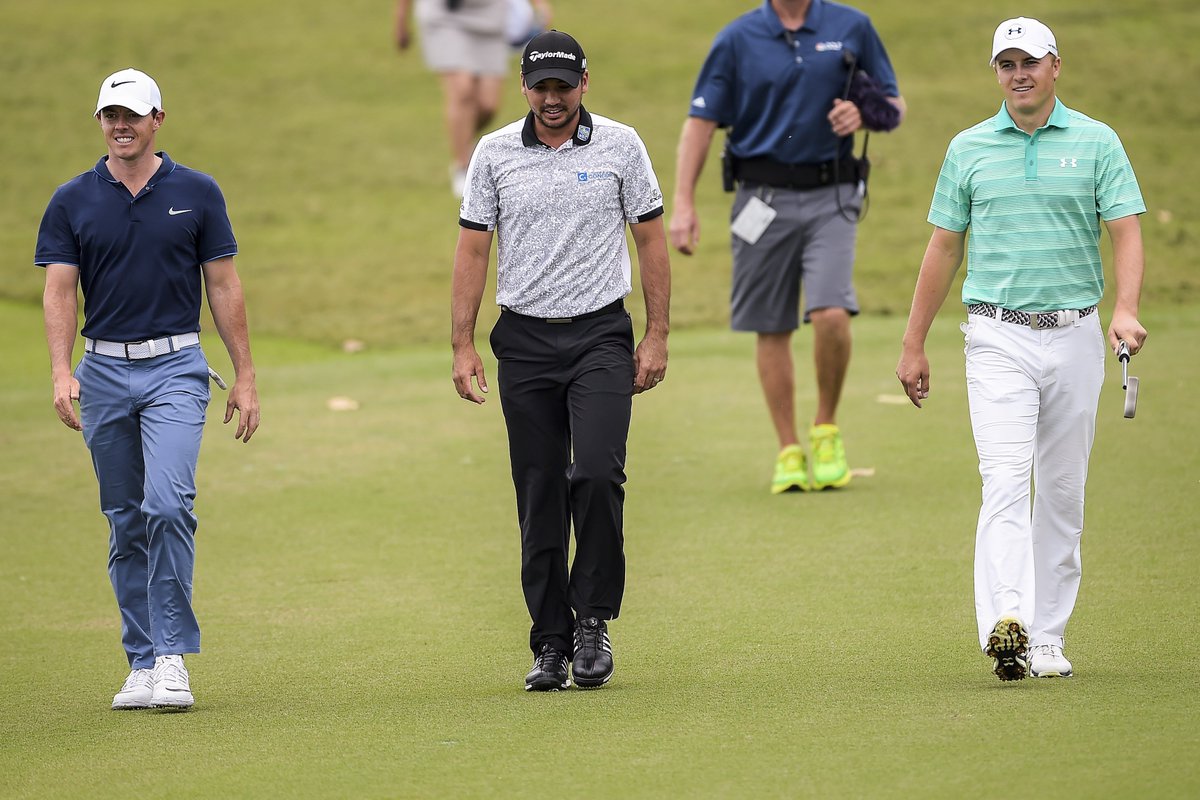 I didn't watch the full telecast, remember – I'm a working stiff, but from what I have seen and the highlights provided by the Golf Channel, it looked like there were more balls being belted out of hazards than putts dropping for birdies. Marc Leishman, for example:
Leish wasn't the only one. Justin Thomas made a big number playing from the hazard as well. I'll expect a bit more than a combined -4 from the Day/McIlroy/Spieth group on Friday. If not we still have Jason Dufner, Phil Mickelson, and Adam Scott in the hunt at 4 and 5 under. Dufner made 190 feet of putts on his way to his 68 on Thursday. 190 feet in one fucking round? No wonder he's feeling his oats on Twitter tonight while watching the GOP debate. Maybe Rory should take a putting lesson from Duf. That doesn't seem logical but Rors is grasping at anything right now to fix his flat stick woes. He switched to cross handed putting before the Doral event began. His putting stats for the season aren't good, and they've declined in the last 12 months, but his stats from today seem to indicate left-hand-low isn't the answer for his troubles.
Kooch, Where's Your Fanny Pack? 
Matt Kuchar is in the field at Doral this week. He shot 70 and is T11 after 18 holes. On Tuesday he attended the Miami Heat game and was asked to hit a trick pitch shot from half court. Even for a guy who's a top 20 player in the world like Matty is, swishing a golf ball from 50 feet in front of 20,000 people on your first try seems a little far fetched.
Of course he pulled it off anyway. This is on the heels of Stewart Cink making a 94 foot putt at a basketball game in Atlanta a few weeks ago. Is this a Georgia Tech thing? Both guys are Ramblin' Wreck alums. Maybe they practiced such shots in the hallowed halls of the Georgia Institute of Technology.
Tiger Jacking Around
Another week, another Tiger story. This one is a little more clear than all the drama that surrounded his health last week. TW was in Houston to cut the ribbon on the short course at his Blue Jack National design. He sat down to answer some questions. The short of the story is this: he's better than he was 6 months ago, he's only hitting 9 irons for full shots, he chips and putts with his kids, and he has no time table for a return. He made sure to emphasize that he's going to listen to doctors this time and let his body heal completely before trying to come back. He thinks he's lost years of playing because he came back too quickly before. That's all great to hear, but it doesn't give fans much hope of seeing him play in a major in 2016.
Once Tiger got the ribbon cutting out of the way he teed it up with some kids that had special invites to come and play the pitch and putt course with TW on the site of his only course design in the U.S. Here was the first shot hit:
Holy shit. Nice shot kid. Yes that went viral in about 6 minutes. Tiger's reaction was great too. We're seeing a different side of Tiger, its Tiger the dad. Weird.
My Bad
On Sunday when NBC came on the air at the Honda the Peacock aired shots at the par three 15th hole hit by Smylie Kaufman and Shane Lowry. I missed this as it was very early in the broadcast and I wasn't yet watching. I heard about it after my wrap up of the Honda was posted. Reader Greg asked why I didn't talk about it. I'm glad he brought it up. I meant to, but I forgot. My bad. Thanks Grego. Here's the clip.
First Kaufman. I love it when guys break shit. I've done it plenty. It's so raw. These cats are such robots to us because they don't show emotion that often. When they do they let us in we see that they're human. While I'm not advocating bad behavior, I am advocating being real when you're pissed, nervous, etc. Then Lowry, he's Irish and saying "fuck" probably isn't any different than you saying "shoot" when you fuck up your TPS report at work. NBC puts the mics real close to these guys on the tee and the green. They know they're going to hear some outbursts. If they don't want you to hear it they might want to try a 7 second delay on their broadcasts. I don't think that's the case. I don't think they care either. Golfers swear. So fucking what?