I'm Not Kidding About The Gray Hair
Adam Scott won the 2016 Honda Classic for his first PGA Tour win since the 2014 Colonial. When his final 25 inch putt fell for victory he breathed a heavy sigh of relief, removed his cap to greet his caddie and playing partners, and in doing so exposed to the world that the former Greek god and king of getting boy-band-ass now had speckled portions of gray on his head. God that made me (a year older than Scotty) feel better about myself. Everything else Scott did on his way to victory over the weekend was nearly flawless (if you can ignore what happened Saturday on the 15th hole).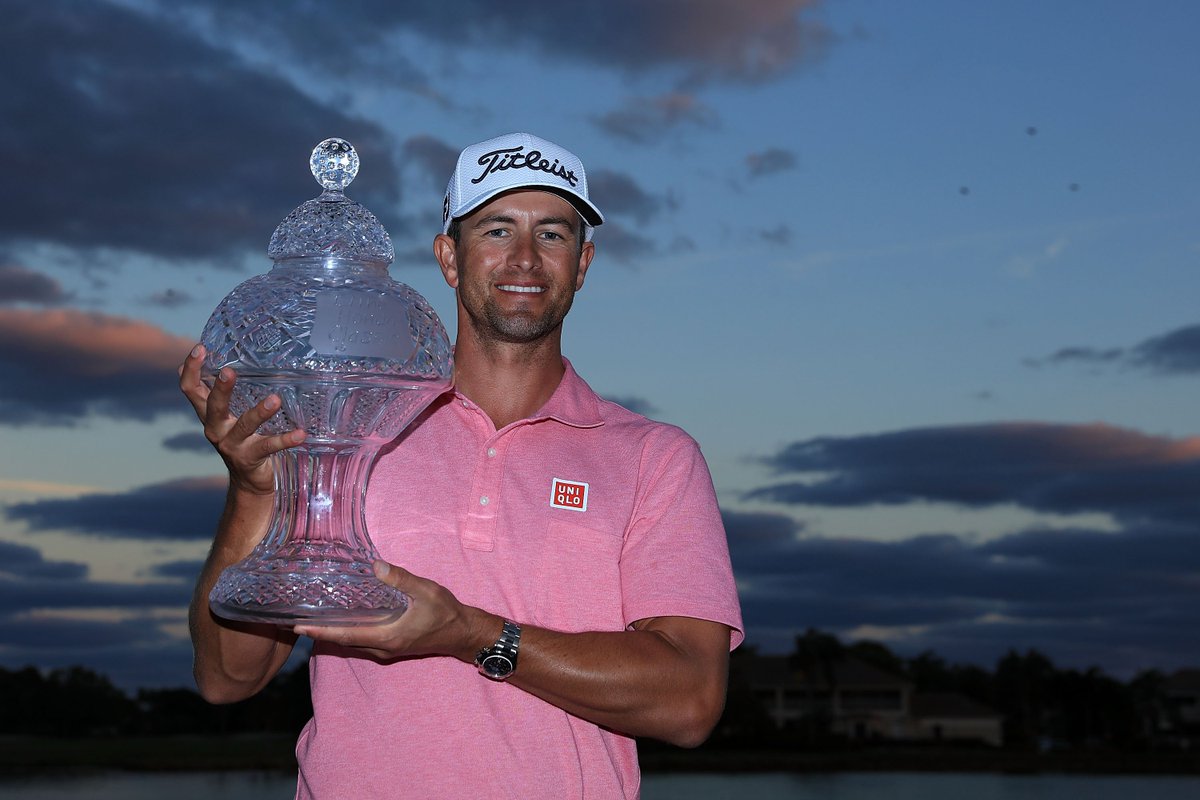 We all watched last week at Riviera when Adam Scott found his game while in contention at the Northern Trust Open. The ball striking. That chip-in. He looked like the Adam Scott we saw for much of 2013 and early 2014. Where had he been? Apparently he'd been busy starting a family with his bride. Shit tends to happen to your golf game when you hit that family stage of life. But as Adam noted in post tournament interviews, he's now found balance in having a family and his profession. His game obviously shows that this so called balance isn't just bullshit for the press corps to hear.
Scott's middle rounds of 65 and 66 this week in South Florida are where he did his damage to vault to the top of the leaderboard. He actually got to -12 at one point in his round Saturday until this dreadful tee shot at the par three 15th hole.
What the clip doesn't show is his shot from the drop area that also went in the drink. Easy seven. A footnote that Twitter and NBC dropped on us is that Scott is only the 3rd player to win a tournament while making a quadruple bogey (stats kept since 1983). The last player to do so was Phil Mickelson who made one at East Lake in the 2009 Tour Championship. The quad phased Scott, he was clearly dazed for the rest of the round, but he got it in the barn and regrouped to find himself a co-leader after 54 holes. His T1 status on Saturday night probably helped him stay confident. I'm sure he was pissed during dinner but found solace when he realized the tournament was still his to lose. He shot 66 with a quad!
Scott was -2 for the day on Sunday through 8 holes. He appeared to be in a two man race for the title with Sergio Garcia. His bogies at 9 and 10 tightened things up again. At 12 his tee shot found the fairway bunker and with Sergio in position A in the fairway it looked like the two could be all square with 6 to play. Then Scott hit this brilliant shot to make the margin 2 again.
That would be all he needed from there on in, so long as he didn't fuck up at the Bear Trap like he did Saturday. No problem. Solid ball striking and clutch putting down the home stretch made Sergio's final hole birdie matter very little. Scott's Honda win falls into the same category as several of his other 11 Tour wins. Almost all of them have been on tough courses where ball strikers benefit over grinders who can putt. Scott isn't going to win many putting contests. Ball striking is his M.O. After all, only a guy with a pure swing like his can play forged blades that are 10 years older than any other wrenches in the bag of a tour pro.
I'm not saying he can't putt. He simply tends to win on courses and in weather in which putting isn't an equalizer for the rest of the field. He actually putted damn well this week. Did you see the comparison NBC did with his old anchored stroke next to his new one with a similar lower hand grip? That was brilliant and well illustrated by the peacock. It showed why what he's doing now is working so well. I never doubted that the anchoring ban would have less of an impact on him because he won before he ever anchored (hi Webb and Keegan!). I guess it just took him some time to figure it out.
The rest of 2016 is wide open for Adam now. He'll be one of the favorites at Augusta. He could win again as soon as next week at Doral. The Honda is a good reminder that Rory (missed cut), Rickie, Jordan (didn't play), and others aren't the only stars that matter. The win is also Scott's 12th of his career as I noted earlier. That makes him the player on Tour under 40 with the most wins. 12 doesn't sound like much, but it shows how much Tiger dominated Adam, Sergio, and their peers in their age group while Woods was in his prime.
The Field
Sergio Garcia missed the cut at Riviera last week – a course he normally plays very well. He hasn't won a Tour event in 3 and a half years. I'm not sure he knows how to win anymore, but he certainly plays tough courses well and he was doing more of the same at the Honda. He admitted he didn't have his A game and I'd have to agree with that. He hit countless shots that were double crossed or flared to the right, but his short game held his rounds together and he ground out a nice showing in finishing 2nd to Scott.
Garcia played with Rickie Fowler for the first two rounds. The pair was electric on Thursday and Friday with birdies galore and very few mistakes on their scorecards. Rickie was 8 under through 36 holes and didn't make a bogey. Garcia's mind fuck juju must have eventually rubbed off on Rick because Fowler played PGA National in 74 shots and no birdies to fall off the lead lap going into Sunday. He never had a chance after that. And whatever virus or curse Garcia gave to Rickie, Fowler must have passed it on to former Ryder Cup partner and Saturday playing companion Jimmy Walker. Walker birdied the third hole he played on Saturday and was 10 over from that point forward…..for the round! I blame it all on this gaffe. He was never the same.
Did you hear about the Jack Nicklaus hosted Ryder Cup dinner that happened Thursday? I'm sure you did. What came out of it was this now famous picture as tweeted originally by Captain Davis Love III.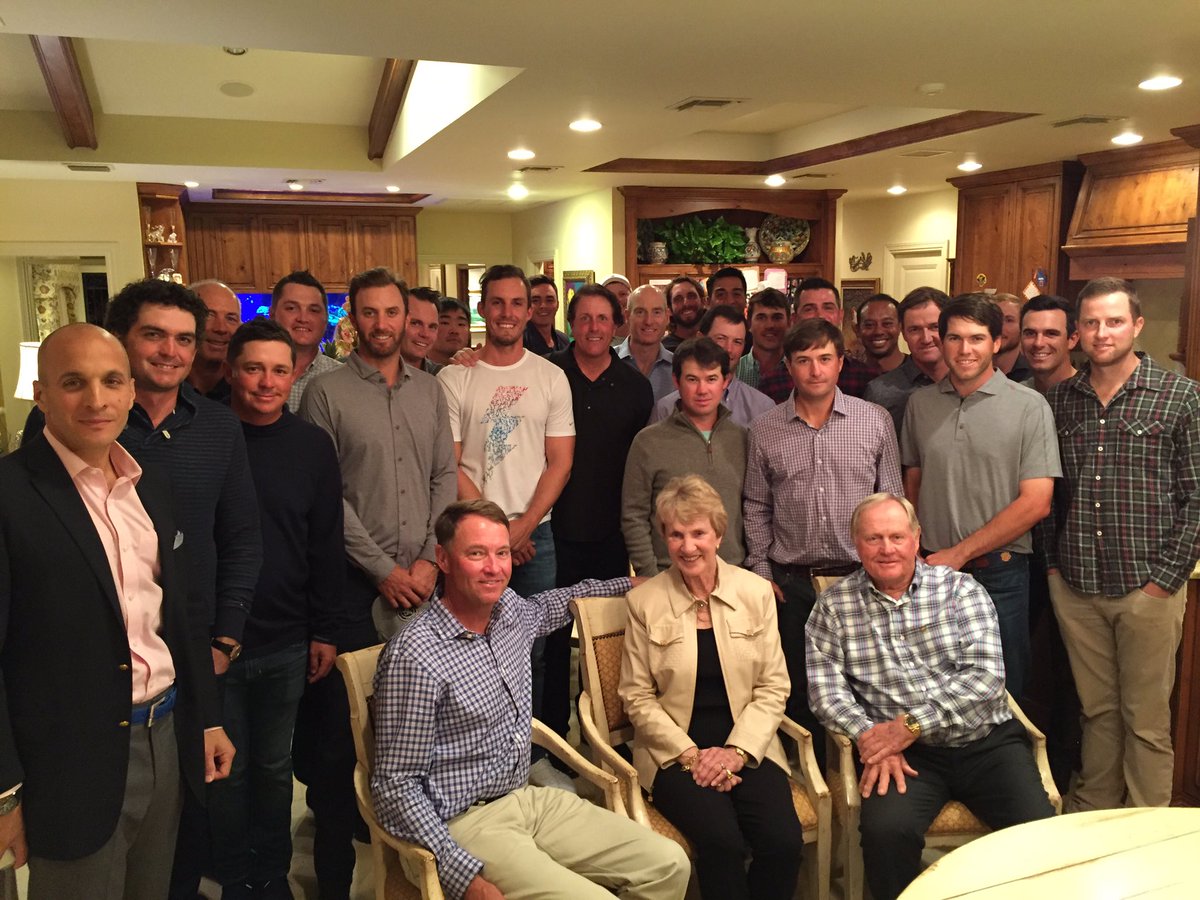 Love and Nicklaus invited the top 40 American players in the standings over to the Nicklaus residence for food and fun with their potential teammates. That group didn't include Justin Thomas. Thomas is good friends with Love. He played collegiate golf with his son. Not being invited to the get together must have been a wake up call for Thomas because he turned it on for the rest of the week and finished T3. Before an unlucky double bogey at the 71st hole Thomas actually had a chance to threaten Garcia and Scott and perhaps win.
Jason Bohn wasn't at the Ryder Cup dinner either, but you wouldn't expect him to be. Bohn made the cut on Friday at the Honda then WD'd after experiencing chest pains. It turns out Bohn had a mild heart attack during his round. He was rushed to the hospital where it was discovered that he had a 90% blockage and a stent was put in. He's a lucky guy that this was discovered when and where it was. Hopefully we see Bohn back in action soon this season.
Shot Of The Day
There were plenty of quality candidates for the Shot of the Day from Sunday at the Honda. The Adam Scott's fairway bunker shot I showed you above was a tasty option, but it didn't win. Gary Woodland hit a shot from the hazard with no pants on. Could that win?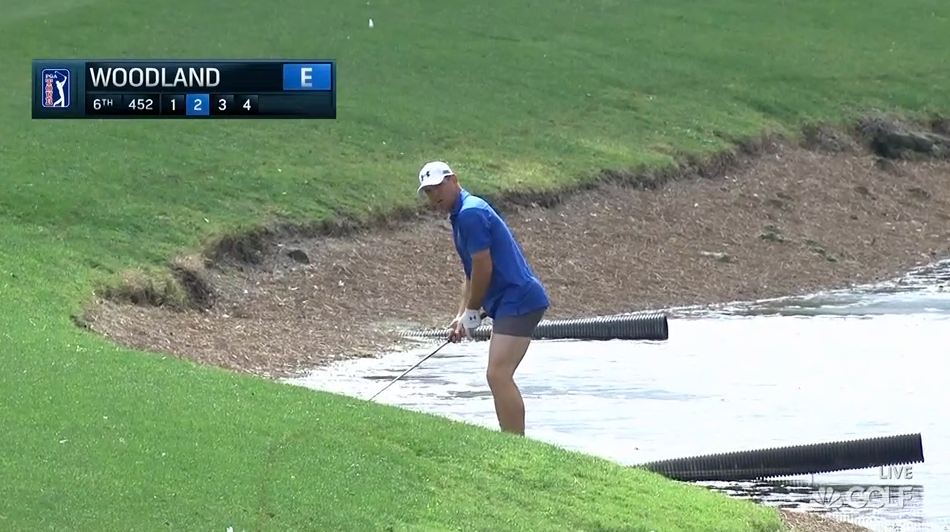 No. Gary missed the green from there. Nice effort, but not SFG-SOTD worthy. The honor goes to Justin Thomas. As Thomas was in the middle of his run at the leaders he came to the beginning of the Bear Trap at the 15th tee and nearly flew his ball in the jug. Take a look.
I get that Adam Scott has a pretty looking swing, but Thomas' move is damn good too. I could watch him hit balls for hours.
Up And Comer
It's WGC Doral week. That means two things. First, you're going to hear "Trump" 10,567 times this week when following either politics or golf. Well, you're not going to hear it here. Consider this your safe haven from Duck-Faced Donald. Second, March begins on Tuesday and there will be a new Up and Comer of the month posted. Who will it be? I haven't decided yet. You'll have to wait to find out. You can also get in a late nomination if you so choose. Just leave a comment. I do actually read every single one of them.