Detroit, At Night, Great Idea!
Well, well, well…..Hump Day has nearly already come and gone. But lucky for you the musings are just starting. In case you missed it, Quicken Loans announced a fun little golf expo coming to a ghetto near you in June. Yes, you heard correctly, Rory McIlroy will play Rickie Fowler on June 7th at Detroit Golf Club…..at night. This will happen one week before the beginning of the U.S. Open if you're scoring at home (being contested in the greater Pittsburgh area this year). No formal announcement has been made yet so we're not quite sure of the format. We know it'll be Team Rickie v. Team Rory. Team? Yes, TEAM! Seems as though 2 of the top 4 golfers in the world aren't enough to grab the desired amount of eye balls for sponsors to spend cash on. Quicken has also opted to throw Mark Wahlberg and Justin Timberlake into the mix. Golf Channel gets the front nine played in day light. Then the action will switch to CBS from 9 pm to 11 pm and golf will be played under the lights.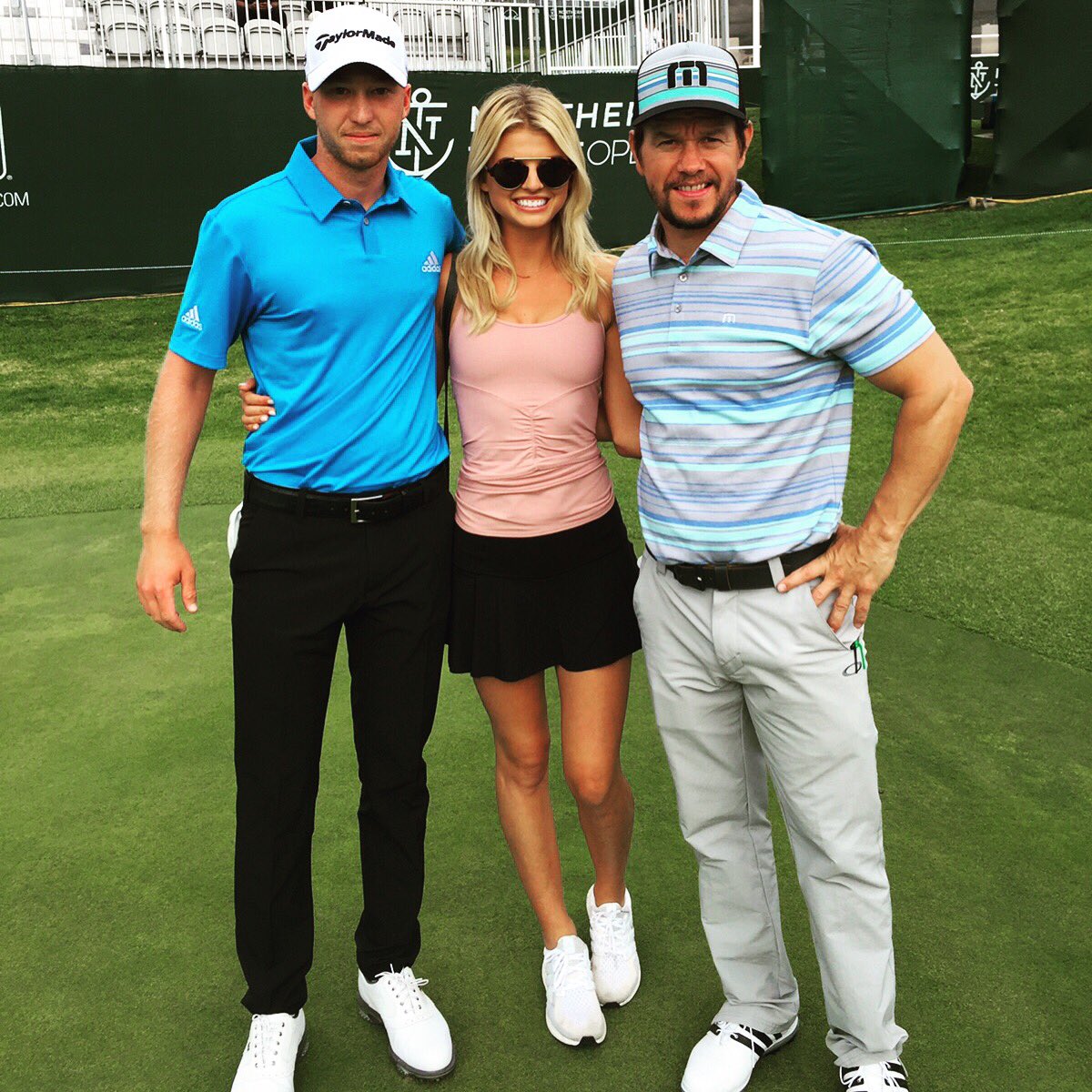 Remember when this idea was trotted out about 15 years ago? Tiger Woods played David Duval, Phil and others got involved in a few matches, and most of those made for TV events got ratings. Will these? My gut says the Timberlake/Wahlberg tie-in is an attempt to get young ladies to watch too. The courses at DCG are a bit of a bore. I played them a few times 17 years ago. Perhaps they've been updated. Speaking of Wahlberg, he was in L.A. at the Northern Trust Pro-Am (above) fresh off his week at Pebble Beach with Bubba Watson. I guess he can't get enough of the Tour life. Or maybe the Riviera scenery is too good to pass up near his home (I think he's a member there). He apparently played with Daniel Berger. Who's the chick? Is she with Berger or Marky Mark? I need these details! And why didn't Mr. Funky Bunch have a shirt to match his pro's today?
Rors And I Are On The Same Page Regarding Brandel
Meaning, go fuck yourself, Chamblee. I don't like that walking queef, and it doesn't appear that Rory McIlroy is his biggest fan right now either. Chamblee openly questioned McIlroy's dedication to fitness….no, he didn't call Rors chubby. He questioned if Rory might be over-doing it like his idol Tiger Woods did. Could too much time in the gym eventually lead to the demise of Rory's game? Rory responded.
The Irishman is spitting straight fire. And he wasn't done. When asked about his gym routine at his NTO presser he said this:
At least the Golf Channel is being a good sport about it, but what choice do they have? I think Rors is being a little defensive, but whatever motivates him is good by me. I like it when he's got something to prove. As for Chamblee, I'm the last person to defend anything he does, but his job is to give TGC talking heads something to opine about. He's going to say stupid shit from time to time even if he doesn't believe it. This was par for that course.
I'd Rather Wear Plus Fours And A Tie
Nike had a little fashion summit in Los Angeles this week with their Tour players like Brooks Koepka, Tony Finau, Patrick Rodgers, and others. The $woosh revealed their latest in apparel and the Twitternerds went nuts for it. High tops, tights, and these shirts with faux collars. What in the actual fuck is going on?
Those are awful. Maybe I'm too much of a traditionalist, but if anyone I play with in 2016 shows up to the first tee wearing a shirt like that they're going to hear shit from me from the 1st fairway to the 18th green. That goes for anyone I'm paired with in a tournament too. And the tights? Ummmm….this is golf. If it is chilly enough to need to cover your legs you should try these things called pants. Of course after Rory wins a Riviera this weekend everyone will buy one and I'll look like the boob. I'm used to that. Fuck it. I'll take the heat.
Dustin Johnson's Valentine's Day Was Better Than Yours
Mine was mostly spent nursing a hangover and staying out of the cold. Dustin Johnson played Pebble Beach in 71 shots. Took home a pay check that is more than the average American makes in a year. Then went home to his baby momma who was keeping herself busy taking Instagram pics like this:
I think it is safe to say that if he took his Valtrex his V-Day was better than most of ours. That is all.