When Was The Last Time Someone Won On Tour Without A Staff Bag?
Your 2016 AT&T Pebble Beach Pro-Am champion is Vaughn Taylor. You saw that coming didn't you? Vaughn hadn't won on Tour in 10.5 years. He hadn't been relevant to the professional game since he somehow made the Ryder Cup team in 2006. I'm still scratching my head about that one (Chris Riley made that team too! No wonder we lost.). For 2016 Taylor found himself without a Tour to call home. He planned on playing when he could on the PGA Tour (exemptions) while also playing in Web.com events. He was at Pebble Beach fresh from Panama where he played like a dog in a Web.com tournament. Things had been so tough on Taylor that he took a carry bag with a stand on his road trip so that he didn't have to pay the extra fee to airlines for the heavier staff bag.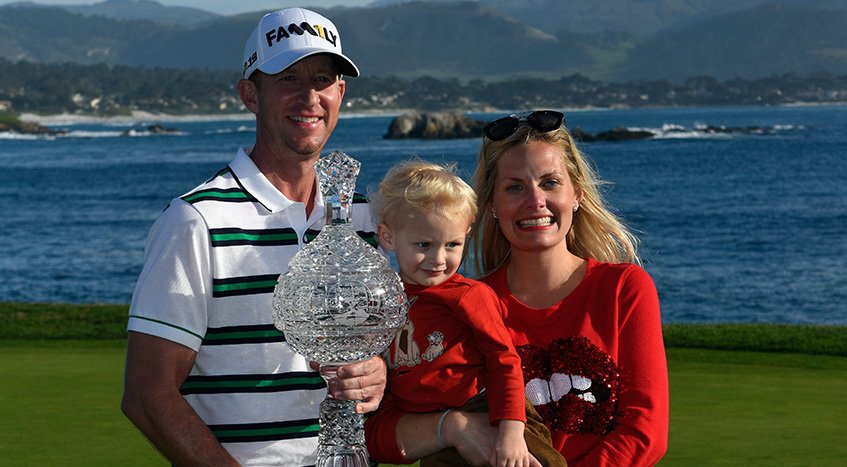 Now, after all that, Taylor finds himself back in the winner circle, and about to rise from his 400 something world ranking when they're released on Monday. I'm sure he'll wave to Tiger Woods as he leaves him in the 4th century of the rankings. How did this happen you ask? Taylor found himself in contention after a 2 under front nine with 54 hole leader Phil Mickelson putzing around Pebble playing a few groups behind him. Then he birdied 13 through 16, holes that most don't consider to be birdie holes, and posted a final round 65 thanks to a myriad of putts that he slammed home. He hit it close a few times, and could have also birdied 17 and 18 with any luck, but the putt he made at 16 was the big one to get him to -17 under. I'd give him 30 more chances at that 30 foot slider before he could make it again.
After posting a number Vaughn had to wait out the final groups to see if he'd have to battle someone in a playoff or if the AT&T would be his without a fight. I think he was fried and emotional after the wait. A playoff would not have ended well for him. But luckily for Vaughn challengers like Iwata and Mickelson (for reasons I'll touch on later) couldn't catch him. When Mickelson's final effort missed, Vaughn, his entourage, and his family were over come with joy. I don't blame them. They've seen some lean years in professional golf with Vaughn. And he admitted in interviews that he lost his game, his confidence, and didn't know if he'd ever find it. Winning again, getting a golden ticket to the Masters (he's from Augusta), and exhaling with the relief that comes with earning your Tour card for the next two years must feel pretty damn good to the Taylor family tonight.
What else did we learn about Vaughn Taylor on Sunday at Pebble Beach? We learned that he uses a robotic swing aid to hone his swing. He has one at his house. They cost a shit-ton of cash. And Pebble Beach has one. In fact, Taylor used it everyday at Pebble before his round. Watch, either every course will buy one or the USGA will outlaw them.
We also learned that VT has a smoking hot wife. We first saw her with Taylor behind the 18th green declaring to her hubby how proud she was of him. Then when Phil's putt on 18 lipped out we saw her emotion come oozing out of her because of the struggles her husband has dealt with. That wasn't her best side, but I can't blame her for that.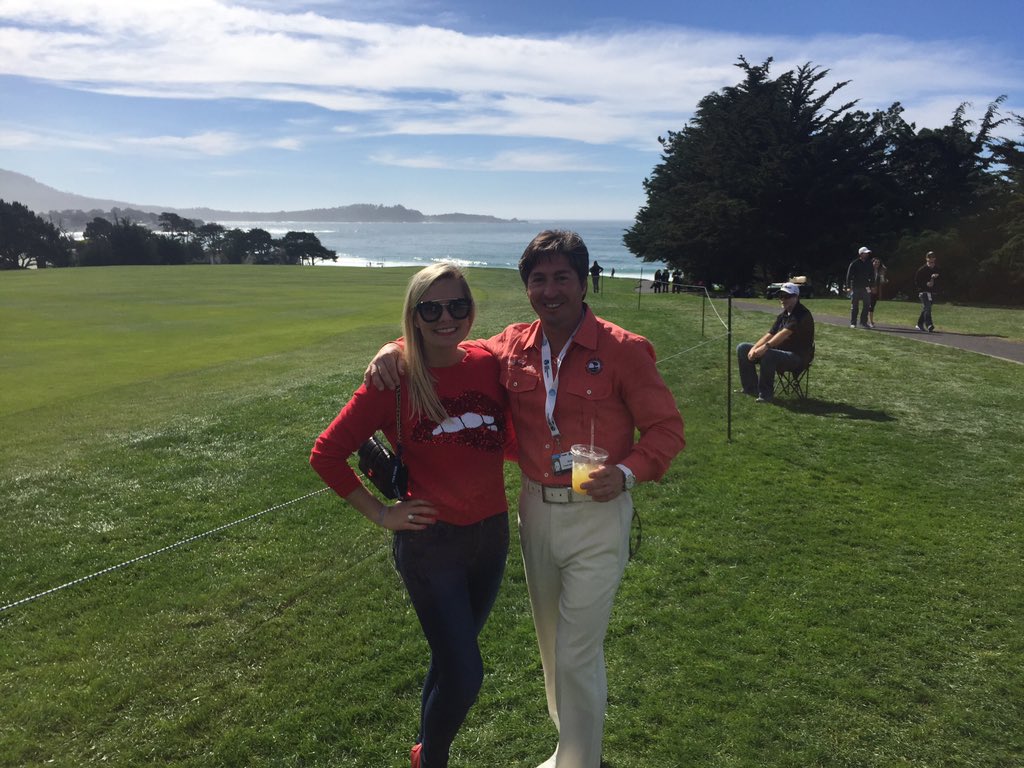 That's Mrs. T. above with the robot swing tool inventor. Google his name if you care to know it. Her name is Leot (Chen) Taylor. Weird right. She's not Asian. It was hard to see if she was hot or just 'sunglass hot' at first glance, so I did a little digging for you because that's why you're here, right?
Yeah, that's actually her above. This was from a glamour shot done by an L.A. P.R. agency a few years ago when she and Vaughn were engaged. Remember that proposed PGA Tour Wives reality show? It was supposed to feature Matt Jones' wife, Jimmy Walker's wife, and Bob Estes' wife. Leot was part of the P.R., but she apparently told other media outlets that she wanted no part of the show (then why did she pose for the P.R. shots?).  Outside of that pic above there's not much out there of her to see. I looked hard too.
So Vaughn out kicked his coverage by what, 50 yards? Good for him. And congrats to the happy couple for his big win on Sunday. He earned it.
The Field
Phil, Phil, Phil, Phil, Phil…….we were all in. Why weren't you? I'm being a bit harsh, but when Bitch Tits has the 54 hole lead at Pebble Beach where he's won four times before you expect him to close it out. Plus I picked him this week. Perhaps his even par final round is my fault. In all seriousness, Phil's swing changes were the main culprit in his 2016 Pebble demise. He was 2 over through 5. He made unforced errors that lead to bogies on 11 and 14 that should have ended his chances of winning. But Phil fought through the balky swing, got up and down from nearly everywhere, and made every putt he looked at until….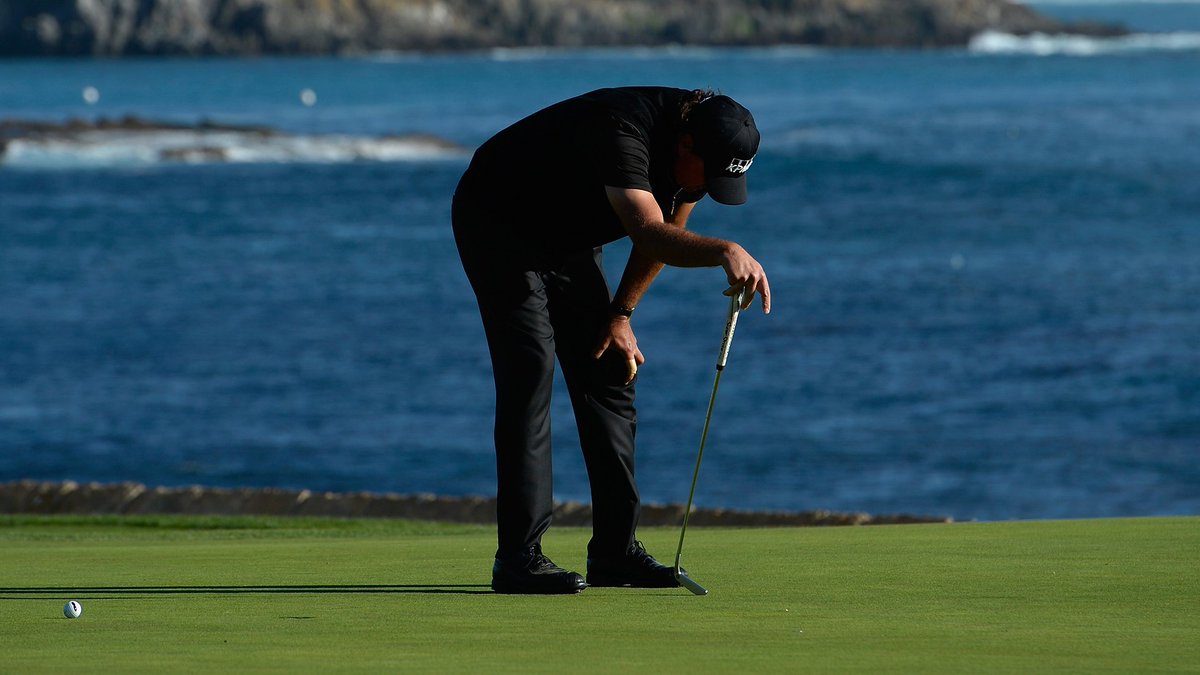 Yeah, that one. Brutal.
Hiroshi Iwata was back in the golfing eye for the first time since his 63 at Whistling Straits. He looked lost on the range when Golf Channel showed him before his tee time. Then he hit it pretty damn good for most of the round while paired with Phil until late sloppy bogies at 16 and 18. Patrick Reed was on the peninsula. He played with FIGJAM for 3 rounds and wasn't noticed until Sunday when he putt up a tidy 65 to tie for 5th. Justin Rose made his first Pebble start ever and was paired with Justin Timberlake. JT hits it all right, he just takes forever to pull the trigger. There were times on Saturday after Rose got into contention in which Timberlake out played him. It was ugly. Don't worry. Rosie righted the ship, shot even par in round 3 and then a 69 on Sunday.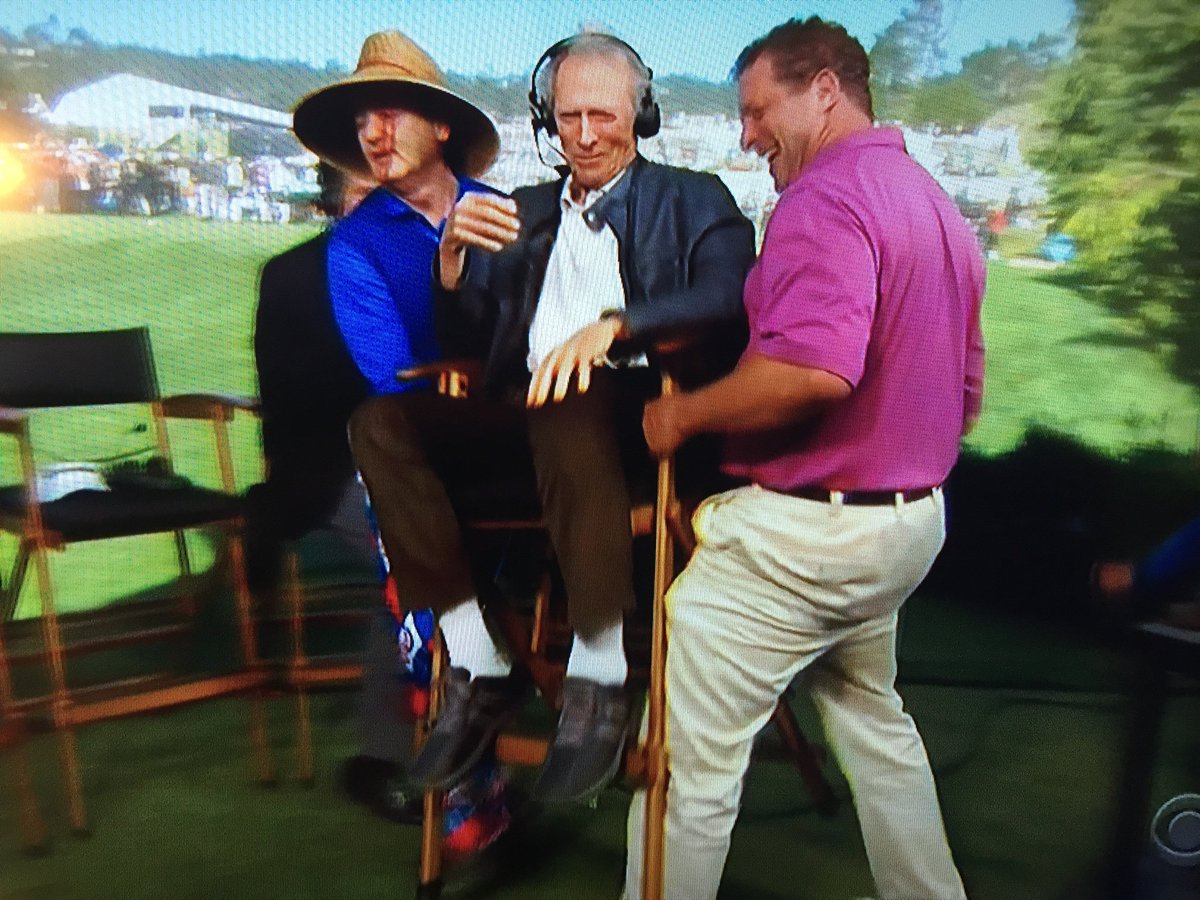 Of course the normal bull shit shenanigans were all in play on Saturday when CBS aired more 'celeb' and CEO shots than those struck by professionals. You Tweeps need to stop complaining about this horrible day of golf broadcasting. This bastardization happens every year. You know it is coming. I'm done bitching about it. Either stay away or let it happen. Speaking of CBS, Dottie Pepper is fine for reporting on course details but she can't interview someone for shit. Reassign that duty to someone else. I did see some extra shot tracker use and it was typically accompanied by shot height and ball speed. That's great, just don't waste that tech on shots hit by Larry the Cable Guy and Gary Mule Deer. What the fuck?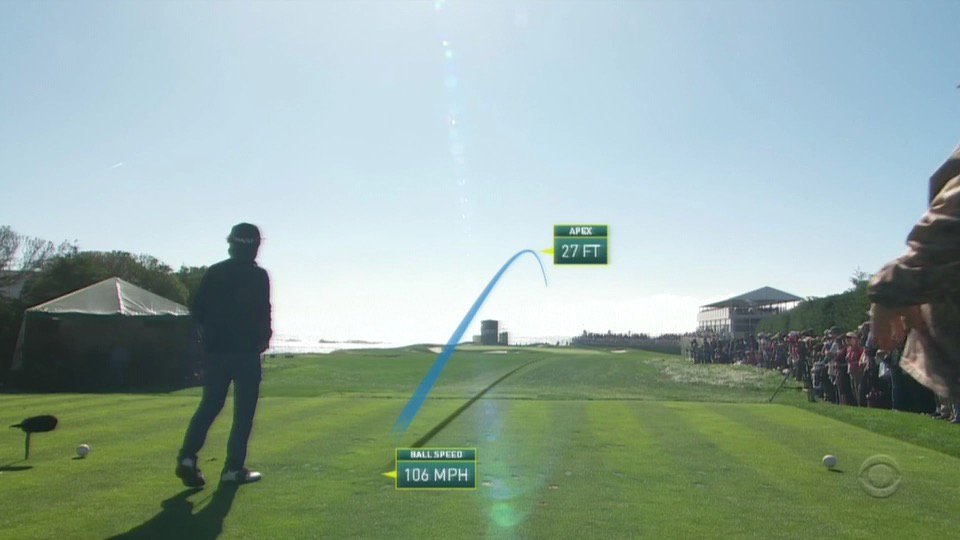 Jordan Spieth was in the field at Pebble. AT&T gave away plenty of his bobble heads they made, but Jordan didn't keep up his end of the bargain. He barely made the cut and had to finish on the wrong nine on Sunday while the leaders played the closing holes. Ouch. He also got his putter stolen.
That little thief is Dustin Johnson's bastard kid. There's no truth to the rumor that the putter was sold for an 8 ball of blow. Back to Spieth, he did shoot 66 on Sunday to back door a top 25 finish. He'll be in the field again this week in L.A. I think we'll see more of the Jordan we're used to at Riviera.
Shot Of The Day
You guys know I don't do putts as the Shot of the Day…..well, I typically don't. There are some exceptions and today is one. Phil's lip out on 18 gets the award. It didn't go in, but it was the shot/stroke that we'll all be talking about with coworkers this week.
We call those Prom Putts. All lip. No hole. Man, CBS fucked him really good on that. They put the 23 of 23 inside 6 feet stats up and Nantz was ready to cream pie the camera lens when the ball started going in the jar. Poor Bitch Tits. His 2 and 1/2 year, 50 event, winless drought continues. He's also now finished 3rd, 11th, and 2nd for the season. I'm not sure whether to buy or sell FIGJAM stock right now. Put a gun to my head and I'll buy. He's putting well and that is usually when he plays well. That last putt wasn't a bad stroke. I can't believe it didn't break more. Anyone saying he yipped it is nuts. He was money all week with the flat stick.