I Can Eat A Sandwich During The Pause At The Top Of His Swing
Hideki Matsuyama is a damn fine player on the PGA Tour. He plays with power, touch, grace, and a level of skill 99.9 percent of golfers will never master. And with all that going for him I rarely find myself rooting for him. Why? Because he takes a fucking hour to hit a god damn shot. He played very well down the stretch on Sunday at the Waste Management Phoenix Open and hit some of his best shots and putts when the pressure was the heaviest. And in that stretch he also slowed play to an excruciating snail's pace that no player, viewer, or fan should have to watch.
I had the action recorded on my DVR and hit the 30 second fast forward button twice and Matsuyama still hadn't hit his shot. I hit the button two more time and he finally pulled the trigger. He took well over two minutes to strike the ball. He took over 100 seconds many times. Not once was he even warned, put on the clock, or penalized. Shame on him for playing that way, fuck the whole damn Tour for doing nothing about it. Outside of how long it takes Matsuyama to play, he was brilliant on Sunday in Phoenix where he out-dueled red hot Rick Fowler in a four hole sudden death playoff to get his 2nd career PGA Tour win.
He probably shouldn't even have been in the playoff with Rick. Rickie separated himself from the field and Matsuyama trialed him by two after Rick birdied 15 and Hideki made par. After matching pars on the coliseum that is the 16th hole Matsuyama made a stealthy birdie on the 17th hole that Fowler got fucked sideways on for his tee shot and made bogey. Two shot swing, tied again on the 72nd hole. Get your popcorn. The Matsuyama-Fowler pairing didn't disappoint. They matched clutch birds on the final hole, parred it the first time down in the playoff, birdied again on the 2nd playoff hole, then Fowler gave the whole burrito away again on the 17th when he found the water off the tee, again.
Ball game. Hideki two putted from 6 feet for a par and the win due to Fowler's bogey. He didn't even look like he had his A game today. His swing looked out of sorts even as late as his tee shot on the 17th tee. But he hung in there when the world of Twitter was handing Fowler a trophy and turning the channel to the Super Bowl. And good things happen when you just keep giving yourself chances. Tough break for Rick. Great win for Matsuyama.
Retarded Routing
For the playoff, that is. The back nine at TPC Scottsdale has some of the most exciting holes played on the PGA Tour all season. So when they have a playoff they play the 18th….twice if needed before going to 10? This makes no sense to me. The crowds are there for the 16th. There's still 30,000 people sitting at that hole waiting for the tournament to end. Those patrons can also see plenty of action on the 17th hole. So why not start the playoff on 16? Put the participants on the hottest seat possible. Turn up the crowd noise a notch further. Is it a gimmick? Yes, but this isn't a major. The whole tournament is a gimmick, to an extent.
And look at the 18th hole. Talk about fucking a fat chick. It has been slightly renovated from the image above in recent years. The new church pew bunkers on the left put a bit more of a premium on hitting the fairway, but watching Fowler and Hideki bomb drives and hit little wedge shots in there was tiresome. They should be thinking outside the box. There's some dope earning a paycheck in Ponte Vedra for doing nothing.
The Field
Is this one going to sting for Rickie Fowler? Of course, a bit anyway. He's a proven winner now. He's also a pretty damn good closer who's lethal in the clutch. His downfall today was Matsuyama coming up big and the 17th hole. His folly the first time around was completely bad luck. You can't concern yourself with a hazard 360 yards away when making club decisions on the 71st hole of a tournament. He hit a great shot and the dice came up snake eyes. I hope he'd hit the same shot again if given the chance. He did hit a fairway wood in the playoff, but that's only because he had information from his prior shot available. Live and learn.
He could have laid back and made par, but then he'd probably have made par at 18 as well and found himself in the same boat. If you're hung up on that 71st tee shot at all you're looking up the wrong skirt. Rick has bigger fish to fry in 2016 anyway. He's major hunting.
Harris English took his face off a milk carton and played well for the first time in a while at the Waste Management. He hadn't had a top 5 finish in a year. Harris is too talented to be kept down. I expect him to win more. He's very much like Dustin Johnson, minus the low IQ, drug problem, and herpes. What I mean is, he hits it pretty damn far and doesn't score with his wedges and putter like you'd hope he can. They hurt him again today as well. He was two shots out of the playoff and could have been out of the top ten if he doesn't get this lucky break on the 15th.
Bitch Tits was in PHX like always. He played well enough to finish T11 and gave his fans a little hope of a victory when he shot 65 on Saturday. But the week for FIGJAM was largely one step forward, one step back, and his even par final round is the best example I can give you of that. We talked about Bubba and how the the Phoenicians greeted him in my last post. He was still largely booed and bullied at the TPC course this weekend. It got so bad the Thunderbirds who run the event came to his 1st tee shot in mass on Sunday to show their support for Gerry. That sounds like a huge pussy getting their big brother to stop a bully from taking their milk money, doesn't it?
Watson likely won a few fans back when he eagled the 17th hole on Sunday. Then he turned to the front side (his back) and went unnoticed for the rest of the day. He finished T14 and even stuck around to cheer on close friend Fowler in the playoff. He was changed in to his street clothes and looked like a skate or die reject, but showing up is still a nice gesture for his friend.
Danny Lee watched the playoff with Bubba as he's buddies with both Matsuyama and Fowler. He also played with them in the final group because he was the 54 hole leader. I'm not sure I've ever seen a guy play in the final group and then watch a playoff he's not in while walking about the grounds. Lee's a different cat though. Sunday wasn't his day, but he still gets a 4th place check and about 25 more chances to win this season. He'll be fine. And he will win in 2016.
Shot Of The Week
The Shot of the Week should be this shot of Paige Spiranac with Golf Digest's Ashley Mayo. She should win simply for wearing that. And poor Ashley had to watch Paige get drooled over all day while going unnoticed by the frat boys of Phoenix. That can't be an ego boost.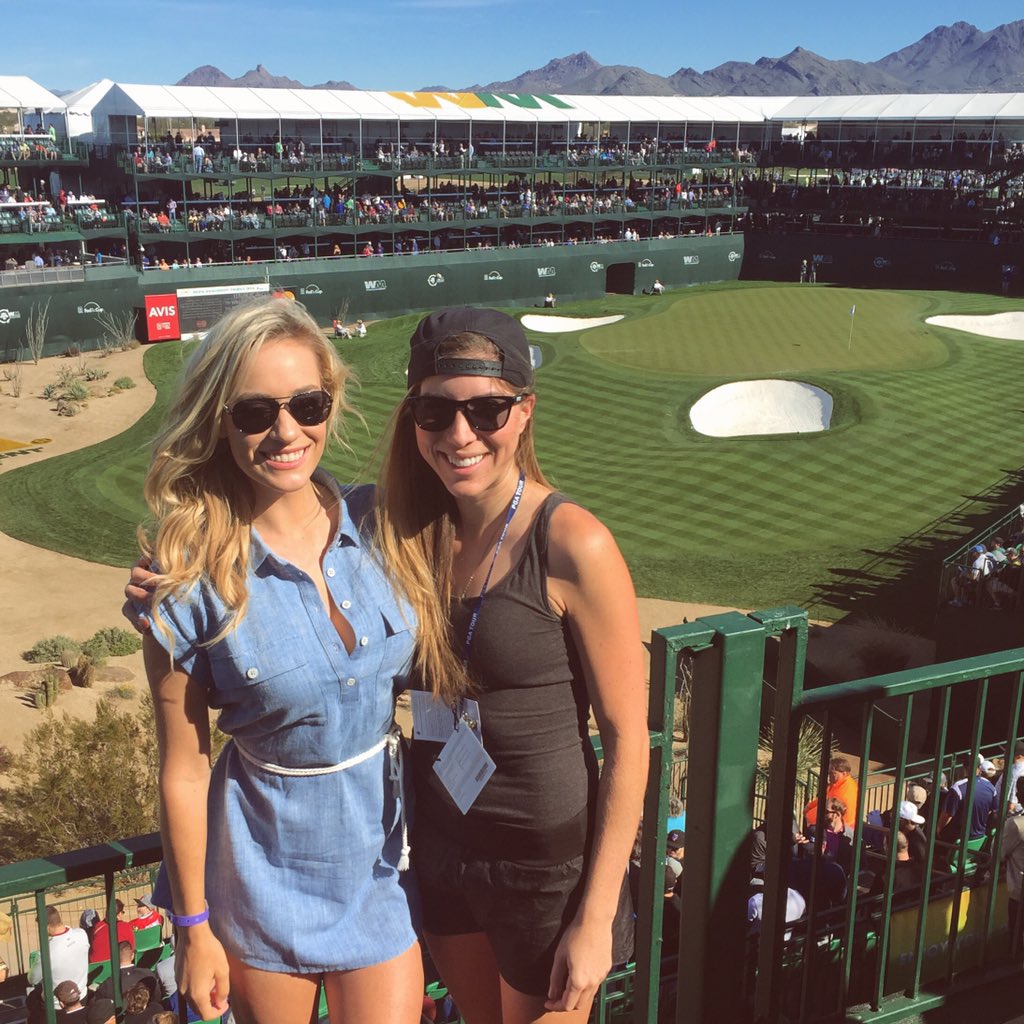 I don't think she could put a tee in the ground without showing all her bits in that get up. God bless her.
But seriously, there still must be a Shot of the Week/Day. Sunday had plenty of good ones at the WMPO but none quite up to our normal standards. I considered Jack Macguire's Friday ace, but it wasn't anything eye popping and the dude was in dead fucking last place when he made it. Therefore Smylie Kaufman gets the nod for his swamp shot from the same day.
One more random thought before I sign off. I heard and read some rumblings on the Twitter about Feherty not fitting in on NBC. I didn't see it that way. I thought he was fine for week 1. Well above average and clearly above his peers. He'll be meshed in perfectly at the Peacock by the end of the Florida swing.