Beating The Field By Ten Should Get You A Trophy
Thursday and Friday at the Farmers Insurance Open were as normal as can be for January days in San Diego. Saturday was a little cooler with a bit of a breeze, but still playable. Then shit almost literally hit the fan on Sunday when the players teed it up on Torrey Pines South Course layout. Twenty to fifty mile an hour winds, sideways rain, and cold temperatures made scoring nearly impossible. Some guys hit 5 iron on the par three 3rd hole that played only 134 yards into the wind!
So what did Brandt Snedeker do after starting his round trailing by 6 shots? He posted a final round 69 when no one else in the field bettered 71. The field average was 78. He jumped way up the leaderboard and was in the clubhouse at -6 while the leaders were making the turn. The weather soured further, play was suspended, and that left the closing groups with 8 holes to come back and play on Monday.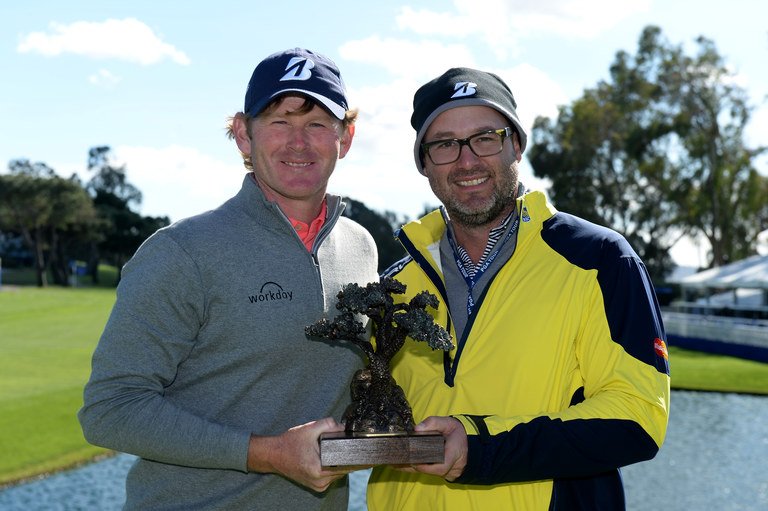 After hours of clean up to make the course playable the Farmers resumed at 10 am local time in more cold and wind, but back in sunshine. The final threesome piled up bogies and when KJ Choi's final attempt at a birdie on 18 missed, Snedeker was the Farmers champion for the 2nd time in four years. Sneds' round was incredible considering the conditions. Statistically it was one of the best on record for the last 33 years of Tour golf when compared to the field. Brandt bogied the 1st hole he played in the round, parred the remaining holes on the front, then shot 32 in the nastiest weather of the week on his closing nine. Wow. I picked BS to win for the week and had given up on him after Saturday's play. When he won in 2012 at Torrey he trailed Kyle Stanley by 7 shots entering the final round. Lesson learned. Never count Brandt out at the Farmers.
That was his tweet after he completed play on Sunday. When play resumed on Monday Sneds was on site going through his normal routine of putting, warming up, etc. He expected a playoff. He felt like his failure to get up and down for birdie on his 72nd hole cost him the tourney. Instead he did all he needed to do on Sunday and never had to hit a shot on Monday. Brandt just had to wait 22 hours from his last stroke to get his trophy. He seems to be back on form in 2016 with three starts and finishes of 3rd, 2nd, and 1st. Sneds and last week's winner, Jason Dufner, also won the Shark Shootout as teammates in December.
The Field
KJ Choi played well enough to win this week, but mother nature wasn't having it, and the golf gods smiled on Snedeker instead. Its amazing to me that a plinker like Choi can even hang with the field on a course like Torrey. For the first 3 rounds it measured over 7500 yards. Choi was paired with Gary Woodland and Dustin Johnson on Saturday and was routinely 70 yards behind both bombers. Choi hasn't won in 5 years. I'm sure he's bummed and won't sleep well Monday night, but his performance is a step in the right direction and he should be thrilled with it.
If you didn't watch the Farmers finish on Monday, could you name this man? Of course that is the 54 hole leader from this week's event, Scott Brown. Scott played in the final group with Choi and Jimmy Walker and began the final round -9. Shooting 75 was no easy task in the conditions I've described. Shooting 87 with one penalty shot is a god damn joke. I feel for Scott, but I also feel like he quit. He didn't make a par or better on the back nine! How can a guy without any assurance of having a card in 2017 ever quit on a round like I think Scott did?
Jimmy Walker didn't quit, he just didn't make putts he needed to make. The weather made his final round a little sloppy. The coverage on Walker's final 12 holes of the event over two days was interesting to watch. Walker produced a drive on Sunday on the 9th hole that had a ball speed of 170 mph. That would typically equate to a drive of about 285+ yards in the air. The drive CBS showed went 216 yards into the stiff, wet wind. Ouch. Walker is playing well. A top 5 result at Torrey won't derail him. He'll be dangerous at Pebble in two weeks.
Patrick Reed was in the field at the Farmers and strangely withdrew Saturday night. Reed didn't give a reason for the WD that I've seen. Other players were pissed at him and thought he was just being a little bitch about the weather. He was going to be in the last group off the 10th tee. I'll give Patty the benefit of the doubt. Graham DeLaet isn't.
Shots fired! Graham did back off his statement concerning other players withdrawing once action got pushed to Monday. He cited that they have another tournament to get ready for. I'm not sure I understand that mindset either when a WD means forfeiting Fed Ex points, Ryder Cup points, and cold hard cash.
Bitch Tits was in San Diego. He rarely misses a chance to play Torrey Pines. His stay only lasted for two days as he missed the cut on Friday afternoon. I thought he was going to contend on the weekend after a good start Thursday on the South Course. But things went to shit in a hurry on the North Course. He'd flag a hybrid and have a chance at eagle, then be in trouble the next hole and using the hybrid in ways it wasn't intended.
Oh FIGJAM. What a stupid fucking shot. First, he could have hurt himself. Second, it could have gone anywhere. Why not just take the penalty? He made double anyway then told Golf Channel how well he played after missing the cut. Weird.
Carnage On And Off The Course
We've talked about the weather. It was ugly but the images do it more justice than I ever could writing about it.
That tree was an integral part of the 15th hole and its approach shot. Now its gone along with several other trees between the 18th and 7th fairways. Hats off to the crew having to clean it all up. They were absolutely amazing in their efforts.
CBS was on the scene to call the weekend coverage. Jim Nantz wasn't. He couldn't be bothered with the first network coverage of a full field event in 2016. He had to rest his precious pipes for his four hours of work calling the Super Bowl, in the same state, next week. Gary McCord was at Torrey Pines and got in some hot water with some over-reacting Tweeters when he said the following:
What did you hear? I didn't hear 'raped'. No one could be that stupid.
CBS took time to review the statement and decided that McCord didn't say what he was accused of by a bunch of whistle blowers. Twitter didn't care. They were right. McCord was wrong. I even read one tweet that went as far as to analyze Webster's definitions of "rake" and "rape". Who has that kind of time on their hands on Monday morning?
Shot Of The Week
Freddie Jacobsen's eagle at the 15th on Saturday? No. Colt Knost's crazy putt at the 3rd on Sunday? No. Jason Gore's Saturday albatross on the 18th hole (his 9th of the day)? You bet your ass. And Gore hit the shot with a fairway metal that is over a decade old.
Like I said on Twitter, Gore blocked me last week (for calling him Chubby), six days later he does that. That's no coincidence. Good for him. I'll still root for him, blocked or not.