Rick Should Play The Euro Tour
High tops, joggers, and bright orange shirts….who gives a fuck what you look like when you play like Rickie Fowler does. World numbers 1 and 3 got a lot more of the press this week in Abu Dhabi, but Rick stole the show by taking home the trophy. He also moved up to #4 in the official ranking for his efforts. He started round 4 as the leader with plenty of contenders close in the rear view mirror. Then he birdied his first two holes and the tourney was his to lose. On the 7th he found trouble with a shit tee shot that nearly jumped in the hazard on the par 3. His trouble shot came out funky off some mesh material in the waste area and resulted in a nasty double bogey. Game on. The field was back in play and Rick needed to do something to regain control. Just eagle the 8th, that will forgive all your sins. Done. After an average tee shot and weak 2nd, Rick holed out from about 50 yards in a bunker to make eagle. That was him grabbing the HSBC by the throat.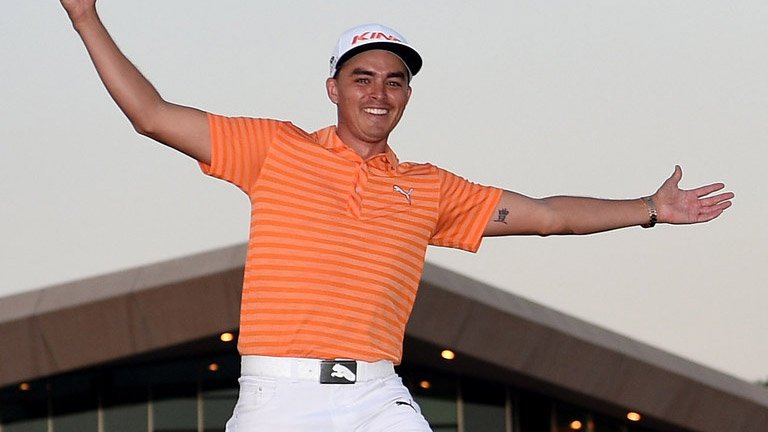 After 8 consecutive pars Rick had again let the field think they had a chance to catch him. He missed the green at 17 and then gutted the competition again with a pitch in. Two holed shots from off the green, yeah, those can help spark anyone on to victory. The chip in gave Rick a margin to work with and meant a par at the closing par 5 would equal a win so long as Thomas Pieters didn't make eagle. Done. After playing the 18th smartly there wasn't much left for Fowler to do except buy the media covering the event champagne. This is his M.O. He bought them booze at the Players and coolers filled with beer in Boston after his Deutche Bank win.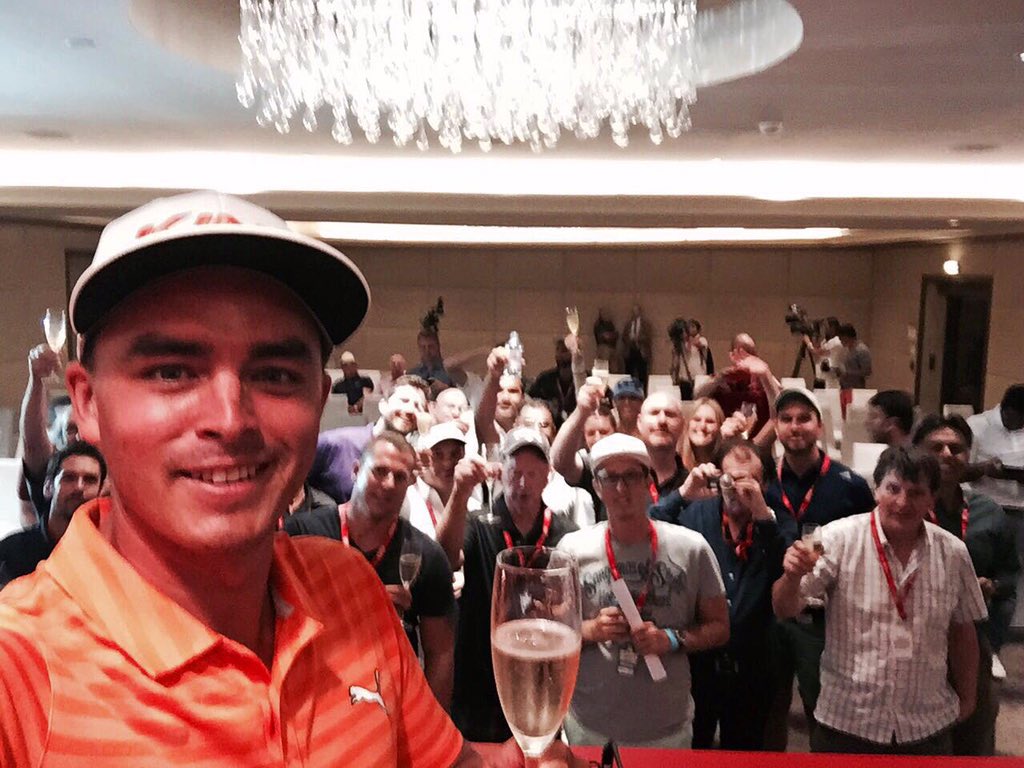 Rick is set for a good year. The Abu Dhabi win is merely foreshadowing. I do find it interesting that 40% of his wins are now away from the U.S. That's something to keep in mind when the Open Championship tees off at Troon in July. I'm not even going to talk about the pants and shoes again. That's Rick. He's going to wear weird shit for the next 35 years he plays on TV. He needs to find a girl as hot as his last one so we can all enjoy his victories and trophy ceremonies a little more.
The Field 
For 63 holes Rory looked like a fast car stuck in neutral. One of the commentators calling the Euro action said if he could shoot a back side 31 he'd put a scare into the other contenders. So guess was Rors did? Birdie 10, bogey 11, and then made 3 more birds and an eagle coming in to post 14 under. That wasn't good enough to beat Fowler, but it was a pretty sporty way to back door a top 3 finish. Here's the eagle putt.
Jordan Spieth didn't post a score lower than 68 this week and never really felt (to me) like he was in sync with his normal game. In spite of that, he finished in a log jam for T-5. He's just that good. In watching him I did wonder who picks out his Under Armour garb? It is boring as hell. Plain on top of plain. Grays, whites, solid colors, almost no patterns. I understand UA is going for a clean look. Nike is too, but they at least change it up and give their guys some different options. Who's buying the UA gear as they see it on Jordan? Accountants under 35 would be my guess.
Next for World Number 1 is a trip to Singapore. What? I get chasing some dough and playing in a great event in Abu Dhabi. I don't get playing in an event as meaningless as Singapore. He has enough cash. Under Armour doesn't need him there to sell shirts in Asia.
Remember when you woke up on Friday morning and heard the world's best 'amateur' Bryson DeChambeau was leading the field in Abu Dhabi after his first round 64. That seems like a life time ago. DeChambeau's low 1st round shows you the fire power he has. His 72-78-72 close shows you how far he has to go to hang with elite fields like the one he faced in the Middle East this week. I'm sure he learned a lot. I loved watching him play with Rory in the 3rd round. He tied for 54th. There's no shame in that for a guy with the 'A' still next to his name on the pairings sheet.
Everyone's favorite walking dick with ears, Ian Poulter, was in contention to start the final round at the HSBC Championship. And to no one's surprise he choked on his tiny dick over the last 11 holes after being 3 under after 7. Ghost of Hogan summed Ian up quite well on the Twitter.
Then Ian went to Twitter and started talking Ryder Cup shit. What? You just choked again. The top two ranked Americans in the world punked you and one didn't even play well, and you're talking Ryder Cup smack. Ian is a loser. There's no other way around it. Sure, he's a loser with a big bank account and a lot of Ferrari's, but he's got a small dick, small game, and a fat wife. Enjoy the cars, bitch.
Shot Of The Day
Rory's eagle could have been the winner. Great two shots and a bombed putt that found the bottom when it had to. But Fowler's chip in was the dagger that gave him the trophy in the end. Winner winner.
Nice shoot'in, Rick.