Just Two Stanford Dropouts Hanging Out
Okay, she might have graduated, but I don't remember. On Tuesday Michelle Wie took to her Instagram account to let us in on her chipping lesson. Why should we care? Well first, her short game sucks and she had an awful 2015 while being plagued by injuries. I'm glad she's trying to get better at some form of her game. Second, she was getting her lesson from Tiger Woods at a clinic he had for his foundation. Yeah, I know…probably not the guy I'd get a chipping lesson from either after his issues last year. But he did have the greatest short game of all time at one point in his career. And he probably needed her to fill in for him hitting shots at his clinic due to his injury.
This really isn't about Michelle. It is about the Big Cat. He's up. He's mobile. He's got a golf club in his hand. And it wasn't just this week. Twitter's Secret Tour Pro showed a picture of Woods hitting shots a few weeks ago at his club in Florida. STP then strangely deleted that pic. The "Process" has begun. I doubt he plays more than 5 events in 2016, but this is a good sign for one of them being the Masters. I'm hoping more hints about his status are dropped soon.
Drugged, Beaten, And Left For Dead, You'd Go Back For More Too
Thursday will be the start of the first full field event of the calendar year. The Sony Open in Hawaii gets under way around lunch time for you East Coasters. Why do we care? We don't, well okay, we do a little just to get our fix while winter continues to kick our ass. But the course is meh and the field is too. The story line this week is the return of Robert Allenby back to where he was drugged and left on the side of the road last year after he missed the cut in Honolulu.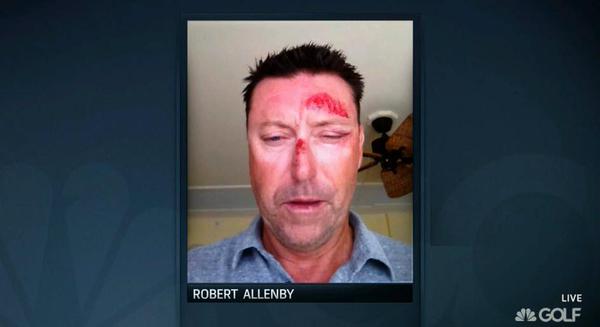 Bob says he's back at Sony for some closure. Huh? Why? How can you get closure when you really don't know what happened. Nothing regarding his events of that night was ever actually solved. We presume his drink was drugged. It is a fact he was mugged. And then he wandered about lost for a few hours until he passed out and fell on a rock near the side of the road. Too bad he can't just admit that and move on. I'm sure the guy has enemies and makes them easily. That and his fat mouth are probably what got him drugged and mugged in the first place. That's all I need to know and I'm closing the book on this going forward. If Allenby wins this week it becomes part of the story again, but that is a loooooooong shot. You might have better odds of winning the $1.5B Power Ball jackpot.
Jordan Spieth Is A Coke Head 
He loves the stuff. So much so that he signed a huge endorsement deal with the beverage company this week. What did you think I was talking about? ESPN reported that the deal is one of the largest ever for an athlete and is on par with what Coke signed Lebron James for to endorse Sprite. No years or dollar figures were announced.
What else do we know? We know he won't wear Coke logos on his golf clothes. Under Armor owns his ass there. We also know that there will be special Spieth cans of Coke coming out this summer that have an Olympic theme. Coca-Cola is apparently betting big that Jordan will be healthy and keep his world ranking high enough to qualify for the Rio games. That isn't much of a bet.
Kevin Na Stories Are More Facinating Than Watching Him Play
I despise Kevin Na probably because I don't understand him. We all know about his demons, his slow play, his quirky game, etc. But none of us know much about his back story or why he zigs when most golfers zag. Golf.com's Alan Shipnuck brought us a great read today from the pages of Sports Illustrated that sheds a little light on all things Na.
The link is in the above tweet if you're looking for it. I wasn't joking around with what I said. Alan made Na human and made me feel compassion for him. I never knew I had that in me. There's also some good Tiger Woods and Steve Williams anecdotes in there you'll enjoy. It has a few pages to it but they're worth your time.