The Grand Finale
First things first, we have to acknowledge the Tweeter of the Year's acceptance speech. Mr. Sarson, the stage is yours.
With over 70% of the recounted vote, Sarson proved to be a worthy selection. Congrats again.
As for the award that is the subject of this post, it's all about WAGs. Wives, girlfriends, and any other golf hottie is an eligible candidate. Past winners of the Shutter for WAG of the Year include Amanda Dufner (Jason) and Alexis Randock (Rickie Fowler). Ironically, both those relationships (seemingly) have ended in the past year. Is this Shutter cursed? Probably. Let's get on with it anyway.
The Nominees Are…
Ellie Day, wife of Jason Day – Jason had a big year, and Ellie was right there by his side with son Dash for much of it. Ellie also had the couple's 2nd child in November when she gave birth to daughter Lucy. Mrs. Day is well liked on Tour, never seems to say a bad word about anyone on Twitter, and there's also that unconfirmed rumor about her daily favors for Jason.
Shit, that's a strong case for the Shutter right off the bat. To top it off, Jason won a major and 4 other events in 2015. That does help her case. Oh, and my math tells me kid number 2 was likely conceived right after Day won in San Diego. Who's going to beat that?
Paige Spiranac, Aspiring Professional Golfer – Ms. Spiranac played collegiate golf at San Diego State. Her team made a trick shot video that went viral and everyone loved it. Then, once her eligibility was exhausted, Paige took to Instagram to make a name for herself based on her looks. She wants to play on the LPGA some day and she used her viral fame to open up doors for herself. When you look like she does, I'd say that is a pretty smart strategy.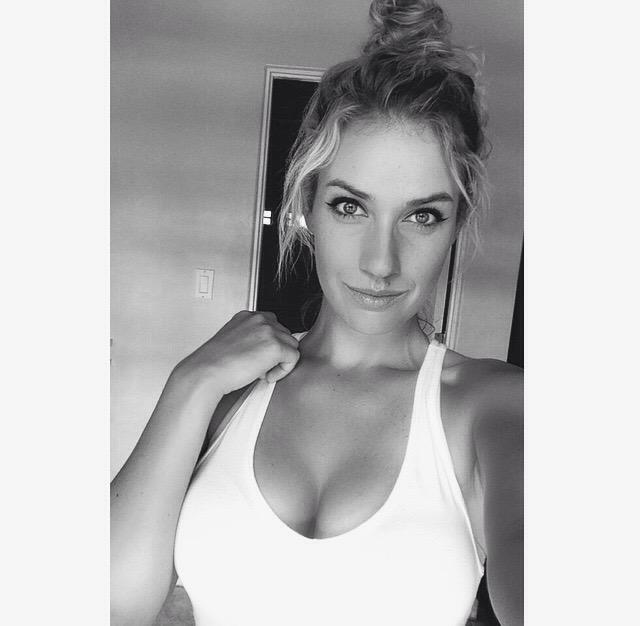 She's stunning. And last week the internet was up in arms about her being allowed to play in a ladies Euro event on a sponsor's invite. Really? Who gives a fuck? Golf is an entertainment business. I'd let her play in a PGA Tour event if I was a tournament director. So what she shot a few rounds in the upper 70s and missed the cut. The poor girl was embarrassed enough to shut down social media for a brief time frame because of all the harassment she received. That's pretty shitty. Yeah, she's hot. But I also admire her for her efforts. She can play. I hope she gets another shot. Her popularity in itself makes her a strong candidate to win the WAG of the Year.
Gerina Piller, wife of Martin Piller – Oh come on, you know who Martin Piller is. He's a full blown PGA Tour player, but he's barely made a cut in the 2016 wrap around season. His wife Gerina is of course much more well known. She's a Team USA Solheim Cup member who made the putt that kept the U.S. alive in the USA/Euro matches of 2015.
Great game. Great tits. And one of the biggest putts in team golf history….that's a pretty good case for the WAG award.
Erica Stoll, Fiancee' of Rory McIlroy – There are people walking the earth that woke up one day and stumbled on to a winning lottery ticket. Erica Stoll is now one of those people. Stoll first jumped on the golf scene by being the person responsible for getting Rory McIlroy to the 1st tee of his Sunday Ryder Cup match when he was late due to a time zone mix up. I've hypothesized that Stoll was in his room that night and was the reason he was late, but that's for another time. During that Ryder Cup Rory was with tennis pro Caroline Wozniacki and later engaged to her. In the meantime he must have stayed in touch with Stoll because the couple began seeing each other after Rors and Caroline broke up. As of last week Stoll and McIlroy are now engaged.
That's roughly 500 million dollars she just walked into, assuming they go through with their pending nuptials (I'm ignoring a pre-nup agreement). Rory didn't even make their relationship public until almost May when he won the WGC Match Play event at Harding Park and Erica was by his side while he hosted a pizza party for the media. Falling into that kind of a bank account, that big of a celebrity husband…..well, that equals a pretty big year for Stoll, but did Rory win enough to make her case stronger? You wouldn't think so, but the WGC, a recent win in Dubai, and being named Player of the Year for the Euro Tour last week can't hurt. The photo above this paragraph is hurting her chances too. She's a cute girl. That might be the worst picture I've seen her in.
And The Winner Is…
One of these things does not belong. Yes, I'm referring to Piller. She's not in the same class of hot as the other nominees, but she's got game and the Solheim Cup on her side. Ehhh…..she's out anyway. The future Mrs. McIlroy is out too. Their engagement came too late in the year to make her case strong enough to win. That leaves us with Ellie Day and Paige Spiranac. Jason Day was my Player of the Year. Can the Day's make it a clean Shutter sweep?
Nope. I'm going with Paige. I think it was pretty brave of her to play in Dubai last week. I think she's handled her new fame very well. And I think she's become too much of a viral sensation to be denied. That's a lot of what the WAG of the Year award is all about. Who cares if she isn't even someone's wife or girlfriend. I've never made that a big chunk of the equation with my WAG winner anyway.
Sure I might have got this wrong, but this is your chance to tell me so. Hit the poll and feel free to write in anyone I might have missed if you select 'other'.