Assist From The Wife
Did you watch the HSBC event in China last weekend? No? Why not? It was on in the middle of the night in North America. What the fuck else did you have to do? The field was good enough to keep a true fan up. Hey, I'm just fucking with you. I didn't watch it live either. But I did get up out of bed on Sunday with a golf boner and watch the recording on my DVR. What did that get me? A day started with disappointment. I stayed away from the Tweeter and other internet things to watch the recording without knowing the results. Dustin Johnson was in the hunt. Spieth wasn't far off. Shit…..I'd have been tickled if Kevin Kisner had won because he's played his ass off in 2015 and not yet earned a victory for it. Instead of any of those guys winning 3rd round leader Russell Knox was crowned as the latest WGC champ.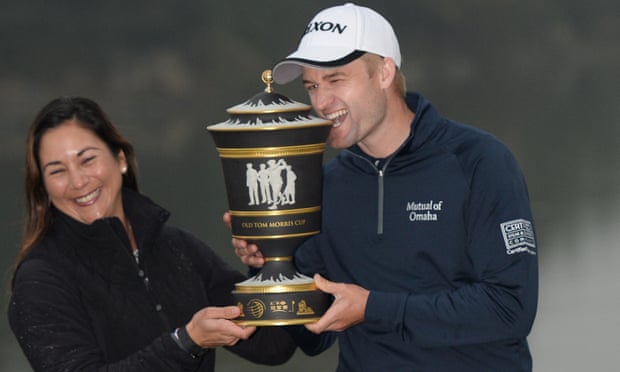 That's Russ with his wife right there. He wasn't even supposed to be in China last week but got in the field when J.B. Holmes withdrew. Then he needed to figure out how to get his visa to travel with little to no notice. Enter his wife, Andrea (above). She contacted Chinese officials to get a rush on the travel visa and came through after a meeting in Malaysia. Then, because Knox caddie had a few issues getting to China himself, she filled the void for a practice round. What a trooper.
Getting there was about the only problem Knox had in winning the HSBC. His rounds of 67-65-68-68 cleared him of the field by 2. In watching Knox I was amazed at how he could stay in contention as he was being out driven by nearly all of the field on the weekend. Once the course got wet from a few showers Knox hit several drives that were only about 260 or so yards off the tee. He was often 60+ yards behind playing partner Dustin Johnson on a given approach shot. Knox could have cared less. His game reminded me of Brad Faxon. Keep it in play, scramble like a mother fucker, and make every putt you look at. And for every reachable par 5 or par 4 on the course for the bombers, there was Knox doing his best Zach Johnson imitation hitting a wedge close and making the putt….that sounds too simple. Knox also made winning look too easy for a guy who's never done it before, let alone on the stage of a WGC event.
I'll go ahead and say it. Do you know who that guy is above? That is Craig Perks, the one hit wonder who took home the trophy from the 2002 Players Championship. Why am I showing him? Because I think what Knox did in China will end up being just about the same thing we saw from Perks 13 years ago. Big event. Scrambling winner that was a nobody. Never wins again. It isn't that Knox isn't talented. My proclamation has more to do with the fact that Knox got a bit lucky. He played 4 great rounds and caught lightning in a bottle. It is tough to win on Tour. If he ever does it again I'll be shocked.
Mrs. Knox
You saw her above, what did you think? She caddied, she got his visa, and her guy won. That's a good week for Mrs. Russell Knox. The worst part of her week is right now when you fucking perverts get to judge her and ogle her. I'm not going there. She's not my type.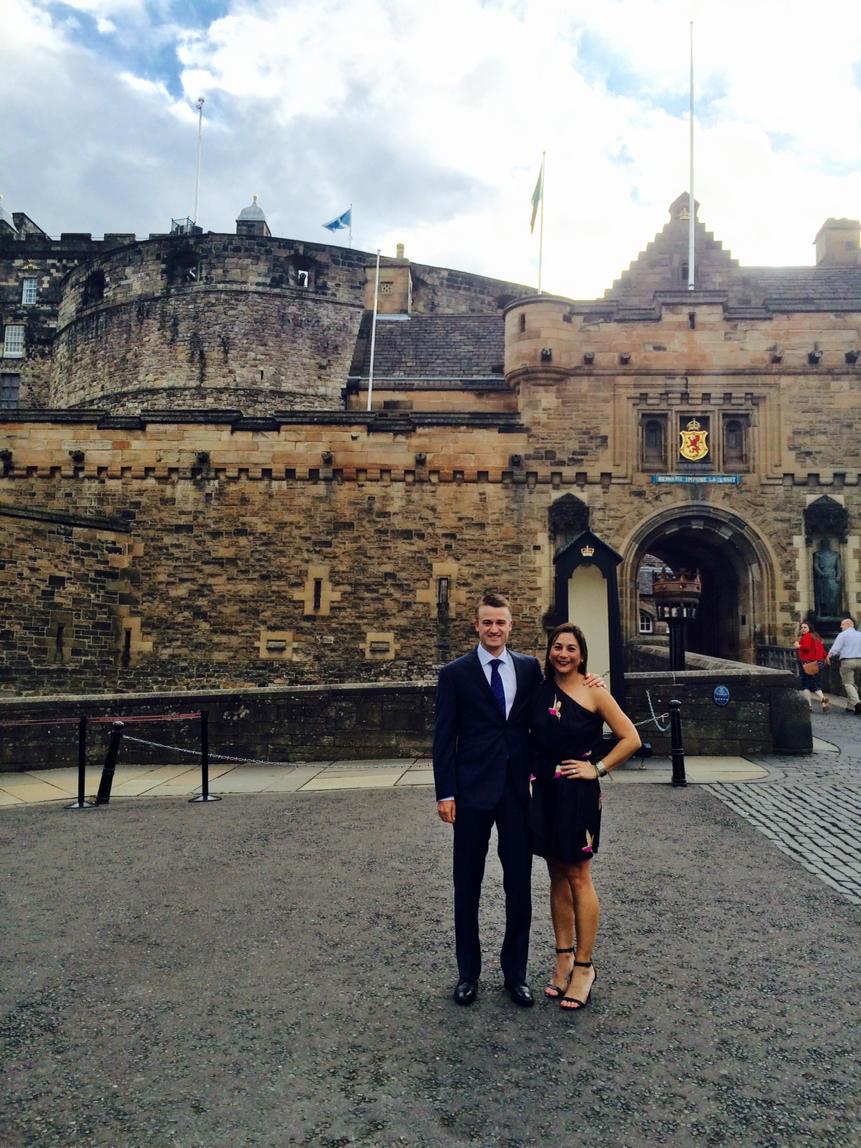 If I can knock her any where it is in her caddying duties. Russell said she was complaining the entire back nine during the practice round she looped for. What the fuck? My wife has caddied many times. She never complained. She did take a cart once, but she earned it. The Knox's have only been married 18 months. Suck it up sweetheart.
The Field
Jordan, Rory, DJ, Sergio, Rickie….yeah, a lot of big names made their way to Shanghai for the HSBC. Jason Day wasn't there due to his wife being a minute away from giving birth any day now. Rory looked disinterested in golf for much of the week, again. Rickie earned his pay day. And so did Jordan. I was most disappointed in Dustin Johnson. As I stated above, he was 60+ yards ahead of his fellow playing companions on Sunday and he didn't score like you'd expect with such an advantage. Part of that probably had to do with this unfortunate incident from the 8th hole.
Brutal. A birdie instead of a double might have changed Dustin's whole tournament. It might have also put more heat on Knox. I was also disappointed that Johnson didn't bring Paulina with him. I was looking forward to another infamous IG tour of the far east.
https://instagram.com/p/7015iwsjxp/?taken-by=paulinagretzky
Shot Of The Day
This one is easy. K.T. Kim had an ace at the HSBC on Sunday. There is video of it. How can I give the award to anyone else?
Again, the crowd reactions in Asia are worth watching the entire highlight without it even being an ace. Is that racist or simply something that is true?
Playing Chicken
Back in the US of A, the Sanderson Farms Championship was contested and Peter Malnati won. For his efforts he got a the big ugly chicken trophy you see below. To get the chicken he had to survive torrential rain in Mississippi that nearly washed out the entire tournament (the event finished on Monday).
I don't know much about Peter Malnati. I know his rookie year on Tour was 2014 and he played shitty enough to find himself back on the Web.com Tour for 2015. This year he earned a promotion back to the big show and his early results tell you that he's here to stay (the win gives him a 2 year exemption).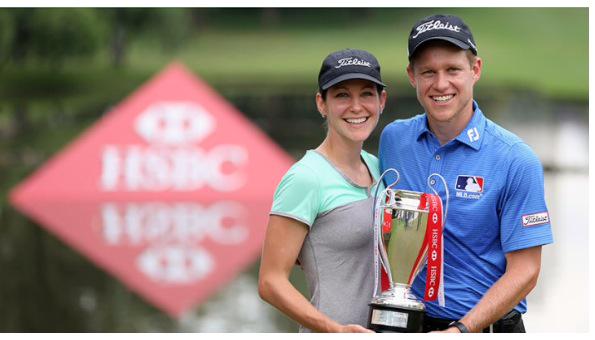 Outside of that, Peter and his game are completely unknown to me. He keeps a tidy blog of his travels on his own site. You can check it out here. Congrats on win number 1, young buck.